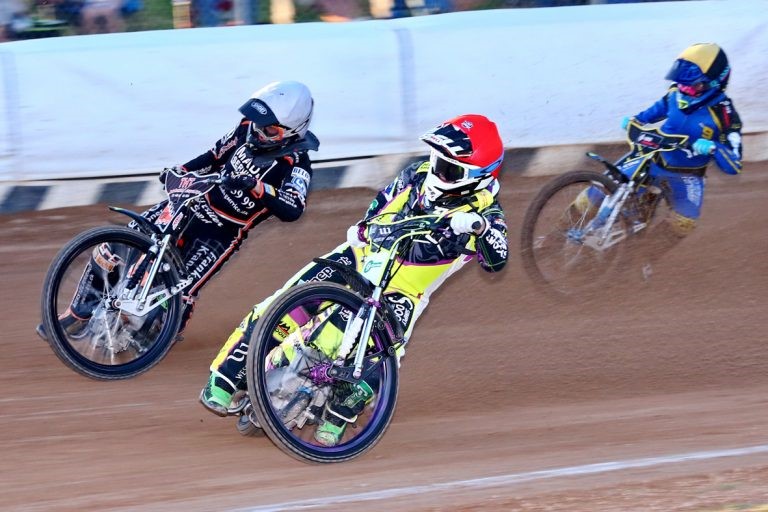 For opening night of the 2018/19 (senior) speedway season here in SA, riders from England, Denmark and New Zealand will join with local and interstate riders for a 500cc Solo team match at Adelaide's Gillman Speedway this Saturday night (17 November).
Danish riders Matias Nielsen and Kenneth Jürgensen, and English rider Kyle Bickley will team with Adelaide riders Robert Branford and Dakota Ballantyne, and Mildura's Jaimon Lidsey, the new Victorian Champion, and Cooper Riordan to represent the Leszno Bulls, while two other Englishmen, Tom Brennan and Zach Wajtknecht, and three-times New Zealand Under 21 Champion Jake Turner, will represent the Swindon Robins along with Mildura's Jordan Stewart and Justin Sedgmen, and Adelaide's Robert Medson and Brayden McGuinness.
Support events to the teams match are 500cc Solo support races, and Sidecars, including former Australia number three, Shane Hudson, from New South Wales.
Photo: Kenneth Jürgensen (white), Tom Brennan (red) and Robert Medson (yellow). Photo by Judy Mackay.

Everything You Need To Know:
Meeting Date: Saturday, 17 November 2018.
Venue: Gillman Speedway Stadium, 65 Wilkins Road, Gillman – near the Port Adelaide area.
Gates open: Gates open at 5pm. Free spectator access to the pits until approximately 6.30pm.
Racing starts: 7.30pm.
Riders:
Solo Teams 500cc:
Leszno Bulls – 1 Jaimon Lidsey (Vic), 2 Dakota Ballantyne (SA), 3 Cooper Riordan (Vic), 4 Matias Nielsen (Den), 5 Robert Branford (SA), 6 Kyle Bickley (Eng), 7 Kenneth Jürgensen (Den).
Swindon Robins – 1 Jordan Stewart (Vic), 2 Robert Medson (SA), 3 Tom Brennan (Eng), 4 Zach Wajtknecht (Eng), 5 Justin Sedgmen (Vic), 6 Jake Turner (NZ), 7 Brayden McGuinness (SA)
Solo 500cc Support Races: Connor Bailey (Vic), Fraser Bowes (SA), Aden Clare (NSW), Steve Graetz (SA), Seth Hickey (SA), Declan Knowles (Vic)
Sidecars: Ricky Adams/Alice Cox, Chris Bichard/Michael Bell, Tim Bichard/Adam Pascoe, Nathan Fleet/Ayrton Canning, Steve Fowler/tba, Dean Hobbs/Glen Zaworski, Shane Hudson/Mitchell Spear (NSW/SA), Shane Rudloff/Scott Morris, Aaron Silvy/Jaron Silvy, Brian Silvy/Cameron White
Solo 250cc Under 16 Demonstration rides: Patrick Hamilton (Vic), Liam May
Solo 125cc Under 16 on infield track: Jake Fleet, Jordan Hargreaves, Jackson Milner (Vic), Teagan Pedler, Nicholas Possingham, Harry Sadler
Sidecar 250cc Under 16 on infield track: Jackson Milner/Adam Niesche (Vic/SA), Bradley Wakefield/Hamish McCarten (Vic)
Admission: Adults $25, Age Pension & Student Concession $20, Children aged 12-15 $5, Under 12 free, Family $55, Programme $5. Parking free. Grandstand free.
Concession is limited to holders of the Centrelink Pensioner Concession Card and Student Concession card holders only.
Seating: Grandstand seating for 216 people. Large grassed viewing mounds and terracing suitable for deck chairs.
Food and drink: Full bar and catering available. Food includes hot chips, hamburgers, chicken burgers, pies, pasties, sausage rolls, Chiko Rolls, dim sims, hot dogs, doughnuts, coffee, tea, cold drinks, sweets. "Gillman has far and away the best speedway tucker" [Peter White's Speedway World]
Bar facilities available but please note a condition of our liquor licence is no byo alcohol or glass can be brought into the venue. Also note no pets, other than guide dogs, are allowed into the venue.
Souvenirs: There is a well-stocked souvenir shop. Eftpos available in the souvenir shop.
Weather Forecast: (As at 14 November) Maximum 25, minimum 10. Sunny. [www.bom.gov.au/sa/forecasts/Adelaide]
The Gillman programme is available to download from the Gillman Speedway website (under the Shop tab) from Friday afternoon for $5.50 payable by credit card or PayPal