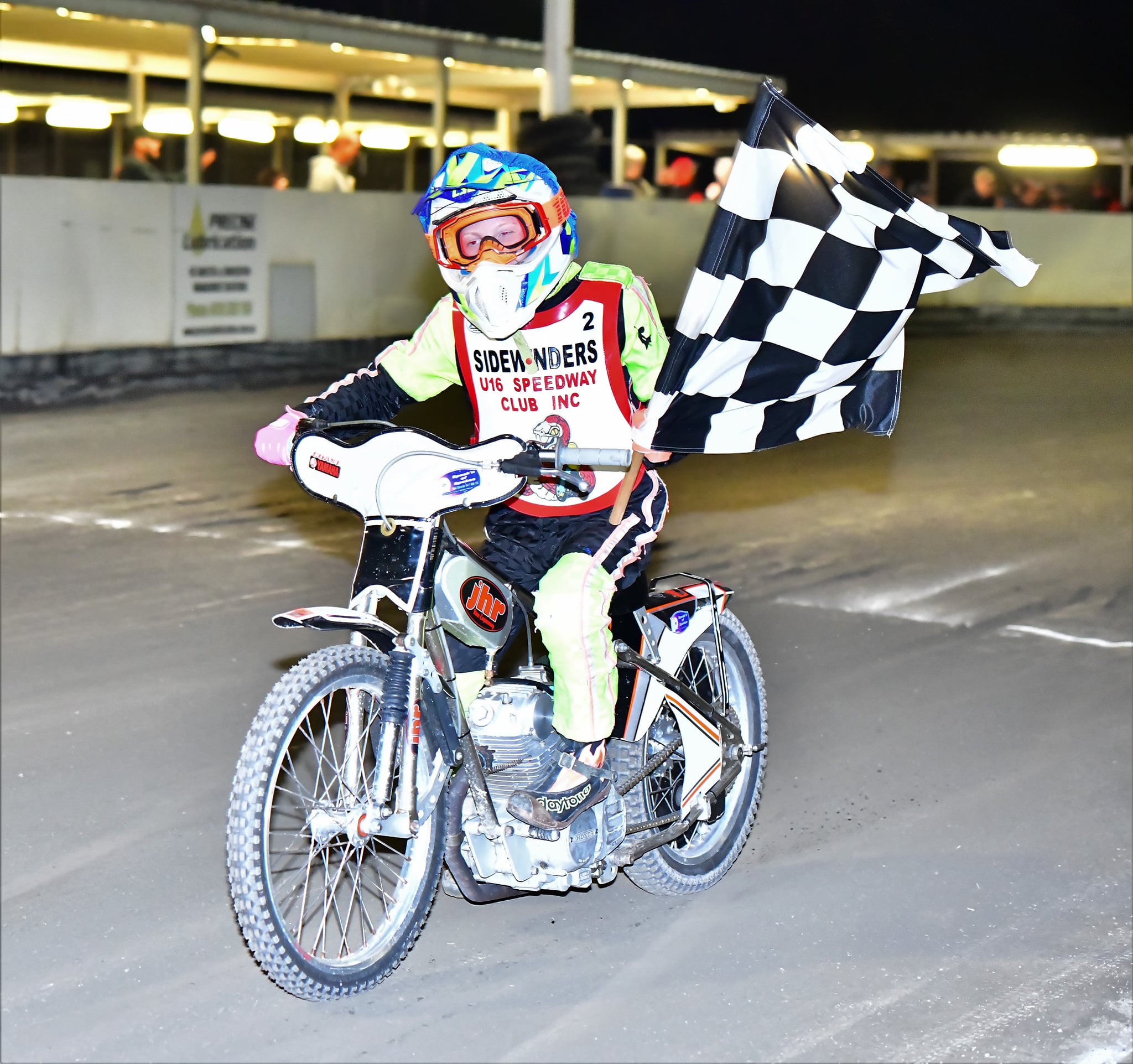 HARRY SADLER – CROWNED CBS BINS 2021/22 SA JUNIOR SOLO SPEEDWAY CHAMPION ON SATURDAY NIGHT!
On Saturday, December 4th at Sidewinders Speedway Harry Sadler was crowned the CBS Bins 2011/22 South Australian Junior Solo Speedway Champion after a fantastic night's racing from some of SA's best, who also took on a number of interstate riders – and wasn't it great to have these guys able to enter the state once again! 
A very healthy crowd found their favourite vantage spot on Graham Baker Hill and with the Sidewinders crew once again preparing a top notch track for the kids to have a skid on, it was thought that the action would live up to the hype – and it certainly did! From the first heat where NSW's Beau Bailey laid down the gauntlet by besting Harry Sadler as he started the defence of his 2020/21 Championship defence in the best way!
It turned out to be the only time that Harry, the 2021 MSA Rising Star Award finalist for speedway, was behind all night, as he won his following 3 heats, including a tight win against his fellow Rising Star nominee, Ashley Jansen-Batchelor, while Beau went through with 3 wins and a 2nd, with Ashley finishing with 2 wins and 2 2nds.
This meant that Beau entered the final with gate choice (his win over Harry giving him the preference) and took red (gate 1), Harry was next from gate 2, Ashley settled for gate 3 and Kobi Canning, after a great ride in the semi where he got the nod after the rider in front of him, Alex Adamson from NSW, had a fall within sight of the line and Kobi was left with nowhere to go, had gate 4 and his maiden SA Championship final!
Qualifiers for the final (from left) Beau Bailey, Harry Sadler, Ashley Jansen-Batchelor, Kobi Canning
It was felt that the final would all be about the start and who got to the first corner first – and then if they could hold their line (and their nerve) and hold the pack at bay – and it was going to be about 42 seconds of  'hold your breath' racing to decide the Championship!!
Well, as the tapes went up, Harry had the fastest reflexes, dropping the clutch and getting to the first corner a half a bike in front of Beau, with Ashley right there on his other side. Harry held his line and won the corner – and in the end the race and the Championship! While it sounds easy, it was far from it, with Beau not giving up all the way, looking inside and outside, showing Harry his front wheel, but he just couldn't get Harry to make, even the smallest, mistake, with Ashley right there as well, right on Beau's back wheel looking for an opening of his own!
Watching this from the back of the field, but not far behind at all, was Kobi, on a borrowed bike for the final (a huge thanks to Blake Schlein for some amazing sportsmanship right here!) and possibly hoping for a 'Steve Bradbury' moment of his own to take advantage of the close action in front of him – but it wasn't to be, and he certainly can hold his head high after a great night on the bike, complete with a couple of bruises to go with it.
The final gets underway with Harry & Beau (at right), this close for the whole journey, and to the victor goes the spoils!
So, as they crossed the line to huge applause from the Hill, it was Harry Sadler 1st, Beau Bailey (NSW) 2nd, Ashley Jansen-Batchelor 3rd, Kobi Canning 4th – and then everyone took a breath!
A huge night of racing was done, SA has a new Champion(s) in the making – and in the support classes as well – certainly some talent on the rise there as well – and it wouldn't be a far stretch to suggest that in 4-5 years time, Harry, Beau and Ashley may well be duking it out in the Australian Senior Solo Championship!
Before then though – did we just witness a pre-view of the Australian Junior Championship that will be held at Sidewinders next April?? Maybe, but one thing is now known – when the Australian Championships do come to Sidewinders early in 2022 – you won't want to miss it! 
Huge thanks to Derick Thomas Photography for these fantastic images from the night – check out all of his work on his Facebook page; https://www.facebook.com/groups/1414580242225169/user/100057108144215/ 
And here is the full scorecard from the night!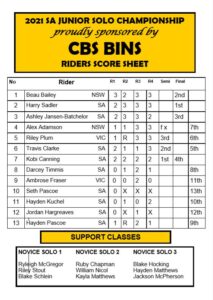 .And from the Sidewinders Club, who put on a great night's entertainment for all and need to be congratulated on a well run Championship;
"What a great night of racing we saw for the SA Championship last night. Congratulations to Harry Sadler on his well earned win in a final which was of the best quality anyone could want. Harry and Beau swapped the lead throughout the race and it showed just how good these kids are.
Congratulations to Beau Bailey on 2nd place, Ashley Jansen-Batchelor 3rd and Kobi Canning who placed 4th after coming through the Semi Final. Kobi had a tough night, but showed his determination in the end, even on a borrowed bike. Every rider rode so well and should be very proud of their achievements.
The young novice solo riders also put on some great entertainment showing how well they are learning their craft, and each one should be proud of their progression.
Many thanks to Terry Dew for his excellent commentary, Anthea and Clint, who did the flag marshal job all night, and to everyone else who volunteered their time to make it a great night. To those who travelled from Interstate, we hope you enjoyed your night and hope to see you back at our track before the end of the season.