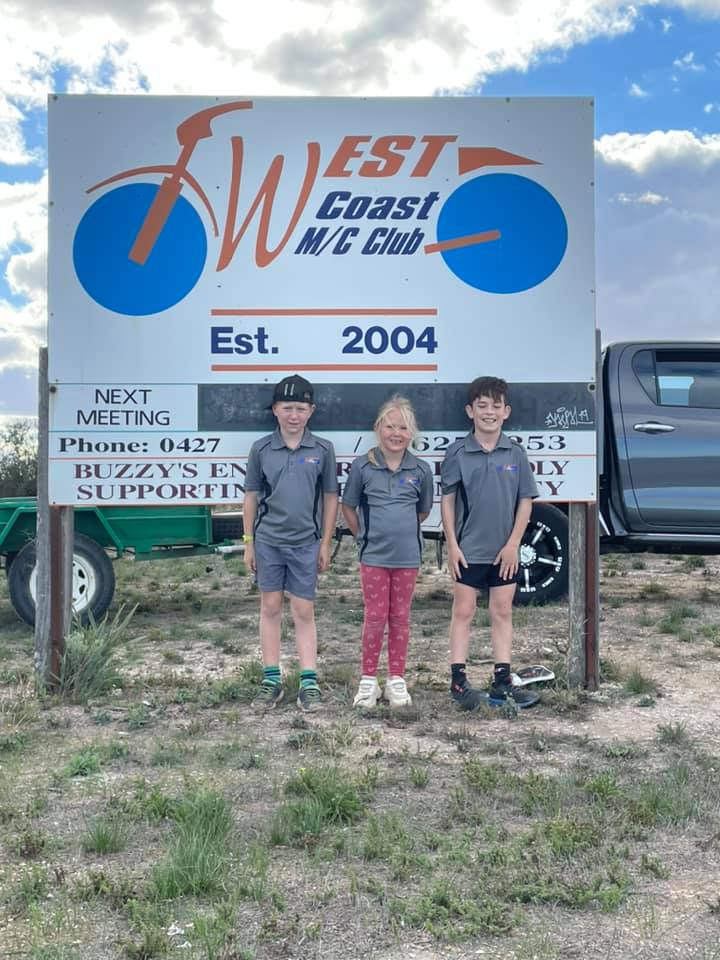 HEAD WEST YOUNG RIDERS, HEAD WEST!
ROUND 3, EAGLE TRAILERS, CAMPERS & CARAVANS SOUTH AUSTRALIAN MOTOCROSS CHAMPIONSHIPS HEADS ANOTHER BUSY WEEKEND!
Round 3 of the Eagle Trailers, Campers & Caravans 2021 South Australian Motocross Championships, along with round 2 of TROY Series SA 2021 for Trial headline this coming weekend, with the SAMX Championships heading to the 'Wild West' of Ceduna, hosted by the West Coast MCC and TROY being run in the Barossa at Vine Vale, with the 48th running of the Keyneton MCC's Mountain Man Trial.
Here is the rundown on this weekend's action – events, ride days and all what's happening!
EAGLE TRAILERS, CAMPERS & CARAVANS 2021 SA MOTOCROSS CHAMPIONSHIPS, presented by AMX SUPERSTORES;
 The trip west means round 3 of 5 of the 2021 Championship, which is also presented by AMX Superstores, so this also means the season is half way to crowning the 2021 South Australian Champions.
With the hot action that has been seen at rounds 1 & 2, those who are travelling and fully supporting the 2021 Championship are putting themselves in a strong position for a great 2021 result, as if the first 2 rounds have proven anything, it's that you definitely need to be in it to win it!
So, a huge thanks to all who are supporting, not only the Championship, but also SA's most remote country Club and their members – it's your support that will continue to see the Championship, and motocross, thrive into the future here in SA, so let's continue to grow support behind these clubs and the Championship.
SA Motocross looks forward to seeing you all there!
And the action will be hot on the track, as has been stated, this is the half way point of the Championship, so those who have been locked in a battle for points will be all out this weekend to try and get a gap as they head to Keith for round 4, and with ALL classes still very much up for grabs, there won't be a single race without handle bars being banged!
The sea views from the Ceduna track will definitely be taking a back seat when the gates drop!
And from the West Coast Club, who are going all out to make every visitor feel welcome!
"We have convinced Jon to put on another roast night on the Saturday night 19th June of our State Championship round (hopefully the weather is kinder this year). So we would love for you to join us in the shed around the fire for a yarn, a coldy and have an awesome feed for $10.00 per plate.
For catering purposes – please let us know and we'll make sure you don't miss out!
AND: as well as Erikah doing face painting from 11.00am-1.00pm Saturday, we will have Mel at the track selling showbags for her great cause, and below is a little bit about Mel's cause
"Selling showbags as part of my fundraising as I'm shaving all my hair off to a number 1 or 2 and donating hair for wigs for sick kids and adults. Fundraising monies will be equally split between RFDS, MS Foundation, Ceduna Hospital Auxiliary and Children's Cancer Institute. Thanks for your support Mel!""
So get around the Club and their friends and supporters – and make your trip one to really remember!
TROY Series SA 2021 round 2, THE 48TH MOUNTAIN MAN TRIAL
TROY Series SA 2021 kicks back into gear on Sunday with the 48th running of the Keyneton MCC's Mountain Man Trial at Vine Vale in the Barossa Valley, just off the Angaston-Tanunda road, action kicks off around 9.30am and entry for spectators is FREE!
50 riders from as young as 6 years of age, right through to veterans in their 60's will be in action, including Australian representatives and Australian Champions like Connor Hogan, Hayden Eardley and Haydon Barwick, and 2019, and reigning, MSA Rising Star, Lillie Yiatrou!
As well as a full day's action the Keyneton MCC will have catering this coming Sunday, with a massive thanks to the 'Masters of Wine' and 'Just Us Girls' (JUGS) Mighty River Run teams! They are raising money for Novita, so get around them and their great cause, with Bacon & Egg sangas for breaky and burgers for lunch – among heaps more!
A great day for the whole family to wander among the gum trees and get up and close to some fantastic trials action, and supporting a great cause!
RIDE DAYS;
MUD N TARS                                      RPA RIDE DAY                        DIRT TRACK
Dirt Track Ride Day this Sunday 20th June at Day Road, Victor Harbor.
Signing-on from 8:30am, bikes on track from 9:30am.
CLARE MCC                                        RPA RIDE DAY                        MOTOCROSS / OFF ROAD
Registrations now open on Ridernet. To enter sign into Ridernet using the rider's Ridernet login. Members required to run the day. You must be a current member. If you want any more info please call Jo 0419 393 906
MSA / ACUSA PARK                          RPA RIDE DAY                        MOTOCROSS / OFF ROAD / TRAIL RIDE
GET KEEN! Ride day this Sunday – 10.00am to 3.00pm, sign on from 9.00am!  With more lovely rain this week, we can now safely say that this Sunday's Ride Day will be held in prime conditions! Looking forward to seeing a full house this Sunday!
AND ENTRIES ARE STILL OPEN FOR SA'S MOST FAMOUS EVENT, THE HARDI 2021 24 HOUR TRIAL;
ONE MORE DAY TO ENTER! Entries close Friday 18th June. Jump onto www.24hrtrial.com and complete your entry today.