INTERNATIONAL SA RIDERS WRAP!
A quick look at how some of our International riders fared over the weekend, with some mixed results and many miles traveled! Well done to all for taking your sport to the next level and taking up the international challenge – never an easy thing to do when Australia is so far away from the majority of the action!
If any South Aussie riders are taking up the International challenge and want to let everyone know what you are up to – email your efforts to projects@motorcyclingsa.org.au and include, where, when, results & a pic or 2, and the MSA staff will be more than happy to shout your results from the roof top!
Levi Day
British Superstock Championship;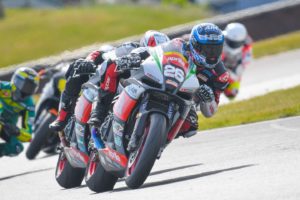 P7 in today's race at Snetterton in Superstock 1000! Happy with that result, we kept chipping away all weekend and from where we were on Friday to today's race was a big step forward.
Huge thanks to my team IN Competition Aprilia for giving me an awesome RSV4 to ride. And to my sponsor AJN Steelstock, was great to have 22 guests from AJN and their customers there today being a part of it all! And to all the people that make it possible to do this and support me.
Thruxton up next in two weeks!
Brian Anthony
British Sidecarcross Championships, passengering for Gary Moulds;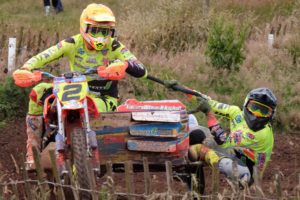 From Gary's team; "So, this weekend the team are in Deanmoor Cumbria. After the enforced break in riding the last few weeks with Steve's injury we welcome Brian Anthony into our team to ride the 3rd Round of the British Sidecarcross championship. It's great that we have Brian on as the guy has so much enthusiasm for racing, it's also great that Steve is here with us to help and support both Gary & Brian.
We'd like to thank Jesper Rasmussen and the Danish Federation for providing Brian with the necessary licence and start permission to take part this weekend.
Let's see what tomorrow brings, no expectations other to enjoy ourselves and hopefully score a few points.
A great weekend was had, and after qualifying 3rd at Deanmoor, good racing and well deserved results Gary and Brian got 3 X 3rd places in only their first time out together hope this is the last of Gary's problems for this year."
Brian, Lara & kids are now back on the continent and heading to Latvia for their next event – traveling and living the dream indeed Team Anthony! 
Connor Hogan (#218)
Trial2 World Championship, Auron France;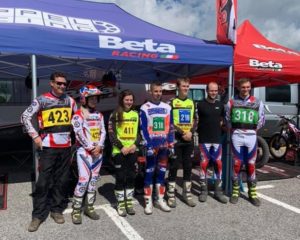 Tough day at the office for Connor, finishing 27th in the Trial2 class at round 7, the final round of the Championship in Auron France over the weekend.
It's been a tough season for Connor, and after 5 straight weeks away from home, it's a fair bet that he is looking forward to coming home tomorrow, but still a super effort from him in 2019, with just the Trials des Nations to end his International year and a target to get Team Australia back onto the International Class podium, like in 2017.
Lillie Yiatrou
Trial2 Women's World Cup, Auron France;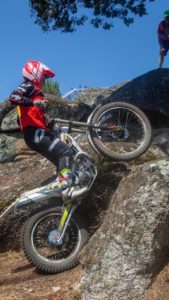 Round 2 of the Trial2 Women's World Cup was also a tough day at the office for our WTC rookie, Lillie, who finished 12th, just 1 point off 11th (her round 1 result), and after qualifying with a clean but the slowest time, it meant she led the whole field onto the course, also not something easy to do, being the first to ride each section.
Lillie now flies home and will prepare for the final round in Spain in September, which will be followed by her Trials des Nations debut straight after.