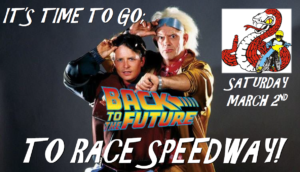 The 'BLAST FROM THE PAST' Meeting
At Sidewinders on Saturday, March 2nd, come along and see a number of Sidewinders 'legends' turn back the clock and go 'back to the future' as they hit the track where it all began for them!
This will be a meeting not to be missed, with the program including 8 ex Sidewinders riders who will demonstrate on 125cc machines during the night.
Riders will include Andrew Nicol, whose son now rides a Peewee, Steven Graetz, Cory Richardson, Shane Bowes and from the same era, Shane Parker and Nigel Sadler, along with Barry Golding and Ashley Watson.
The highlight of the night will be the return of the first ever rider from Sidewinders to win a World Championship, Steven Baker.
It was Steven's father Graham who initiated the development of Sidewinders and the family are still very involved with the Club and Steven is our Patron.
It was in 1983 Steven won the World U21 Championship (pictured below) and it will be great to see him back on the track where it all began.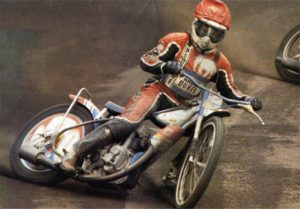 The Silver Helmet will once again be up for grabs, and will be contested by the current crop of Sidewinders solo riders, and who knows, perhaps there is a future World Champion among them, or even the rest of the riders who make up the support events, even the grommets on Pee Wees!
Entry as always, is only $5.00 for Adults, with kids U16 Free,
Official Program $3.00. 
The awesome Sidewinders Canteen will be cranking all night
And, Sidewinders amenities both also have disabled access. 
Gates open 5.30pm, Racing starts 7.30pm.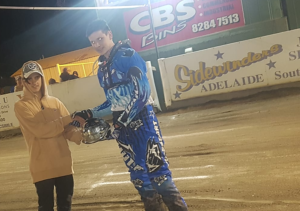 November 2018 Silver Helmet winner, Nicholas Possingham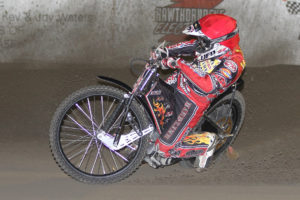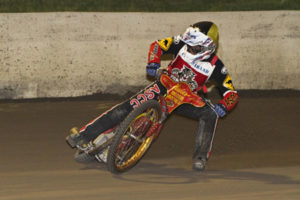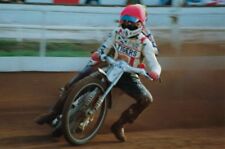 Shane Parker, Nigel Sadler & Shane Bowes in full flight