Race Report from Sidewinders "Blast from the Past" meeting on March 2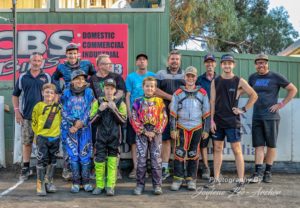 Old and New: Back L to R: Andrew Nicol, Nicholas Possingham, Cory Richardson, Barry Golding, Steven Baker, Shane Parker Jaimon Lidsey, Nigel Sadler
Front L to R Jake Fleet, Ashley Jansen-Batchelor, Harry Sadler. Jordan Hargreaves, Lewis Monaghan.

Thankfully the night cooled down after a few very hot days but the action on the track stayed hot.
Our support groups of peewees, 50 cc's and Novice Solos entertained a good crowd and showed their developing skills and race craft on their demonstration events. A few minor tumbles but all riders back on their bikes and rearing to go for their next event.
Six Solos fronted for a series of scratch races and the Silver Helmet finale.
In the scratch race section visiting popular Mildura rider Lewis Monaghan stood out winning three of his four heats (his bike failed him in his fourth heat ride).Local riders Nic Possingham and Harry Sadler shared the other heat wins with vastly improving youngsters Ashley Jensen-Batchelor and Jordan Hargreaves also showing fast and smooth rides and hounding the front runners. Youngest rider, 9 year old Jake Fleet is also a very smooth rider and was not that far behind the group.
Feature event of the night was the running of the Silver Helmet race. Five riders fronted for the six lap handicap event when Nic Possingham was unable to repair his damaged bike in time.
Easily the race of the season to date with Jake Fleet, who started at the Gate, riding the race of his young life to hold of the fast finishing Lewis and Ashley. Jake won by a wheel and was obviously elated. He becomes one of the few nine year olds to win the second of our Silver Helmets.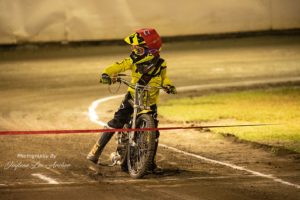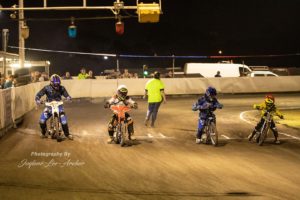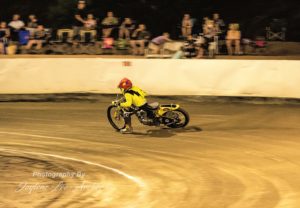 The other feature of the night was the 'Blast from the Past' where six former riders donned the kevlars to relive their youth. Former Sidewinders Stars Shane Parker, Nigel Sadler, Barry Golding, Andrew Nicol, Cory Richardson and Mildura's Jaimon Lidsey threw their legs over borrowed Junior bikes and put on some very spirited demonstrations. They had a ball and showed that they still have all the skills.
Thank you to Lovell Transport for sponsoring the meeting.
Also a big thank you to photographer Derrick Thomas for the donation to the Club of a Proton ute for use by the Club.
Thank you to all the helpers and officials who make these meetings happen and a special thank you to the track staff who produced an awesome dust free track in very trying conditions.
That's it, see you next meeting; the Bitmead Memorial Cup on March 16.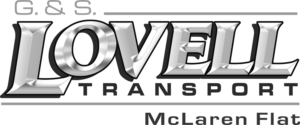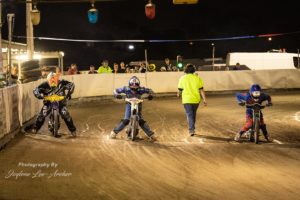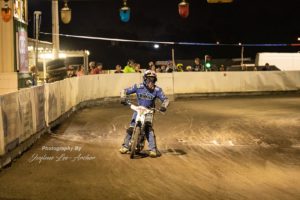 Photos courtesy of Joylene Lee-archer – with thanks.