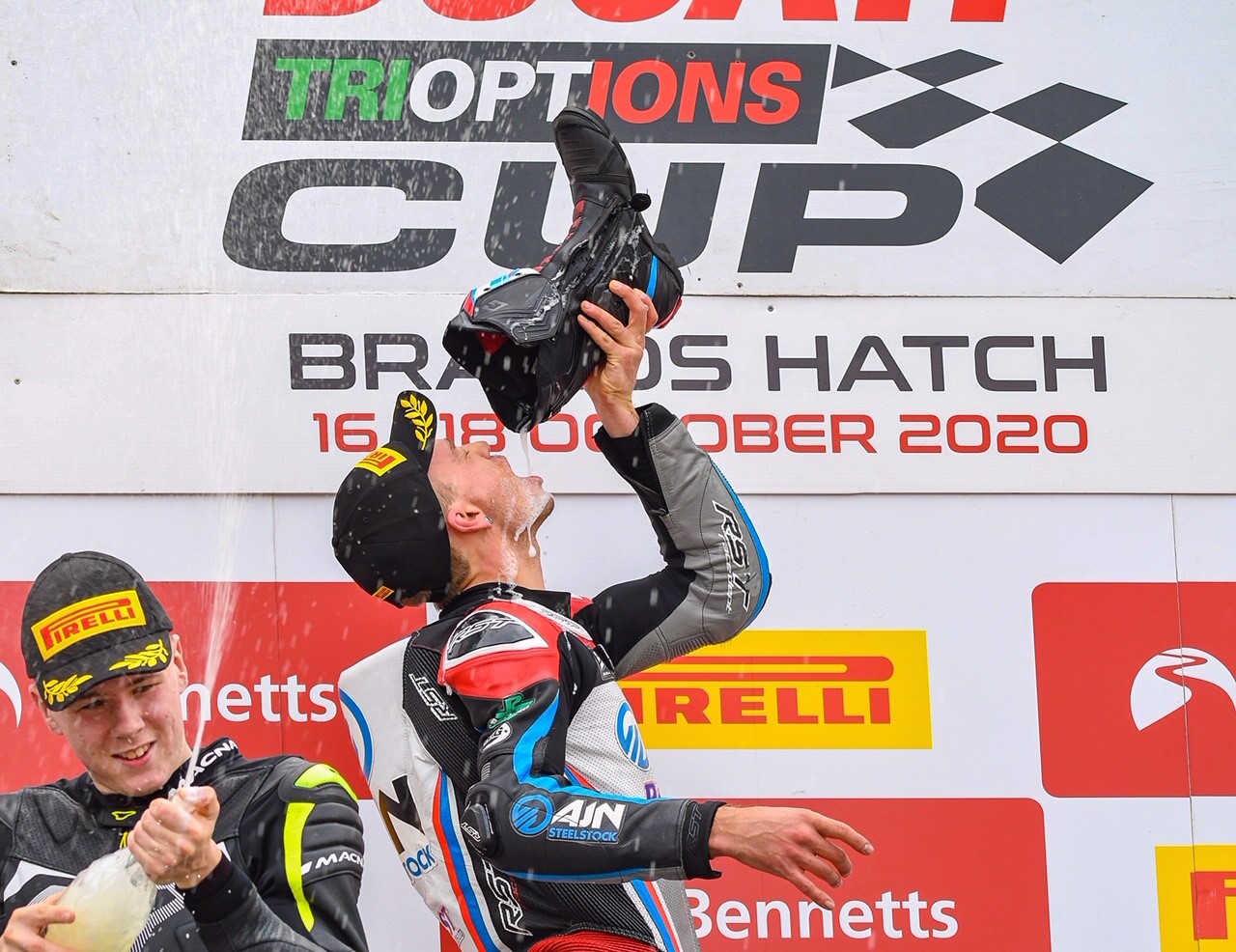 The 5th and final round of the Ducati Tri Options Cup was held at the Brands Hatch GP Circuit over the weekend. I love the GP circuit at Brands, it's super fast and has some insanely scary blind corners.
I was going into the final round 26 points off the championship lead. Every race up until the final round I had finished 1st or 2nd, bar one race where I finished 12th, after running off the track and rejoining. I didn't go into the final round thinking about the championship, as it was going to be a stretch, but my goal was to win both races and that would be all I could do, and then just see what happens from there!
Friday was a little damp for the first practice session but we collected some good information on how to move forward with the bike. We had qualifying on Friday afternoon and the improvements we made to the bike felt better and I managed to put it 2nd on the grid.
I was really looking forward to Saturdays 10 lap race. We had made a few more changes to the bike and was feeling confident. I didn't get a great launch off the line, and was 5th into turn 1. I managed to get passed a couple of riders, and it took me until half way through lap two, to get passed Dijon Compton, who was sitting in 2nd place. By the end of lap 2 Josh Day had a 0.8 second lead on me, but for the next 3 laps I managed to close the gap to 0.25 of a second, setting the fastest lap of the race along the way. On lap 6, Josh's quick shifter stopped working and he put his hand up, which allowed me passed. He managed to continue the race, and ride with out the quick shifter. When I lead a race I always ride my own pace, a famous quote I live by, from Australian Race Car Driver Jack Brabham, who used to say he would try and win at the slowest possible speed. If and when I get out in front in races, I only ever ride as fast as I need too, then if a rider feels like they can go quicker and they can pass me, I'm more than happy to get in a scrap and battle for the victory. If I'm not in front then I'll put it all on the line to try and get there. We managed to hold off Josh to take victory in Race 1 and close the gap down a little, to 21 points. With only 1 race left, if meant Josh would have to get 11th or lower, and I would have to win the race. Josh hadn't finished lower than 2nd all year, so I knew this would be a near impossible task, but I had to put it all on the line and obviously try my best to win.
Race 2 on Sunday was bright and early at 10:05am. I was starting from pole, due to setting the fastest lap of the race on Saturday. I got away well, but it was David Shoebridge who got the whole shot. I passed him off the back straight and led for the first few laps. Elliott Pinson then got passed me and he pulled half a second on me in a couple of laps. I got into a good rhythm and got my head back down, and managed to get back passed Elliot with 2 laps to go. I crossed the finish line with the win, 0.3 of a second ahead of Elliott, and set the fastest lap of the race in race 2 also. Josh played it smart as I knew he would, and rode around in 5th, which was all he had to do to secure the championship. It was a great way to end the year, winning both races at the final round!
I'm really proud of how our season went. If it wasn't for the 12th place I had at the first round, then the final round could have had more to play for between Josh and myself. But it was a mistake of my own doing so only got myself to blame! I can hold my head high when I get beaten and there were times that I wasn't the fastest rider on the day. But I'm proud of the races we had and to win 50% of the races, with the other 50% of the race wins going to the championship winner, is something I'm very proud of.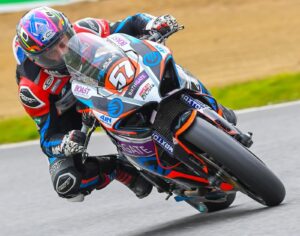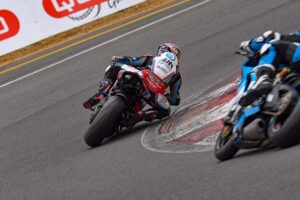 I can't thank my wife Katie enough for all her support. For us as a family, away from the racing, it has been a very tough year. We have endured two miscarriages in the last 10 months and that has been a really difficult thing for us both. We also lost my Pop Max (who our son Max is named after), a few months ago, and were unable to say goodbye, as he was in Australia and due to Covid we were unable to get back. I would like to dedicate our seasons results, to my wife Katie, our angel babies and to my Pop Max, who was always a huge supporter of me following my dreams. I wore a special helmet this weekend to bring awareness to Baby Loss Awareness Month, and would like to give support to anyone else who has had to endure anything like this. Through all of this Katie has had my back 100% and has always been a hugely positive support to me, all the way through.
My team this year, Darren, Nigel and Paul. These guys worked tirelessly to give me a great bike all season and the results are a team effort from everyone involved. I did my job to the best of my ability and so did all my team, and I'm proud to have worked with them all. Our engine was never stripped all year, it never had the cams dialled in, or had the engine apart at all. Apart from oil changes the engine didn't get looked at, at all. It's a credit to Ducati for the build quality of the V2 and shows how good the engine is!
A big thank you to all the people who made this season possible. Mike and Maddie Green, from Boast Plumbing Supplies for supplying the Ducati V2 and all their help. My main sponsor, AJN Steelstock for the amazing support and Bathgate Group. With out these guys, our racing season wouldn't have been possible, and I cant thank them all enough for allowing me to follow my dreams and continue this journey of racing. I am humbled but the support they give me, and not only are they great supporters of my racing, more importantly they are people Katie and I call dear friends!
And to our team partners:
Sublime Designs
Maxton Suspension
Motogear UK
X-Lite Helmets
Rock Oil
PDQ Precision Engineering
Motorcycle Fitness
R&G Protection
RST
Thank you all for the amazing support! Who knows what next year will bring yet, but I would like to step up, perhaps back in to SuperStock 1000 or something similar. I only had one season in stock 1000 and the depth of competition is absolutely world class in that championship, so I would love to have another crack at that if possible. But each year, if I get to go racing at all, it is a huge bonus, as I couldn't do it without the support that my amazing sponsors give me. Thank you all for supporting me this year and roll on 2021!
Cheers,
Levi Day