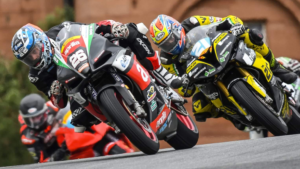 LEVI DAY CHECKS IN FROM THE BRITISH SUPERSTOCK 1000cc CHAMPIONSHIP
Below is Levi's reports from the first 2 rounds of the British Superstock 1000 Championship – read on …
Round 1 of the British Superstock 1000 Championship took place at Silverstone over the Easter weekend. I was really excited to be stepping up into this highly competitive class, with multiple Ex British Championships and previous Superbike riders in this class for 2019. There were 55 riders entered for the weekend, with only 38 grid positions, meaning that 17 riders would be going home without making it to the race.
I have landed a great ride for 2019 with IN Competition Aprilia UK. They have a wealth of experience and great results in Superstock 1000 in previous years. Worth the support of AJN Steelstock and IN Competition this season has been made possible.
We have had two test days at Silverstone prior to the race weekend, and both tests were extremely positive. I had a heavy fall at the final test however and did go into the weekend still fairly sore. Once I was on the bike though your thoughts are soon taken away from that and are focussed on going as hard as possible!
Friday consisted of two free practice sessions. The weather was looking much hotter over the race weekends than at the tests, so we tried a few different set up options to suit the hotter weather.
On Saturday we had qualifying, where I ended 10th position. The times in this class are so close, the top 24 riders separate by 1.1 seconds, and the entire 38 grid that made the race separated by only 2 seconds. At 4 of our 12 rounds this year they run a special format called a 100 mile race. This consists of two back to back races, with a. 10 minute break in between to change tires and refuel. This weekend was one of those rounds. Meaning we had a 24 lap race, followed by another 24 lap race straight on the back of the first race.
I made a good start in race 1 and was battling well inside the top 10. My pace in the first few laps was strong and I was confident in the bike. As the race went on, I was having some handling issues, and tried my hardest to ride around the situation. Nothing major, but enough to make a few tenths of a second difference, which in this class means losing vital positions. There was an awful lot of crashes in the race, so we were lucky to stay out of trouble. I finished the first race in 14th position. In the second leg I again had a good start and managed to be strong for the first few laps. Perhaps pushing hard in the wrong areas, I only had to make a couple of minor mistakes to lose the tow to the front group. I was also given a penalty in this race, which was wrongfully handed out, meaning I had to take a long lap penalty, which was later revoked. Coming across the line in 12th position. I was happy enough with our first two races! Two point scoring rides in such a competitive field and to stay out of trouble. We learnt a lot and I learnt some important lessons in racing hard in this new class for me for 2019.
We made some big changes to the bike overnight and it did feel much better on Sunday. The team around me are amazing to work with, from my mechanics, our data engineer and the team boss, the entire crew are a great bunch of people that I'm proud to have in my corner. We had a third 24 lap race on Sunday. I again got a good start and managed to be stronger for a longer time in race 3. I still felt I was missing some time in a few key areas that meant I couldn't quite hang on to the group of guys in front of me. I finished 11th in race 3, and this ride felt stronger than the day before, so i'm really pleased we made some good steps forward. I am proud that the first weekend we came away with 3 point scoring finishers. There was a lot of crashes this weekend and I think we did well just to steer clear of the trouble. Our pace is there to have much stronger race finishes, and I'm working hard to get the improvements we need to be there. My team are 100% capable and I believe I am as well. There is plenty os positivity in the garage and with the support of my team, sponsors, wife and family, I'm really looking forward to Oulton Park in two weeks' time to take on round 2 of the British Superstock 1000 Championship!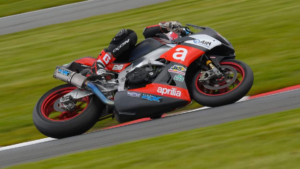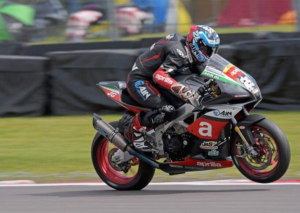 Round 2 of the British Superstock 1000 Championship was held over the weekend at Oulton Park in Chesire. Oulton is an amazing circuit, very undulating and technically demanding. I've had some great success here in the past, putting it on pole and winning the Ducati Tri Options race in 2018.
The IN Competition Aprilia RSV4 was certainly going to be a new challenge for me, tackling over 200hp around this circuit. I've got a great group of people around me in the team and they go above and beyond to give me a fantastic bike and help me adapt my riding to suit the 1000.
We had two free practice sessions on Friday where I ended those in 8th and 10th. With 55 riders entered for the weekend, I'm happy that we are fighting toward the front, but our goal is of course so be even closer! I was working on some areas of my riding to help get the most out of the bike, and each time I get on it, I'm fine tuning this more and more to improve our pace.
We then had qualifying on Saturday. I qualified 13th which I felt I could have gone better but just didn't string a solid lap together when getting held up in traffic on some good laps. The times were close though as always, and finding a few tenths of a second would have got me in the mix with 6th place. The boys worked really hard and found some good ideas from going over the data of the bike. We can view suspension and engine data on the bike to help make informed decisions about improvements and changes we want to make.
On Sunday morning, the rain came down and changed the game plan slightly! The changes we wanted to try were no longer relevant in the damp conditions. But we have had some good wet tests already this year so I was excited to get a race under our belt in the wet.  Off the line, a rider in front of me spun out and I had to take avoiding action. I clipped his arm but fortunately avoided what could have easily been a major collision. How ever this send me back to 30th position on lap 1. I worked my way back a little finally crossing the line in 21st position. Of course this is not where we had hoped to finish. But looking at the whole picture, I have really struggled in the wet in previous years. This is by far the toughest championship I've ever taken part in, and we were able to fight out way back through a few positions. From what happened on the start line it was just about getting some experience on the 1000 in the wet and finishing my second race on a 1000.
We now have Donington in 3 weeks time. I'm really looking forward to getting back on the IN Competition Aprilia RSV4 and making further solid improvements. I must thank the whole team for their ongoing support and for having my back through all our results. And to my sponsors, in particular AJN Steelstock, who make all of this possible! Thank you to everyone supporting me, I'll continue working hard and giving 100%

Cheers, Levi Day
Photo Credit: Cami Pix Photography