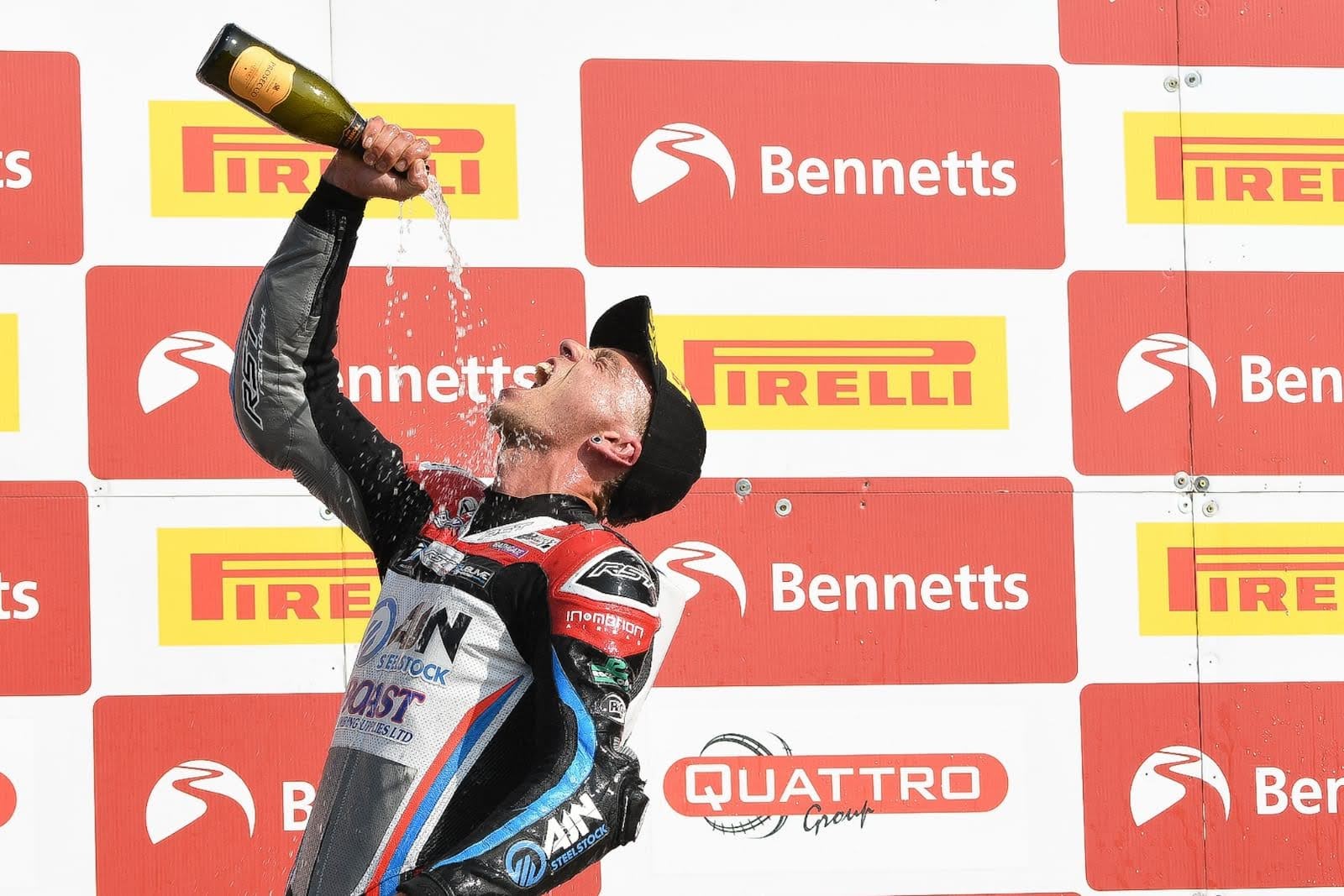 LEVI DAY & DECLAN CARBERRY – TEARING UP THE TRACKS ON OPPOSITE SIDES OF THE WORLD!
FROM LEVI;
The fourth and penultimate round of the Ducati Tri Options Cup was held at Oulton Park over the 18-20 September. It's a track I really enjoy and hugely different to the flat and wide Silverstone that we raced at the round prior. Oulton Park is an undulating twist through the Cheshire countryside, with a big lake in the middle of the circuit. There's never any time to rest around there and has a great mix of fast sweepers and tight hairpins and chicanes.
Friday we had Practice and Qualifying. We managed to get onto the pace straight away and managed a time of 1:40.8 in practice, to set the quickest time for the session. The bike was feeling really good and I was confident going into qualifying. I further improved my time in qualifying to a 1:40.5. Josh Day set a slightly quicker time of 1:40.2. I was unable to have a crack at going quicker as a red flag with 5 minutes to go caused the session to be called early. But our goal at each round is to get it on the front row, and my lap time put me in 2nd place, so we were happy with our session.
We had a 12 lap race on Saturday and we opted to make a few changes to the bike after going through all the information from Fridays sessions. I got away well and was in 2nd by the end of the first lap. I got in to the lead and had some good passes with Josh Day. The bike didn't feel as positive as I'd hoped from the changes we had made and I was unable to consistently do the lap times I'd hoped for. Elliott Pinson also got in the mix and had really strong pace. Unfortunately he had a problem with his bike and it was missing gears. I was right behind him when his bike slowed, and I tried my very best to avoid contact with him but unfortunately clipped his handle bar, causing him to fall. Josh and I went on to over take one another for the next few laps. On lap 11 of 12, I had 0.7 of a second gap and was leading the race, before the raced got red flagged. This meant I took the win in Race 1! Really happy with that result. Elliot and I got called up to race control to review the footage of the crash, hear both sides of the story and ensure it was dealt with correctly, as there were some people who said in interviews and around the paddock that I had made a dangerous move on Elliot and that I should be penalised. The footage was crystal clear that I did absolutely everything to avoid contact with him and that it was clear as day that Elliott unfortunately had a problem with his bike. Roger Marshall, an ex professional racer, is one of the men who review situations like this. And it was his statement that he had never seen a bike slow down that quickly going through that section of track in all his years coming to Oulton Park. I was glad that the correct direction was taken and to have the incident reviewed, to have any doubt removed that I had been riding dirty. The team and I put our heads together that night on making a few changes ahead of Sundays race.
Sunday was another beautiful day at Oulton Park. It had been 24 degrees all race weekend, sun was shining and barely a cloud in the sky. Our race on Sunday was only 10 laps. I got away alright in race 2, but Josh Day and Elliot Pinson got the initial jump. They were setting a great pace at the front and I was managing to hang on to them. Elliott just started to drop a little and Josh was pulling away. I was trying to work out where I could make a move on Elliott. He then had the same issue with his bike in the same section of track as the day before! I was directly behind him and my front tire slammed into his rear tire, causing us to both get a bit shakey. Fortunately, this time he stayed on, as did I, and I passed him in the next corner. It was now lap 6 and Josh had a 1.6 second gap on me. The bike was feeling mega and I knew I had to try everything possible to close the gap. The next two laps were some of my best laps I've ever ridden and I managed to close the gap by lap 8 to 0.2 of a second, setting a new lap record along the way. I was able to show Josh a wheel in a few corners and on the last lap Josh and a lapped rider had a coming together, causing the lapped rider to crash. I was then able to get along side him with half a lap to go. Going into a chicane Josh ran off the track under brakes, allowing me to slip underneath him and get to the chequered flag first! Taking the 2nd win of the weekend!
It was great to get the double win at the weekend and the lap record, especially because it was my birthday on Sunday, so a nice way to celebrate with these results! We managed to close the gap to 26 points. We have 2 races to go, at Brands Hatch in mid October. Josh has been super consistent all year, and hasn't finished lower than 2nd in any races, so he'll be hard to beat. But I've just got to keep working hard and doing our best! I cant thank my team enough for all their hard work, Katie, Darren, Nigel and Paul for all they do for the team. And to our sponsors who make this all possible. I'm so grateful to be able to continue to follow my dreams and without the help and support of our sponsors, none of this would be possible.
I've just returned home from Estoril in Portugal for the final round of the World Endurance Championship. I teamed up with my good mates Jon Railton and Johnny Blackshaw as part of the British Endurance Racing Team for the 12 hour of Estoril. They are a new team to the World Endurance Championship in the last year or two, and I had a great time helping them continue to learn and improve in this championship! Race report on this event to follow, once I've caught up on some sleep and got back to work for a few days!
Thank you to the amazing people who make all this possible:
AJN Steelstock
Boast Plumbing Supplies
Bathgate
And our team partners:
Sublime Designs
Rockoil
Maxton Suspension
PDQ Precision Engineering
XLite Helmets
Motogear UK
RST
Cheers, Levi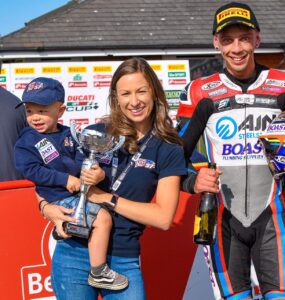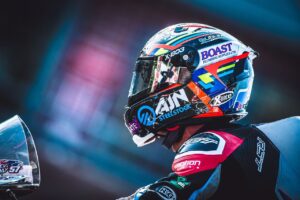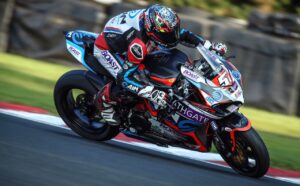 AND FROM DECLAN;
💥💥Master of Mac Round 2 SA CHAMPIONSHIPS 💥💥
Had an amazing weekend at Mac Park.
Kicked off the weekend with Friday practice, weather was awesome and I got 5 sessions on track, Dad and I made a few minor adjustments to the bike setup and I was feeling really confident with the bike.
Saturday morning was straight in to a 20-minute qualifying session, I did 5 to 6 laps then came in to check where I was placed. I was in 3rd but thought I could do quicker so I went back out and managed to beat my PB by doing a 1.11.3s lap wasn't quite quick enough to move in to 2nd but I was still stocked on 3rd and my time, it turned out to be the 5th quickest qualifying time out of all competitors of every class.
Race 1 didn't get the greatest start but still managed to stay 3rd in to turn 1 behind Dallas Skeer 1st and Ty Lynch 2nd I stayed with the two in front for 2 or 3 laps then they started to gap me I finished in 3rd with a 16 second gap to 4th it was a wicked race.
Race 2 got a heaps better start and was in 2nd behind Dallas, Ty. Ty snuck around the outside between turn 2 and 3 so I hung on and tailed him for as long as I could. I managed to hang on to them for longer then the first race finishing in 3rd again. That was the end of racing for Saturday.
Sunday morning race 3 the weather had come in wet which I didn't mind as I like wet races had an awesome start was in 2nd place behind Ty it was a really close race between Ty and I. I finished the race right on Ty's back wheel in 2nd place had so much fun in the wet
Race 4 the track was drying out so we decided to go with slicks Ty and Dallas made the same decision to go with slicks. Most of the field stayed on wets. I had a killer start went in to turn 1 in 3rd On lap 2 made a move on Ty and got in to 2nd the next lap ran a little wide in to turn 1 which let Ty through and I was unable to get back passed.
Had an amazing weekend coming away with a 3rd place trophy
Thanks for your support
Cheers Dj220
#underground_designs
#auldanafoundations
#ndrefinishers
#southermobilewelding
#soutcoastsmallengines
#victormotorcycles
#seaviewcarpentry
#personalhomedesigns
#gregjohnsoninsurance
#mcleaodaccessories
#HorseshoeBayPlumbing
#webbplastics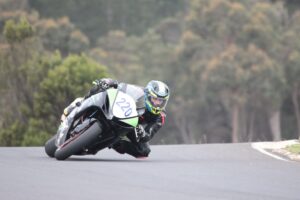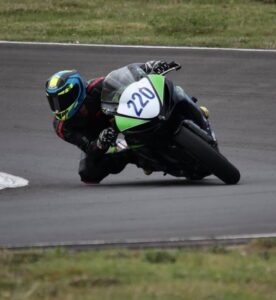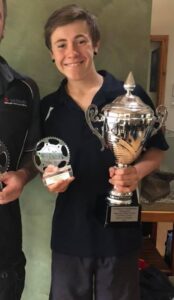 Photo credit; Tony Lees