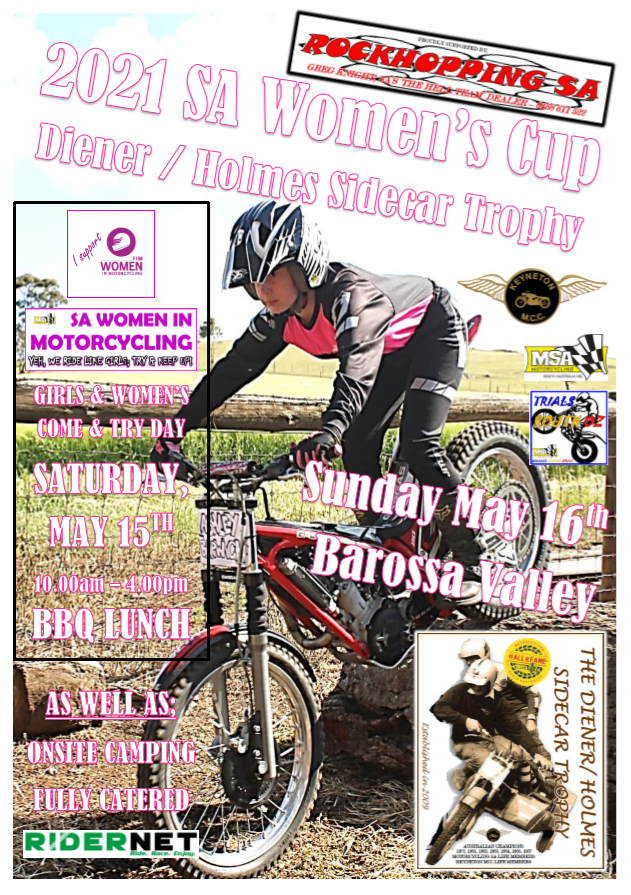 LILLIE YIATROU WINS 4TH SA WOMEN'S CUP (FOR TRIAL) IN A ROW!
Reigning MSA Rising Star Award recipient, Lillie Yiatrou, made it 4 on the trot on Sunday in winning her 4th SA Women's Cup in a row, making her the first to win the event 4 times, and the first to do it in a row as well, as she also took out the PRO Women's Class. Hot on her heals though is junior rider, Alisha Harry, who easily won the SPORT Women's Class, with all 3 entrants in this senior class being junior riders.
A total of 14 girls and women rode the event in 2021, sponsored again by the good folk at Rockhopping SA and run by the Keyneton MCC, and, for the 4th year running, there was also an all-female officiating crew running the event – with thanks to Verlaine Bell (Steward), Tyler Hogan (Clerk of Course), Carole 'Crouch' Tune (Race Secretary) and Wendy Holmes (Scrutineer)!
It was a double win for the ladies, with Melissa Rogers, along with rider Steve Rees, getting the gold in the 2021 Diener/Holmes Sidecar Trophy, the 3rd time the team have won the event (Steve's 4th overall), with it pleasing to also see 3 sidecars in the Sidecar 2 Class this year.
Above left; 2021 SA Women's Cup field, with the officials; (Rear from left) Lillie Yiatrou, Ella Peacock, Jasmine Tarrant, Anna Rogers, Tanya Harry, Melissa Rogers, Charlotte Cowan, Wendy Holmes, Tyler Hogan, Crouch Tune, Jesse Nourse, (Front from left) Verlaine Bell, Hayley Stephen, Alisha Harry, Chelsea Long, Cadance Long, Lucinda Cowan, Ashley Barwick.
Also great to see that the discipline of Trial is still the family sport – with three generations from one family all having a ride together (below) – and for the first time at an event, when David Long ended a 23 year retirement to ride along side his son, Aaron, and granddaughters Chelsea and Cadance, with the girls also having their first ever SA Women's Cup ride – fantastic to see!
Diener/Holmes Sidecar Trophy winners for 2021 (above) – Sidecar 1; Steve Rees / Melissa Rogers, Sidecar 2; Chris Paunola / Damien Nash
(Pics not from the weekend – we wish it was that green! )
Results; The Rockhopping SA 2021 SA Women's Cup & Diener/Holmes Sidecar Trophy
Results; 2021 Trials SA Star Awards – after event #2
Also, on the Saturday there was a Come & Try Day for Girls and Women, with a few newbies coming out for a ride – with a huge thanks to Kieran Hill for taking the time to put them all through their paces – the improvement through the day was there for all to see!