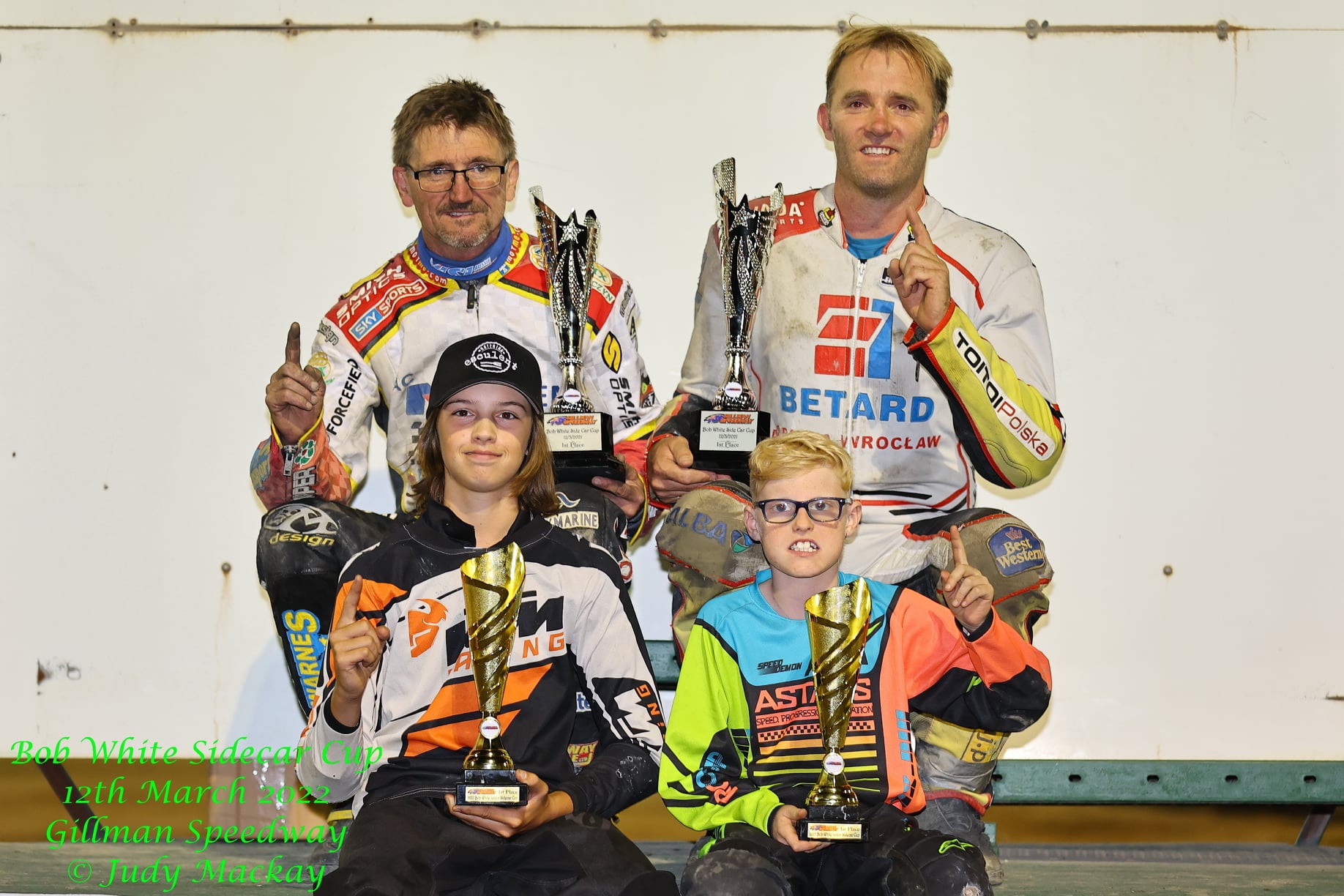 MARK MITCHELL & TONY CARTER CROWNED BOB WHITE CUP WINNERS FOR 2022!
With the 2022 Australian Sidecar Championships, senior and junior, just around the corner (Easter folks – 4 weeks or so away), Saturday night showed that the 2022 Championships are going to be so very much worth the entry fee, as you couldn't ask for, or get any better finals than the junior and senior finals of the 2022 Senior & Junior Bob White Cup last Saturday night.
For those who weren't there on the night, or didn't have the live-stream happening, a fantastic around the outside pass out of turn 4 on the final lap saw the final decided – basically on the line!
Congratulations to Mark Mitchell and Tony Carter for taking out the senior section. Placegetters were Brodie Cohen/Jesse Headland 2nd, Byren Gates/Eli Bock 3rd, and Shane Hudson/Adam Constable 4th.
Congratulations to Adam Niesche and Kobi Canning for taking out the junior section. Placegetters were Kayden Gates/Harley Ackerley 2nd Chloe Ackerley/Eva Whitworth 3rd, and Amelia Silvy/Tyler Lucas 4th.
**Great to also see 2 all girl teams in action and mixing it with the established riders on the night!
Bob would have loved it!
Results (senior) Bob White Cup March 12th 2022
1st Mark Mitchell / Tony Carter 13 Points
2nd Brodie Cohan / Jesse Headland 14 Points
3rd Byren Gates / Eli bock 11 Points
4th Shane Hudson / Adam Constable 14 Points
5th Kym Menadue / Shane Dolan 9 Points
6th Kane Golding / Isaac Amos 8 Points
7th Damien Niesche / Aryton Canning 9 Points
8th Paul Hemsworth / Adam Botham 8 Points
9th Brian Silvy / Damian Egan 8 Points
10th Mitchell Spear / Glen Zaworski 6 Points
11th Max Howse / Riley Commons 5 Points
12th Dean Hobbs / Daniel Low 5 Points
13th Rick Stephens / Nick O'Brien 4 Points
14th Stephen Fowler / Willy Walker 3 Points
15th Daniel Puddy / Byron Mordaunt 2 Points
16th Wayne Lethbridge / G Simounds 2 Points
Huge thanks to the amazing Judy McKay for these great pics!