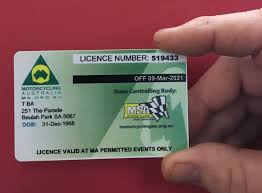 MA'S LICENCE REACTIVATION TIMELINE
Dear Members,
With the May 24 announcement of Sport Australia's Return to Sport Toolkit, Motorcycling Australia (MA) have outlined the following timeline for the reactivation of licence sales and a return to competitive activity.
June 15, 2020 – License sales will be reactivated to renew or apply for your license;
July 1, 2020 – Competition activity may resume on a state by state basis in compliance with state and national guidelines and regulations.
Considering the pandemic and the impact that it has had on the restriction of sporting activities, MA in consultation with the State Controlling Bodies (SCBs) is pleased to confirm an extension of active annual licenses for members affected by the COVID-19 pandemic. All annual licenses purchased in the period between April 1, 2019 to March 31, 2020 will automatically receive a 3 month extension.
MA has considered numerous options to support annual license holders and believes this is the fairest outcome. Extensions for eligible licenses will added automatically prior to the reactivation of license sales on June 15.
We recommend members download the MA license app which will update with your license extension automatically.
OPEN EVENT ENTRIES HAVE ALSO BEEN REACTIVATED!
With the reactivation of licenses entries for Motorcycling Australia sanctioned events can now re-open as well, and the following events are now open on Ridernet and taking entries.
OPENED ON 15TH JUNE
ENDURO
2020 Tri-Series Enduros, round 1 – July 5th, run by the Keyneton MCC
2020 SA Off Road Championships, round 1 and 2 – July 18th & 19th in the Clare district, run by the Clare MCC
TRIAL
Keyneton 2 Day Trial – July 11th & 12th on Menglers Hill in the Barossa Valley, run by the Keyneton MCC
(47th Mountain Man, round 1 of TROY Series SA 2020 and SA Women's Cup & Diener/Holmes Sidecar Trophy)
RELIABILITY
The 2020 Hardi 24 Hour Trial, September 5th & 6th from the Kapunda Trotting Complex, being run by the 24 Hour Trial Organising Committee.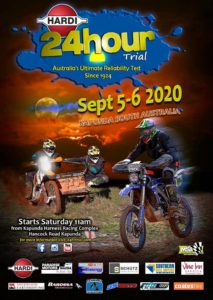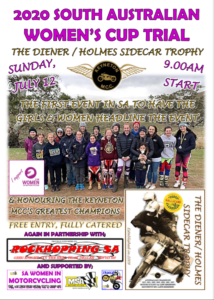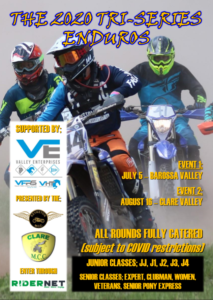 AND STILL TO COME THIS WEEK
MOTOCROSS
2020 South Australian Motocross Championships, round 1, July 25th & 26th @ Renamrk and run by the Riverland JMC
RELIABILITY
The Keyneton MCC's 60th 'annual road trial', being run as the Mike Connors Reliability Trial – July 25th in the Keyneton/Eden Valley area, run by the Keyneton MCC
TRIAL
The Max Graetz Trial – July 26th at Tungkillo, run by the Gawler MCC
(Round 2 of TROY Series SA 2020)