MOTORCYCLING AUSTRALIA (MA) RELEASE THE FINAL SEEDED LIST FOR THE 2019 AUSTRALIAN JUNIOR AND SENIOR SPEEDWAY SIDECAR CHAMPIONSHIPS
It is with great pleasure that Motorcycling Australia (MA) release the Final Seeded List for the 2019 Australian Junior and Senior Speedway Sidecar Championships, as well as the 2019 Senior Speedway Sidecar Championship Qualifier list.
Running from 20-21 April at Pioneer Park Speedway, Queensland, the 2019 Junior and Senior Speedway Sidecar Championships will electrify both competitor and spectator, as Australia's leading Speedway Sidecar riders fight for the coveted 2019 titles.
A Qualifier will be held on Saturday 20th April for the 2019 Australian Senior Speedway Sidecar Championship, where 16 duos will battle it out for the remaining eight places available. Upon the close of Saturday's Qualifier, riders and fans will return on Sunday, 21st April to see Australia's finest bring the heat for a chance at the 2019 Senior Speedway Sidecar title!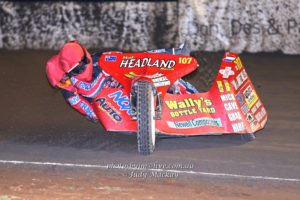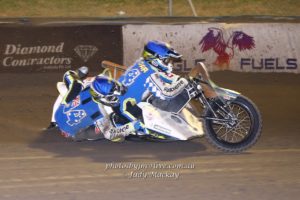 A huge congratulations & good luck to all of the South Aussie teams that will be making the trek to Queensland for the Championships in late April
SEEDED RIDERS (in no particular order):
Darrin Treloar / Blake Cox
Brodie Cohen / Damien Egan
Hamish Golding / Liam Cox
Reece Liptrott / Jesse Thomas
Andrew Buchanan / Denny Cox
Trent Headland / Darryl Whetstone
Mark Plaisted / Ben Pitt
Warren Monson / Andrew Summerhayes
QUALIFIERS (in no particular order):
Shane Hudson / Adam Constable
Hayden Bond / Brady Cox
Dave Bottrell / Chris Bottrell
Stephen Saunders / Clarissa Mitchell
Tyler Moon / Adam Lovell
Sam Harrison / Luke McGrath
Shane Rudloff / Scott Morris
Grant Bond / Glenn Cox
Mick Headland / Brenton Kerr
Byren Gates / Michael O'Loughlin
Rob Patterson / Brett Lovell
Brian Silvy / Cameron White
Dylan Blain / Josh Murray
Stuart Firth / Jason Martin
Jamie Moohan / Bayley Ogilvie
Damien Niesche / Mitchell Spear
Reserves:
1st Res: Scott Fisher / Darren Wade
2nd Res: James Miano / Matthew Bullock
3rd Res: Steven Hawtin / Jacob Lynd
Running in conjunction with the seniors, the 2019 Australian Junior Speedway Sidecar Championship will run on Sunday 21st April. Make sure you get yourself to Pioneer Park for the Easter weekend, to witness Australia's impressive emerging Speedway Sidecar talent!
JUNIOR SIDECARS (in no particular order):
Max Howse / Riley Commons
Brady Tickle / Jesse Tickle
Jake Cook / Cooper Tickle
Madison Kerss / TBA
Jack Fewster / Adam Fewster
Jackson Milner / Adam Niesche
Jake Treloar / Isaac Mitchell
Nate Headland / Caden Silvy
Connor Curran / Brodie Kerss
Keep up to date with all Australian Speedway Championship news by heading to the Australian Speedway Championship Website, or head over to Facebook for all your Speedway news.
With thanks to Judy Mackay for the brilliant pics (as always)