MOTORCYCLING SA 2020 ELITE RIDER PROGRAM SQUAD ANNOUNCED
Motorcycling SA are thrilled to be relaunching the Motorcycling SA Elite Rider Program in 2020, after opening up applications only a few weeks ago, we have been inundated by fantastic applications from riders wanting to participate in the Elite Rider Program & the Elite Rider Conference coming up at the end of this month.  With the bar being set at a very high standard from the years gone past this made selection for this year's squad very difficult.
The Elite Rider Program remains aimed at the finest & most talented young riders aged between 16 and under 21, to assist them in building their racing careers.  With the specific focus to ensure the highest quality riders are offered the opportunities of being part of the squad.
"South Australia has some great talent and it's important to offer development opportunities to those who strive to be the best in South Australia. Our young riders of today need to have the same or better opportunities to make that elite level as some of our larger neighbours. The Elite Rider Program enables us to work closely with the best young talent in SA, and from a range of disciplines" says Brenton Matters, Motorcycling SA President.
In 2020 the Elite Rider Program will be condensed into two full days of intensive off bike training in a conference format aimed at increasing the selected rider's knowledge in areas of fitness, nutrition, media and marketing as well as helping them with mental preparation. These tools will enhance participant's performance & profile within the sport.
Each rider has been selected by Motorcycling SA because they have demonstrated excellent results over the past year(s).  In addition to their results they have been able to demonstrate that they have a great attitude and commitment, with the potential to be future champions of our sport and to become excellent ambassadors & representatives for motorcycling.
Motorcycling SA has great pleasure to announce that the following riders which have been selected for the Elite Rider Program in 2020. Congratulation to the following riders-
The 2020 Elite Rider Squad:
RIDER                                                  DISCIPLINE
AIMEE BUTLER                                    motocross
ALEX HEAD                                          enduro
ALEX KREIG                                         enduro
CARL NITSCHKE                                   enduro
DAMIEN JENKE                                    reliability trial
DANIEL FRASER                                   dirt track / trial / enduro
DECLAN CARBERRY                            road race
FRASER BOWES                                   speedway
HAYDON BARWICK                             trial
JACK McLEAN                                      motocross
JAY SIMISTER                                      enduro
JAXON RAYNER                                   motocross
LACHLAN PAGON                                motocross
TARJA MORRIS                                    motocross
TEAGAN PEDLER                                 speedway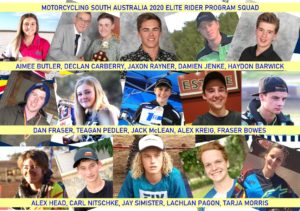 "I am thrilled to relaunch this program in 2020. We have been able to select a great mix across our disciplines with the applicants we have had.  With our past camps/programs we have seen great success come of the riders involved, winning national titles, representing Australia and going on to great things in their careers." says Andrew Warnest, Motorcycling SA Projects & Media Officer.
"This new 2 day format for the program is going to be a steep learning curve, and physical test, for all the selected riders, but it will be so useful for their future development within the sport & careers" he says.
These selected riders will be put through their paces on the April 4th and then on July 18th.
The Motorcycling SA Elite Rider Program will once again follow all the Squad members throughout their season, providing follow up sessions as needed, and tracking performance on track.
Stay tuned for more announcements in the coming days about the program.
For all media enquiries and interview requests, please contact;
Andrew Warnest
Motorcycling SA
08 8332 9000