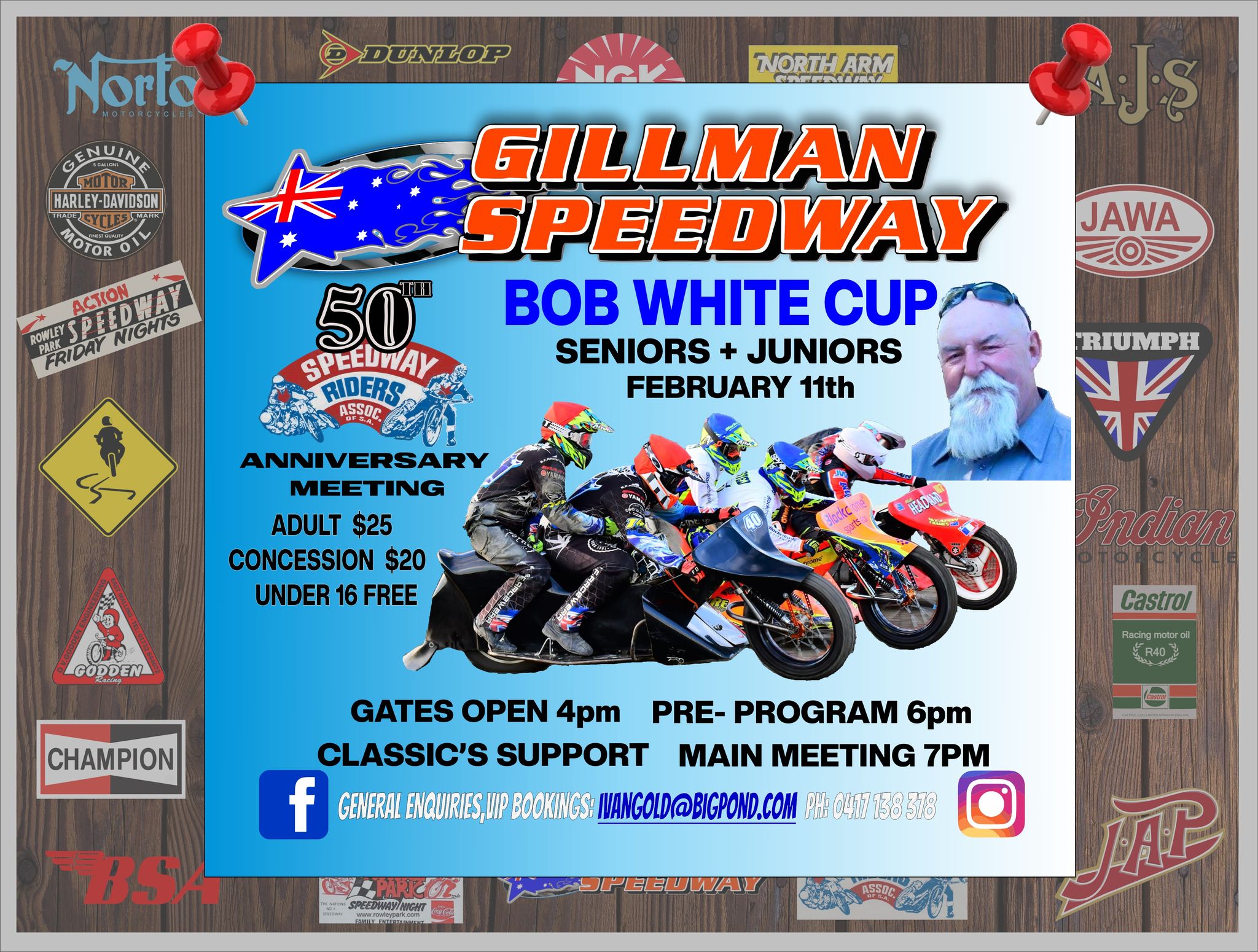 Exciting three-wheel sidecar action returns to Gillman Speedway this Saturday night (February 11) for the running of the fifth Bob White Sidecar Cup, which this year will be held in conjunction with the Speedway Riders Association of South Australia Inc, 50th Anniversary Cup.
A star studded field of local South Australians along with interstate riders from New South Wales, Victoria and Queensland have nominated for the event all eager to get their names engraved on the Bob White Cup in memory of a great man, who did so much for the sport.
Australia's most successful Speedway competitor Darrin Treloar (passenger Blake Cox) are aiming for their fourth win from four attempts after pulling out of last year's event due to their tow vehicle breaking down while travelling across the Hay Plains.
Treloar / Cox, have rewritten the record books winning an amazing ELEVEN Australian Championships and 42 state Championships (24 in their home state of New South Wales), won the first three Bob White Cups held (2019, 20 & 21), before the streak was broken last season and will start the meeting as the pre-race favorites, a tag they carry prior to competing in any event.
Defending title holder Mark Mitchell / Tony Carter are making their first appearance for the season and will be aiming to make it back to back wins. Reigning Queensland Champions Tyler Moon / Adam Lovell will be competing in their third meeting at Gillman and have put in some impressive performances in the previous two outings.
Former Victorian Champions Byren Gate / Mick O'Loughlin (third last year) will be aiming to finish a steps higher on the podium by the end of the night.
A number of New South Wales teams have nominated including Broken Hill youngsters, Max Howse / Riley Commons and experienced campaigners, Rick Stephens / Nick O'Brien, who have finished fourth on two occasions, in 2019 & 20.
Third generation racer, Jake Treloar (passenger Eli Wright), is entering his second full season of senior speedway sidecar racing. Jake is the teenage son of Darrin, and the Grandson of the late Garry Treloar, who was a top line rider in the 1970's and 80's.
Treloar / Wright surprised the critics in their Australian Championship debut at Gillman last year finishing in eleventh place with 6 points, and higher than what his famous father Darrin did way back in 1986.
The South Australian list of riders includes a number of former Australian Championship finalists, including Damien Niesche / Mitchell Spear (who have been runner up twice, including last year) and Shane Rudloff / Damian Egan (who were third last season), along with last year's surprise packet in the Australian Championship qualifier, Dean Hobbs / Daniel Low (who scored an amazing 10 point haul starting the meeting as a reserve), with reigning South Australia number two Kane Golding / Issac Amos also not to be taken lightly.
A host of local South Australian teams make up the remainder of the field which include second and third generation racers, Nathan Fleet  /Cameron Diwell, Nate Headland / Jason Rayner, Josh Pascoe / Matt Crawford and Adam Pascoe / Axel Brereton, who have also entered, along with male/female combination of Chris Walker / April Cottrell from Victoria.
Sixteen riders will do battle over twenty heats with the top three point scorers progressing straight through to the A Final, with the next four highest point scorers (four through seven) to contest the semi-final (B Final), with the winner going on to compete in the four rider, four lap final against the top three point scorers on the night.
It should be a good night's racing.
Event Details:
Gates Open: 4pm, Adults $25, Concession $20 (Eftpos available)
Kids under 16 FREE, Programmes $5
Pre-Programme 6pm, Racing from 7pm
Pits open for spectators until 6.30pm (Approx.)
FREE Off-street parking, Grandstand 50% capacity
Canteen, Bar and Souvenirs available (Eftpos available)
Live Stream $25 AUD link available SOON on Gillman Speedway pages
Enquiries Ivan Golding via ivangold@bigpond.com or 0417 138 378