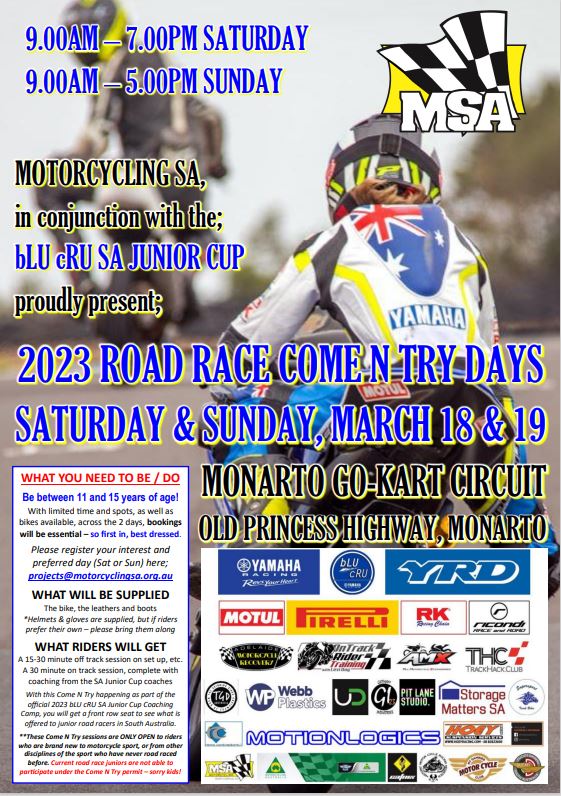 CALLING ALL BUDDING ROAD RACE CHAMPIONS – either those who are yet to enter the exciting sport that is motorcycling, or those who are already in the sport and riding on dirt but might just like to see what all the fuss is about on bitumen!
MOTORCYCLING SA, in conjunction with the bLU cRU SA JUNIOR CUP, are excited to announce a 2 day Come N Try Road Race weekend at the MONARTO GO-KART CIRCUIT, OLD PRINCESS HIGHWAY, MONARTO. Gates will open at 8.00am each day for an 8.30am sign on, followed by a 9.00am start.
With this Come N Try happening as part of the official 2023 bLU cRU SA Junior Cup Coaching Camp, you will also get a front row seat to see what is offered to junior road racers in South Australia – and get some tips from riders that are not long in the sport themselves – as well as get all the details on the bLU cRU SA Junior Cup programme.
There may also be giveaways and other activities happening on the day – keep an eye on the Motorcycling SA socials over the next week to see about any and all updates! In the mean time though, scroll down to see what you will need to do to be involved, as well as what you will get for your time.
Pictures from Pit Lane Studio.
WHAT YOU NEED TO BE / DO:
Firstly, you need to be between 11 and 15 years of age, boy or girl – it doesn't matter!!
With limited time and spots, as well as bikes, available across the 2 days, bookings are essential. Please register your interest and preferred day (Saturday am/pm or Sunday am/pm) here; projects@motorcyclingsa.org.au – it will a be a first in, best dressed scenario.
*While all efforts will be made to slot you in at your preferred time, please be flexible with the times as there is likely to be only 24 places available on Saturday and 16 on Sunday.
**Riders will be contacted from Wednesday, 16th March, as to when they are booked in, and will be asked to arrive 30 minutes before that time.
WHAT WILL BE SUPPLIED:
The bike, the leathers and boots,
Helmets & gloves can also be supplied, but if riders prefer their own – please bring them along – off road helmets with goggles will be allowed.
A FREE 90-day Introductory Recreational Licence (IRL) – but if, and only if, you have never held a Motorcycling Australia licence of any type before (so brand new to motorcycle sport)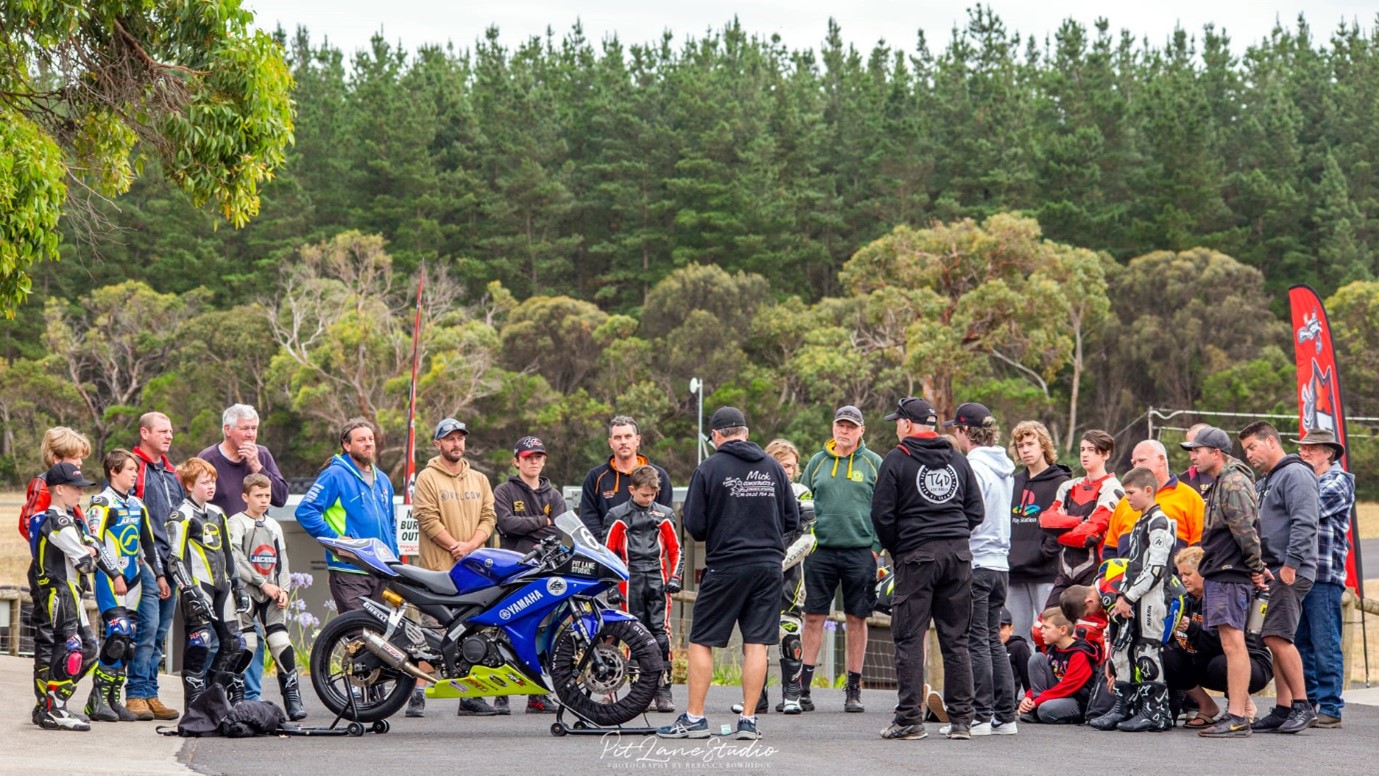 WHAT YOU, AS A RIDER WILL GET:
A 20-30 minute off track session, including getting geared up (dressed), a rundown on the bike, the track and how to ride it, as well as what flags will be used, and what they are for.
A 30 minute on track session, complete with coaching from the SA Junior Cup coaches, which will include tips on cornering, braking and more!
**Please note, these Come N Try sessions are only OPEN to riders who are BRAND NEW to motorcycle sport, or riders from other disciplines of the sport who have NEVER road raced before. Current road race juniors will not able to participate under the Come N Try permit – sorry kids!
The bLU cRU SA Junior Cup, breeding tomorrow's Champions today!