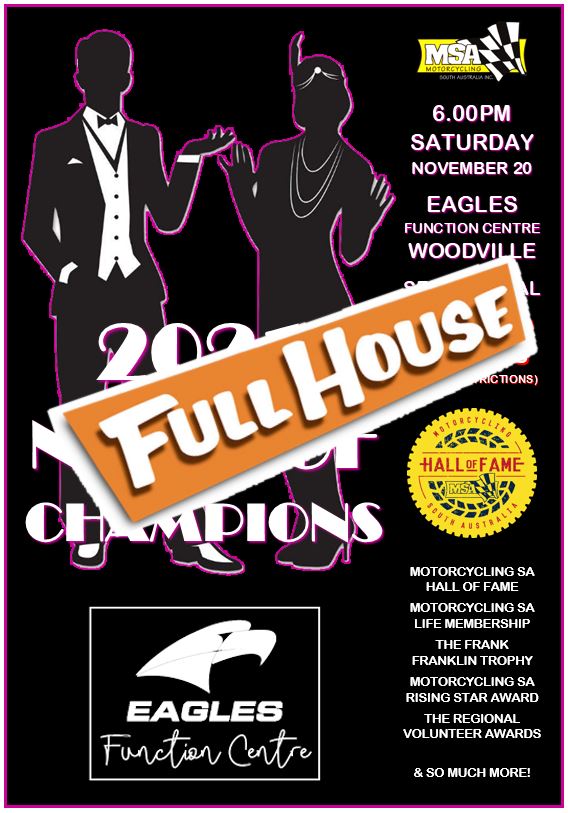 3 DAYS TO GO!
After a years absence due to COVID-19, this Saturday night sees Motorcycling SA hosting our 'Night of Nights', the 2021 Night of Champions, at the Eagles Function Centre at Woodville, which this year, sees Sport SA CEO, Leah Cassidy attending as our special guest.
AND: With the easing of restrictions and the demand for tickets this year, MSA are excited to announce that a record 230 seats have snapped up in 2021 – an amazing response and thanks to all who are attending, what always is, a great night! This is the 14th year of the Motorcycling SA Awards, since 2007, and the night just keeps getting bigger and more exciting each year!
Here is all the need to know for the night!
VENUE; EAGLES FUNCTION CENTRE, OVAL AVENUE, WOODVILLE SOUTH.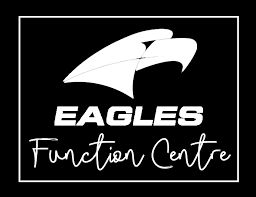 DOORS OPEN; 5.15PM
BE SEATED BY; 5.55PM
OFFICIAL OPENING; 6.00PM
ENTREE; 7.00PM
MAIN COURSE; 8.15PM
DESSERT; 9.15PM
WHAT WILL BE PRESENTED – in order of presentation!
2021 MSA RISING STAR AWARD
For our most outstanding junior riders under the age of 16, with 24 nominations received across 5 disciplines, with a finalist to be announced from each discipline before an overall Rising Star Award winner for 2021 is announced!
THE 2021 FRANK FRANKLIN TROPHY
The Frank Franklin Trophy is South Australian motorcycle sports most prestigious individual award for 'off bike' involvement in our sport, and since its inception has been won by some of SA's hardest working and most unassuming motorcycle identities – and from all disciplines of motorcycle sport as well!
AUSTRALIAN CHAMPIONSHIP & INTERNATIONAL and/or AUSTRALIAN REPRESENTITIVES
Sadly COVID-19 has really played havoc with many, if not quite all Australian Championship series and events over the past 2 years, with Motorcycling Australia left with little choice but to postpone and then cancel the events. However, there was at least one weekend of events that managed to take place in amongst lockdowns, travel bans and every other crazy thing that has been happening over the past 2 years, and there were a couple of riders that got to achieve International success, and on the night they will be highlighted!
2021 MSA HALL OF FAME – MR GAVIN PORTEOUS
The main event of the evening, to induct our next member into Motorcycling SA's most exclusive club, the Hall of Fame, and again in 2021 the MSA Board have had to make a very easy decision, as the 2021 inductee is truly one of our greatest ever Champions in a career that spanned a total almost 30 years. Road Race sidecar ace, Gavin Porteous, or 'Big Gav' to many is the 9th inductee into our very exclusive Hall of Fame!
2021 MSA REGIONAL VOLUNTEER AWARDS
2021 sees Motorcycling SA recognise 15 Regional Volunteers, encompassing officials, coaches, and club stalwarts, those who have many years' experience, to those who are relatively new, and those who put more hours in to the sport than is sometime humanly possible – and ask for nothing in return – and they also come from all walks of life and all parts of South Australia!
2021 !
2021 MSA CLUB OF THE YEAR
The final award for the night, is the coveted MSA Club of the Year Award, and again, the hard working office staff have had a lot of difficulty this year in picking the finalists and a winner, so what they have done is picked a shortlist of 4 worthy and great clubs.
ALSO;
During the evening there will be a number of guest presenters and special guest spots – including a chat with Road Race Sports Manager, Kym Bolto, regarding the brand new 2022 South Australian Junior Cup, a chat with 3 awesome South Australian talents regarding their European aspirations and how COVID has put a stall on their travel plans, for now – and a few more highlights to be unveiled on the night!!
CRAIG WASLEY from CLASSIC SHOTS PHOTOGRAPHY will also be in attendance to capture all of the highlights of the night.
To all those who have gone to Ridernet and purchased their tickets – a huge thank you – and to those who are yet to do it, the ticket payment option will close Thursday night at 11.00pm, so please get it done before then. (if you have issues, give the office a call – 8332 9000 for assistance).
Looking forward to seeing everyone in their 'Sunday best' on Saturday night!
A LOOK BACK AT 2019 – HALL OF FAME & THE FRANK FRANKLIN TROPHY
THE 2019 MSA RISING STAR AWARD
2019 REGIONAL VOLUNTEERS, INTERNATIONAL & AUSTRALIAN CHAMPIONSHIP RECOGNITIONS
2019 MSA CLUB OF THE YEAR AWARD!