Saturday November 19 saw 150 people descend on the Eagles Function Centre for Motorcycling SA's 2022 'Night of Nights', and once again it was a great night of celebrating all that happened during the past 12 months.
With many of the MSA Hall of Fame inductees and Life Members, as well as the MSA Board present, the night was hosted by the 'new guy', MSA's new Communications Officer, Geoff Battle, all of the annual awards were presented to some very worthy recipients, as well as celebrating those who were crowned Australian Champions, or travelled overseas during the year.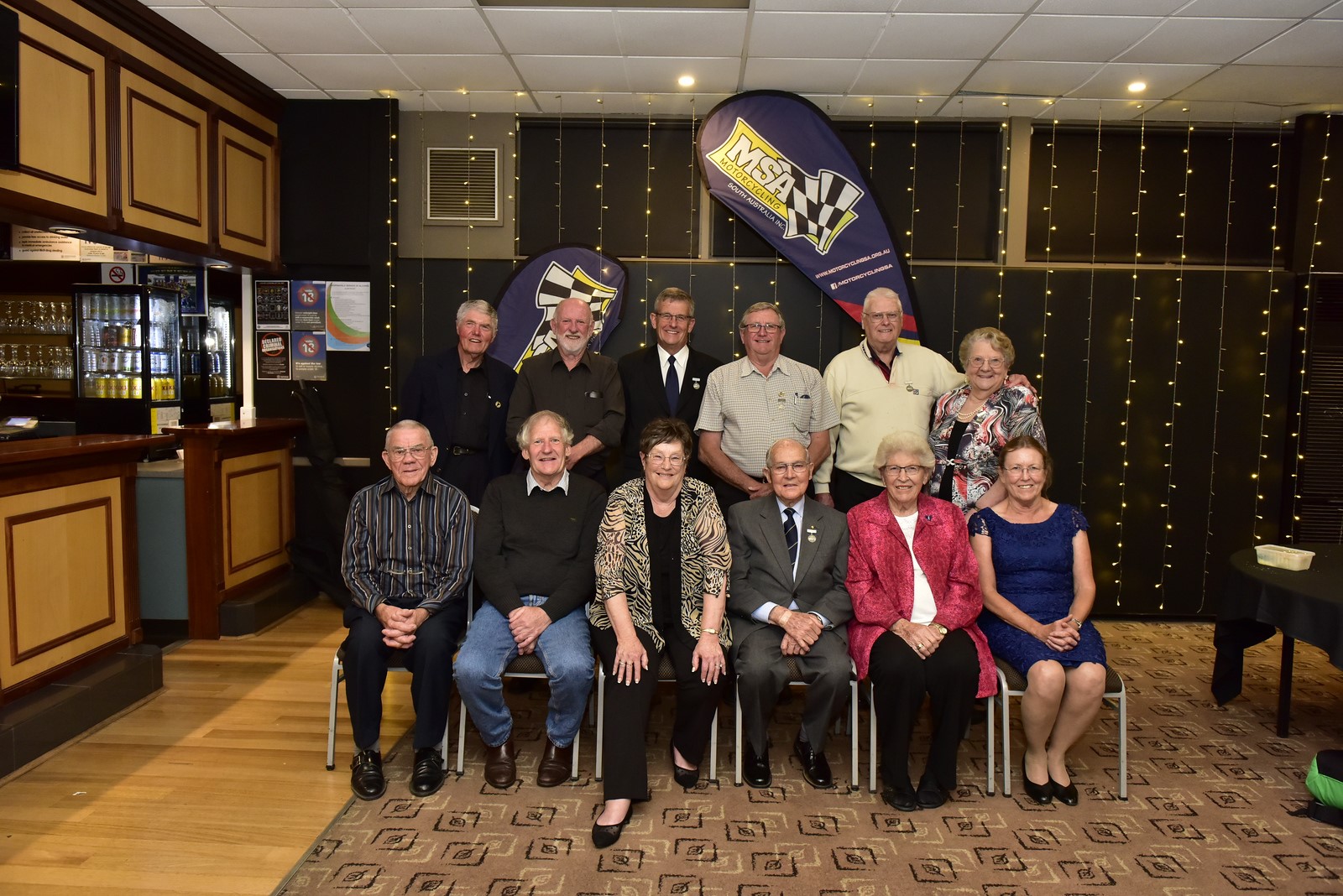 Pic: MSA Life members (back from left) Trevor Henderson, Phil Tunbull, Roger Greenhalgh, Philip Holmes, Brian Kuerschner, Maureen Kuerschner,        (Front from left): Bill Horsman, Jeremy Burgess, Pam Groom, Allan Wallis, Alison Sparkes (for Peter), Barbara Greenhalgh – missing Murray Williams
Kicking off the night was the wrap of the inaugural year of the bLU cRU SA Junior Cup for junior road race, with the 2022 Champions crowned, and a good interview with the driving force behind the Series, Kym Bolto – who himself is up for a Sport SA Award for Volunteer of the Year for his efforts in getting the Series off the ground.
Congratulations to the inaugural podium of the bLU cRU SA Junior Cup; 1st – Rikki Henry, 2nd – Cooper Pitt, 3rd – Ethan Dellow, with a shout out to Rikki, as well as Archie S, who have both been selected to compete in the 2023 Oceania Junior Cup due to their efforts locally in 2022.
  Rikki Henry – 1st                                   Cooper Pitt – 2nd                                 Ethan Dellow – 3rd                          Kym Bolto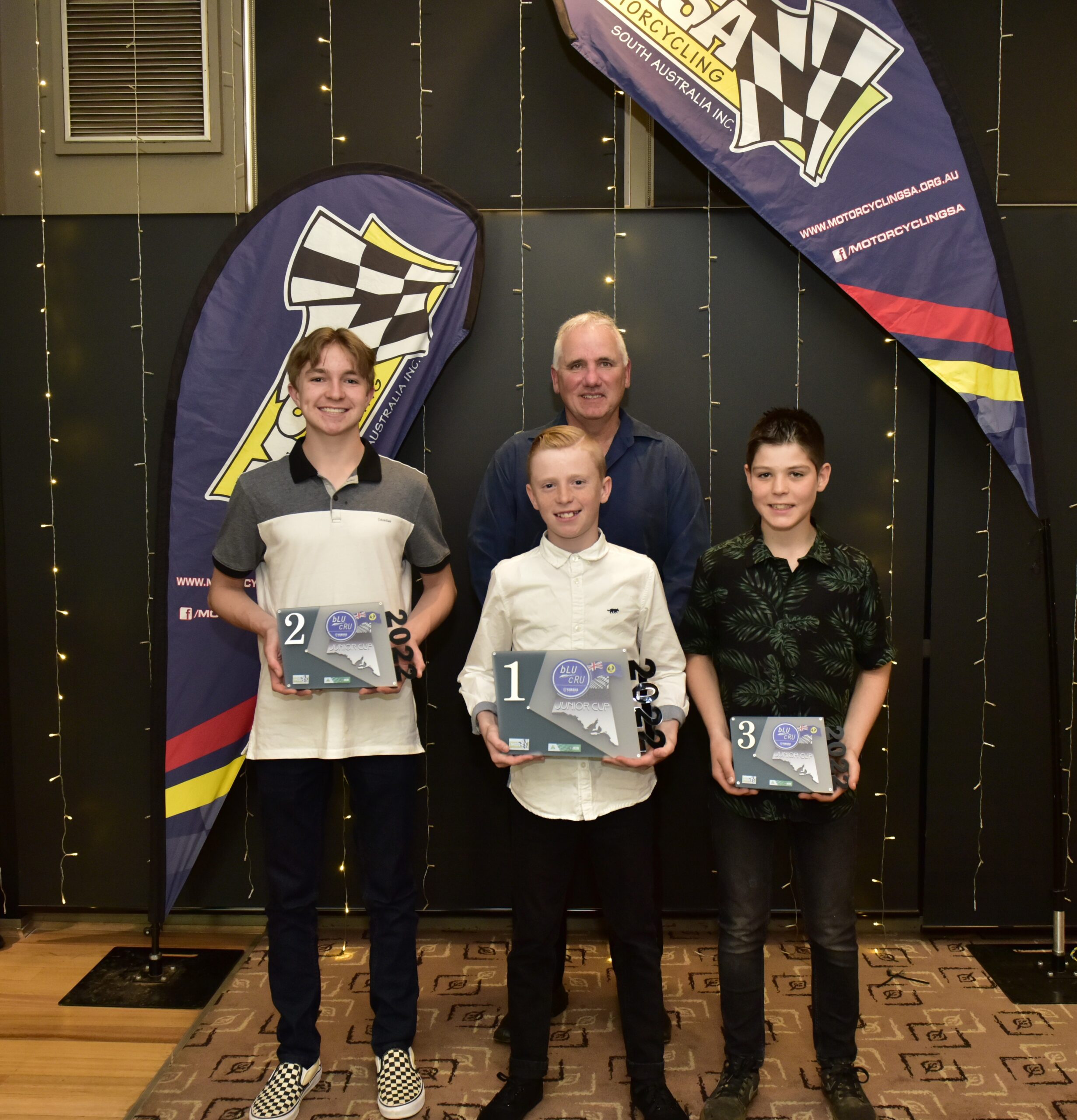 The coveted Motorcycling SA Rising Star Award or 2022 was presented on the night by one of SA's finest exports, in motocross and supercross legend, Brett Metcalfe, who talked with passion about his love for the sport, with all of the Rising Star nominees present hanging on his every word.
The 20 Rising Star nominees were shortlisted to 6 finalists, with the winner coming from the discipline of speedway, with this being the first time a speedway rider has won the award in its 14 year history, so a huge congratulations to Ashley Jansen-Batchelor, the 2022 MSA Rising Star, with the other finalists being;
Davey Gear (enduro)
Ollie Gear (enduro),
Hayden Eardley (trial),
Cameron Rende (road race)
Emily Lambert (motocross)
Just as a guide to how well SA juniors are reaching for the stars, Ashley headed overseas and rode in the SGP3 (U16) World Championship in Poland, all 6 finalists stood on an Australian Championship podium in 2022, with Davey & Ollie being crowned Australian Champions – huge wraps on our amazing juniors.
   Ashley Jensen-Batchelor and Brett Metcalf                                          Hayden Eardley and Brett Metcalf                                                                                  
Rising Star Nominees:
 

-Back from left:

                                                             Kye Little and Family                                                Darcy Timmis and her Dad
   Darcey Timmis (Speedway)
   Ashley Jansen-Bachelor (Speedway)
   Hayden Eardley (Trial)
   Ashley Barwick (Trial)
   Harry Petersen (Trial)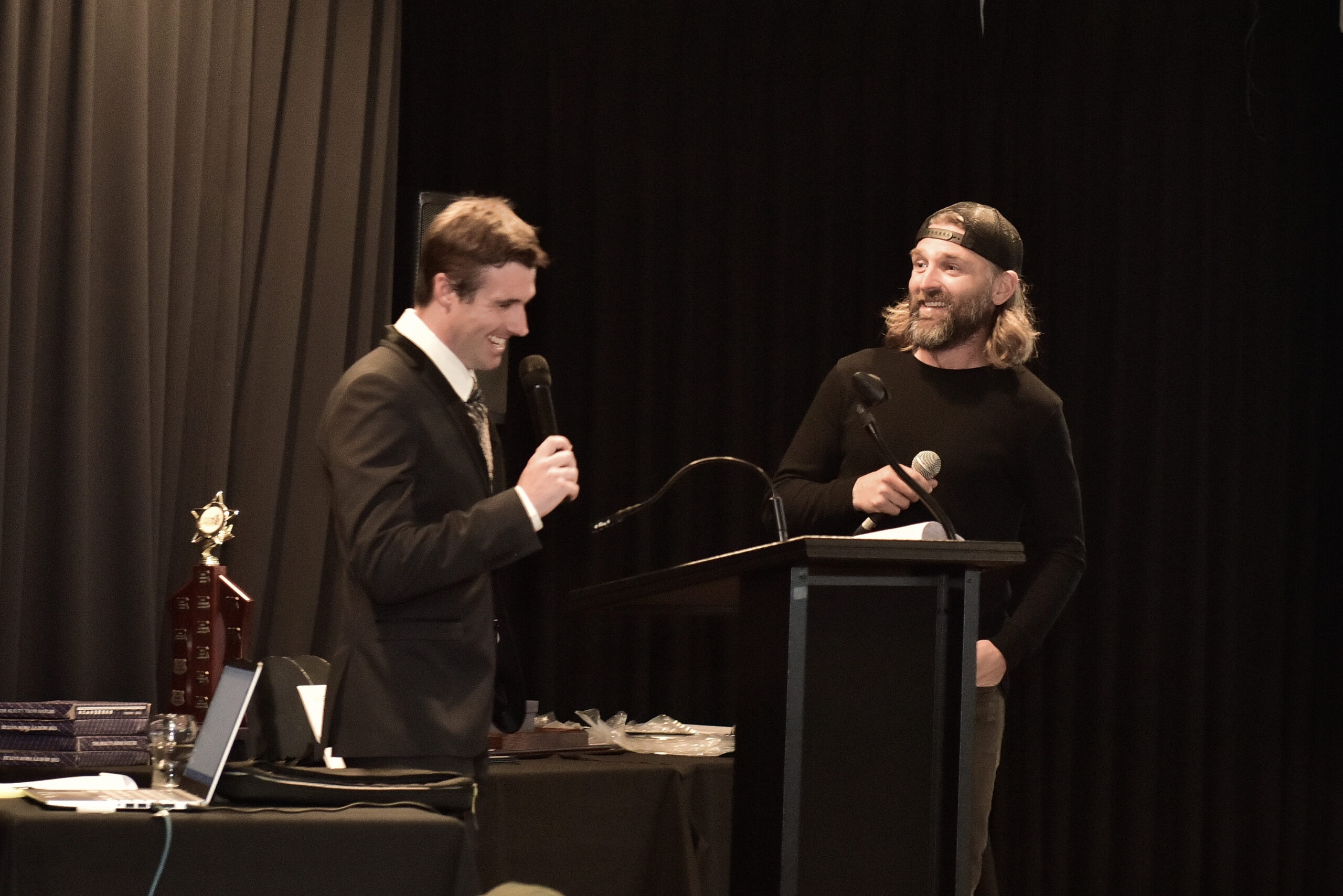 Ryder Gilbert (Road Race)
   Cooper Pitt (Road Race)
   Harry Sadler (Speedway)
   Bailey Irrgang (Trial)
   Rikki Henry (road race)
   Seth Dellow (Road Race)
   Kye Little (Motocross)
The 2022 Frank Franklin Trophy, our most prestigious award for off bike involvement in the sport was awarded to Mr John Songailo, who has had a 40 year career in the sport at many levels, not least as the Reliability Trials Sports Manager, as well as a long time Level 3 Official.
Presented by MSA's president, Brenton Matters, and the 2021 Frank Franklin Trophy recipient, Danny Ahern, John was most humbled to be presented with the 'Frank', and almost choked up on stage during his acceptance speech.
Pic: Brenton Matters, Danny Ahern and 2022 Frank Franklin Trophy recipient John Songailo
MSA Life Member and Officials Review Panel member, Pam Groom, as then asked to present the Regional Volunteer Awards, as she did in 2021, with 15 very worthy people from all parts of motorcycle sport here in SA rewarded for 12 months of fantastic effort for their part of motorcycle sport.
The 15 very worthy Regional Volunteers for 2022 were;
Rob Kennedy  Service to the Port Pirie MCC & Motocross   
Rob White Service to the AJS MTC & Junior Development
Matt Petersen Service to the AJS MTC & Trials SA
Allan Bolto Service to Road Race & the SA Junior Cup
Chris White Service to Road Race & the SA Junior Cup
Andy Hiscox Service to Road Race & the SA Junior Cup
Roy Stout Service to Sidewinders Junior Speedway
Tracy Turvey Service to Sidewinders Junior Speedway
Dave Hardaker Service to the Levis MCC & SART Timing
Jamie Gwiazda Service to SAMX officiating and South Coast
Di Nicholas Service to the SAPMAC MCC
Sarah Rayson Service to the Keith & Districts MCC & SAMX
Belinda Schulz Service to the Keith & Districts MCC
Mel Rayner Service to the Keith & Districts MCC
Sani Pfeiffer Service to the Keyneton MCC, & RPA
The final award to be presented on the night was the Club of the Year Award, with the tough task of selecting 3 finalists for 2022 from so many of our clubs doing great things getting harder to do each year, which is a great problem to have!
But, for 2022 the finalists were Keyneton, Mount Gambier and Gawler, with Brenton Matters announcing at the Club of the Year Award was awarded like this;
2022 Club of the Year – Mount Gambier
Runner-up – Gawler
3rd Place – Keyneton
This was the first time in the 14 years of the award that Mount Gambier has been selected as Club of the Year and is great reward for the hard work that the Club and their members put into the sport and their Mac Park venue each year! Congratulations!
Also celebrated on the night were SA's International recognitions and Australian Champions from 2022, with the following on hand to accept their award and have a chat up on stage;
INTERNATIONALS
Ashley Jansen-Batchelor – SGP3 (U16) Speedway World Championship
Connor Hogan – Trials des Nations Team Australia
Fraser Bowes – FIM Speedway U21 Teams World Championship
Also recognised, but not attending the night were Sam Pezzetta and Cameron Rende (Asia Talent Cup & Red Bull Rookies) and Teagan Pedler (FIM Women's Speedway Academy)
AUSTRALIAN CHAMPIONS
Ben Liebig – Historic Road Race
Andy Pitman – Historic Road Race
Also recognised, but not attending on the night were Mark Plaisted (back-to-back Senior Speedway Sidecar) and Davey & Ollie Gear (Australian Off Road Championships J4 & J3 Classes)
Motorcycling SA would also like to thank the Eagles Function Centre, and Sam Conlon, for making us feel so welcome once again, and once again to Brett Metcalfe for attending and being the guest speaker and presenting the Rising Star Award.
We also wish Kym Bolto 'good luck' for this weekend's Sport SA Awards, and while being named a finalist in any of their categories is an amazing effort on its own, here's to taking home the chocolates.
Link to the full photo album is HERE
                                                                                                                                    Photos Credited to Trentino Priori
Planning for the 2023 MSA Night of Champions has already started – with several announcements to be released in the coming weeks and months – stay tuned!