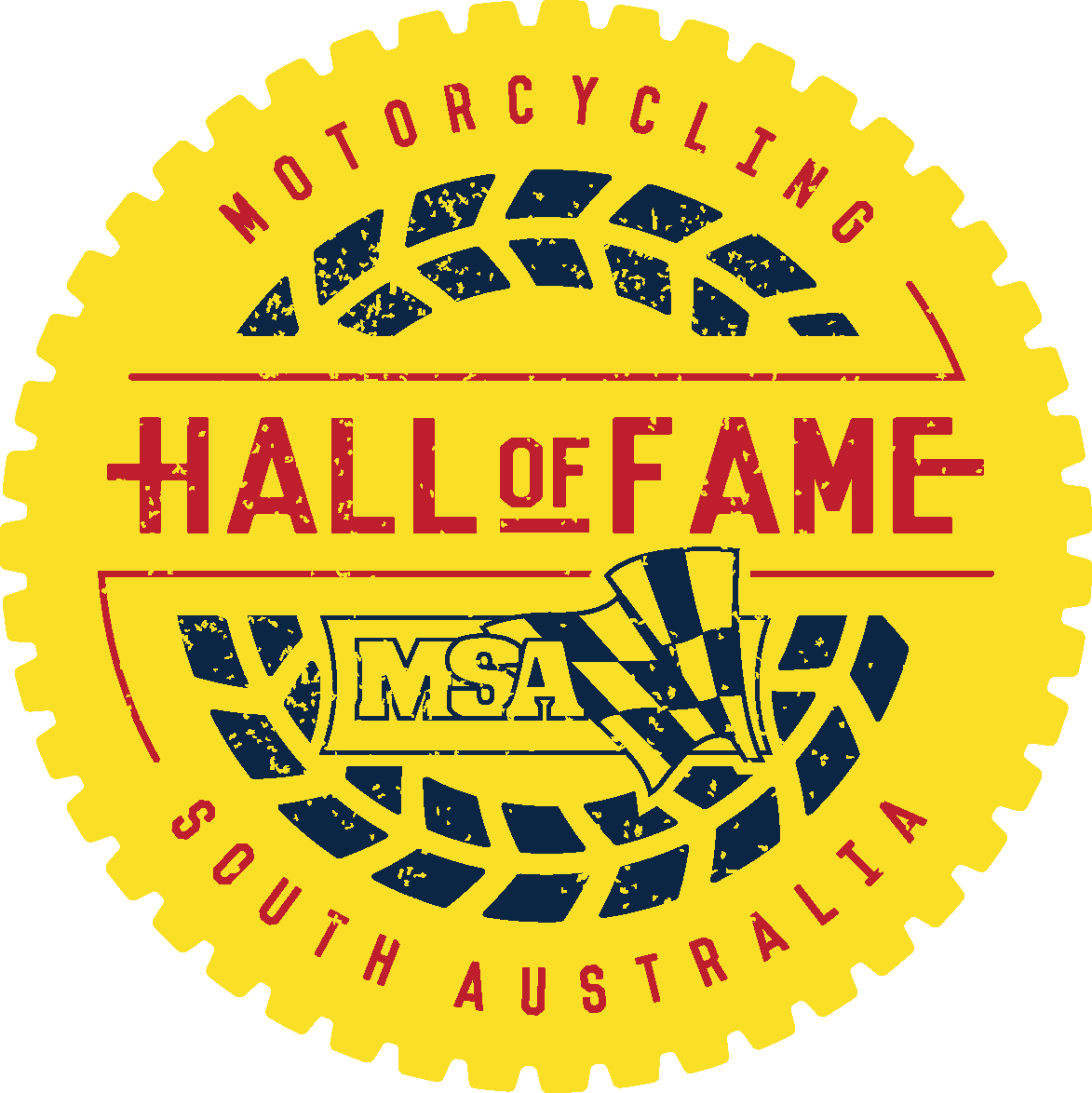 NOMINATIONS ARE NOW OPEN, MOTORCYCLING SA HALL OF FAME, 2023 INDUCTION.
Motorcycling SA are excited to announce that nominations for consideration to be inducted into the Motorcycling SA Hall of Fame in 2023 are now OPEN! Please see below the criteria, in part, for consideration to be an inductee into the Hall of Fame.
HALL OF FAME APPLICATION:
An application for Nomination to the Hall of Fame may be submitted by anyone within the community. Applications may be submitted on one's own behalf or that of another. The Motorcycling SA Hall of Fame application form must be used: Application forms can be found on the MSA website:
The application form should be addressed as provided, and the completed form must be received no later than the cut-off date of any given year for the individual to be considered in the next annual Hall of Fame induction cycle. The proposed individual must meet the base eligibility requirements as provided in the criteria outlined (in part) below.
HALL OF FAME ELIGIBILITY:
Competitor:
Eligibility for competition applicants from any discipline, ATV, Dirt Track, Enduro, Motocross, Road Race, Speedway, Reliability Trial & Trial.

Competition Applicants must be retired from active participation for at least two (2) years. This means for at least two years the rider must not have competed in:

National/ International Level Competition seeking highest expert honours

State Championship events or a recognised series in the highest available class.

The two (2) year period shall commence on the January 1 after the year in which such applicant has last competed in the outlined above; and shall be fulfilled on December 31 of the second year.
General Member:
A direct service to the sport over many years: Administrator, Coaching & Officiating, Team Manager, Clubs, Promoter, Crew, Chief Engineer
OTHER HALL OF FAME ELIGIBILITY CRITERIA:
How are the nominees considered as South Australians? (Does not need to include all)
Have held an A.C.U of S.A (A.C.C.A.) or MA/MSA Licence

Born in South Australia
Have resided in South Australia

Achieved most of prominence of National (Australian) achievement as a MSA licence holder/resident.
Important Note:
Nominee or family link must accept their nomination before any further selection process is undertaken.
MOTORCYCLING SA LIFE MEMBERSHIP
Nominations are also open for Motorcycling SA Life Membership, which celebrates significant & meritorious service to motorcycle sport in South Australia, and again, over many years of involvement.
Life Membership Criteria:
Life Membership exists to recognise the valuable contributions of individuals to the current and future existence of Motorcycling SA.

Life Membership is only awarded in exceptional circumstances.

Must have provided significant and meritorious service to motorcycle sport and in particular the association.
Please note: For MSA Life Membership to be awarded, a detailed biography of the career of the nominee is needed, so consider attaching more information than what can be included on the nomination form. Those considering nominees for this most prestigious of awards need to know the whole story, not just the 'dot points' of the nominee's career.
THE FRANK FRANKLIN TROPHY
And last, but certainly not least, nominations are also open for Motorcycling SA's most prestigious annual individual award 'For an Exceptional Service to Motorcycle Sport'.
The 'Frank' is a perpetual shield that was originally donated by the Velocette Motorcycle Club to acknowledge people who have given exceptional service to motorcycle sport in South Australia. Although the recipient will not keep the shield, they will be presented with a replica to ensure the recipient has a lasting memento.
NOMINATION FORMS:
Nomination forms for all three awards can be found on the Motorcycling SA website, on our history page, which can be found under the 'About MSA' header, or by hitting this link; www.motorcyclingsa.org.au/about-us/history and scrolling down – all the relevant form links can be found just above the Hall of Fame prints.
PLEASE RETURN ALL NOMINATIONS TO:
Motorcycling SA – Award Nominations
251 The Parade, Beulah Park SA 5067
CLOSING DATES FOR NOMINATIONS ARE AS FOLLOWS:
MSA Hall of Fame;                                     By 5.00pm Friday 22nd September 2023
MSA Life Membership;                           By 5.00pm Friday 22nd September 2023
The Frank Franklin Trophy;                    By 5.00pm Friday 27th October 2023