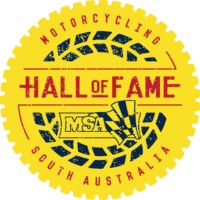 HEADS UP EVERYONE! Nominations for the 2019 MSA Hall of Fame and MSA Life Membership(s) ARE NOW OPEN

It's now time to get thinking about a couple of the categories for the 2019 MSA Night of Champions – the big 2!
All nominations are able to be done online, plus – all forms can also be downloaded from the Motorcycling SA website.
2019 MSA HALL OF FAME NOMINATION FORM; HERE
MSA LIFE MEMBERSHIP NOMINATION FORM; HERE
Nominations for the other annual awards will open in late August – stay tuned!
The Frank Franklin Trophy
(For an outstanding contribution to South Australian Motorcycling)
The MSA Rising Star Award
(For our most outstanding riders under the age of 16!)
MSA Regional Volunteer Awards
(For our hard working & quite brilliant volunteers)
Tickets will go on sale for our 'Night of Nights' in October, and once again Clubs will be able to book a table of 10!
With 2018 close to a maximum with 190 attendees, and a maximum of 220 seats available for the night – be quick when tickets go on sale so as not to miss out on Motorcycling SA's 'Night of Nights'!