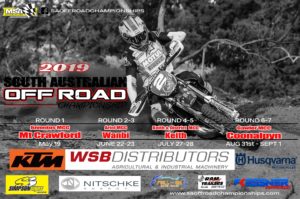 PENULTIMATE ROUNDS OF THE 2019 SAORC – THIS WEEKEND AT KEITH
This weekend sees the reigning MSA Club of the Year host rounds 4 & 5 of the 2019 SAORC, supported by partners WSB Distributers, KTM & Husqvarna, with this being the penultimate rounds of the 2019 Championship. The final rounds will be held at Coonalpyn on August 31 & September 1, which will also be rounds 8 & 9 of the 2019 Australian Off Road Championship, with entries for this round opening next Monday, the day after these rounds!



With this weekend being hosted by the Keith & Districts MCC, it is great that a number of the South East's talented riders will be in action this weekend, with the following members of the host club throwing a leg over;
Seniors
Jayden Pilgrim               Pro Open Class
Jaxon Rayner                 C1 Clubman class
Jordan Rayner               C3 Clubman Class
Juniors
Archer Colwill                J1 Junior Class
Davey Gear           J1 Junior Class
Ollie Gear             JJ Junior Class
Mitch Goldsmith  JJ Junior Class
Jaxon Rayner currently sits 4th in C1, and after missing out on points at round 1 is chasing down the leaders, led by Olly Simpson,  to get back into a podium position, while Jordan & Jayden will be riding their first rounds of 2019 this weekend.
In the Juniors, Davey Gear is in a big battle with Lachlan Metcalf in the J1 Class, with Lachlan holding a 3 point lead over the Keith member, with Archer Colwill sitting in 8th after missing round 1, while Davey's younger brother, Oliie, currently leads the JJ Class, with 3 round wins from 3 starts so far, with Mitch about to have his first ride this weekend.
Good luck to these members of the Keith & Districts MCC, a club that runs events at SA Championship level in more than one discipline, enduro and motocross, as they also have their great motocross venue, Andy Caldecott Park, so if you are keen to ride or race and live in the central areas of the South East of SA, Keith may be the club for you.
In the premier classes, Pro & Outright Senior – it's a case of the youngsters chasing the 'older' hands, with Cooper Sheidow (3rd), Will Price (4th) and Nathan Howe (5th) chasing Riley Graham (currently 1st) and defending Champ, Andy Wilksch (2nd), with the 3 younger guys currently ripping it up in the EJ Class in the AORC as well!
In the J4 Class for juniors, the battle to become the SA#1 junior for 2019 is still well up in the air, with Samuel Pretscherer currently holding Zak Crafter, Mitchell Stanway and Alex Kreig at bay, with Charlie Milton on the charge after not scoring any points at round 1 and looking to make up lost ground!
For a look at all the points' tables for all classes, junior & senior, follow the link and check them out!
https://www.saoffroadchampionships.com/pts/
ROUNDS FOUR & FIVE – THE NEED TO KNOW!
RACING STARTS
8.00am Saturday
8.30am Sunday
FORMAT
Saturday 27th – will be a Cross Country, in three separate races, of the duration below.
Race 1 (KTM Course) – JUNIOR (JJ & J1) – (5 Kms) – Duration 1.5 Hours includes sight lap
Race 2 – (WSB Distributors Course) JUNIOR (J2, J3, J4) – (16 Kms) – Cross Country – Duration 2 Hours includes sight lap
Race 3 – (WSB Distributors Course) SENIORS – Cross Country – (16 Kms) – Duration 3 Hours includes sight lap
Sunday 28th – will be a sprint format, with all classes racing all day.
KTM Course 1- JUNIOR (JJ & J1) – (5 Kms) – will remain on the same course all day.
WSB Distributors Internal Course 2 – JUNIOR (J2, J3, J4) – (7 Kms) – will remain on the same course all day.
WSB Distributors outside Course 3 – SENIORS – (8.5 Kms) – will remain on the same course all day.
TERRAIN Soft sandy loam over clay, scrubby mallee with sand.
FACILITIES – CAMPING ALLOWED Friday – Strictly From 12.00pm onwards. There is no charge for camping and camping is available in the pit area. Camp / open fires – Open fires are permitted provided they are in a contained fire container/brazier or contained fire pit. Fires from 5.30pm to 6.00am. All fires must be extinguished by 6am Saturday & Sunday. Gas cookers are allowed.
TOILETS & SHOWERS Available on site
MOBILE COVERAGE Telstra 4G/3G okay depending on height and area, other networks unknown.
CATERING OPTIONS Full canteen facilities available with BBQ, Roast Meat Rolls and other options. Bar facilities and coffee van available.
FIRSTCARE MEDICAL has been organised for the event and will be in-attendance from 8.00 am on both race days.
DOGS & FOOTWEAR Please note: NO Animals or mini bikes (except those entered and human aid dogs) are not permitted at the event. NO open footwear.
DIRECTIONS FROM KEITH TO THE VENUE From the main township of Keith turn right from the Dukes Highway onto Emu Flat Road. Travel along Emu Flat road for 12kms then turn left onto Dark Island Well Road (MBL Protein Sign). Continue along Dark island well road for 13kms until 'Tamboore' gateway at the end of the road (1467 Dark Island Well Road), follow driveway and signage until entering pit area\