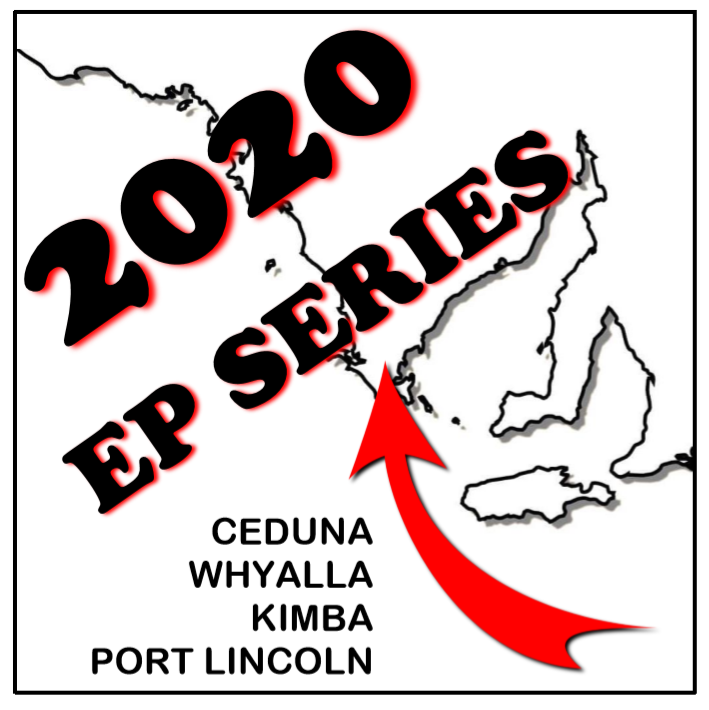 EP SERIES ROUND 3 @ WHYALLA
Round three of the Eyre Peninsula Series was hosted by Whyalla MCC and Mother Nature served up some intense conditions for all that attended.
With torrential rain late Saturday afternoon and showers through the night the track had large puddles covering parts of it and perfect loam in other areas. This put all riders to the test in practice and round one of racing with many riders getting very wet and muddy and a few seeing if they could have a swim after crashing in the bog. Through the day the wind also came into play and this dried out the track in places and whipped up dust so the riders had to ride mud and hard pack track in places so great skills were on display from young and old.
Congratulations to all riders and all the volunteers that helped put on the event and the medical team and officials. Without these people these great days wouldn't happen. There are photos available on the Darren Shaw Photography Facebook page and the last EP Round is in Pt Lincoln on October the 24th we hope to see you there for some great country MX.
Junior Encouragement Awards, that were supplied by EP Motorcycles – and were awarded to Dannielle Churchett (#138) and 1st time rider Isaac Edwards (#56), who was riding in the 85cc class.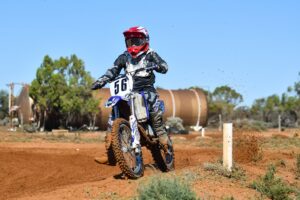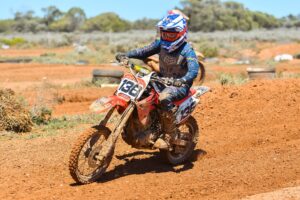 50cc Demo
We had four tough little riders out trying to get around and all never stopped trying and it was a huge learning curve for them all. So well done to Sebastian Kalling, Bethany Frost, Jaxon Phillips and Sonny Murphy.
50cc Div 2
This class had the top three state riders on fire with Declan Smart way out front showing amazing skill and Kylan Miller, Riley Mullen and Tao Letton all having great races and taking the minor placings.
65cc 7-9 years
This class Declan Smart proved to strong for Kylan Miller and Riley Mullen with another dominate performance but the other boys are riding with great skill and have only just started on this size bike this year so next year will be a big one for them.
65cc 10-12 years
Young Koby Miller showed this was his class from race one with great skills and speed taking the win from young Haden Frost and Seth James. These two classes were full of great racing and shows great promise for our EP future.
85cc 9-U12 years Small Wheel
Guess who was out front! Yes Declan Smart was on pace every race and for such a young rider has an amazing future especially to ride three classes and win them all. Sam Dixon and Caleb Churchett tried their best all day and put in great races to take the minor placings.
85cc Big Wheel
This class was fast and had great numbers and young Jacob Knowles took the win from Axel Dean and Blake Cooper in some intense and fast paced racing. Again these two classes of 85cc bikes show great future for our clubs and with a number of girls starting to race it is enjoyable to watch.
Junior Lights
Wow what a class this is with Chad Sparrow crossing over from the ORC to battle it out with Liam Buckley Jack Lienert and Banjo Lawrence in highly skilled close battles and speed to match most senior riders. Chad took the win from Liam in second and Jack took third place.
Clubman 250cc
This class was hotly contested with Eric Brereton in first place with Scott Agnew and Angelo Karoussis taking the minor placings in a class of tough racers and all riders put in every race.
Clubman 450cc
Cody Allen finished up taking the win in this class from Luke Story and Daniel Smith in pursuit every race but unable to get the win. As always the clubby classes try their best and put on a great show for the spectators.
Veterans
This class was well contested all day and the lads put in great racing and with three consistent races Clint Letton took the win from Adam Mclean and Alan Wilsdon and proved age is just a number.
Expert 250cc
This was the Tilbrook brothers showing just how fast a 125cc bike can be ridden and wow what a display they put on! After Sam tested the depth of a puddle in a practice crash he showed his brother how fast he can ride taking the win from Josh but they fought it out every lap. Rhys Kemp rode three great races but was unable to stay with these two at a blistering pace.
Expert 450cc
Mitch Norris came and showed why he is a top state rider with three impressive races of skill and high speed from Josh Tilbrook. Sam Tilbrook backed up in this class and took a well-deserved third placing.
Feature Race was sponsored by EP Motorcycles and again the racing was intense with Josh Tilbrook in the lead for the first half of the race but Norris hunted him down to take the win with Sam Tilbrook in third place.
Photos courtesy of Darren Shaw Photography