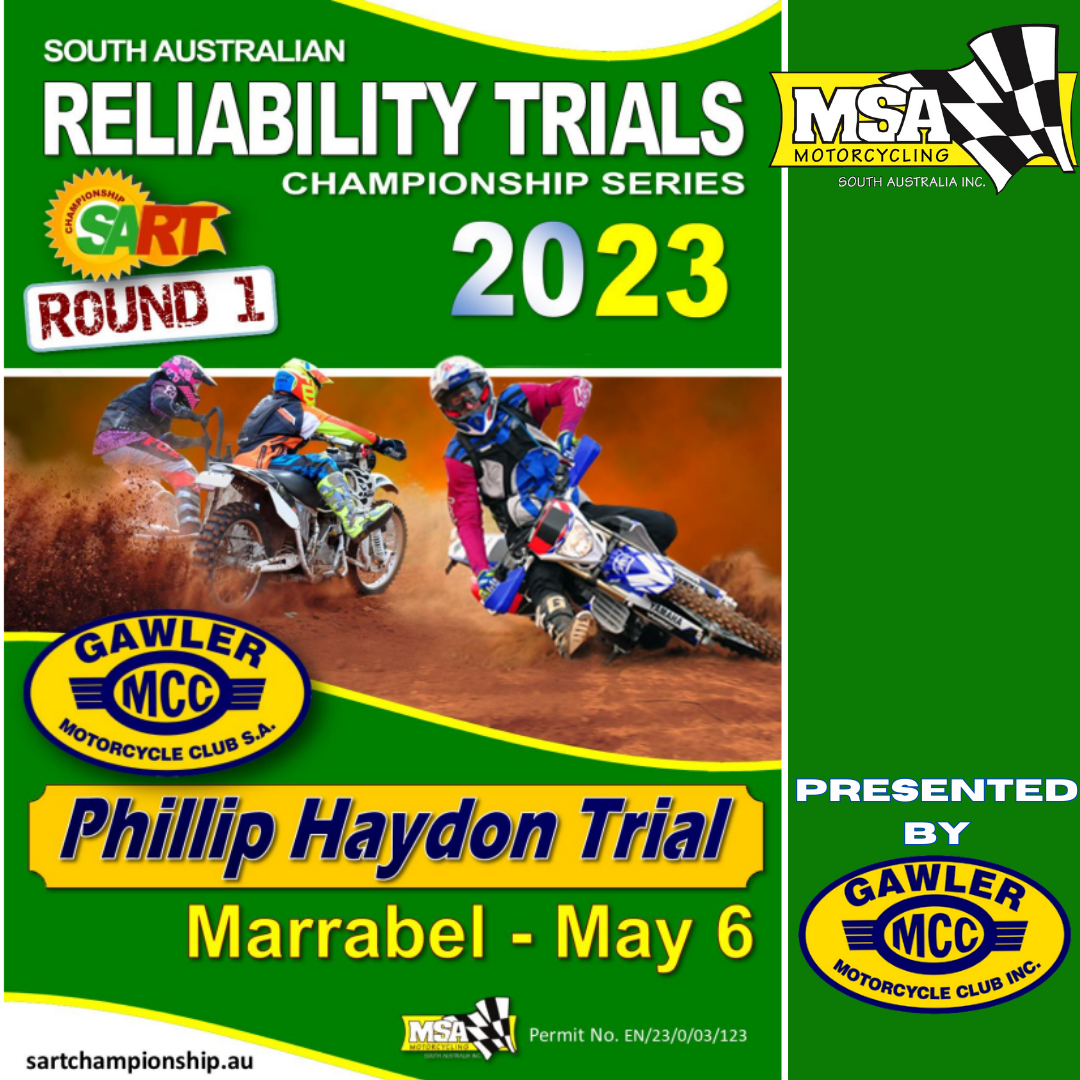 This coming weekend of the 6th of May sees the 2023 SA Reliability Championships kick off with round one, the Phillip Haydon Trial, presented by the Gawler MCC. Coming to the beautiful town of Marrabel, we are so excited for an exceptional year of reliability trial racing ahead.
With 150 riders entered, it's looking to be a huge round 1 of racing and we can't wait to see who is taking the early lead for the Championships. Round 1 will be testing riders with a Day/Night format of 2 laps and approximately 6 hours in total duration.
It's going to be a great day for all members of the family with plenty of food catering available including Egg and Bacon rolls, Hot Chips, Sausages & Burgers, Sandwiches & Cakes, Cold Drinks – soft drinks, water, sports drinks. Tea, coffee, milo. chocolate.  With all proceeds going to community groups, there's no excuse to have that extra sweet.
Best of all for the adults, there will be a licensed bar also available for some cheeky reds or cold beers whilst you enjoy watching all the action.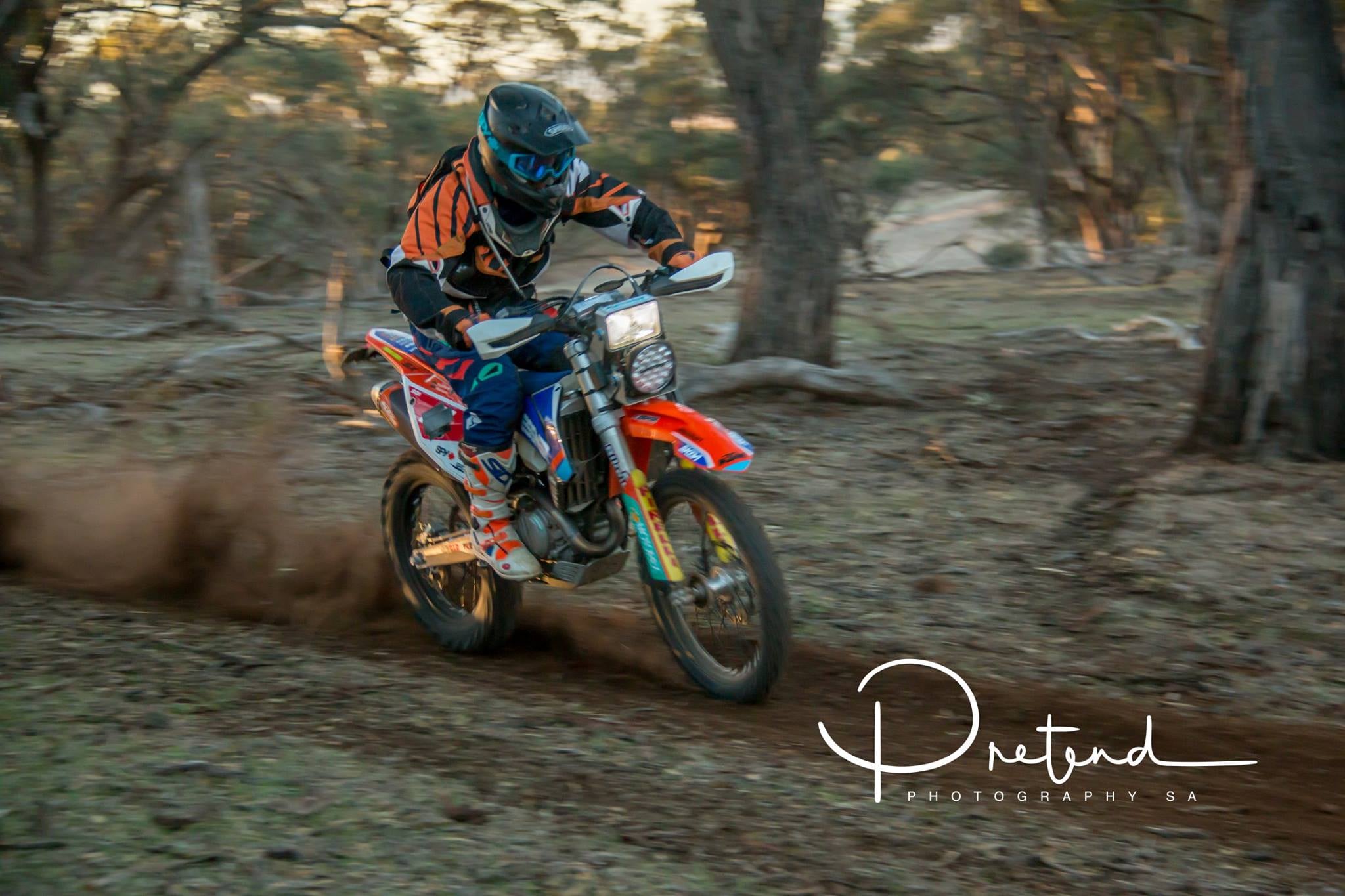 Entry List
Late Entries have now closed and the entry list has been released!!
2022 runner up Clinton Voigt is back with sights set on claiming the title for 2023 but as we all know in reliability trials, anything can happen and there is tough field of riders all looking to take that win. Joining the field of sidecar racers we have the 2022 SART Sidecar Championship outright winners Shane Beckman and Adam Brook back for another year – will they make it back to back Championships?
Full Entry list – HERE. 
Where:
What better location to kick off this year's reliability trials action, than the Marrabel Rodeo Grounds (Google Map here). A fan favorite with both riders and spectators the course is looking the goods to provide exciting, challenging reliability trial action. 
When:
It's always best to get in early with rider sign on for the day starting at 9:00am and open till 12pm.  Rider briefing is scheduled for 12:00pm and first bikes will leave the start line at 1:01pm. – Get your family and friends all together to be trackside for a great day and night. 
First Rider Times and Distance:
Spectator Points: 
Guaranteed a fan favorite the last section of the trial located in the rodeo grounds and ending in the main arena is sure to provide fantastic viewing opportunities to spectators and conveniently close to the food and drinks.
If you wish to see the riders on some of the sections of the course, that's completely fine to follow these directions to safely access spectator-friendly areas.
PLEASE DO NOT FOLLOW RIDERS ON THE MARKED COURSE ON THE ROADS.
Spectator location 1.
• Turn left on to main road from the car park.
• Turn right onto Tarnma Road
• Competitors will also be using this road. Please use care and allow bikes a safe passage.
• travel 5km, spectating in the section on left.
Spectator location 2.
• To get to the second spectating area return to Main Marrabel / Kapunda Road.
• Turn right and continue north for 9km and continue north for 9km and turn right onto Steelton Road for 2.3 km.
• Please keep clear of fuel area exit gate.
Important Notes:
All Competitors are required to complete a SELF-SCRUTINEERING FORM (included in the Competitor Info) which must be filled in and brought to sign on.
Competitor Info – HERE. 
Road Closures/Road Works:
The Kapunda to Marrabel road is CLOSED
Detour on Thiele Highway via Eudunda from Kapunda
It is advised to travel via the Barrier Hwy A32 to Saddleworth and B84 to Marrabel.
Please allow for this detour.
Live Timing:
Provisional Live results will be published on my.raceresult.com.
To access live timing…
 Go to sartchampionship.au and follow the "LIVE TIMING" links.
 Scan the QR code in the program or at Main Control.
 Live timing viewing will be available on screen at Main Control.
Final results published on the SART Championship Series website.
For Supp Regs, Rule Book, latest news & more, please visit sartchampionship.au