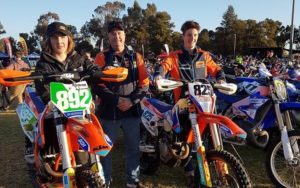 Young South Australian talent, Will Price and Cooper Sheidow are set for a strong performance at the opening rounds of the Australian Off-Road Championship at Toowoomba. After a long off season, the two Kessner KTM Off-Road team riders start the first 2 rounds of the national championship on the 9th & 10th March in Queensland with the team mates geared up for the sprint format both days.
Young Price is set to undertake another year in the EJ class to further his experience before stepping up to compete with the nation's best riders. After missing the beginning of the 2018 season, Will's goal is to remain healthy and consistent for the whole 11 rounds and improve on his previous season's results. "I have been working hard over the off season, especially with my coach Aaron Buchan to improve my fitness and work on my weaknesses. I am super excited to kick off the season and will give it my best efforts to succeed."
Price's team mate Cooper Sheidow is also set for a huge 2019 season in the EJ class. The young gun is only in his second year of seniors and has already made a name for himself at the top end of the leader board. Sheidow had a great SAORC season in 2018 placing 5th Outright and 2nd in Expert Open so he will be one to look out for in the future. Cooper will be stepping up to a KTM 350 SX-F this year as opposed to the 250cc he raced in 2018. "I'm keen to get the season started and see how it goes from there."
After having successful 2018 SAORC seasons, both riders are set to impress as they battle against the best in the country. Keep up to date with each young guns racing results in Toowoomba this weekend on the My Laps Website.