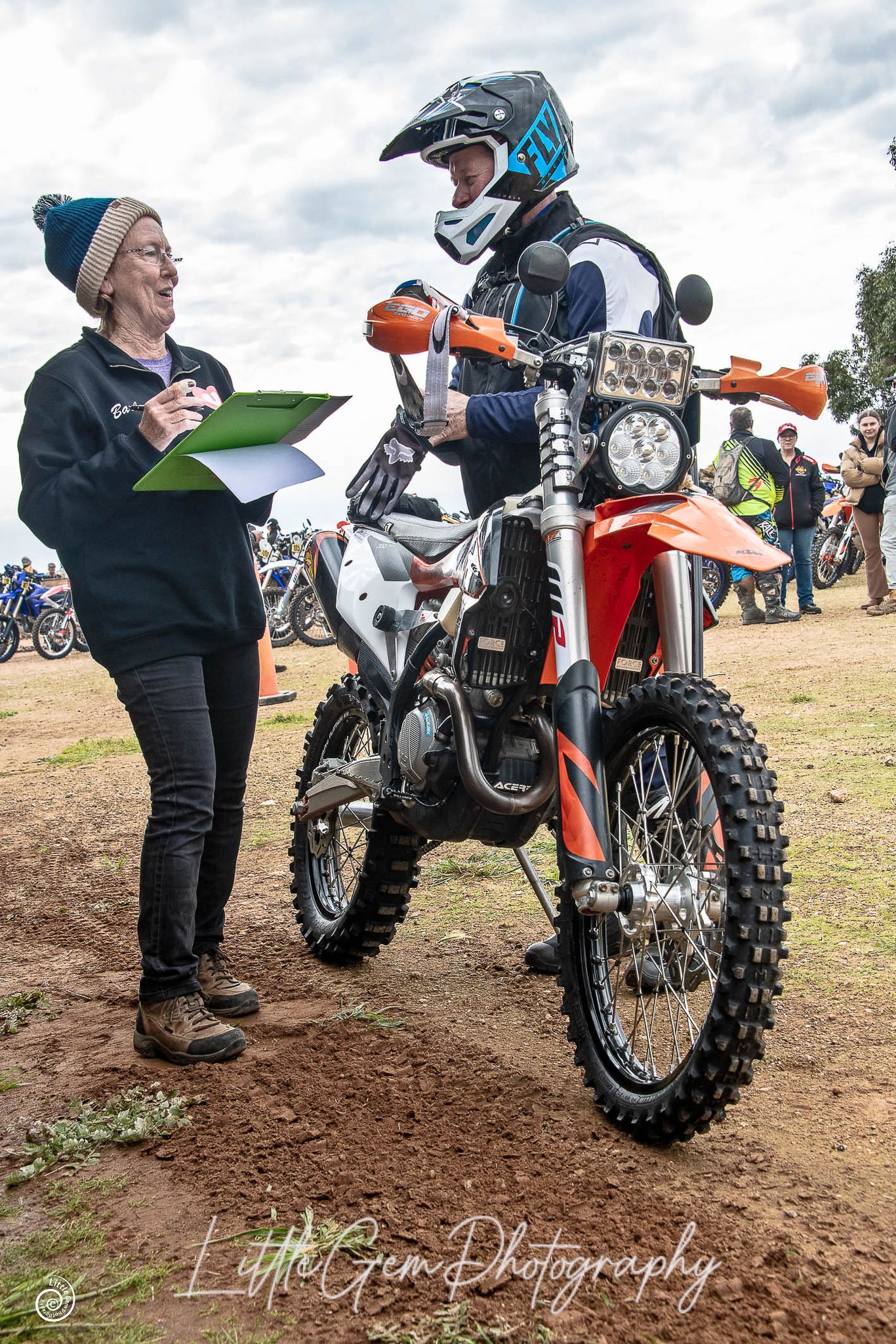 Levis MCC presented round 4 of the SA Reliability Trials Championships – The Gil Harris Trial, last Saturday the 12th of August with many families and friends, scouring the course to find the best spot to see their favourite riders take on every challenge the Mallala district had in store, over the 2 lap, day-night format.
Continuing his 2023 Reliability Trials Championship lead, Rowan Pumpa put down fast and consistent lap times to claim the overall P1 and Open Solo win, with a gap of 44 seconds ahead of second-place holder Jesse Lange. Not able to close the gap in the end and rounding out the Solo top 3, William Smith finished his round 4 campaign, just over a minute behind Jesse.
With sights set on making up positions in the Championship Open Sidecar leaderboard, Max Hutchesson and Sam Hutchesson fought the hard fight but couldn't crack the round 4 top 3, with a p5 finish, just under 2 minutes from winners Brad Manuel / Tyson Rohrlach. The race for second place simply couldn't get any tighter, entering the last paddock with a 3-second gap behind Shaun Buckley and Brett Harding, the dynamic duo Bradley Hunter and Aiden Wilksch, laid it all on the line to finish 1 second ahead and claim the P2 spot.
We would be remiss if we didn't send a huge shoutout to the amazing people behind the scenes that made the 2023 Gil Harris Trial such a success. Thank you to Angela and Alex O'Loan for allowing the use of their property as Main Control, all the land owners that allowed the use of their paddocks for competition stages, Levis MCC for putting in the hard yards organising the event and of course the army of volunteers from officials, control keepers, ACRM, First Care Medical, caterers and everyone that supported our event.
Provisional open solo and sidecar results are below, with details and results by class available on the SART website HERE.
(Note competitors have until midnight on Sunday, August 20th to challenge or query any results).
Round 5 of the SA Reliability Trials Championships head to the Murray region on Saturday 2nd September for The River Murray Trial presented by the SAPMAC Motorcycle Club.  With little to no gap between the points leaders, the 2023 Championship decider will come down to the final rounds. Lock in the date now and be there to see the final chapters of the 2023 story.
Photo courtesy to LittleGemPhotography, check out the full album of photos from the weekend to purchase – HERE.
Open Solo
| | | | | | | | | |
| --- | --- | --- | --- | --- | --- | --- | --- | --- |
| Pos | No | Name | Class | Lap 1 | Lap 2 | Stages | Total | Gap |
| 1 |  130 | Rowan Pumpa |  A |  1557 |  1657 | 14 | 3214 | +0 |
| 2 |  139 | Jesse Lange |  A |  1578 | 1680 | 14 | 3258 | +44 |
| 3 |  80 | William Smith |  D |  1610 | 1709 | 14 | 3319 | +105 |
| 4 |  136 | Todd Muster |  A |  1606 | 1717 | 14 | 3323 | +109 |
| 5 |  140 | Rhyce Ahola |  A |  1616 |  1716 | 14 | 3332 | +118 |
| 6 |  124 | Samuel Nenasheff |  G |  1626 |  1707 | 14 | 3333 | +119 |
| 7 |  138 | Clinton Voigt |  A |  1602 |  1732 | 14 | 3334 | +120 |
| 8 |  131 | Daniel Kennedy |  A |  1592 |  1751 | 14 | 3343 | +129 |
| 9 |  133 | Adam Wright |  A |  1634 |  1713 | 14 | 3347 | +133 |
| 10 |  134 | Ben Mayne |  A |  1640 |  1718 | 14 | 3358 | +144 |
| 11 |  77 | Jake Henderson |  D |  1608 |  1752 | 14 | 3360 | +146 |
| 12 |  135 | Tate Plummer |  A |  1611 |  1764 | 14 | 3375 | +161 |
| 13 |  97 | Kurtis Riebke |  F |  1671 |  1767 | 14 | 3438 | +224 |
| 14 |  95 | Clayton Fechner |  F |  1664 |  1783 | 14 | 3447 | +233 |
| 15 |  81 | Dwayne Rumsey |  D | 1649 |  1799 | 14 | 3448 | +234 |
| 16 |  92 | Ryan Heidenreich |  F |  1698 |  1773 | 14 | 3471 | +257 |
| 17 |  76 | Jayden Watkins |  G |  1709 |  1770 | 14 | 3479 | +265 |
| 18 |  79 | Todd Knight |  D |  1697 |  1783 | 14 | 3480 | +266 |
| 19 |  108 | Joshua Kleemann |  G | 1667 |  1814 | 14 | 3481 | +267 |
| 20 |  90 | Stuart Roydhouse |  F |  1684 |  1804 | 14 | 3488 | +274 |
| 21 |  94 | Jack Wormald |  F |  1703 |  1806 | 14 | 3509 | +295 |
| 22 |  35 | Andrew Haydon |  M |  1699 |  1819 | 14 | 3518 | +304 |
| 23 |  68 | Liam McConnell |  D |  1675 |  1791 | 14 | 3526 | +312 |
| 24 |  132 | Nathan Noble |  A |  1667 |  1866 | 14 | 3533 | +319 |
| 25 |  104 | Angus Schild |  F |  1740 |  1802 | 14 | 3542 | +328 |
| 26 |  74 | Tom Couzner |  D |  1689 |  1876 | 14 | 3565 | +351 |
| 27 |  107 | Daniel Pizzey |  G |  1687 |  1823 | 14 | 3570 | +356 |
| 28 |  82 | Jordan Ball |  D |  1740 |  1842 | 14 | 3582 | +368 |
| 29 |  60 | Andrew Dillon |  V |  1679 |  1904 | 14 | 3583 | +369 |
| 30 |  119 | Jackson Friebel |  G |  1761 |  1835 | 14 | 3596 | +382 |
| 31 |  49 | Paul Grosser |  V |  1721 |  1883 | 14 | 3604 | +390 |
| 32 |  73 | Justin Couzner |  G |  1723 |  1884 | 14 | 3637 | +423 |
| 33 |  78 | Simon Haydon |  D |  1732 |  1911 | 14 | 3643 | +429 |
| 34 |  66 | Ian Kakoschke |  P1 |  1771 |  1882 | 14 | 3653 | +439 |
| 35 |  75 | Dean Abdilla |  D |  1757 |  1913 | 14 | 3670 | +456 |
| 36 |  112 | Nathan Freeman |  G |  1767 |  1909 | 14 | 3676 | +462 |
| 37 |  110 | Luke Heidenreich |  G |  1747 |  1931 | 14 | 3678 | +464 |
| 38 |  52 | Stephen Needham |  V |  1759 |  1925 | 14 | 3684 | +470 |
| 39 |  100 | Zane Gerlach |  F |  1766 |  1934 | 14 | 3700 | +486 |
| 40 |  93 | Lachlan Ratsch |  F |  1783 |  1923 | 14 | 3706 | +492 |
| 41 |  48 | Duane Woolford |  V |  1740 |  1969 | 14 | 3709 | +495 |
| 42 |  67 | Luke Ballard |  G |  1775 |  1943 | 14 | 3718 | +504 |
| 43 |  111 | Brenton Oates |  G |  1820 |  1898 | 14 | 3718 | +504 |
| 44 |  109 | Jared Plush |  G |  1785 |  1953 | 14 | 3738 | +524 |
| 45 |  117 | Louis Kerin |  G |  1804 |  1947 | 14 | 3751 | +537 |
| 46 |  83 | William Moore |  D |  1790 |  1964 | 14 | 3754 | +540 |
| 47 |  84 | Jarrad Holmes |  D |  1807 |  1953 | 14 | 3760 | +546 |
| 48 |  50 | Andrew Hank |  V |  1834 |  1964 | 14 | 3798 | +584 |
| 49 |  39 | Greg Slattery |  M | 1820 |  2011 | 14 | 3831 | +617 |
| 50 |  42 | Brett Hall |  M |  1821 |  2015 | 14 | 3836 | +622 |
| 51 |  105 | Mak Gerlach |  F |  1827 |  2013 | 14 | 3840 | +626 |
| 52 |  89 | Corey Redden |  F |  1824 |  2027 | 14 | 3851 | +637 |
| 53 |  69 | Cameron Caruso |  G |  1844 |  2034 | 14 | 3878 | +664 |
| 54 |  118 | Alex Bawden |  G |  1840 |  2060 | 14 | 3900 | +686 |
| 55 |  123 | Tom Margitich |  G |  1889 |  2015 | 14 | 3904 | +690 |
| 56 |  47 | Dominic Burman |  V | 1862 |  2043 | 14 | 3905 | +691 |
| 57 |  91 | Richard Hutt |  F | 1862 |  2033 | 14 | 3925 | +711 |
| 58 |  116 | Samuel Russack |  G | 1884 |  2055 | 14 | 3939 | +725 |
| 59 |  86 | Benjamin Schutz |  D | 1866 |  2143 | 14 | 4009 | +795 |
| 60 |  46 | Simon Evitts |  V | 1898 |  2145 | 14 | 4043 | +829 |
| 61 |  53 | Brett Farr |  V | 1896 |  2149 | 14 | 4045 | +831 |
| 62 |  121 | Nathan Caple |  G | 1862 |  2159 | 14 | 4051 | +837 |
| 63 |  122 | Sam Margitich |  G | 1831 |  2194 | 14 | 4055 | +841 |
| 64 |  70 | Jonathan Zussino |  G | 1886 |  2171 | 14 | 4087 | +873 |
| 65 |  36 | Paul Collins |  M | 1967 |  2130 | 14 | 4097 | +883 |
| 66 |  65 | Hector Evans |  P1 | 1875 |  2211 | 14 | 4116 | +902 |
| 67 |  120 | Thomas Nelson |  G | 1969 |  2147 | 14 | 4116 | +902 |
| 68 |  62 | Sofie Kraft |  L1 | 2013 |  2198 | 14 | 4211 | +997 |
| 69 |  59 | Craig Broome |  V | 1994 |  2240 | 14 | 4234 | +1020 |
| 70 |  37 | Steve Sparkes |  M | 2051 |  2188 | 14 | 4239 | +1025 |
| 71 |  99 | Sani Pfeiffer |  F | 2085 |  2205 | 14 | 4290 | +1076 |
| 72 |  71 | James Zussino |  P1 | 2159 |  2175 | 14 | 4334 | +1120 |
| 73 |  58 | David Gallasch |  V | 2062 |  2286 | 14 | 4348 | +1134 |
| 74 |  102 | Michael Johnson |  F | 2076 |  2285 | 14 | 4361 | +1147 |
| 75 |  98 | Noah Riebke |  F | 1650 |  2748 | 14 | 4428 | +1214 |
| 76 |  96 | Rowan Prior |  F | 2075 |  2380 | 14 | 4437 | +1223 |
| 77 |  61 | Chloe Barton |  L1 | 2228 |  2225 | 14 | 4453 | +1239 |
| 78 |  72 | Mark Zussino |  V | 2016 |  2445 | 14 | 4461 | +1247 |
| 79 |  45 | Mike Wormald |  M | 2032 |  2462 | 14 | 4494 | +1280 |
| 80 |  103 | Saxon Kearns |  F | 1935 |  2527 | 14 | 4522 | +1308 |
| 81 |  34 | Stephen Tomlinson |  M | 2095 |  2466 | 14 | 4561 | +1347 |
| 82 |  44 | Jonathan Moore |  M | 2187 |  2394 | 14 | 4581 | +1367 |
| 83 |  101 | Deklan Coppen |  F | 2059 |  2638 | 14 | 4727 | +1513 |
| 84 |  43 | Allan Briscoe |  M | 2267 |  2526 | 14 | 4793 | +1579 |
| 85 |  87 | Damon Kiely |  D | 2226 |  2672 | 14 | 4898 | +1684 |
| 86 |  88 | Scott Rowe |  F | 2153 |  2789 | 14 | 4942 | +1728 |
| 87 |  106 | Tyson Wilksch |  F | 2361 |  2566 | 14 | 4957 | +1743 |
| 88 |  57 | Paul Schupelius |  V | 2287 |  2696 | 14 | 4983 | +1769 |
| 89 |  55 | Adam Toolan |  V | 2087 |  3021 | 14 | 5108 | +1894 |
| 90 |  38 | Paul Rumsey |  M | 2316 |  2809 | 14 | 5125 | +1911 |
| 91 |  64 | Kevin Steinert |  P1 | 2364 |  2779 |  14 | 5143 | +1929 |
| 92 |  41 | Colin Jenke |  M | 2856 |  3279 | 14 | 6135 | +2921 |
| DNF |  137 | Christopher Shields |  A |  525 |  0 | 3 | 525 | |
| DNF |  114 | Daniel Fraser |  G |  527 |  0 | 3 | 527 | |
| DNF |  85 | Sam Sharp |  D |  594 |  0 | 3 | 594 | |
| DNF |  56 | Darren Preece |  V |  1311 |  0 | 3 | 1311 | |
| DNF |  51 | Kevin Lonsdale |  V |  1682 |  0 | 5 | 1682 | |
| DNF |  40 | Mark Harrold |  M |  1846 |  604 | 10 | 2450 | |
| DNF |  63 | Lauren Freeman |  L1 |  3167 |  1213 | 11 | 4380 | |
| DNS |  54 | Brian Gallasch |  V |  0 |  0 |  0 | 0 | |
| DNS |  113 | Matthew Aimann |  G |  0 |  0 |  0 | 0 | |
| DNS |  115 | Luke Timmins |  G |  0 |  0 |  0 | 0 | |
Open Sidecar
| | | | | | | | | |
| --- | --- | --- | --- | --- | --- | --- | --- | --- |
| Pos | No | Name | Class | Lap 1 | Lap 2 | Stages | Total | Gap |
| 1 | 5 | Brad Manuel / Tyson Rohrlach | C | 1731 | 1761 | 14 | 3492 | +0 |
| 2 | 6 | Bradley Hunter / Aiden Wilksch | C | 1764 | 1761 | 14 | 3525 | +33 |
| 3 | 8 | Shaun Buckley / Brett Harding | K | 1762 | 1764 | 14 | 3526 | +34 |
| 4 | 3 | Ross Watson / Cooper Winter | C | 1749 | 1791 | 14 | 3540 | +48 |
| 5 | 2 | Max Hutchesson / Sam Hutchesson | C | 1805 | 1780 | 14 | 3585 | +93 |
| 6 | 13 | Michael Kerin / Joshua Schutz | K | 1784 | 1815 | 14 | 3599 | +107 |
| 7 | 14 | Kristy Schultz / Clint Grabham | L2 | 1806 | 1867 | 14 | 3673 | +181 |
| 8 | 11 | Aaron Saegenschnitter / Ryan Pritchard | L | 1829 | 1849 | 14 | 3678 | +186 |
| 9 | 12 | Neil White / Jason Edson | J | 1816 | 1897 | 14 | 3713 | +221 |
| 10 | 9 | Zak Smith / Brendan Noble | K | 1821 | 1907 | 14 | 3728 | +236 |
| 11 | 10 | Gary Waldhunter / James Waldhuter | J | 1847 | 1889 | 14 | 3736 | +244 |
| 12 | 18 | Adam Buckley / Kym Schunke | K | 1930 | 1936 | 14 | 3866 | +374 |
| 13 | 16 | John Davies / Kym Menadue | J | 1893 | 1978 | 14 | 3871 | +379 |
| 14 | 17 | Jamie Giles / Cooper Giles | K | 1952 | 1956 | 14 | 3910 | +418 |
| 15 | 19 | Colin Simpson / Matt Schutz | J | 1997 | 2046 | 14 | 4043 | +551 |
| 16 | 21 | Shane Noble / Alison Fuller | J | 2017 | 2092 | 14 | 4109 | +617 |
| 17 | 20 | Shane Rudloff / Damien Egan | J | 2097 | 2111 | 14 | 4208 | +716 |
| 18 | 22 | Aaron Silvy / Jaron Silvy | K | 2078 | 2133 | 14 | 4211 | +719 |
| 19 | 23 | Elouise Dohse / Tianna Dohse | L2 | 2101 | 2148 | 14 | 4249 | +757 |
| 20 | 25 | Anthony Shanks / Duncan Greenhalgh | J | 2108 | 2182 | 14 | 4290 | +798 |
| 21 | 27 | Sam Wegener / Henry Graetz | K | 1931 | 2463 | 14 | 4454 | +962 |
| 22 | 24 | Jason Whitfied / Jamie O'Brian | P2 | 2213 | 2252 | 14 | 4465 | +973 |
| 23 | 26 | Leonard Burman / Stephen Martin | K | 2394 | 2588 | 14 | 5012 | +1520 |
| DNF | 1 | Darren Winter / Lachlan Greenhalgh | C | 1810 | 330 | 9 | 2140 | |
| DNF | 15 | Christopher Paunola / Alex Turner | K | 2365 | 0 | 7 | 2365 | |
| DNS | 4 | Shaun Blenkiron / Nathan Saegenschnitter | C | 0 | 0 | 0 | 0 | |
| DNS | 7 | Shane Beckmann / Adam Brook | C | 0 | 0 | 0 | 0 | |
| DNS | 28 | Russell Bailey / Joseph Noble | K | 0 | 0 | 0 | 0 | |