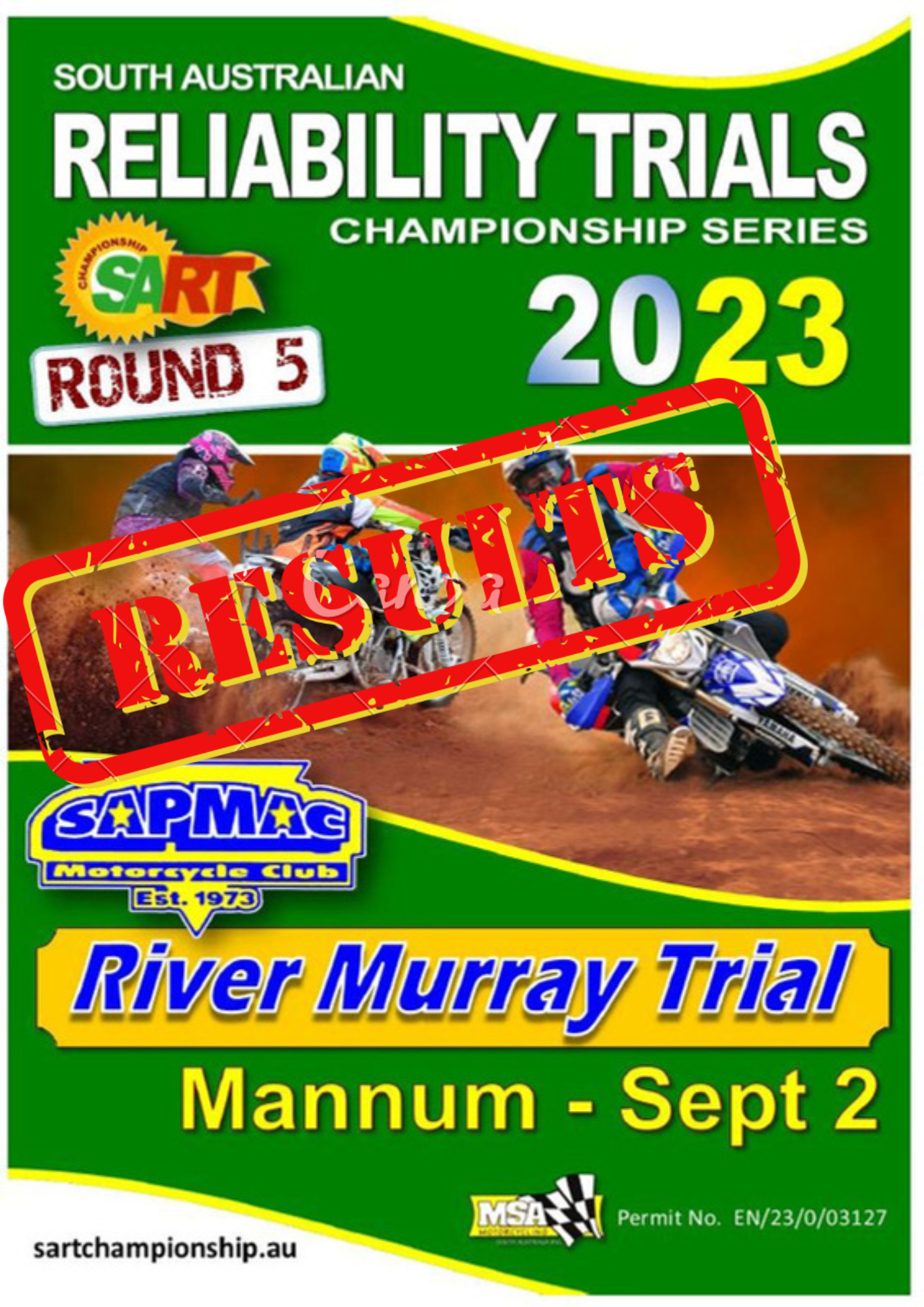 Round 5 of the SA Reliability Trials Championships – The River Murray Trial kicked off last Saturday the 2nd of September through Palmer district. The SAPMAC Motorcycle Club put in the hard yards and hosted an exceptional event, bringing the finish of the SA Reliability 2023 Championship season even closer.
Continuing his 2023 SA Reliability Trials Championship dominance, Rowan Pumpa put down a solid day on the bike to take the provisional overall Open Solo win ahead of Clinton Voight by 1 minute and 8 seconds. The fight for second and third place was exceptionally closer with Jesse Lange coming out of the gates strong on the first lap finishing 5 seconds ahead of Clinton going into lap 2. Clinton found the answer and came back to regain second place after lap 2 by a mere 2 seconds ahead of Jesse Lange, who settled for third.
With the course whittling down 20-weekend starters to 15 sidecar teams making the finish, it was the dynamic brother duo of Max Hutchesson and Sam Hutchesson who had all the right moves to take the provisional top spot in Open Sidecar and finish with a cracking time to finish 32nd overall for the round. Current points leaders Shaun Buckley and Brett Harding took second place and Bradley Manuel / Bradley Brook in third. This now tightens the Open Sidecar points table right up. If nothing changes in the top provisional results for this round, Shaun Buckley and Brett Harding will go into the final round 6 with a single-point lead ahead of Max Hutchesson and Sam Hutchesson, who have now been moved into second.
Provisional open solo and sidecar results are below, with details and results by class available on the SART website HERE.
(Note Competitors have until midnight on Saturday, September 9th to challenge or query any results).
The sixth and final round of the 2023 SA Reliability Trials Championships all comes together at Clare for the Beryl Pearse Trial on Saturday the 23rd of September. This daytime, 2-lap format is the last chance for riders to lock away valuable points and after a season of unexpected twists, upset losses and fairy-tale finishers, one thing is for certain… the Clare MCC is guaranteed to bring the 2023 Reliability Trial Championship home with a BANG!!
OPEN SOLO –
| | | | | | | | | |
| --- | --- | --- | --- | --- | --- | --- | --- | --- |
| Pos | No | Name | Class | Lap 1 | Lap 2 | Stages | Total | Gap |
| 1 | 32 | Rowan Pumpa | A | 1901 | 1890 | 12 | 3791 | +0 |
| 2 | 34 | Clinton Voight | A | 1919 | 1940 | 12 | 3859 | +68 |
| 3 | 40 | Jesse Lange | A | 1914 | 1947 | 12 | 3861 | +70 |
| 4 | 60 | William Smith | D | 1919 | 1954 | 12 | 3873 | +82 |
| 5 | 33 | Haydon Ahrens | A | 1920 | 1959 | 12 | 3879 | +88 |
| 6 | 42 | Benjamin Prior | A | 1916 | 1965 | 12 | 3881 | +90 |
| 7 | 39 | Todd Muster | A | 1938 | 1972 | 12 | 3910 | +119 |
| 8 | 38 | Nathan Newell | A | 1930 | 1997 | 12 | 3927 | +136 |
| 9 | 31 | Adam Wright | A | 1966 | 1987 | 12 | 3953 | +162 |
| 10 | 36 | Ryley Mullan | A | 1946 | 2017 | 12 | 3963 | +172 |
| 11 | 91 | Samuel Nenasheff | G | 1979 | 1992 | 12 | 3971 | +180 |
| 12 | 79 | Daniel Fraser | G | 1965 | 2018 | 12 | 3983 | +192 |
| 13 | 35 | Nathan Noble | A | 1975 | 2043 | 12 | 4018 | +227 |
| 14 | 41 | Ben Mayne | A | 1962 | 2058 | 12 | 4020 | +229 |
| 15 | 37 | Tate Plummer | A | 1979 | 2020 | 12 | 4029 | +238 |
| 16 | 68 | Cody Schiller | D | 2000 | 2053 | 12 | 4053 | +262 |
| 17 | 101 | Noah Riebke | F | 1996 | 2057 | 12 | 4053 | +262 |
| 18 | 69 | Jordan Ball | D | 2034 | 2026 | 12 | 4060 | +269 |
| 19 | 65 | Jake Henderson | D | 1951 | 2208 | 12 | 4159 | +368 |
| 20 | 73 | Matthew Aiman | G | 2095 | 2069 | 12 | 4164 | +373 |
| 21 | 59 | Todd Knight | D | 2055 | 2113 | 12 | 4168 | +377 |
| 22 | 97 | Kurtis Riebke | F | 2080 | 2088 | 12 | 4168 | +377 |
| 23 | 67 | Dwayne Rumsey | D | 2057 | 2121 | 12 | 4178 | +387 |
| 24 | 56 | Jack Wormald | F | 2089 | 2097 | 12 | 4186 | +395 |
| 25 | 64 | Tom Couzner | D | 2090 | 2108 | 12 | 4198 | +407 |
| 26 | 109 | Clayton Fechner | F | 2107 | 2110 | 12 | 4217 | +426 |
| 27 | 90 | Jackson Friebel | G | 2090 | 2130 | 12 | 4220 | +429 |
| 28 | 77 | Joshua Kleemann | G | 2082 | 2140 | 12 | 4222 | +431 |
| 29 | 55 | Andrew Dillon | V | 2026 | 2167 | 12 | 4253 | +462 |
| 30 | 63 | Liam Jenkins | D | 2092 | 2163 | 12 | 4255 | +464 |
| 31 | 87 | Daniel Pizzey | G | 2118 | 2157 | 12 | 4275 | +484 |
| 32 | 48 | Paul Grosser | V | 2126 | 2178 | 12 | 4304 | +513 |
| 33 | 62 | Sam Walter | D | 2151 | 2165 | 12 | 4316 | +525 |
| 34 | 52 | Steve Needham | V | 2131 | 2219 | 12 | 4350 | +559 |
| 35 | 78 | Matt Curyer | G | 2192 | 2180 | 12 | 4372 | +581 |
| 36 | 70 | Jarrad Holmes | D | 2180 | 2200 | 12 | 4380 | +589 |
| 37 | 108 | Angus Schild | F | 2201 | 2182 | 12 | 4383 | +592 |
| 38 | 74 | Louis Kerrin | G | 2178 | 2212 | 12 | 4390 | +599 |
| 39 | 75 | Liam Sanders | G | 2165 | 2251 | 12 | 4416 | +625 |
| 40 | 106 | Corey Redden | F | 2184 | 2247 | 12 | 4431 | +640 |
| 41 | 80 | Nathan Freeman | G | 2237 | 2203 | 12 | 4440 | +649 |
| 42 | 100 | Zane Gerlach | F | 2152 | 2294 | 12 | 4446 | +655 |
| 43 | 92 | Jordan Fridd | G | 2227 | 2226 | 12 | 4453 | +662 |
| 44 | 86 | Darryl Watson | G | 2195 | 2260 | 12 | 4455 | +664 |
| 45 | 82 | Luke Heidenreich | G | 2224 | 2271 | 12 | 4495 | +704 |
| 46 | 120 | Brett Hall | M | 2249 | 2316 | 12 | 4565 | +774 |
| 47 | 84 | Thomas Hodges | G | 2253 | 2319 | 12 | 4572 | +781 |
| 48 | 76 | Justin Couzner | G | 2206 | 2370 | 12 | 4576 | +785 |
| 49 | 118 | Greg Slattery | M | 2269 | 2345 | 12 | 4614 | +823 |
| 50 | 89 | Jamie Starick | G | 2253 | 2368 | 12 | 4621 | +830 |
| 51 | 46 | Brian Gallasch | V | 2273 | 2409 | 12 | 4682 | +891 |
| 52 | 47 | Brett Farr | V | 2285 | 2399 | 12 | 4684 | +893 |
| 53 | 45 | Simon Evitts | V | 2305 | 2408 | 12 | 4713 | +922 |
| 54 | 85 | Alex Bawden | G | 2231 | 2492 | 12 | 4723 | +932 |
| 55 | 57 | Andrew Hank | V | 2197 | 2583 | 12 | 4780 | +989 |
| 56 | 83 | Thomas Nelson | G | 2368 | 2475 | 12 | 4843 | +1052 |
| 57 | 71 | Cooper Sonntag | D | 2270 | 2402 | 12 | 4852 | +1061 |
| 58 | 114 | Chloe Barton | L1 | 2412 | 2448 | 12 | 4860 | +1069 |
| 59 | 53 | Alex Mcgoman | V | 2465 | 2397 | 12 | 4862 | +1071 |
| 60 | 54 | David Gallasch | V | 2447 | 2491 | 12 | 4938 | +1147 |
| 61 | 122 | Paul Collins | P1 | 2449 | 2498 | 12 | 4947 | +1156 |
| 62 | 113 | Henry O.Brian | F | 2759 | 2247 | 12 | 5006 | +1215 |
| 63 | 96 | Sani Pfeiffer | F | 2504 | 2566 | 12 | 5070 | +1279 |
| 64 | 105 | Rhys Cock | F | 2505 | 2581 | 12 | 5086 | +1295 |
| 65 | 111 | Deklan Coppen | F | 2504 | 2635 | 12 | 5139 | +1348 |
| 66 | 61 | Steven Saccoccio | D | 2900 | 2247 | 12 | 5267 | +1476 |
| 67 | 51 | David Johnson | V | 2499 | 2782 | 12 | 5281 | +1490 |
| 68 | 99 | Keegan May | F | 2895 | 2392 | 12 | 5287 | +1496 |
| 69 | 116 | Stephen Tomlinson | M | 2608 | 2788 | 12 | 5396 | +1605 |
| 70 | 124 | James Zussino | P1 | 2805 | 2653 | 12 | 5458 | +1667 |
| 71 | 123 | Ian Kakoschke | P1 | 2945 | 2521 | 12 | 5466 | +1675 |
| 72 | 98 | Saxon Kearns | F | 2472 | 2822 | 12 | 5474 | +1683 |
| 73 | 49 | Adam Toolan | V | 2726 | 2796 | 12 | 5522 | +1731 |
| 74 | 50 | Benjamin Brereton | V | 2680 | 2815 | 12 | 5525 | +1734 |
| 75 | 88 | Paul Mahon-Webb | G | 2734 | 2795 | 12 | 5529 | +1738 |
| 76 | 58 | Rob Parvin | V | 2835 | 2840 | 12 | 5675 | +1884 |
| 77 | 115 | Natasha Sky | L1 | 3071 | 3116 | 12 | 6187 | +2396 |
| 78 | 121 | Kevin Steinert | P1 | 3017 | 3197 | 12 | 6214 | +2423 |
| 79 | 93 | Tristan Price | F | 3382 | 3128 | 12 | 6510 | +2719 |
| 80 | 119 | Colin Jenke | M | 3441 | 3590 | 12 | 7031 | +3240 |
| DNF | 95 | Ryan Heidenreich | F | 751 | 0 | 3 | 751 | |
| DNF | 66 | Daniel Garbett | D | 2242 | 324 | 7 | 2566 | |
| DNF | 44 | Shane Church | V | 2135 | 474 | 8 | 2609 | |
| DNF | 117 | Steve Sparkes | M | 2692 | 0 | 4 | 2692 | |
| DNF | 102 | Scott Rowe | F | 3028 | 0 | 6 | 3028 | |
| DNF | 94 | Flynn Mcgoman | F | 2300 | 1708 | 11 | 4008 | |
| DNF | 72 | Damon Kiely | D | 2883 | 3864 | 10 | 6747 | |
| DNS | 43 | Dominic Burman | V | 0 | 0 | 0 | 0 | |
| DNS | 81 | Jared Plush | G | 0 | 0 | 0 | 0 | |
| DNS | 103 | Daniel Kotz | F | 0 | 0 | 0 | 0 | |
| DNS | 104 | Stuart Roydhouse | F | 0 | 0 | 0 | 0 | |
| DNS | 107 | Richard Hutt | F | 0 | 0 | 0 | 0 | |
| DNS | 110 | Michael Johnson | F | 0 | 0 | 0 | 0 | |
| DNS | 112 | Byron Hoffman | F | 0 | 0 | 0 | 0 | |
OPEN SIDECAR –
| | | | | | | | | |
| --- | --- | --- | --- | --- | --- | --- | --- | --- |
| Pos | No | Name | Class | Lap 1 | Lap 2 | Stages | Total | Gap |
| 1. | 1 | Max Hutchesson / Sam Hutchesson | C | 2137 | 2140 | 12 | 4277 | +0 |
| 2. | 5 | Shaun Buckley / Brett Harding | K | 2178 | 2237 | 12 | 4415 | +138 |
| 3. | 2 | Bradley Manuel / Bradley  Brook | C | 2281 | 2284 | 12 | 4565 | +288 |
| 4. | 7 | Michael Kerrin / Josh Schutz | K | 2290 | 2329 | 12 | 4619 | +342 |
| 5. | 11 | Zak Smith / Brendon Noble | K | 2310 | 2376 | 12 | 4686 | +409 |
| 6. | 8 | James Rowe / Tristan Throup | K | 2359 | 2348 | 12 | 4707 | +430 |
| 7. | 10 | Neil White / Jason Edson | J | 2367 | 2418 | 12 | 4785 | +508 |
| 8. | 3 | Ross Watson / Cooper Winter | C | 2753 | 2215 | 12 | 4968 | +691 |
| 9. | 14 | John Davies / Kym Menadue | J | 2470 | 2519 | 12 | 4989 | +712 |
| 10. | 9 | Kristy Scultz / Stuart Gerhardy | L2 | 2605 | 2471 | 12 | 5076 | +799 |
| 11. | 16 | Barry Buckley / Todd Blackwell | J | 2596 | 2568 | 12 | 5164 | +887 |
| 12. | 18 | Eloise Dohse / Tianna Dohse | L2 | 2605 | 2669 | 12 | 5274 | +997 |
| 13. | 17 | Shane Noble / Alison Fuller | J | 2640 | 2678 | 12 | 5318 | +1041 |
| 14. | 19 | Caroline Wilksch / Melissa Panoula | L2 | 2892 | 2885 | 12 | 5777 | +1500 |
| 15. | 20 | Jason Whitfield / Jamie O'Brian | P2 | 2955 | 2977 | 12 | 5932 | +1655 |
| DNF | 21 | Bruce M Heath / Bruce S Heath | K | 823 | 0 | 2 | 823 | |
| DNF | 12 | Gary Waldhuter / James Waldhuter | J | 1599 | 0 | 3 | 1599 | |
| DNF | 13 | Adam Buckley / Kym Schnuke | K | 1796 | 0 | 5 | 1796 | |
| DNF | 15 | Jamie Giles / Cooper Giles | K | 2451 | 0 | 6 | 2451 | |
| DNF | 6 | Russell Bailey / Marc  Oxley | K | 2256 | 1683 | 11 | 3939 | |
| DNS | 4 | Shaun Blenkiron / Nathan Sagenschnitter | C | 0 | 0 | 0 | 0 | |