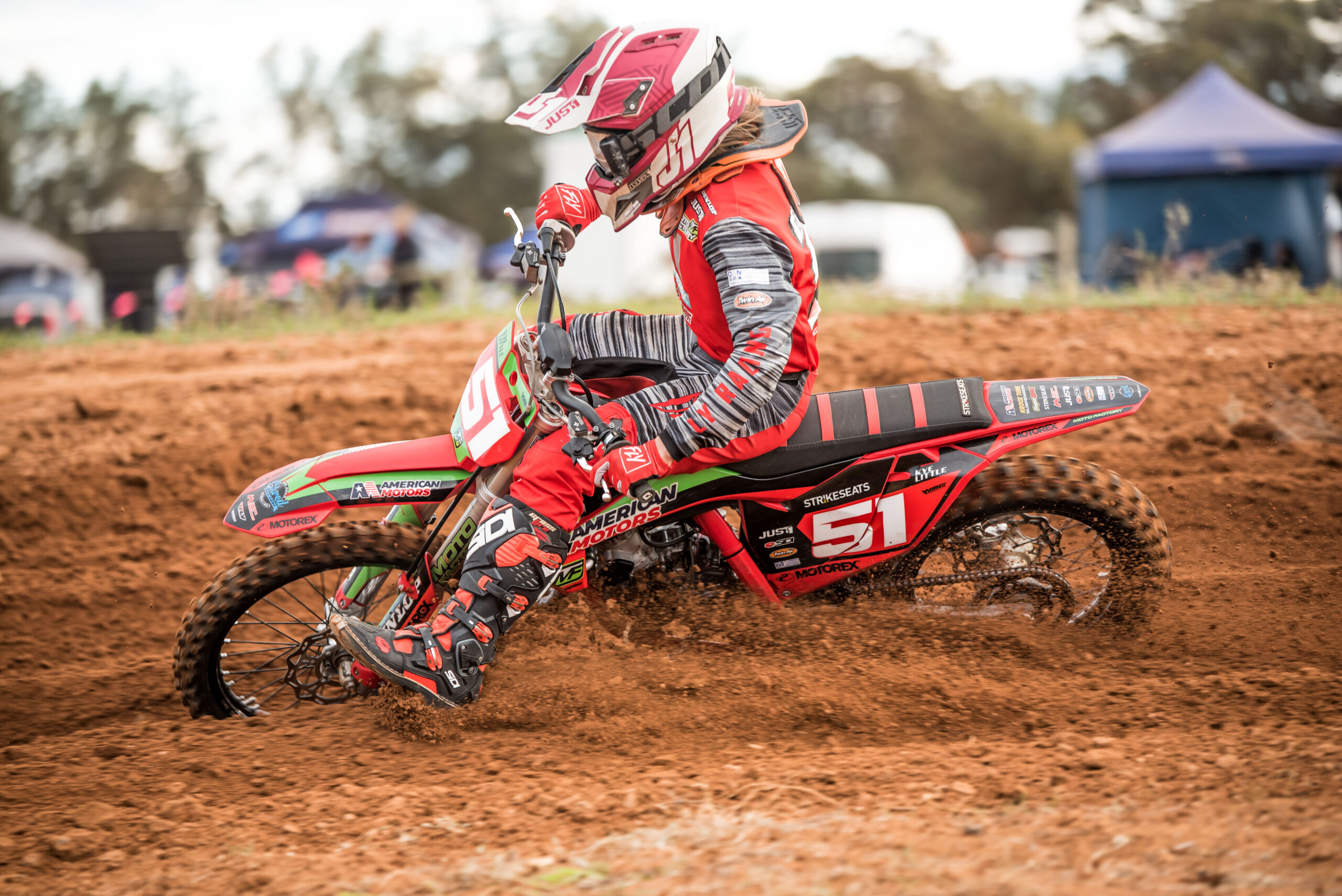 Famous for their long running Easter event, the Port Pirie MCC returned to state level championship competition recently, proudly hosting Round 3 of the Eagle Trailers, Campers and Caravans South Australian Motocross Championship, proudly presented by AMX Superstores. "The Kings of the Gulf did NOT disappoint!" exclaimed Clint Gow-Smith, MSA Sports Manager for Motocross. He shares his recap of the event below.
(photos courtesy Eric McConnochie)
A decade has passed since this famous regional Club had hosted a round of our SAMX Championships and didn't they deliver in spades! With obvious upgrades to the facilities and pit area, the venue looked first class on arrival Friday and as the pits filled you could feel the anticipation and excitement building.
As we saw in Rounds 1 and 2, the entries into this event eclipsed 250 in total, surpassing all expectations and is a great reflection of the support of this Championship, both locally and from interstate for 2022.
SATURDAY 16TH JULY, JUNIORS DAY 
Our junior classes continues to go from strength to strength, and not just the amount of entries, but the depth of talent now competing at this level across all classes.
50cc Non Comp 4-U9 Years; With another 9 'Dirt Devils' participating in the entry level non-competitive class, there has now been over 30 young MX kids wetting their feet in the first 3 rounds, which is a fantastic sign for the future of the sport!
To back this up there were 20 little chargers behind the gate for the 50cc Auto 7-U9 Years Championship Class, and again it showed the great depth of talent coming through.
Mason Ezergallis continued his winning ways, clean sweeping the round, but, as we have seen over the Championship so far the pack is coming, with young Bodhi Austin, Nate Bowman and Victorian, Deegan Cameron, all putting in lap times that were less than a second apart over the 4 riders throughout the day .
Consistency is key but this group provided some of the fastest and most exciting racing we have seen in this age group in some years. Ezargallis took the win with Austin 2nd and Cameron 3rd after young Bowman sadly DNF-ed the final moto with mechanical issues.
The split group of 65cc classes backed up round 2 entries with 24 starters in the 7-9 Years and 11 starters in the 10-U12 Years classes.
You could literally throw a blanket of the lead pack in the younger group with the top 4 riders all posting lap times within a second of each other. The Port Pirie track provided some of the tightest racing we have seen across all classes, but this class was a standout on Saturday for the evenness of the competition. The young Victorian chargers of Dunne and Ezergallis battled hard with the 2 SA boys of Metcalfe and Mullen, with a classic State of Origin feel to it.
It would be the smooth and consistent riding of Metcalfe that would hold him best positioned on the day taking out 1st overall with a 2-2-2 (96pts) with Ezergallis and Mullen finishing just 3 points behind the young 'Metty' on 93 with the Victorian speedster winning the last moto to secure 2nd over Mullen in 3rd.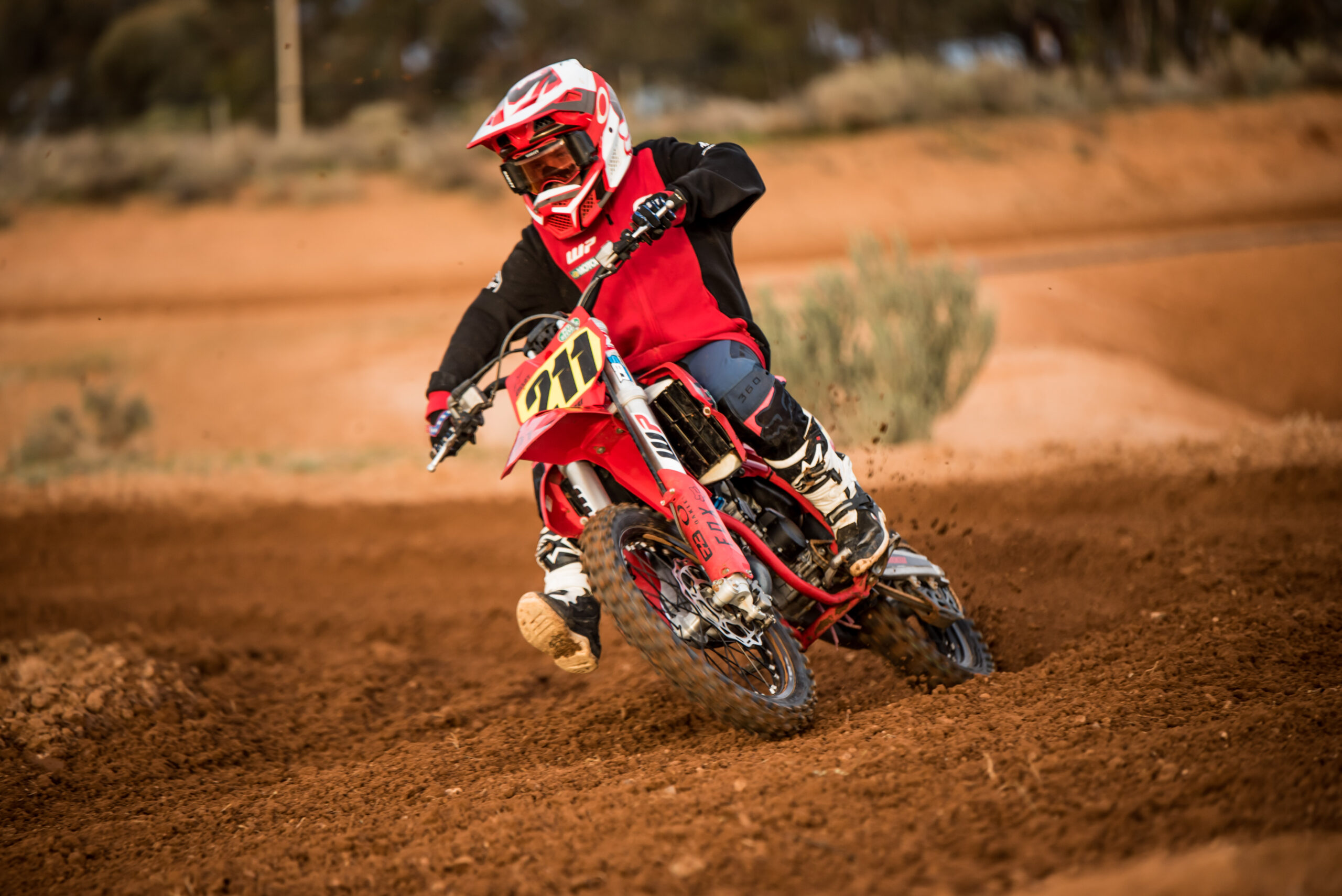 In the older 65cc class (10-U12) it was Cooper Danaher who continued to impress on his 65cc taking the win in front of SA young gun Declan Smart and Victorian Mason White in 3rd.  Dylan Gromball has caught the eye of many in 2022 and is another big improver this year with solid results at club level and sitting 4th in class in the 2022 SA Championships.
The TITANIUM SECURITY AUSTRALIA sponsored 85cc 2st/150cc 4st 11-U16 Years Girls class again saw a consistent amount of entries and also the return of Emily Lambert, who has been on the injured list for most of the break between rounds and choose to ride just the two Girls classes at this round.
Young Lambert set a cracking pace around the fast flowing Pirie track and Championship leader Jessica Bennett rode smart and consistent for second overall on the day as she has her eyes firmly set on the 85cc Championship with one round to go.
Amelia Gwiazda took the 3rd step and has had a really consistent year and continues to show improvement over the 2022 season.
All the girls in this class are now really pushing themselves at every round and the improvement is evident throughout the class which is really encouraging for the sport and future of WMX here in SA.
The TITANIUM SECURITY AUSTRALIA 125/250cc 12-U16 Years Girls class didn't quite go to plan for the current points leader Emily Lambert in Moto 1, where it was another rising star in our WMX Jessica Bennett taking Moto 1 win thrilling fashion. Emily made an uncharacteristic mistake early and was a long way back in Moto 1.
The girls would come together in the final stages of the moto with Emily pressing extremely hard and Jess being brave to hang on for her breakthrough win, and claiming the honours in a great race of determination and grit by both girls. The local crowd and spectators certainly appreciated this battle and was again, a great promotion for WMX in this state!
The class act that she is, Lambert settled in moto 2 and 3 to take the overall in front of Bennet and Gwiazda in 3rd. A special mention to Maddie Bahnisch who had a nasty crash in moto 1 but returned to racing for the day which was as gritty as they come.
85cc SW 9-12 Years – Watching this class there are two distinct races in one, with the experienced and polished riding of Cooper Danaher, Declan Smart and Levi Rossi upfront, and then this group of emerging riders coming after them making it really exciting for our state as these kids really start to develop.
Young Kody Everett had his breakout round in finishing 4th overall and leading the chasing pack home, riding smart all day in chasing the 3 leaders. But, it was the class and speed of Danaher taking the clean sweep in front of Smart and Rossi 3rd overall.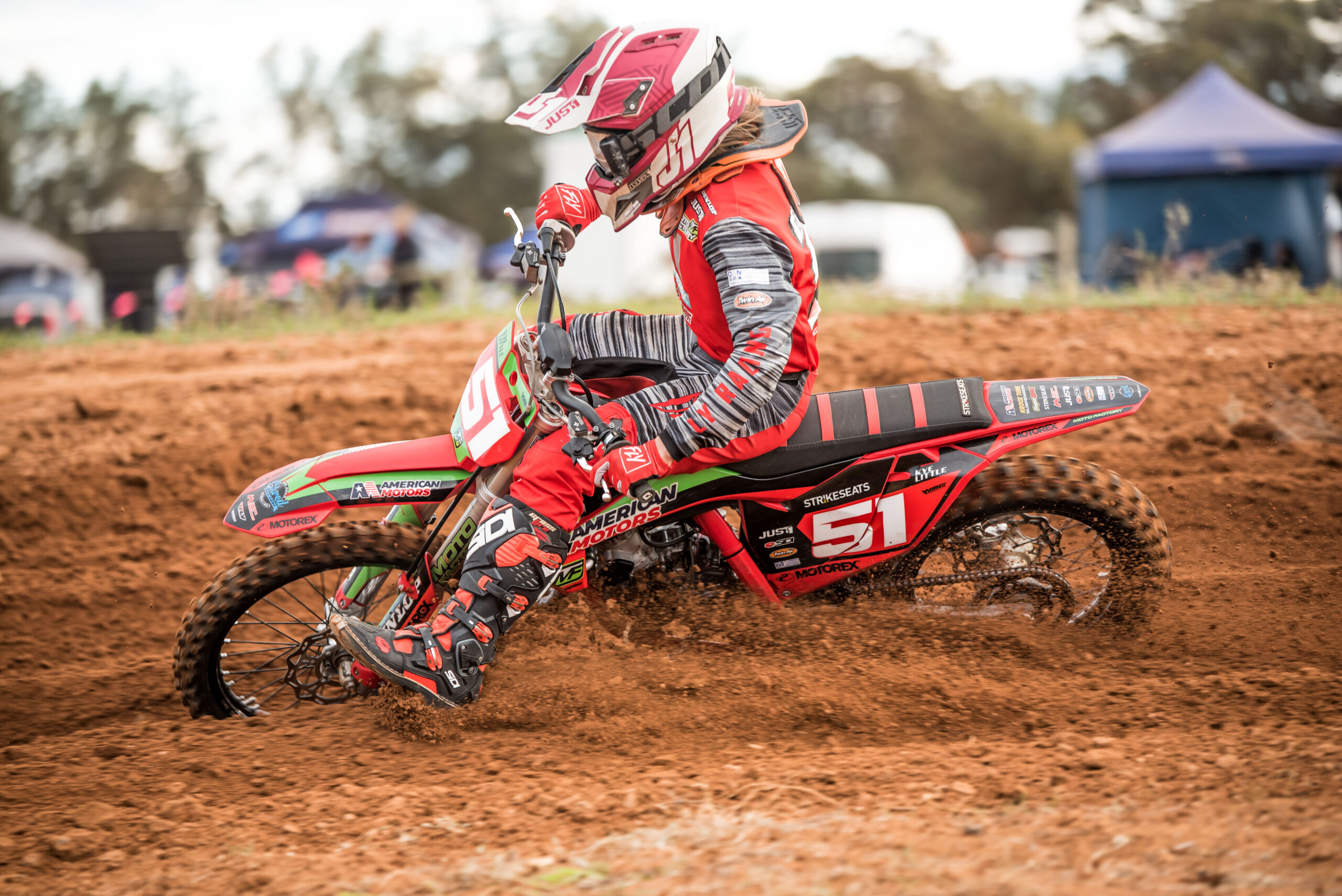 The 12-U16 85cc BW class – words won't do this class, and the talent within it, any justice at all with the younger chargers stepping up from the mall wheel class last year and applying ridiculous pressure to the older kids, and are also riding bigger bikes as they continue to develop through the junior ranks.
It was young emerging star Kye Little that got the GASGAS machine off the line and again showed his speed upfront with Auston Boyd, Tomi Doble, Jobe Dunne and Co. pressing hard behind him. Jobe Dunne (VYJR) again was super impressive on a challenging track showing off his repertoire of skills and race craft to take the win in front of Boyd and Little in Moto 1, with only 6 sec between them.
Moto 2 would see the current series champion Auston Boyd flex his muscle and snatch the victory from Dunne by just .254 second, with Little in 3rd 4 secs behind, and providing non-stop entertainment for the local spectators that were flowing in as the day went on.
Final Moto and the Boyd again showed why he is the rider to beat with a much more commanding win with the spritely natured Tomi Doble showing he has the pace on any given day taking 2nd and Dunne in 3rd. This result in Moto 3 would see Boyd 1st, Dunne 2nd and Doble beating Little on a countback for 3rd in the overall for the round.
Our premier junior class on Saturday was the 13-U16 100-125cc 2st class drew 29 starters for the round, which is as exciting as it gets for the future of the sport! Sadly, young gun Wil Carpenter wasn't quite ready to compete at Round 3 due to the injury sustained before Round 2, so it was up to another SA young gun, and point's leader, Thomas Lambert to keep the interstate riders at bay.
Holding a slender point's lead in the championship Lambert did everything right in Moto 1 until the very end with rising star Kayden Strode (GASGAS) again showing his determination to win this Championship in 2022, taking Moto 1 from Lambert by less than one second, with the ever improving Jake Sanderson, also from over the border, in 3rd.
Moto 2 would see Strode absorb all the pressure that Lambert, Victorian Jack Kenney and Co. could throw at him to take the win from Lambert and Kenney in 3rd. Lambert putting down the fastest lap in this moto reminding the cluster of Victorian riders around him he has the speed to fly the SA flag amongst this stacked field of talent.
Moto 3 would see Lambert doing everything right only to tuck the front and come down whilst on the charge. To make matters worse the young gun was innocently collected by another rider whilst trying to mount his machine which looked horrendous from the sidelines, catching his shoulder with the handlebars and throwing him across the track!
To Lambert's credit, and a real show of guts and grit, the GO24 KTM rider remounted and charged back to 4th from a long way back to keep his Championship fight alive with salvaging points when many other may have put the cue in the rack.
Strode continues to go from strength to strength in 2022 closing out the day with a clean sweep despite many mid moto charges by his competition, and taking the overall from Lambert in 2nd and Sanderson 3rd.
SUNDAY 22ND MAY SENIORS DAY  (photos to come)
PRO-MX 1 looked a bit light on with minimal entries but that would be the only an illusion as this classy small field put on a show on Sunday for the locals and alike that came out to support the event.
GO24's Brett Metcalfe continued to show his class up front but it would be the emerging Honda Ride Red charger of Seigah Ward who would take the tough road, crashing twice during the moto and working his way back to 2nd place, setting the fastest lap of the moto and showing his competition he has the speed to rival Metcalfe when it all clicks for the lion hearted number 84.
Moto 2 would see another great battle between Ward, Daniel Banks (Banks Race Development) and Levi McManus, with Banks showed no signs of jet lag after spending a few weeks in the US with some of his emerging junior riders, and showed us all why he was a past champion of this class.
The overall went to Metcalfe (GO24 Whitehaul KTM), with Ward (HRC) in 2nd and McManus (Honda) 3rd.
PRO-MX 2 was much of the same as the MX1 field, with a small but classy name of entries.
3 time MX Champion Kai Newbold (Banks Race Development KTM) set the standard early with a trademark holeshot and checked out in Moto 1 to take the win from Mitch Norris (GASGAS) and young emerging talent Riley Pitman (Banks Race Development KTM ) getting on the podium.
Moto 2 would see the current point's leader, Norris, exert his authority despite riding two classes to take the win in front of Newbold and another youngster in Jack McLean in 3rd.
The final Moto of MX2 would be the closest and most hard fought race I can remember at this level with Newbold taking early honours with another hole-shot and Norris going down early in the moto. Lap by lap Norris reeled in his competition and set after Newbold in a race that you had to see to believe!
With a packed spectator area and the 300 meters of fence line with fans hanging off the fences it was a great spectacle for the sport we love and kudos again to Port Pirie community for getting right behind this event and these 2 champions didn't disappoint to entertain.
Norris chipped away at the gap between him and Newbold with each passing lap and it would the final lap that would Norris make his move only to be closed down by Newbold in lap that we would see the lead change a few times with both riders pulling on all of their experience. It would come down to the very last corner where Norris would make the pass to take the win to the loud cheering and appreciation of the crowd in breathtaking victory that will be talked about for some time.
Norris extends his lead in the championship and the 3 time Champion Newbold needs to let it all hang out at Round 4 if he wants to make it 4 in a row.
Jack Maclean got his Yamaha 250F on the podium with solid outing and will take some confidence into the final round where himself and Pitman will continue their rise in senior ranks.
The premier (125/250cc) Junior Lites Class that is now a feature on the Sunday program again delivered in spades, and with the usual suspects of Thomas Lambert, Kayden Strode and Jack Kenney resuming hostilities from Saturdays 125cc class, this was always going to be 3 races to watch.
Strode continues to show his composure, especially with a hungry and fast Billy Cameron applying all he had to Strode early in Moto 1. Strode then seemed to find another level when under attack to pull away with a dominant win in Moto 1, by 17 sec., with Cameron 2nd and Lambert 3rd.
Cameron would get the start he needed in Moto 2 to apply the pressure to Strode and lead Strode, Lambert, Kenney and Co. until the GASGAS mounted 'machine' again found some thing else, riding smoothly on the slick surface to get past Cameron as they navigated around some lapped riders to really stake his claim on the 2022 Championship. Cameron set the fastest lap but its Strode's consistency this year that is making him very difficult to beat, and on a variety of track surfaces so far in the Championship.
Moto 3 would see Strode take the win by 18 secs from Lambert, with Sanderson and Boyd both finishing off the round well with a 3rd and 4th respectively. Overall for the weekend it was Strode 1st, from Lambert in 2nd and Cameron 3rd.
The Butlers Mechanical Services Women All Powers Class continues to go from strength to strength with the growth of WMX with 12 entries at this round, including a couple of newbies.
Championship points leader, Amy Bartsch, wasn't herself at start of the day carrying an injury and the emerging talent and hunger for victory from her younger competitors was evident from the get go. Aimee Butler, battling the flu, again showed her impressive starting ability with the hole-shot in Moto 1. The Husqvarna due of Butler and emerging talent Emma Haylock would go 1-2 for Husky with Bartsch in 3rd.
Moto 2 showed just how competitive this class has become with Butler again leading from the start and Haylock and Bartsch in hot pursuit. The 3 would jostle for the top step throughout the whole moto with a 3 way dash to the finish a highlight of WMX racing in this state.
The mad dash to the line saw Bartsch (KTM) get the pumpkin across the line, first by just 1.6 seconds, with a mere .1 of a second separating Butler and Haylock for 2nd, with all 3 putting on a clinic for the locals !
The results in Moto 3 were the same as Moto 2, so it would be Bartsch taking the overall, with Butler 2nd and Haylock 3rd. The first year senior (Haylock) continues to impress, as does Tarja Morris who continues to move up the leader board and it looks like her fitness and time on bike is paying off.
The Expert All Powers Class continues to see the development of our juniors coming through the ranks and the next wave of MX 1 and MX 2 riders. Without Championship leader Aaron Dent and a few other likely types missing from this round, it provided the opportunity for the emerging riders of Lachlan Pagon, Liam Buckley and Co. to have a real dip!
The 'Red Barron' Lachlan Pagon was one of the riders that Dan Banks took to the US recently and the trip seemed to do him no end of good, getting his breakthrough victory in the senior ranks, with another young rider Liam Buckley landing 2nd in Moto 1 with the more experienced and always consistent Caleb Walker in 3rd.
Moto 2 would see Pagon show Moto 1 was no fluke and he rode solid for another win followed by Jake Henderson and again Walker riding smart and out of trouble for 3rd.
Buckley and Pagon would be the 2 'flying tomatoes' in Moto 3 with the race coming down to the final moments with Pagon taking the win by just 1.3 seconds.
Having these young guys pushing hard in these early development years in seniors is proof of the current grading overhaul that has been done, and is a perfect stepping stone for their development and most importantly, keeping this age group involved in the sport as they enter adult life which is challenging time for all.
Pagon and Buckley both super impressive with the overall round win and 2nd respectively, a break out round for both these boys for sure. Henderson took 3rd and Championship leader, Caleb Walker, just did enough in the absence of Dent to take a narrow points lead in the Championship with just one round to go. Walker leading Pagon by just 12 points making this class one to watch in the final round!
Clubman All Powers class was thrown wide open without Oliver Pitchford who dominated the first 3 rounds and it would be Travis Wells who would draw first blood over Scott Martin and Kade Bowles, taking the win in front of Martin by a slender margin of 3 secs, with the first of some great battles through all 3 Motos.
Moto 2 would see young Bowles win by the barest of margins in front of Wells and Martin 3rd.
Moto 3 would illustrate just how even these group of leaders are in this class with Wells beating Martin by 2 sec and this time Bowles would be 3rd. This gave Wells the overall, Bowles 2nd and just 1 point behind was Martin 3rd, yet another young rider coming on from junior ranks in recent years.
The 35-44 Years Veterans class would see the effervescent Charlie Hollis finally break through for his first overall round win. Hollis has stiff competition over the last few years with the Metcalfe brothers and SAMX 'royalty' Warren Carroll keeping Hollis more than honest over this period.
Super consistent and a great bloke to have around the sport, it was Hollis dominating this round with the clean sweep to take the overall in front of Corey Gibbs and Dane Gilbert in one of the smaller class entries we have seen in recent times. We wish Charlie all the best as he returns to his home country to compete, and Charlie will be an obvious exclusion from round 4 but wish him all the best overseas!
In the 45+ Veterans, Darren Averay continued his winning ways with another clean sweep and looks poised to go back to back in this class in 2021 and 2022. Ian Haylock is riding consistently in second place with Glynn Humphreys taking out 3rd overall for the weekend.
ROUND 4 – THE 2022 CHAMPIONSHIP FINALE'!
The 4th and final round of the Eagle Trailers, Campers & Caravans 2022 South Australian Motocross Championships, presented by AMX Superstores, will take place at Andy Caldecott Park, Keith, over the weekend of August 27th and 28th.
Entries OPEN this FRIDAY – JULY 29TH and CLOSE on MONDAY, AUGUST 22ND
LATE entries will CLOSE – WEDNESDAY 24TH AUGUST!
You have been fairly warned – and with most class Championship podium positions still up for grabs – this will be a fantastic way for the 2022 Championship to come to a climatic end! Don't miss out – onsite camping and fully catered all weekend!