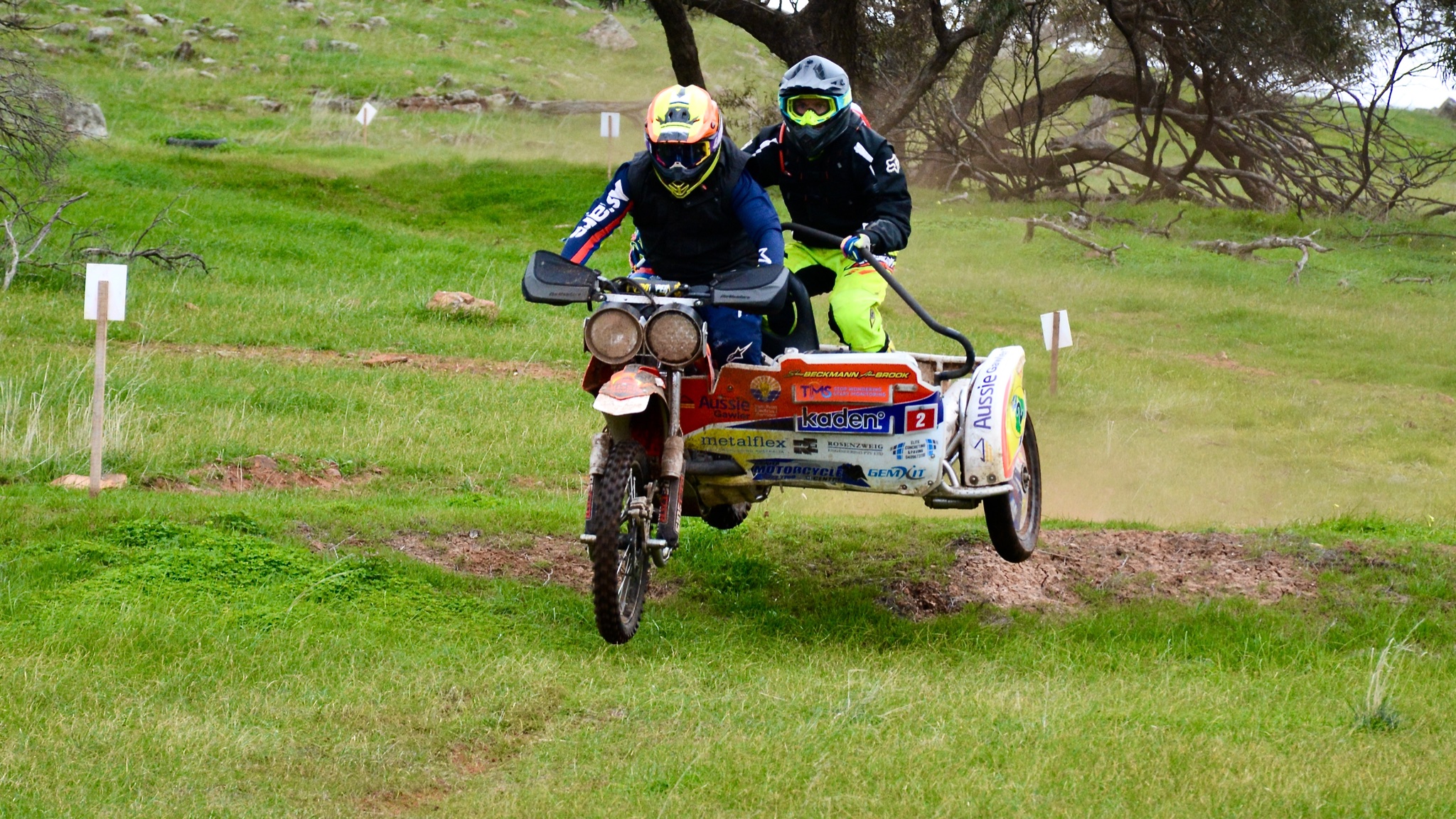 The 89th annual Hardi 24 Hour Trial is finally over – but what a weekend it was! Hundreds of spectators braved the frost and cold and descended upon Kapunda out to see 91 riders finish this year – out of over 130 starters for this prestigious event. Our congratulations to the winners, finishers – and even to those who didn't finish this year but gave their all.
There's always next year!
Full results are available at the 24 Hour Trial website here.
(Photo : Shane Beckmann and Brian Anthony, courtesy of Sandra Plowman)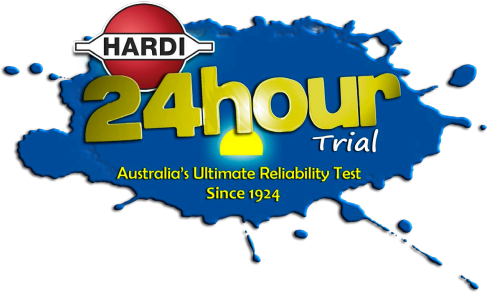 Open Sidecar 
| | | | | | | | | | | |
| --- | --- | --- | --- | --- | --- | --- | --- | --- | --- | --- |
| Place | Number | Name | | Lap 1 | Lap 2 | Lap 3 | Lap 4 | Stages | Total | Gap |
| 1 | 2 | Shane Beckmann / Brian Anthony | 2 | 5320 | 5521 | 5701 | 5709 | 48 | 22251 | +0 |
| 2 | 4 | Bradley Hunter / Ryan Pritchard | 2 | 5366 | 5585 | 5892 | 5837 | 48 | 22680 | +429 |
| 3 | 6 | Mark Launer / Tyson Rohrlach | 2 | 5535 | 5764 | 5947 | 5890 | 48 | 23136 | +885 |
| 4 | 3 | Daniel Plowman / Bradley Brook | 2 | 5507 | 5562 | 5760 | 6829 | 48 | 23658 | +1407 |
| 5 | 5 | Bradley Manuel / Sean Shrapel | 2 | 5897 | 5758 | 6078 | 6093 | 48 | 23826 | +1575 |
| 6 | 7 | Shaun Blenkiron / Nathan Saegenschnitter | 2 | 5591 | 5707 | 6001 | 7127 | 48 | 24426 | +2175 |
| 7 | 11 | Russel Bailey / Marc Oxley | 5 | 5881 | 6178 | 6411 | 6437 | 48 | 24907 | +2656 |
| 8 | 19 | Kristy Schultz / Ayla Plowman | 5 | 6010 | 6444 | 6566 | 6490 | 48 | 25510 | +3259 |
| 9 | 17 | Shaun Buckley / Brett Harding | 5 | 6186 | 6401 | 6765 | 6633 | 48 | 25985 | +3734 |
| 10 | 10 | Ross Watson / Cooper Winter | 5 | 5668 | 7120 | 6328 | 7085 | 48 | 26201 | +3950 |
| 11 | 12 | Zak Smith / Samantha Baxter | 5 | 6018 | 6579 | 6959 | 6671 | 48 | 26627 | +3976 |
| 12 | 13 | Michael Kerin / Louis Kerin | 5 | 6230 | 6630 | 6856 | 6685 | 48 | 26401 | +4150 |
| 13 | 16 | David Pratt / Jayden Watkins | 7 | 6186 | 7774 | 6490 | 6564 | 48 | 27014 | +4763 |
| 14 | 9 | Darren Winter / Lachlan Greenhalgh | 2 | 5803 | 6320 | 7341 | 8345 | 48 | 27809 | +5558 |
| 15 | 21 | Barry Buckley / Todd Blackwell | 7 | 6304 | 6990 | 4709 | 7628 | 48 | 28331 | +6080 |
| 16 | 25 | Jason Whitfield / Christopher Cowie | 5 | 7283 | 7810 | 9003 | 9612 | 48 | 33708 | +11457 |
| DNF | 8 | Shane Schiller / Steven Doecke | 2 | 5255 | 5768 | 5731 | 4103 | 45 | 21058 | – |
| DNF | 18 | Christopher Paunola / Alex Turner | 5 | 6253 | 6860 | 7166 | 4487 | 42 | 24766 | – |
| DNF | 15 | Gary Waldhuter / James Waldhuter | 7 | 6516 | 6804 | 8392 | 0 | 35 | 21712 | – |
| DNF | 1 | Ben Mayne / Ashley Ball | 2 | 5533 | 5758 | 4604 | 0 | 33 | 15895 | – |
| DNF | 20 | Aaron Silvy / Jaron Speyer-Silvy | 5 | 7499 | 8605 | 7298 | 0 | 32 | 23402 | – |
| DNF | 22 | Anthony Weckert / Damien Nash | 7 | 7173 | 8074 | 3045 | 0 | 28 | 18292 | – |
| DNF | 24 | Roger Greenhalgh / Barbara Greenhalgh | 7 | 6921 | 2601 | 0 | 0 | 16 | 9522 | – |
| DNF | 23 | Matthew Harris / Jordan Harris | 5 | 2989 | 0 | 0 | 0 | 4 | 2989 | – |
| DNS | 14 | Neil White / Jason Edson | 7 | 0 | 0 | 0 | 0 | 0 | 0 | – |
Open Solo
| | | | | | | | | | | |
| --- | --- | --- | --- | --- | --- | --- | --- | --- | --- | --- |
| Place | Number | Name | | Lap 1 | Lap 2 | Lap 3 | Lap 4 | Stages | Total | Gap |
| 1 | 81 | Riley Graham | 1 | 4494 | 4856 | 4965 | 4720 | 48 | 19035 | +0 |
| 2 | 66 | Sean Throup | 1 | 4559 | 4902 | 5095 | 4833 | 48 | 19389 | +354 |
| 3 | 74 | Kyan Haydon | 1 | 4670 | 5152 | 5214 | 4963 | 48 | 1999 | +964 |
| 4 | 72 | Clinton Voigt | 1 | 4735 | 5089 | 5298 | 5060 | 48 | 20182 | +1147 |
| 5 | 78 | Charlie Milton | 1 | 4745 | 5083 | 5353 | 5179 | 48 | 20360 | +1325 |
| 6 | 80 | Todd muster | 1 | 4809 | 5259 | 5323 | 5182 | 48 | 20573 | +1538 |
| 7 | 70 | Adam Wright | 1 | 4843 | 5239 | 5334 | 5260 | 48 | 20676 | +1641 |
| 8 | 69 | Anthony Diener | 1 | 4772 | 5080 | 5620 | 5251 | 48 | 20723 | +1688 |
| 9 | 71 | Damien Jenke | 1 | 5084 | 5420 | 5492 | 5200 | 48 | 21196 | +2161 |
| 10 | 149 | Jesse Roesler | 3 | 5004 | 5408 | 5510 | 5307 | 48 | 21229 | +2194 |
| 11 | 68 | Haydon Ahrens | 1 | 4878 | 5374 | 5720 | 5354 | 48 | 21326 | +2291 |
| 12 | 75 | Daniel Prior | 1 | 4920 | 5392 | 5630 | 5549 | 48 | 21491 | +2456 |
| 13 | 77 | Jack Tucker | 1 | 5046 | 5595 | 5832 | 5238 | 48 | 21711 | +2676 |
| 14 | 151 | Alexander Cowan | 4 | 4992 | 5673 | 5781 | 5429 | 48 | 21874 | +2839 |
| 15 | 79 | Nathan Noble | 1 | 5195 | 5637 | 5838 | 5494 | 48 | 22164 | +3129 |
| 16 | 121 | Matthew Reimann | 4 | 5387 | 5654 | 5823 | 5416 | 48 | 22274 | 3239 |
| 17 | 141 | Cooper Ratsch | 3 | 5462 | 5591 | 5779 | 5489 | 48 | 22321 | 3286 |
| 18 | 99 | Matthew Aimann | 3 | 5263 | 5685 | 5913 | 5593 | 48 | 22454 | +4319 |
| 19 | 124 | Todd Knight | 4 | 5251 | 5687 | 5926 | 5592 | 48 | 22456 | +3421 |
| 20 | 142 | Caden Rogers | 4 | 5182 | 5796 | 5906 | 5573 | 48 | 22457 | +3422 |
| 21 | 76 | Brendon Noble | 1 | 5156 | 5685 | 6007 | 5623 | 48 | 22471 | +3436 |
| 22 | 86 | Liam Sander | 4 | 5305 | 5782 | 5975 | 5409 | 48 | 22471 | +3436 |
| 23 | 103 | Clayton Fechner | 3 | 5327 | 5881 | 6067 | 5540 | 48 | 22815 | +3780 |
| 24 | 87 | Liam McConnell | 4 | 5180 | 5369 | 6229 | 6085 | 48 | 22863 | +3828 |
| 25 | 83 | Sam Wegener | 1 | 5256 | 5767 | 6190 | 5820 | 48 | 23033 | +3998 |
| 26 | 147 | Matthew Curtis | 4 | 5256 | 5767 | 6190 | 5820 | 48 | 23033 | +3998 |
| 27 | 110 | Mark Hassfurter | 4 | 5436 | 5859 | 6158 | 5676 | 48 | 23129 | +4094 |
| 28 | 85 | Samuel Hutchesson | 4 | 5242 | 5843 | 6209 | 5886 | 48 | 23180 | +4145 |
| 29 | 90 | Josh Matthews | 4 | 5350 | 5853 | 6195 | 5793 | 48 | 231914 | +4156 |
| 30 | 104 | Joel Knight | 3 | 5265 | 5704 | 6511 | 5834 | 48 | 23314 | +4279 |
| 31 | 118 | Rhys Jenke | 3 | 5264 | 5674 | 6136 | 6285 | 48 | 23359 | +4324 |
| 32 | 128 | Nathan Freeman | 4 | 5514 | 5880 | 6197 | 4811 | 48 | 23402 | +4367 |
| 33 | 113 | Simon Haydon | 3 | 5458 | 5975 | 6192 | 5804 | 48 | 23429 | +4394 |
| 34 | 107 | Matthew Lee | 4 | 5423 | 5829 | 6253 | 5954 | 48 | 23459 | +4424 |
| 35 | 41 | Shaun Harman | 6 | 5227 | 5887 | 6283 | 6146 | 48 | 23543 | +4508 |
| 36 | 120 | Jamie Starick | 4 | 5418 | 5907 | 6241 | 5999 | 48 | 23565 | +4530 |
| 37 | 116 | Jordan Ball | 3 | 5570 | 6078 | 6386 | 5685 | 48 | 23719 | +4684 |
| 38 | 96 | Jarred Beckmann | 4 | 5521 | 5881 | 6473 | 6068 | 48 | 23943 | +4908 |
| 39 | 84 | David Schwarz | 1 | 5466 | 6001 | 6389 | 6099 | 48 | 23955 | +4920 |
| 40 | 111 | Michael Collins | 4 | 5284 | 6164 | 6460 | 6182 | 48 | 24090 | +5055 |
| 41 | 91 | Jack Wormald | 4 | 5452 | 6248 | 6648 | 5826 | 48 | 24174 | +5139 |
| 42 | 93 | Byrom Hoffman | 4 | 556 | 6063 | 6611 | 6235 | 48 | 24477 | +5442 |
| 43 | 117 | Michael Drake | 3 | 5520 | 6164 | 6871 | 6192 | 48 | 24747 | +5712 |
| 44 | 94 | Clayton Sherwood | 4 | 5486 | 6352 | 6945 | 6559 | 48 | 25342 | +6307 |
| 45 | 125 | Elliot Tom | 3 | 5980 | 6392 | 6558 | 6479 | 48 | 25409 | +6374 |
| 46 | 126 | Daniel Kotz | 3 | 5722 | 6558 | 7139 | 6249 | 48 | 25668 | +6633 |
| 47 | 450 | Aiden Thompson | 4 | 5935 | 6248 | 7064 | 6429 | 48 | 25676 | +6641 |
| 48 | 95 | Hayden Bugemeister | 4 | 5912 | 6479 | 6960 | 6425 | 48 | 25776 | +6741 |
| 49 | 42 | Bradley Tom | 6 | 5700 | 6407 | 6951 | 6748 | 48 | 25806 | +6771 |
| 50 | 130 | Andrew Schulz | 4 | 5938 | 6703 | 6887 | 6420 | 48 | 25948 | +6913 |
| 51 | 106 | Mitchell Sims | 4 | 6220 | 6499 | 6790 | 6480 | 48 | 25989 | 6954 |
| 52 | 122 | Nick Doecke | 4 | 6027 | 6576 | 7070 | 6405 | 48 | 26078 | +7043 |
| 53 | 101 | Michael Schiller | 4 | 6046 | 6567 | 7012 | 6478 | 48 | 26103 | +7068 |
| 54 | 37 | Mark Harrold | 8 | 5752 | 6558 | 7005 | 7032 | 48 | 26347 | +7312 |
| 55 | 132 | Lachlan Ratsch | 3 | 6032 | 6505 | 7278 | 6557 | 48 | 26372 | +7337 |
| 56 | 105 | Russell Sherwood | 4 | 6034 | 6585 | 7303 | 6803 | 48 | 26725 | +7690 |
| 57 | 98 | Kym Sherwood | 4 | 5870 | 6752 | 7341 | 6824 | 48 | 26787 | +7752 |
| 58 | 140 | Richard Hutt | 4 | 6365 | 6563 | 7290 | 6575 | 48 | 26793 | +7758 |
| 59 | 97 | James Rowe | 4 | 6102 | 6985 | 7382 | 6867 | 48 | 27336 | +8301 |
| 60 | 114 | Cameron Donald | 4 | 6532 | 7410 | 7352 | 6760 | 48 | 28054 | +9019 |
| 61 | 108 | Sani Peiffer | 4 | 6250 | 7211 | 7874 | 7086 | 48 | 28421 | +9386 |
| 62 | 40 | Paul Collins | 8 | 6287 | 7236 | 7456 | 7595 | 48 | 28574 | +9539 |
| 63 | 43 | Hector Evans | 6 | 5759 | 6531 | 8376 | 8000 | 48 | 28666 | +9631 |
| 64 | 102 | Ethan Pickstock | 4 | 6094 | 7404 | 7997 | 7296 | 48 | 28791 | +9756 |
| 65 | 131 | Stuart Mackenzie | 4 | 6410 | 7257 | 7789 | 7389 | 48 | 28845 | +9810 |
| 66 | 48 | Brett Hall | 8 | 5717 | 6731 | 8010 | 8524 | 48 | 28982 | +9947 |
| 67 | 135 | Keegan May | 3 | 6231 | 7077 | 7870 | 7205 | 48 | 29183 | +10148 |
| 68 | 112 | Marcus Coppen | 4 | 6237 | 7184 | 8009 | 8763 | 48 | 30193 | +11158 |
| 69 | 59 | Gregory Noel | 8 | 6564 | 7080 | 7477 | 9242 | 48 | 30363 | +11328 |
| 70 | 60 | Paul Rumsey | 8 | 6651 | 7947 | 9041 | 8240 | 48 | 31879 | +12844 |
| 71 | 50 | Heidi Giersch | 9 | 7008 | 8082 | 8909 | 8412 | 48 | 32411 | +13376 |
| 72 | 152 | Daniel Garbett | 4 | 6805 | 7491 | 9716 | 8896 | 48 | 32908 | +13873 |
| 73 | 109 | Deklan Coppen | 4 | 6972 | 8331 | 9177 | 8626 | 48 | 33106 | +14071 |
| 74 | 144 | Nicholas Schutz | 4 | 5994 | 7661 | 10039 | 10945 | 48 | 34639 | +15604 |
| 75 | 45 | Phil Hodgens | 6 | 7070 | 8968 | 10061 | 8743 | 48 | 34842 | +15807 |
| DNF | 73 | Jamie Banks | 1 | 4795 | 5111 | 5191 | 2065 | 41 | 17162 | – |
| DNF | 146 | Grant Stephen | 4 | 5615 | 6277 | 7149 | 0 | 36 | 19041 | – |
| DNF | 52 | Allan Briscoe | 6 | 6450 | 7554 | 9453 | 0 | 36 | 23457 | – |
| DNF | 89 | Jonathan Zussino | 4 | 5669 | 6578 | 6723 | 0 | 35 | 18970 | – |
| DNF | 53 | Andrew Byrne | 6 | 6173 | 8017 | 6618 | 0 | 32 | 20808 | – |
| DNF | 38 | Stephen Tomlinson | 8 | 5988 | 7092 | 6039 | 0 | 31 | 19119 | – |
| DNF | 44 | Justin French | 6 | 6039 | 6927 | 4381 | 0 | 30 | 17347 | – |
| DNF | 115 | Donald Owen | 4 | 6414 | 7946 | 3748 | 0 | 30 | 18108 | – |
| DNF | 127 | Travis Reardon | 3 | 6033 | 3745 | 2674 | 0 | 28 | 16052 | – |
| DNF | 148 | Shane Bentley | 4 | 4933 | 5548 | 770 | 0 | 26 | 11251 | – |
| DNF | 139 | Tyler Read | 3 | 5465 | 6147 | 0 | 0 | 24 | 11612 | – |
| DNF | 136 | Anthony Read | 3 | 5853 | 6343 | 0 | 0 | 24 | 12196 | – |
| DNF | 129 | James Corsbie | 4 | 6949 | 8704 | 0 | 0 | 24 | 15653 | – |
| DNF | 39 | Steve Sparkes | 8 | 5668 | 6055 | 0 | 0 | 21 | 11723 | – |
| DNF | 56 | Dave Russell | 6 | 6620 | 6648 | 0 | 0 | 20 | 13268 | – |
| DNF | 145 | Timothy Lynas | 4 | 5575 | 4238 | 0 | 0 | 19 | 9813 | – |
| DNF | 123 | Giles Odriscoll | 4 | 5621 | 3219 | 0 | 0 | 18 | 8840 | – |
| DNF | 92 | Dwayne Rumsey | 4 | 5152 | 3075 | 0 | 0 | 16 | 8227 | – |
| DNF | 137 | Ashley Riebke | 3 | 6382 | 2367 | 0 | 0 | 16 | 8749 | – |
| DNF | 51 | Adam Toolan | 6 | 9033 | 2618 | 0 | 0 | 16 | 11651 | – |
| DNF | 57 | David Johnson | 6 | 6947 | 2292 | 0 | 0 | 15 | 9239 | – |
| DNF | 100 | Daryl Sherwood | 4 | 6267 | 934 | 0 | 0 | 14 | 7201 | – |
| DNF | 134 | Michael Johnson | 3 | 6950 | 1024 | 0 | 0 | 14 | 7974 | – |
| DNF | 47 | Trevor Field | 6 | 6985 | 1157 | 0 | 0 | 14 | 8142 | – |
| DNF | 82 | Jacob Smith | 1 | 4918 | 0 | 0 | 0 | 12 | 4918 | – |
| DNF | 143 | Matthew Davis | 4 | 7125 | 0 | 0 | 0 | 12 | 7125 | – |
| DNF | 58 | Jason Poznic | 6 | 8414 | 0 | 0 | 0 | 12 | 8414 | – |
| DNF | 54 | Colin Jenke | 6 | 9736 | 0 | 0 | 0 | 12 | 9736 | – |
| DNF | 138 | Henry Schutz | 4 | 7882 | 0 | 0 | 0 | 7 | 7882 | – |
| DNF | 36 | Greg Slattery | 8 | 2269 | 0 | 0 | 0 | 5 | 2269 | – |
| DNF | 133 | Chris Thomas | 4 | 792 | 0 | 0 | 0 | 2 | 792 | – |
| DNF | 46 | Rob Thomas | 6 | 0 | 0 | 0 | 0 | 0 | 0 | – |
| DNS | 35 | Danil Riebke | 6 | 0 | 0 | 0 | 0 | 0 | 0 | – |
| DNS | 49 | David Tomlinson | 8 | 0 | 0 | 0 | 0 | 0 | 0 | – |
| DNS | 55 | Darren Jones | 6 | 0 | 0 | 0 | 0 | 0 | 0 | – |
| DNS | 67 | Zack Tremaine | 1 | 0 | 0 | 0 | 0 | 0 | 0 | – |
| DNS | 88 | Jared Plush | 4 | 0 | 0 | 0 | 0 | 0 | 0 | – |
| DNS | 119 | Lindsay Meaney | 4 | 0 | 0 | 0 | 0 | 0 | 0 | – |