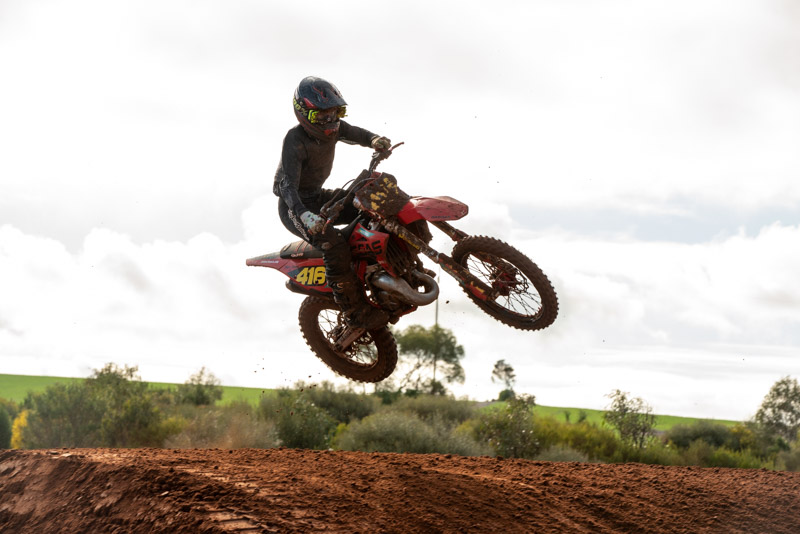 Last weekend's 5th and 6th of August saw Round 3 of the 2023 SA Motocross Championships put on a show at the South Coast MXC. Throughout a full 2 days of tight racing, riders put it all on the line, with the points tables heating up and a thrilling 2023 SAMX Championship finale just around the corner, we couldn't be more excited. Well done to South Coast MXC for their hard work in putting on a great round 3, all the volunteers behind the scenes on and off the track off the track and of course all the riders that gave it their all through a full weekend of fantastic racing.
Thanks again to our series sponsors, Butler's Mechanical Service and Great Southern Security that have come on board again for the 2023 SAMX Championship series.
A full breakdown of results and timing can be found for Saturday – HERE and Sunday – HERE.
The 2023 Championship leader boards – HERE.
Check out the top 10 placings in each class for the weekend and where riders are currently sitting on the 2023 Championship points table below –
(Photo courtesy Eric McConnochie)
Sunday 06 August 2023 :
| | | | | | | |
| --- | --- | --- | --- | --- | --- | --- |
| Pos | | Competitor | Total Points | R1 | R2 | R3 |
| 1 | | Brett Metcalfe | 75 | 25 | 25 | 25 |
| 2 | | Levi McManus |  62 | 18 | 22 | 22 |
| 3 | | Daniel Banks |  60 | 22 | 20 | 18 |
| 4 | | Siegah Ward | 58 | 20 | 18 | 20 |
| 5 | | Jaxon Raynor | 46 | 14 | 16 | 16 |
| 6 | | Matt Clarke | 45 | 15 | 15 | 15 |
| 7 | | Denzel Woulfe | – |  DNF |  – |  – |
Pro MX 2
| | | | | | | |
| --- | --- | --- | --- | --- | --- | --- |
| Pos | | Competitor | Total Points | R1 | R2 | R3 |
| 1 | | Mitch Norris | 67 | 22 | 20 | 25 |
| 2 | | Elijah Wiese | 67 | 20 | 25 | 22 |
| 3 | | Jack McLean | 63 | 25 | 22 | 16 |
| 4 | | Jack Kenney | 54 | 16 | 18 | 20 |
| 5 | | Seth Carpenter | 52 | 18 | 16 | 18 |
| 6 | | Thomas Lambert | 45 | 15 | 15 | 15 |
| 7 | | Caleb Walker | 42 | 14 | 14 | 14 |
Women All Powers
| | | | | | | |
| --- | --- | --- | --- | --- | --- | --- |
| Pos | | Competitor | Total Points | R1 | R2 | R3 |
| 1 | | Amy Bartsch | 75 | 25 | 25 | 25 |
| 2 | | Emma Haylock | 66 | 22 | 22 | 22 |
| 3 | | Steph Cutler | 58 | 18 | 20 | 20 |
| 4 | | Jessica Bennett | 54 | 20 | 16 | 18 |
| 5 | | Tarja Morris | 50 | 16 | 18 | 16 |
| 6 | | Koby Kitchen | 45 | 15 | 15 | 15 |
| 7 | | Ulani Guy | 40 | 12 | 14 | 14 |
| 8 | | Stefanie Teixeira | 40 | 14 | 13 | 13 |
| 9 | | Charlotte Berrill | 35 | 13 | 12 | 10 |
| 10 | | Leticia Foster | 33 | 11 | 11 | 11 |
Expert All Powers
| | | | | | | |
| --- | --- | --- | --- | --- | --- | --- |
| Pos | | Competitor | Total Points | R1 | R2 | R3 |
| 1 | | Liam Dinnage | 75 | 25 | 25 | 25 |
| 2 | | Joseph Dalle-Molle | 66 | 22 | 22 | 22 |
| 3 | | Denzel Woulfe | 60 | 20 | 20 | 20 |
| 4 | | Cody Loffler | 49 | 15 | 18 | 16 |
| 5 | | Rod MacKenzie | 47 | 18 | 14 | 15 |
| 6 | | Liam Buckley | 40 | 16 | 11 | 13 |
|  7 | | Joel Hakkinen |  39 |  6 |  15 | 18 |
| 8 | | Jack Maher | 38 | 11 | 16 | 11 |
| 9 | | Jake Henderson | 37 | 13 | 10 | 14 |
| 10 | | Lucas Brereton | 34 | 14 | 8 | 12 |
100-150cc 2 str / 200-250cc 4str 13-U16 YEARS
| | | | | | | |
| --- | --- | --- | --- | --- | --- | --- |
| Pos | | Competitor | Total Points | R1 | R2 | R3 |
| 1 | | Wil Carpenter | 75 | 25 | 25 | 25 |
| 2 | | Auston Boyd | 66 | 22 | 22 | 22 |
| 3 | | Clayton Bogucki | 58 | 20 | 20 | 18 |
| 4 | | Kye Little | 54 | 16 | 18 | 20 |
| 5 | | Noah Rochow | 45 | 18 | 11 | 16 |
| 6 | | Jackson Rossi | 44 | 13 | 16 | 15 |
| 7 | | Joshua Whitehorn | 41 | 15 | 15 | 11 |
| 8 | | Cambell Cadd |  37 |  10 | 13 |  14 |
| 9 | | Logan Scott | 36 | 12 | 12 | 12 |
| 10 | | Archer Colwil |  34 |  11 |  10 |  13 |
Clubman All-Powers
| | | | | | | |
| --- | --- | --- | --- | --- | --- | --- |
| Pos | | Competitor | Total Points | R1 | R2 | R3 |
| 1 | | Jordan Simpson | 75 | 25 | 25 | 25 |
| 2 | | Brodie Knott | 64 | 22 | 22 | 20 |
| 3 | | Kent Shillitoe | 54 | 20 | 12 | 22 |
| 4 | | Tom Jackway | 50 | 18 | 16 | 16 |
| 5 | | Justin Lowen | 47 | 14 | 15 | 18 |
| 6 | | Johnny Teixeira | 46 | 15 | 18 | 13 |
| 7 | | Ross Dilks | 42 | 13 | 14 | 15 |
| 8 | | Jamie Cornell | 39 | 12 | 13 | 14 |
| 9 | | Brody Judd | 34 | 16 | 9 | 9 |
| 10 | | Jett Hakkinen | 31 |  10 | 11 | 10 |
Veterans 35 – 44 Years
| | | | | | | |
| --- | --- | --- | --- | --- | --- | --- |
| Pos | | Competitor | Total Points | R1 | R2 | R3 |
| 1 | | Bradleigh Thompson | 75 | 25 | 25 | 25 |
| 2 | | Charlie Hollis | 66 | 22 | 22 | 22 |
| 3 | | Wade Byles | 58 | 18 | 20 | 20 |
| 4 | | Matthew Franczuk | 50 | 16 | 18 | 16 |
| 5 | | Craig Hepburn | 46 | 15 | 16 | 15 |
| 6 | | Nicky Carter | 38 | 20 | – | 18 |
| 7 | | Nicolas Gwiazda | 14 | 14 | – | – |
Veterans 45+
| | | | | | | |
| --- | --- | --- | --- | --- | --- | --- |
| Pos | | Competitor | Total Points | R1 | R2 | R3 |
| 1 | | Darren Averay | 75 | 25 | 25 | 25 |
| 2 | | Anthony Slade | 64 | 20 | 22 | 22 |
| 3 | | Paul McLean | 62 | 22 | 20 | 20 |
| 4 | | Heath Boundy | 54 | 18 | 18 | 18 |
| 5 | | Dale Mosey | 47 | 16 | 15 | 16 |
| 6 | | Matthew Powell | 46 | 15 | 16 | 15 |
| 7 | | Michael Wilson | 42 | 14 | 14 | 14 |
| 8 | | Lawerence Robertson | – | DNF | – | – |
Saturday 05 August 2023 :
100-125cc 2 STROKE 13-UNDER 16 YEARS
| | | | | | | |
| --- | --- | --- | --- | --- | --- | --- |
| Pos | | Competitor | Total Points | R1 | R2 | R3 |
| 1 | | Jobe Dunne | 66 |  22 |  22 |  22 |
| 2 | | Jayke Hansen | 65 |  25 |  20 |  20 |
| 3 | | Auston Boyd | 54 |  18 | 18 | 18 |
| 4 |   | Wil Carpenter | 50 | DNF | 25 | 25 |
| 5 | | Joshua Whitehorn | 47 |  16 |  16 |  15 |
| 6 | | Clayton Bogucki | 47 |  20 | 13 | 14 |
| 7 | | Cambell Cadd | 45 |  15 |  14 | 16 |
| 8 | | Archer Colwill | 39 |  14 |  15 | 10 |
| 9 | | Logan Scott | 37 |  12 | 12 |  13 |
| 10 | | Ian Ellis | 31 |  9 | 10 |  12 |
GREAT SOUTHERN SECURITY
100-150cc 2str / 200-250cc 4str 13-UNDER 16 YEARS GIRLS:
| | | | | | | |
| --- | --- | --- | --- | --- | --- | --- |
| Pos | | Competitor | Total Points | R1 | R2 | R3 |
| 1 | | Danielle Churchett | 70 | 20 | 25 | 25 |
| 2 | | Charlize Waldhuter | 62 | 22 | 18 | 22 |
| 3 | | Tiahni Little | 58 | 18 | 22 | 18 |
| 4 | | Amelia Gwiazda | 54 | 14 | 20 | 20 |
| 5 | | Lexy Hayes | 48 | 16 | 16 | 16 |
| 6 | | Ava Sparrow | 45 | 15 | 15 | 15 |
| 7 | | Ava Walsh | 40 | 13 | 14 | 13 |
| 8 | | Madison Bahnisch | 26 | 12 | – | 14 |
| 9 | | Hayley Pudney | 25 | 25 | DNF | – |
85cc 2str/150cc 4str STD & BIG WHEEL 12-UNDER 16 YEARS
| | | | | | | |
| --- | --- | --- | --- | --- | --- | --- |
| Pos | | Competitor | Total Points | R1 | R2 | R3 |
| 1 | | Kye Little | 72 | 25 | 22 | 25 |
|  2 | | Dylan Gromball | 60 | 18 | 20 | 22 |
| 3 | | Harry Lashford | 58 | 22 | 16 | 20 |
| 4 | | Max Hudson | 47 | 14 | 15 | 18 |
| 5 | | Jamie Averay | 43 | 15 | 12 | 16 |
| 6 | | Ryder Woodrow | 41 | 16 | 25 | DNF |
| 7 | | Bradley Walkom | 38 | 20 | 18 | DNF |
| 8 | | Tom Bowering | 36 | 8 | 14 | 14 |
| 9 | | Deegan Jackway | 33 | 9 | 11 | 13 |
| 10 | | Christian Disciscio | 33 | 10 | 13 | 10 |
85cc 2str/150cc 4str STD WHEEL 9-UNDER 12 YEARS
| | | | | | | |
| --- | --- | --- | --- | --- | --- | --- |
| Pos | | Competitor | Total Points | R1 | R2 | R3 |
| 1 | | Declan Smart | 75 | 25 | 25 | 25 |
| 2 | | Cody Dunne | 64 | 22 | 20 | 22 |
|  3 | | Riley Mullen | 60 | 18 | 22 | 20 |
| 4 | | Levi Rossi | 56 | 20 | 18 | 18 |
| 5 | | Koby Binnion | 48 | 16 | 16 | 16 |
| 6 | | Brock Smart | 45 | 15 | 15 | 15 |
| 7 | | Jayden Minerds | 42 | 14 | 14 | 14 |
| 8 | | Blake Bahnisch | 36 | 13 | 10 | 13 |
| 9 | | Hudson Wilson | 24 | 12 | 12 | 0 |
| 10 | | Hamish Finch | 23 | 11 | 7 | 5 |
GREAT SOUTHERN SECURITY
85cc 2str / 150cc 4str 11-UNDER 16 YEARS, GIRLS
| | | | | | | |
| --- | --- | --- | --- | --- | --- | --- |
| Pos | | Competitor | Total Points | R1 | R2 | R3 |
| 1 | | Charlize Waldhuter | 75 | 25 | 25 | 25 |
| 2 | | April Chapman | 64 | 20 | 22 | 22 |
| 3 | | Matlida Ryan | 54 | 14 | 20 | 20 |
| 4 | | Maddy Bahnisch | 53 | 22 | 13 | 18 |
| 5 | | Ava Sparrow | 51 | 18 | 18 | 15 |
| 6 | | Breeannah Morcom | 48 | 16 | 16 | 16 |
| 7 | | Paige Kitchen | 43 | 15 | 14 | 14 |
| 8 | | Jessica Bartsch | 41 | 13 | 15 | 13 |
65CC 10 – UNDER 12 YEARS
| | | | | | | |
| --- | --- | --- | --- | --- | --- | --- |
| Pos | | Competitor | Total Points | R1 | R2 | R3 |
| 1 | | Riley Mullen | 72 | 22 | 25 | 25 |
| 2 | | Ollie Paech | 69 | 25 | 22 | 22 |
| 3 | | Nash Metcalfe | 60 | 20 | 20 | 20 |
| 4 | | Hudson Wilson | 49 | 16 | 18 | 15 |
| 5 | | Reid Haydon | 47 | 15 | 16 | 16 |
| 6 | | Jaeden Sargeant | 42 | 13 | 15 | 14 |
| 7 | | Max Donald | 41 | 14 | 14 | 13 |
| 8 | | Mason Zerk | 37 | 12 | 13 | 12 |
| 9 | | Blake Bahnisch | 36 | 18 | DNF | 18 |
| 10 | | Jaxon Hirst | 34 | 11 | 12 | 11 |
| 11 | | Noah Backman | 31 | 10 | 11 | 10 |
65cc 7-9 YEARS
| | | | | | | |
| --- | --- | --- | --- | --- | --- | --- |
| Pos | | Competitor | Total Points | R1 | R2 | R3 |
| 1 | | Bodhi Austin | 75 | 25 | 25 | 25 |
| 2 | | Lachlan Murdoch | 64 | 22 | 20 | 22 |
| 3 | | Nate Bowman | 58 | 20 | 22 | 16 |
| 4 | | Bailey Thompson | 56 | 18 | 18 | 20 |
| 5 | | Kobe Smart | 50 | 16 | 16 | 18 |
| 6 | | David Bamford | 43 | 15 | 14 | 14 |
| 7 | | Seth Clark | 41 | 11 | 15 | 15 |
| 8 | | Koben Corbell | 38 | 12 | 13 | 13 |
|  9 | | Rory Walter | 34 | 13 | 9 | 12 |
| 10 | | Coen Hooker | 34 | 14 | 11 | 9 |
50cc Auto 7 – U9 Years
| | | | | | | |
| --- | --- | --- | --- | --- | --- | --- |
| Pos | | Competitor | Total Points | R1 | R2 | R3 |
| 1 | | Kobe Smart | 75 | 25 | 25 | 25 |
| 2 | | Huxson Carroll | 66 | 22 | 22 | 22 |
| 3 | | Koben Corbell | 60 | 20 | 20 | 20 |
| 4 | | Isiah Filipovic | 54 | 18 | 18 | 18 |
| 5 | | David Bamford | 43 | 16 | 11 | 16 |
| 6 | | Archer Smith | 43 | 12 | 16 | 15 |
| 7 | | Kai Austin | 41 | 14 | 13 | 14 |
| 8 | | Tate Jackway | 38 | 11 | 14 | 13 |
| 9 | | Alexander Backman | 37 | 13 | 12 | 12 |
| 10 | | Jaxon Sims | 35 | 15 | 10 | 10 |