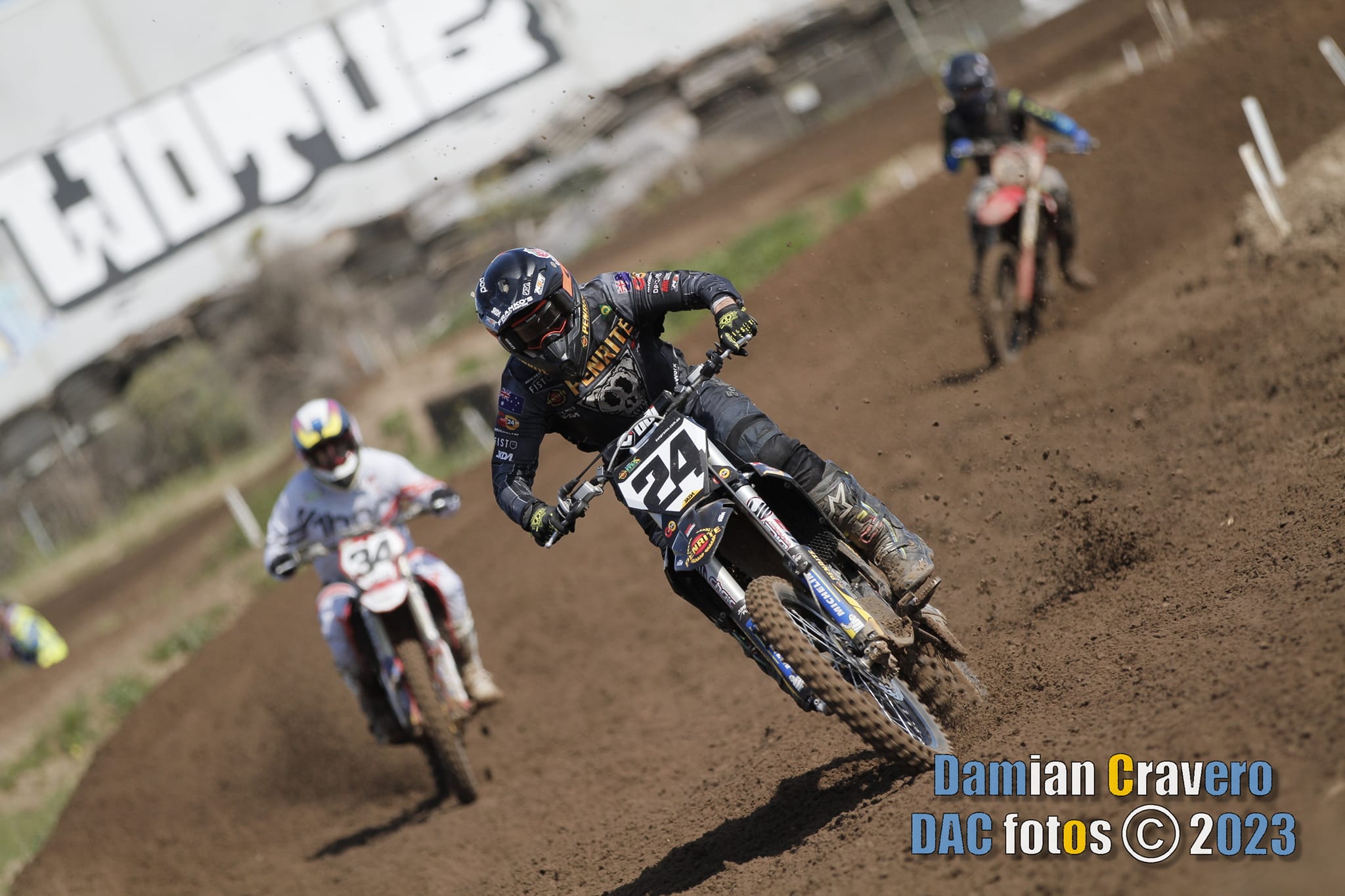 Last weekend saw the exciting fourth and final round of the 2023 SA Motocross Championships run and won with the Motocross Riders Association. Feeling a bit of déjà vu from the round 1 battles, riders returned to Gillman from all corners of SA to claim the last crucial points and cement placings on the 2023 Championship table.
We will share a write-up on the event soon, but for the moment below are the overall weekend points results. Full race results can be found on Speedhive and of course, the 2023 Championship points leader board can be found – HERE.
(Photo thanks to Damian Cravero).
Sunday 10 September 2023
Pro MX1 
| | | | | | | |
| --- | --- | --- | --- | --- | --- | --- |
| Pos | Number | Name | Points | r 1 | r 2 | r 3 |
| 1 | 24 | Brett Metcalfe | 75 | 25 | 25 | 25 |
| 2 | 10 | Levi McManus | 66 | 22 | 22 | 22 |
| 3 | 34 | Daniel Banks | 58 | 20 | 18 | 20 |
| 4 | 22 | Matt Clarke | 56 | 18 | 20 | 18 |
| 5 | 48 | Callan Dickson | 48 | 16 | 16 | 16 |
Pro MX 2:
| | | | | | | |
| --- | --- | --- | --- | --- | --- | --- |
| Pos | Number | Name | Points | r 1 | r 2 | r 3 |
| 1 | 16 | Wade Thompson | 75 | 25 | 25 | 25 |
| 2 | 1 | Mitch Norris | 64 | 22 | 20 | 22 |
| 3 | 82 | Elijah Wiese | 62 | 20 | 22 | 20 |
| 4 | 6 | Seth Carpenter | 54 | 18 | 18 | 18 |
| 5 | 33 | Jack McLean | 47 | 16 | 15 | 16 |
| 6 | 72 | Caleb Walker | 46 | 15 | 16 | 15 |
Women All Powers
| | | | | | | |
| --- | --- | --- | --- | --- | --- | --- |
| Pos | Number | Name | Points | r 1 | r 2 | r 3 |
| 1 | 5 | Amy Bartsch | 75 | 25 | 25 | 25 |
| 2 | 129 | Emma Haylock | 66 | 22 | 22 | 22 |
| 3 | 755 | Tarja Morris | 56 | 16 | 20 | 20 |
| 4 | 42 | Steph Cutler | 50 | 14 | 18 | 18 |
| 5 | 24 | Aimee Butler | 46 | 15 | 15 | 16 |
| 6 | 28 | Chloe Barton | 43 | 14 | 14 | 15 |
| 7 | 225 | Leticia Foster | 39 | 12 | 13 | 14 |
| 8 | 15 | Ulani Guy | 36 | 13 | 11 | 12 |
| 9 | 758 | Charlotte Berrill | 36 | 11 | 12 | 13 |
| 10 | 14 | Jessica Bennett | 36 | 20 | 16 | – |
| 11 | 427 | Naomi Findlay | 31 | 10 | 10 | 11 |
Expert All Powers
| | | | | | | |
| --- | --- | --- | --- | --- | --- | --- |
| Pos | Number | Name | Points | r 1 | r 2 | r 3 |
| 1 | 343 | Liam Dinnage | 75 | 25 | 25 | 25 |
| 2 | 51 | Denzel Woulfe | 64 | 22 | 20 | 22 |
| 3 | 481 | Jack Maher | 59 | 20 | 16 | 13 |
| 4 | 199 | Lucas Brereton | 56 | 18 | 18 | 20 |
| 5 | 122 | Chad Sparrow | 47 | 14 | 22 | 11 |
| 6 | 147 | Liam Buckley | 44 | 15 | 14 | 15 |
| 7 | 314 | Rod MacKenzie | 43 | 12 | 15 | 16 |
| 8 | 55 | Sean Pitman | 37 | 11 | 12 | 14 |
| 9 | 109 | Jye Smith | 36 | 13 | 11 | 12 |
| 10 | 205 | Cody Loffler |  35 |  8 | 9 |  18 |
| 11 | 160 | Jake Henderson |  32 |  10 | 13 |  9 |
| 12 | 265 | Travis Wells | 30 | 16 | 8 | 6 |
| 13 | 438 | Joel Hakkinen |  29 |  9 |  10 |  10 |
| 14 | 235 | Jack Lienert |  21 |  6 | 7 |  8 |
|  15 | 114 | Tom Willis |  20 |  7 |  6 | 7 |
|  16 | 241 | Matthew Franczuk |  15 |  6 | 4 | 5 |
|  17 | 152 | Adam Ryan |  13 |  4 | 5 | 4 |
|  18 | 132 | Benjamin Dixon |  9 | 3 |  3 |  3 |
100-150cc 2 str / 200-250cc 4str 13-U16 YEARS
| | | | | | | |
| --- | --- | --- | --- | --- | --- | --- |
| Pos | Number | Name | Points | r 1 | r 2 | r 3 |
| 1 | 87 | Wil Carpenter | 75 | 25 | 25 | 25 |
| 2 | 535 | Noah Rochow | 64 | 20 | 22 | 22 |
| 3 | 117 | Jackson Rossi | 53 | 15 | 18 | 20 |
| 4 | 918 | Joshua Whitehorn | 44 | 13 | 15 | 16 |
| 5 | 174 | Clayton Bogucki | 44 | 22 | 20 | 0 |
| 6 | 51 | Kye Little | 43 | 12 | 13 | 18 |
| 7 | 119 | Logan Scott | 39 | 14 | 11 | 14 |
| 8 | 167 | Cambell Cadd | 38 | 11 | 14 | 13 |
| 9 | 416 | Jayke Hansen | 35 | 16 | 4 | 15 |
| 10 | 159 | Tomi Doble | 34 | 18 | 16 | DNF |
| 11 | 94 | Jayden Hank | 31 | 9 | 10 | 12 |
| 12 | 442 | Harry Guy | 27 | 8 | 9 | 10 |
| 13 | 34 | Harry Lashford | 25 | 6 | 8 | 11 |
| 14 | 199 | Ian Ellis | 24 | 10 | 12 | 2 |
| 15 | 23 | Joshua Farr | 20 | 5 | 7 | 8 |
| 16 | 55 | Emily Lambert | 19 | 7 | 5 | 7 |
| 17 | 261 | Edward Whitehead | 17 | 2 | 6 | 9 |
| 18 | 477 | Blake Cooper | 13 | 4 | 3 | 6 |
| 19 | 226 | Brock Knowles | 9 | 3 | 1 | 5 |
| 20 | 362 | Oscar Pretlove | 6 | 1 | 2 | 3 |
| 21 | V41 | Reily Fridd | 4 | 0 | 0 | 4 |
| 22 | 522 | Sam Dixon | 1 | 0 | 0 | 1 |
Clubman All Powers
| | | | | | | |
| --- | --- | --- | --- | --- | --- | --- |
| Pos | Number | Name | Points | r 1 | r 2 | r 3 |
| 1 | 33 | Jordan Simpson | 75 | 25 | 25 | 25 |
| 2 | 66 | Mitchell Simpson | 66 | 22 | 22 | 22 |
| 3 | 323 | Brodie Knott | 60 | 20 | 20 | 20 |
| 4 | 295 | Cody Harrison | 52 | 18 | 16 | 18 |
| 5 | 401 | Kent Shillitoe | 49 | 16 | 18 | 15 |
| 6 | 331 | Aaron Hutchinson | 45 | 14 | 15 | 16 |
| 7 | 518 | Jett Hakkinen | 42 | 15 | 13 | 14 |
| 8 | 277 | Luke Ballard | 36 | 9 | 14 | 13 |
| 9 | 377 | Justin Lowen | 34 | 10 | 12 | 12 |
| 10 | 602 | Tom Jackway | 34 | 13 | 10 | 11 |
| 11 | 333 | Jamie Cornell | 31 | 11 | 11 | 9 |
| 12 | 426 | Taylor Hollis | 29 | 12 | 9 | 8 |
| 13 | 383 | Cooper Carnage | 22 | 7 | 8 | 7 |
| 14 | 292 | Riley Boundy | 21 | 8 | 7 | 6 |
| 15 | 319 | Dylan Schmidt | 14 | 6 | 4 | 4 |
| 16 | 614 | Hayden Fridd | 19 | 4 | 5 | 10 |
| 17 | 251 | Connor Sanderson | 16 | 5 | 6 | 5 |
| 18 | 877 | Zayden Djurdeinovic | 6 | 2 | 1 | 3 |
| 19 | 497 | Harley Hill | 6 | 3 | 2 | 2 |
| 20 | 42 | Luke Gabbitas | 4 | 1 | 3 | DNF |
| 21 | 427 | Naomi Findlay | 1 | 0 | 0 | 1 |
Vets 35-44 & Vets 45+
| | | | | | | |
| --- | --- | --- | --- | --- | --- | --- |
| Pos | Number | Name | Points | r 1 | r 2 | r 3 |
| 1 | 14 | Bradleigh Thompson | 75 | 25 | 25 | 25 |
| 2 | 2 | Charlie Hollis | 66 | 22 | 22 | 22 |
| 3 | 118 | Nicky Carter | 60 | 20 | 20 | 20 |
| 4 | 143 | Wade Byles | 54 | 18 | 18 | 18 |
| 5 | 241 | Matthew Franczuk | 48 | 16 | 16 | 16 |
| 6 | 25 | Darren Averay | 44 | 15 | 15 | 14 |
| 7 | 9 | Andrew Nocera | 39 | 10 | 14 | 15 |
| 8 | 102 | Owen Richards | 38 | 14 | 12 | 12 |
| 9 | 171 | Glynn Humphreys | 37 | 11 | 13 | 13 |
| 10 | 265 | Anthony Slade | 35 | 13 | 11 | 11 |
| 11 | 26 | Paul McLean | 32 | 12 | 10 | 10 |
| 12 | 832 | Craig Hepburn | 27 | 9 | 9 | 9 |
| 13 | 42 | Heath Boundy | 24 | 8 | 8 | 8 |
| 14 | 895 | Matt Harkness | 19 | 5 | 7 | 7 |
| 15 | 52 | Matthew Powell | 18 | 7 | 6 | 5 |
| 16 | 472 | Nic Gwiazda | 15 | 4 | 5 | 6 |
| 17 | 89 | Dale Mosey | 14 | 6 | 4 | 4 |
| 18 | 66 | Andrew Wythe | 9 | 3 | 3 | 3 |
| 19 | 47 | John McKay | 5 | 2 | 1 | 2 |
| 20 | 115 | Michael Wilson | 4 | 1 | 2 | 1 |
Saturday 9 September 2023
100-125cc 2st 13-U16Yrs
| | | | | | | |
| --- | --- | --- | --- | --- | --- | --- |
| Pos | Number | Name | Points | r 1 | r 2 | r 3 |
| 1 | 87 | Wil  Carpenter | 75 | 25 | 25 | 25 |
| 2 | 416 | Jayke Hansen | 62 | 18 | 22 | 22 |
| 3 | 159 | Tomi Doble | 62 | 22 | 20 | 20 |
| 4 | 51 | Kye Little | 50 | 20 | 14 | 16 |
| 5 | 535 | Noah Rochow | 45 | 15 | 12 | 18 |
| 6 | 918 | Joshua Whitehorn | 44 | 14 | 16 | 14 |
| 7 | 199 | Ian Ellis | 43 | 16 | 15 | 12 |
| 8 | 164 | Cambell Cadd | 38 | 12 | 13 | 13 |
| 9 | 117 | Jackson Rossi | 34 | 13 | 10 | 11 |
| 10 | 94 | Jayden Hank | 28 | 11 | 7 | 10 |
| 11 | 55 | Emily Lambert | 28 | 10 | 11 | 7 |
| 12 | 498 | Christian Disciscio | 25 | 7 | 9 | 9 |
| 13 | 119 | Logan Scott | 25 | 9 | 8 | 8 |
| 14 | 174 | Clayton Bogucki | 23 | 0 | 18 | 15 |
| 15 | 23 | Joshua Farr | 18 | 8 | 5 | 5 |
| 16 | 261 | Edward Whitehead | 14 | 6 | 4 | 4 |
| 17 | 442 | Harry Guy | 11 | DNF | 5 | 6 |
| 18 | 222 | Koby Miller | 9 | 5 | 2 | 2 |
| 19 | 68 | Bailey Jarvis | 8 | 2 | 3 | 3 |
| 20 | 188 | Cooper Taylor | 4 | 3 | 0 | 1 |
| 21 | 78 | Tyson Garrard | 4 | 4 | DNF | DNF |
| 22 | 226 | Brock Knowles | 3 | 1 | 1 | 1 |
| 23 | 362 | Oscar Pretlove | | 0 | 0 | 0 |
| 24 | 883 | Jamie O'Brien | | 0 | 0 | 0 |
| 25 | 522 | Sam Dixon | | 0 | 0 | 0 |
150cc 2st/250cc 4st 13-U16Yrs GIRLS
| | | | | | | |
| --- | --- | --- | --- | --- | --- | --- |
| Pos | Number | Name | Points | r 1 | r 2 | r 3 |
| 1 | 115 | Charlize Waldhuter | 70 | 25 | 25 | 20 |
| 2 | 528 | Danielle Churchett | 65 | 20 | 20 | 25 |
| 3 | 91 | Tiahni Little | 62 | 22 | 22 | 18 |
| 4 | 836 | Lexy Hayes | 58 | 18 | 18 | 22 |
| 5 | 506 | Ava Sparrow | 48 | 16 | 16 | 16 |
| 6 | 66 | Madison Bahnisch | 30 | 15 | – | 15 |
| 7 | 176 | Tahlia Feltam | 14 | 14 | – | – |
85cc 2st/150cc 4st STD BWH 12-U16Yrs
| | | | | | | |
| --- | --- | --- | --- | --- | --- | --- |
| Pos | Number | Name | Points | r 1 | r 2 | r 3 |
| 1 | 159 | Tomi Doble | 75 | 25 | 25 | 25 |
| 2 | 50 | Ryder Woodrow | 66 | 22 | 22 | 22 |
| 3 | 350 | Dylan Gromball | 58 | 20 | 20 | 18 |
| 4 | 51V | Kye Little | 56 | 18 | 18 | 20 |
| 5 | 130V | Max  Hudson | 48 | 16 | 16 | 16 |
| 6 | 34 | Harry Lashford | 44 | 15 | 15 | 14 |
| 7 | 498 | Christian | 46 | 14 | 14 | 18 |
| 8 | 46 | Jamie Averay | 41 | 13 | 13 | 15 |
| 9 | 257 | Johnathan McGregor | 36 | 12 | 12 | 12 |
| 10 | 659 | Tom Bowering | 35 | 11 | 11 | 13 |
| 11 | 130b | Caleb Churchett | 30 | 10 | 10 | 10 |
| 12 | 101 | Harrison Finch | 25 | 8 | 6 | 11 |
| 13 | 874 | Deegan Jackway | 25 | 9 | 9 | 7 |
| 14 | 27 | Kody Everett | 24 | 7 | 8 | 9 |
| 15 | 362 | Oscar Pretlove | 19 | 6 | 7 | 6 |
| 16 | 96 | Ryan Couch | 15 | 5 | 5 | 5 |
| 17 | 123 | Seth James | 12 | 4 | 4 | 4 |
| 18 | 99 | Alexsander Gwiazda | 9 | 3 | 3 | 3 |
GREAT SOUTHERN SECURITY
85cc 2st/150cc 4st 11-U16Yrs GIRLS
| | | | | | | |
| --- | --- | --- | --- | --- | --- | --- |
| Pos | Number | Name | Points | r 1 | r 2 | r 3 |
| 1 | 515 | Charlize Waldhuter | 72 | 25 | 25 | 22 |
| 2 | 198 | April Chapman | 69 | 22 | 22 | 25 |
| 3 | 66 | Maddy Bahnisch | 60 | 20 | 20 | 20 |
| 4 | 506 | Ava Sparrow | 52 | 18 | 18 | 16 |
| 5 | 540 | Matlida Ryan | 47 | 16 | 16 | 15 |
| 6 | 106 | Lacey Thompson | 46 | 13 | 15 | 18 |
| 7 | 67 | Paige Kitchen | 43 | 15 | 14 | 14 |
| 8 | 555 | Breeannah Morcom | 40 | 14 | 13 | 13 |
85cc 2st/150cc 4st STD Wh 9-U12Yrs
| | | | | | | |
| --- | --- | --- | --- | --- | --- | --- |
| Pos | Number | Name | Points | r 1 | r 2 | r 3 |
|  1 | 211 | Declan Smart | 72 | 22 | 25 | 25 |
| 2 | 323 | Mason Ezergailis | 62 | 20 | 22 | 20 |
| 3 | 20V | Koby Binnion | 61 | 25 | 14 | 22 |
| 4 | 118 | Riley Mullen | 54 | 18 | 20 | 16 |
| 5 | 84 | Kai Delany | 49 | 15 | 16 | 18 |
| 6 | 209 | Brock Smart | 44 | 14 | 15 | 15 |
| 7 | 361 | Joshua Disciscio | 35 | 9 | 13 | 13 |
| 8 | 138 | Levi Rossi | 34 | 16 | 18 | 0 |
| 9 | 54 | Jayden Minerds | 32 | 13 | 5 | 14 |
| 10 | 344 | Ryder Plumb | 31 | 8 | 12 | 11 |
| 11 | 20 | Blake Bahnisch | 27 | 12 | 3 | 12 |
| 12 | 666 | Jaeden Sargeant | 27 | 11 | 10 | 6 |
| 13 | 22 | Marcus Couch | 25 | 5 | 11 | 9 |
| 14 | 189 | Dale Leicester | 24 | 6 | 8 | 10 |
| 15 | 230 | Brodie Davidson | 24 | 7 | 9 | 8 |
| 16 | 202 | Hamish Finch | 21 | 10 | 4 | 7 |
| 17 | 185 | Charlie Rayson | 16 | 4 | 7 | 5 |
| 18 | 380 | Stefan Trimboli | 10 | 3 | 6 | 1 |
| 19 | 74 | Fynn Hoffmann | 8 | 2 | 2 | 4 |
| 20 | 67 | Paige Kitchen | 4 | 1 | 1 | 2 |
| 21 | 250 | Noah Backman | 3 | 0 | 0 | 3 |
65cc 10-12Yrs
| | | | | | | |
| --- | --- | --- | --- | --- | --- | --- |
| Pos | Number | Name | Points | r 1 | r 2 | r 3 |
| 1 | 118 | Riley Mullen | 75 | 25 | 25 | 25 |
| 2 | 124 | Ollie Paech | 64 | 20 | 22 | 22 |
| 3 | 84s | Kai Delany | 60 | 20 | 20 | 20 |
| 4 | 224 | Nash Metcalfe | 54 | 18 | 18 | 18 |
| 5 | 20 | Blake Bahnisch | 48 | 16 | 16 | 16 |
| 6 | 157 | Reid Haydon | 30 | 15 | 15 | 15 |
| 7 | 60 | Hudson Wilson | 42 | 14 | 14 | 14 |
| 8 | 666 | Jaeden Sargeant | 39 | 13 | 13 | 13 |
| 9 | 28 | Max Donald | 36 | 12 | 12 | 12 |
| 10 | 84 | Mason Zerk | 33 | 11 | 11 | 11 |
| 11 | 250 | Noah Backman | 29 | 10 | 9 | 10 |
| 12 | 213 | Jaxon Hirst | 28 | 9 | 10 | 9 |
65cc 7-U9Yrs
| | | | | | | |
| --- | --- | --- | --- | --- | --- | --- |
| Pos | Number | Name | Points | r 1 | r 2 | r 3 |
| 1 | 323 | Mason Ezergailis | 75 | 25 | 25 | 25 |
| 2 | 62 | Bodhi Austin | 66 | 22 | 22 | 22 |
| 3 | 137 | Lachlan Murdoch | 54 | 18 | 16 | 20 |
| 4 | 583 | Nate Bowman | 53 | 20 | 15 | 18 |
| 5 | 344 | Ryder Plumb | 52 | 16 | 20 | 16 |
| 6 | 227 | Brax Chittleborough | 44 | 11 | 18 | 15 |
| 7 | 25 | Bailey Thompson | 39 | 15 | 10 | 14 |
| 8 | 669 | Seth Clark | 39 | 14 | 14 | 11 |
| 9 | 818 | Koben Corbell | 37 | 12 | 13 | 12 |
| 10 | 717 | David Bamford | 31 | 10 | 11 | 10 |
| 11 | 357 | Coen Hooker | 30 | 9 | 12 | 9 |
| 12 | 311 | Kobe Smart | 27 | 13 | 1 | 13 |
| 13 | 988 | Rory Walter | 23 | 7 | 9 | 7 |
| 14 | 257 | Cole Haydon | 20 | 6 | 8 | 6 |
| 15 | 35 | Jobe Howard | 14 | 8 | 3 | 3 |
| 16 | 73 | Sadie Hoffmann | 12 | 4 | 4 | 4 |
| 17 | 86 | Blake Nejman | 11 | 1 | 5 | 5 |
| 18 | 154 | Laycie Sargeant | 10 | 3 | 7 | 0 |
| 19 | 52 | Asha Wilson | 9 | 2 | 6 | 1 |
| 20 | 300 | Alexander Backman | 9 | 5 | 2 | 2 |
| 21 | 619 | Ollie Brombal | 8 | – | – | 8 |
50cc Auto 7-U9Yrs
| | | | | | | |
| --- | --- | --- | --- | --- | --- | --- |
| Pos | Number | Name | Points | r 1 | r 2 | r 3 |
| 1 | 311 | Kobe Smart | 75 | 25 | 25 | 25 |
| 2 | 619 | Ollie Brombal | 66 | 22 | 22 | 22 |
| 3 | 717 | David Bamford | 58 | 20 | 18 | 20 |
| 4 | 818 | Koben Corbell | 56 | 18 | 20 | 18 |
| 5 | 988 | Rory Walter | 48 | 16 | 16 | 16 |
| 6 | 300 | Alexander Backman | 43 | 15 | 14 | 14 |
| 7 | 306 | Archer Smith | 44 | 14 | 15 | 15 |
| 8 | 35 | Jobe Howard | 38 | 12 | 13 | 13 |
| 9 | 519 | Tate Jackway | 37 | 13 | 12 | 12 |
| 10 | 553 | Mikey Hay | 33 | 11 | 11 | 11 |
| 11 | 424 | Jaxon Feltham | 30 | 10 | 10 | 10 |