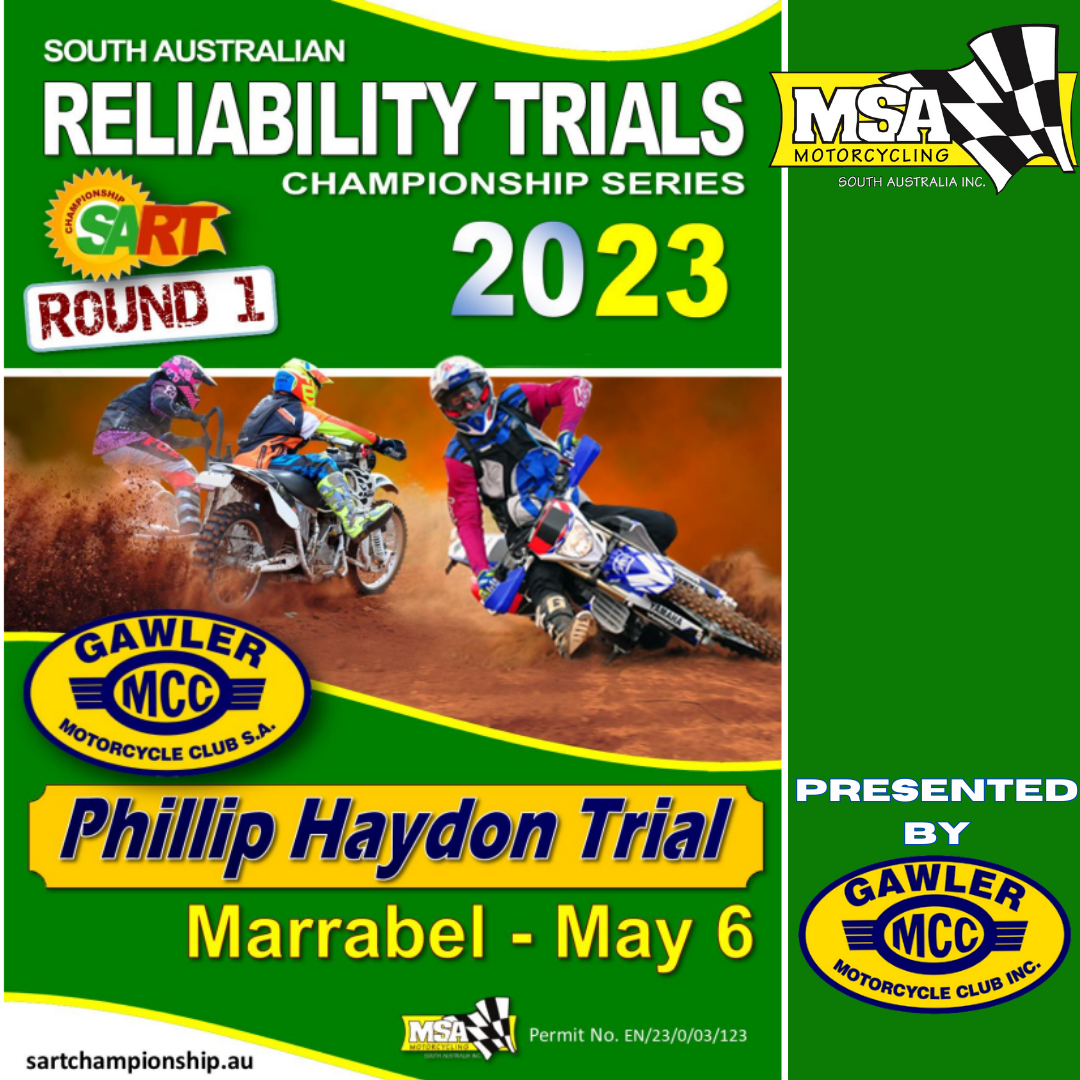 Last Saturday, May 6th saw the start horn sound on a new series of the South Australian Reliability Championships (SART) for 2023, with beautiful Marrabel welcoming the first round. Continuing the long-standing tradition of Gawler MCC opened the SART Championships with the Phillip Haydon Trial as Round 1. 
Round 1 gave riders and spectators a taste of everything throughout a fantastic course, challenging competitors over 2 laps, with around 6 hours of racing in a day/night format. On top of spectators enjoying exceptional viewing vantage points, the delicious egg and bacon rolls, hot chips, sausages, burgers, sandwiches & cakes were exceptionally popular, even after a mercy dash to Kapunda couldn't help keep the food on the tables long enough, before selling out. This combined with a bar stocked bar and cold drinks flowing, was a weekend enjoyed by the crowds of spectators.
With spectators crowding in to see all the action, they certainly didn't leave disappointed after nail-biting tight racing and photo finishes into the night. Congratulations to Rowan Pumpa for taking out the A-class – Expert Solo – Unlimited by a mere 1-second gap in front of the race leader,  Jayden Rudd after he experienced issues on the last lap.
After an exceptional ride, the combo team of Shane Schiller / Brian Anthony put in a cracking effort being both the first sidecar across the line and putting down a time to be 13th outright – Well done guys!! Kudos to Max Hutchesson / Sam Hutchesson for being the only other sidecar duo to finish in the outright top 2o -Congratulations.
Provisional open solo and sidecar results are below, with details and results by class available on the SART website here. (Note competitors have until midnight on Sunday, May 14 to challenge or query any results.)
Round 2 of the 2023 SART Championship action continues on the 27th of May in Keyneton with The Mike Connors Reliability Trial presented by the Keyneton MCC. Put it in your calendar now and make sure you are there as the 2023 Championship story continues.
Open Solo
| | | | | | | | | |
| --- | --- | --- | --- | --- | --- | --- | --- | --- |
| Pos | No | Name | Class | Lap 1 | Lap 2 | Stages | Total | Gap |
| 1 | 136 | Rowan Pumpa | A | 2841 | 2932 | 14 | 5774 | +0 |
| 2 | 139 | Jayden Rudd | A | 2816 | 2959 | 14 | 5775 | +1 |
| 3 | 137 | Zack Tremaine | A | 2828 | 3033 | 14 | 5861 | +87 |
| 4 | 138 | Damien Jenke | A | 2930 | 3007 | 14 | 5938 | +164 |
| 5 | 143 | Todd Muster | A | 2933 | 3019 | 14 | 5952 | +178 |
| 6 | 145 | Clinton Voigt | A | 2937 | 3053 | 14 | 5990 | +216 |
| 7 | 142 | Ben Mayne | A | 2918 | 3081 | 14 | 5999 | +225 |
| 8 | 140 | Adam Wright | A | 2949 | 3061 | 14 | 6011 | +237 |
| 9 | 144 | Christopher Shields | A | 2984 | 3066 | 14 | 6051 | +277 |
| 10 | 52 | Kurtis Riebke | F | 3024 | 3178 | 14 | 6202 | +428 |
| 11 | 131 | Samuel Nenasheff | G | 3097 | 3193 | 14 | 6290 | +516 |
| 12 | 41 | Stuart Roydhouse | F | 3130 | 3282 | 14 | 6413 | +639 |
| 13 | 423 | Ryan Heidenreich | F | 3168 | 3253 | 14 | 6421 | +647 |
| 14 | 50 | Jack Wormald | F | 3143 | 3290 | 14 | 6433 | +659 |
| 15 | 119 | Jamie Starick | G | 3146 | 3317 | 14 | 6464 | +690 |
| 16 | 51 | Clayton Fechner | F | 3198 | 3266 | 14 | 6464 | +690 |
| 17 | 117 | Nathan Freeman | G | 3195 | 3288 | 14 | 6484 | +710 |
| 18 | 102 | Matthew Taylor | D | 3173 | 3314 | 14 | 6487 | +713 |
| 19 | 53 | Noah Riebke | F | 3201 | 3294 | 14 | 6495 | +721 |
| 20 | 113 | Joshua Kleemann | G | 3156 | 3361 | 14 | 6517 | +743 |
| 21 | 99 | Grant Stephen | D | 3182 | 3378 | 14 | 6560 | +786 |
| 22 | 111 | Tom Couzner | D | 3086 | 3474 | 14 | 6561 | +787 |
| 23 | 100 | Todd Knight | D | 3159 | 3418 | 14 | 6578 | +804 |
| 24 | 122 | Louis Kerin | G | 3217 | 3376 | 14 | 6593 | +819 |
| 25 | 114 | Jared Plush | G | 3192 | 3402 | 14 | 6594 | +820 |
| 26 | 127 | Jonathan Zussino | G | 3140 | 3460 | 14 | 6600 | +826 |
| 27 | 61 | Kipp Elsworthy | F | 3280 | 3338 | 14 | 6618 | +844 |
| 28 | 45 | Tyler Read | F | 3187 | 3442 | 14 | 6630 | +856 |
| 29 | 47 | Charley Kerin | F | 3242 | 3391 | 14 | 6633 | +859 |
| 30 | 96 | Paul Grosser | V | 3214 | 3421 | 14 | 6635 | +861 |
| 31 | 112 | Matthew Lawrence | G | 3238 | 3403 | 14 | 6642 | +868 |
| 32 | 55 | Zane Gerlach | F | 3221 | 3425 | 14 | 6647 | +873 |
| 33 | 101 | Liam Jenkins | D | 3259 | 3388 | 14 | 6647 | +873 |
| 34 | 97 | Shayne Bain | V | 3225 | 3439 | 14 | 6664 | +890 |
| 35 | 108 | Jarrad Holmes | D | 3252 | 3452 | 14 | 6704 | +930 |
| 36 | 69 | Greg Slattery | M | 3248 | 3479 | 14 | 6728 | +954 |
| 37 | 59 | Keegan May | F | 3271 | 3485 | 14 | 6756 | +982 |
| 38 | 110 | Roy Challen | D | 3262 | 3511 | 14 | 6773 | +999 |
| 39 | 116 | Brenton Oates | G | 3294 | 3494 | 14 | 6789 | +1015 |
| 40 | 126 | Chris Thomas | G | 3281 | 3509 | 14 | 6790 | +1016 |
| 41 | 44 | Lachlan Ratsch | F | 3325 | 3501 | 14 | 6827 | +1053 |
| 42 | 91 | Stephen Russack | V | 3298 | 3571 | 14 | 6869 | +1095 |
| 43 | 149 | Tyson Clarke | G | 3431 | 3474 | 14 | 6905 | +1131 |
| 44 | 70 | Mark Harrold | D | 3381 | 3549 | 14 | 6930 | +1156 |
| 45 | 98 | Anthony Read | M | 3420 | 3517 | 14 | 6937 | +1163 |
| 46 | 81 | Ian Kakoschke | P1 | 3342 | 3601 | 14 | 6944 | +1170 |
| 47 | 121 | Samuel Russack | G | 3346 | 3618 | 14 | 6965 | +1191 |
| 48 | 125 | Curtis Russack | G | 3341 | 3629 | 14 | 6971 | +1197 |
| 49 | 129 | Justin Couzner | G | 3264 | 3711 | 14 | 6976 | +1202 |
| 50 | 123 | Aiden Thompson | G | 3361 | 3622 | 14 | 6983 | +1209 |
| 51 | 73 | Brett Hall | M | 3375 | 3612 | 14 | 6988 | +1214 |
| 52 | 90 | Brian Gallasch | V | 3360 | 3675 | 14 | 7036 | +1262 |
| 53 | 46 | Daniel Kotz | F | 3353 | 3683 | 14 | 7036 | +1262 |
| 54 | 85 | Shane Schutz | V | 3363 | 3679 | 14 | 7042 | +1268 |
| 55 | 118 | Ethan Pickstock | G | 3485 | 3640 | 14 | 7125 | +1351 |
| 56 | 103 | Thomas Anderson | D | 3413 | 3737 | 14 | 7151 | +1377 |
| 57 | 65 | Stephen Tomlinson | M | 3438 | 3750 | 14 | 7189 | +1415 |
| 58 | 83 | Simon Evitts | V | 3462 | 3749 | 14 | 7212 | +1438 |
| 59 | 89 | Brett Farr | V | 3426 | 3851 | 14 | 7277 | +1503 |
| 60 | 54 | Sani Pfeiffer | F | 3518 | 3768 | 14 | 7286 | +1512 |
| 61 | 105 | Dean Abdilla | D | 3259 | 4113 | 14 | 7373 | +1599 |
| 62 | 58 | Saxon Kearns | F | 3651 | 3760 | 14 | 7412 | +1638 |
| 63 | 124 | Craig Broome | G | 3473 | 3961 | 14 | 7435 | +1661 |
| 64 | 67 | Steve Sparkes | M | 3636 | 3807 | 14 | 7444 | +1670 |
| 65 | 94 | David Gallasch | V | 3613 | 3969 | 14 | 7583 | +1809 |
| 66 | 60 | Andrew Prior | F | 3673 | 3946 | 14 | 7619 | +1845 |
| 67 | 147 | Daniel Garbett | D | 3471 | 4177 | 14 | 7648 | +1874 |
| 68 | 57 | Deklan Coppen | F | 3663 | 4012 | 14 | 7675 | +1901 |
| 69 | 95 | Mark Zussino | V | 3607 | 4069 | 14 | 7677 | +1903 |
| 70 | 62 | Chloe Barton | L1 | 3696 | 3988 | 14 | 7685 | +1911 |
| 71 | 66 | Paul Collins | M | 3701 | 3991 | 14 | 7692 | +1918 |
| 72 | 63 | Heidi Giersch | L1 | 3678 | 4119 | 14 | 7797 | +2023 |
| 73 | 92 | Adam Toolan | V | 3895 | 3963 | 14 | 7859 | +2085 |
| 74 | 130 | Zach Sims | G | 4004 | 3861 | 14 | 7866 | +2092 |
| 75 | 106 | Josh Feltus | D | 3694 | 4207 | 14 | 7901 | +2127 |
| 76 | 77 | Mark Taylor | M | 3798 | 4213 | 14 | 8012 | +2238 |
| 77 | 82 | James Zussino | P1 | 3794 | 4241 | 14 | 8036 | +2262 |
| 78 | 76 | Allan Briscoe | M | 3828 | 4296 | 14 | 8125 | +2351 |
| 79 | 150 | Matthew Gilbert | G | 3589 | 4571 | 14 | 8161 | +2387 |
| 80 | 109 | Darren Stewart | D | 3876 | 4285 | 14 | 8162 | +2388 |
| 81 | 78 | Mike Wormald | M | 3788 | 4390 | 14 | 8179 | +2405 |
| 82 | 48 | Scott Rowe | F | 3865 | 4426 | 14 | 8292 | +2518 |
| 83 | 96 | Richard Prusa | V | 3960 | 4351 | 14 | 8312 | +2538 |
| 84 | 80 | Kevin Steinert | P1 | 4028 | 4389 | 14 | 8417 | +2643 |
| 85 | 68 | Paul Rumsey | M | 4041 | 4447 | 14 | 8489 | +2715 |
| 86 | 107 | Christopher Causer | D | 4067 | 4568 | 14 | 8636 | +2862 |
| 87 | 93 | Paul Schupelius | V | 4191 | 4693 | 14 | 8885 | +3111 |
| 88 | 71 |  Colin Jenke | M | 4733 | 6253 | 14 | 10987 | +5213 |
| 89 | 115 | Liam Sandler | G | 63196 | 3405 | 14 | 66601 | +60827 |
| 90 | 79 | Cornelius Twist | M | 62977 | 6665 | 14 | 69642 | +63868 |
| DNF |  141 | Ryley Mullan |  A |  2981 |  2616 |  12 |  5597 | |
| DNF |  74 | Jonathan Moore |  M | 3588 | 2269 |  10 | 5857 | |
| DNF |  72 | Brian Bayley |  M | 4723 | 2966 |  10 |  7689 | |
| DNF |  128 | Josh Moyle |  G |  3245 | 1048 | 9 | 4293 | |
| DNF |  56 | Marcus Coppen |  F | 3392 | 358 | 8 | 3751 | |
| DNF |  43 | Rhys Wilkinson |  F |  3422 |  0 |  7 |  3422 | |
| DNF |  49 |  Robert Parvin |  F |  3750 | 0 | 7 |  3750 | |
| DNF |  64 | Anita Boston |  L1 | 5074 | 0 | 7 | 5074 | |
| DNF |  104 | William Moore |  D | 1751 | 0 | 3 | 1751 | |
| DNF |  75 |  Dale Hanlon |  M | 2758 | 0 | 3 | 2758 | |
| DNS | 40 | Corey Redden |  F |  0 | 0 | 0 | 0 | |
| DNS |  84 | Dominic Burman |  V |  0 | 0 | 0 | 0 | |
| DNS |  87 | Kevin Lonsdale |  V |  0 | 0 | 0 | 0 | |
| DNS |  88 | Stephen Needham | V |  0 | 0 | 0 | 0 | |
| DNS |  120 | Luke Timmins |  G |  0 | 0 | 0 | 0 | |
| DNS |  146 | Letica Foster |  L1 |  0 | 0 |  0 | 0 | |
| DNS | 148 | Wade Braun | F | 0 | 0 | 0 | 0 | |
Open Sidecar
| | | | | | | | | |
| --- | --- | --- | --- | --- | --- | --- | --- | --- |
| Pos | No | Name | Class | Lap 1 | Lap 2 | Stages | Total | Gap |
| 1 |  6 | Shane Schiller / Brian Anthony |  C | 3189 | 3229 |  14 | 6419 | +0 |
| 2 |  5 | Max Hutchesson / Sam Hutchesson |  C | 3243 | 3247 | 14 | 6490 | +71 |
| 3 |  3 | Daniel Plowman / Bradley Brook |  C |  3361 |  3300 | 14 | 6661 | +242 |
| 4 |  4 |  Ross Watson / Cooper Winter |  C |  3338 | 3330 | 14 | 6668 | +249 |
| 5 | 7 |  Mark Launer / Tyson Rohrlach |  C | 3315 | 3403 | 14 |  6718 | +299 |
| 6 |  8 | Matthew Neldner / Aiden Wilksch |  C | 3330 | 3415 | 14 |  6745 | +326 |
| 7 |  9 |  Shaun Buckley / Brett Harding |  K | 3373 | 3470 | 14 | 6844 | +425 |
| 8 |  11 | Russell Bailey / Marc Oxley |  K |  3402 | 3476 | 14 | 6878 | +459 |
| 9 | 2 | Jarred Beckmann / Sean Schrapel | C | 3497 | 3407 | 14 | 6905 | +486 |
| 10 | 14 | Zak Smith / Brendon Noble | K | 3446 | 3620 | 14 | 7066 | +647 |
| 11 | 17 | Neil White / Jason Edson | J | 3500 | 3635 | 14 | 7136 | +717 |
| 12 | 12 | Kristy Schultz / Ayla Plowman | L2 | 3596 | 3662 | 14 | 7258 | +839 |
| 13 | 13 | Michael Kerin / Josh Schutz | K | 3438 | 3944 | 14 | 7383 | +964 |
| 14 | 21 | Christopher Paunola / Alex Turner | K | 3591 | 3794 | 14 | 7386 | +967 |
| 15 | 18 | Gary Waldhuter / James Waldhuter | J | 3458 | 4040 | 14 | 7499 | +1080 |
| 16 | 16 | James Rowe / Michael Schiller | K | 3659 | 3849 | 14 | 7509 | +1090 |
| 17 | 20 | Paul Russack / Joe Noble | K | 3736 | 3797 | 14 | 7533 | +1114 |
| 18 | 25 | Barry Buckley / Todd Blackwell | J | 3797 | 3911 | 14 | 7684 | +1265 |
| 19 | 23 | John Davies / Kym Menadue | J | 3778 | 3952 | 14 | 7730 | +1311 |
| 20 | 24 | Colin Simpson / Matt Schutz | J | 3939 | 3932 | 14 | 7872 | +1453 |
| 21 | 27 | Adam Buckley / Kym Schunke | K | 3846 | 4084 | 14 | 7930 | +1511 |
| 22 | 28 | Roger Greenhalgh / Barbra Greenhalgh | J | 3921 | 4320 | 14 | 8241 | +1822 |
| 23 | 30 | Shane Noble / Alison Fuller | J | 4025 | 4245 | 14 | 8271 | +1852 |
| 24 | 34 | Elouise Dohse / Tianna Dohse | L2 | 4236 | 4444 | 14 | 8680 | +2261 |
| 25 | 29 | Antony Shanks / Duncan Greenhalgh | J | 4234 | 4538 | 14 | 8773 | +2354 |
| 26 | 31 | Tony Codrington / Adam Lange | P2 | 4291 | 4968 | 14 | 9259 | +2840 |
| 27 | 32 | Jason Whitfield / Jamie O'Brien | P2 | 5126 | 5363 | 14 | 10490 | +4071 |
| DNF | 26 | Aaron Silvy / Jaron Silvy | K | 6505 | 0 | 7 | 6505 | |
| DNF | 10 | David Pratt / Adrian Rohrlach | J | 3405 | 0 | 6 |  3405 | |
| DNF | 33 | Bruce Heath / Jacob Skehan | K | 1930 | 0 | 2 | 1930 | |
| DNF | 1 | Shane Beckmann / Adam Brook | C | 322 | 0 | 1 | 322 | |
| DNS | 15 | Shane Diener / Nathan SaegenSchnitter | K | 0 | 0 | 0 | 0 | |
| DNS | 19 | Michael Fechner / Stuart Gerhardy | J | 0 | 0 | 0 | 0 | |
| DNS | 22 | Jamie Giles / Cooper Giles | K | 0 | 0 | 0 | 0 | |