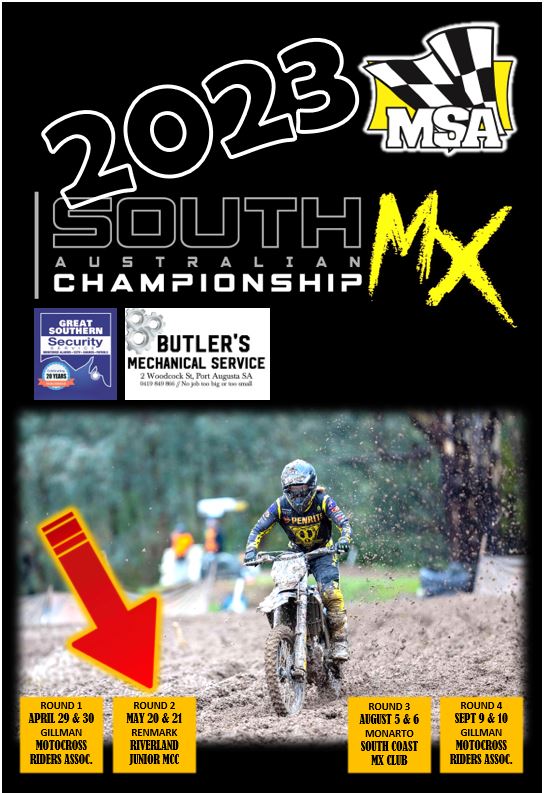 Conditions were prime and riders rearing to go, with the Riverland Junior Motorcycle Club rolling out the red carpet last weekend of the 20th and 21st May for Round 2 of the 2023 SAMX Championships. Spectators and fans all weekend long were kept on the edge of their seats with tight bar-to-bar racing taking centre stage. Round 2 brought a spectacular  lineup of 247 riders entered, with a massive 303 bikes competing over the two days. That's right 56 riders couldn't get enough and hit the track in multiple classes. With weather and track conditions as good as they were…who can blame them!!
After his round 1, third-place Pro-MX1 finish, Brett Metcalf took control and made the weekend a clean sweep of firsts ahead of Siegah Ward and Levi McManus. – Well done champ!!
Mitchell Norris fought hard all weekend in MX 2 to take a well deserved top step finish within extremely fast competition. Giving the girls a run for their money in sheer speed and style, Amy Bartsch pulled together a consistent weekend in taking a clean sweep of firsts in the Women's All Powers class with Emma Haylock and Stephanie Cutler battling it out for the second and third.
Eric McConnochie caught all the action over the weekend. See all the photos – HERE
Below are the top 10 placings for each class after the weekend's dust has settled:
(full breakdown of results and timing can be found for Saturday – HERE and Sunday – HERE)
Sunday 21 May 2023 :
| | | | | | | | | |
| --- | --- | --- | --- | --- | --- | --- | --- | --- |
| Pos | # | | Competitor | Total Points | R1 | R2 | R3 | |
| 1 | 24 | | Brett Metcalfe | 75 | 25 | 25 | 25 | |
| 2 | 84 | | Siegah Ward | 64 | 22 | 20 | 22 | |
| 3 | 10 | | Levi McManus | 58 | 16 | 22 | 20 | |
| 4 | 34 | | Daniel Banks | 56 | 20 | 18 | 18 | |
| 5 | 22 | | Matt Clark | 46 | 14 | 16 | 16 | |
| 6 | 44 | | Jaxon Rayner | 44 | 15 | 14 | 15 | |
| 7 | V25 | | Aaron Mason | 33 | 18 | 15 | – | |
| | | | | | | | |
| --- | --- | --- | --- | --- | --- | --- | --- |
| Pos | # | | Competitor | Total Points | R1 | R2 | R3 |
| 1 | 1 | | Mitchell Norris | 69 | 22 | 25 | 22 |
| 2 | 50 | | Braeden Krebs | 62 | 15 | 22 | 25 |
| 3 | 33 | | Jack McLean | 56 | 20 | 18 | 18 |
| 4 | 71 | | Jack Bates | 54 | 18 | 16 | 20 |
| 5 | 82 | | Elijah Wiese | 45 | 14 | 15 | 16 |
| 6 | 25 | | Blake Fox | 45 | 25 | 20 | – |
| 7 | 58 | | Thomas Lambert | 40 | 13 | 13 | 14 |
| 8 | 87 | | Seth Carpenter | 37 | 11 | 11 | 15 |
| 9 | 15 | | Daniel Watkins | 31 | 8 | 10 | 13 |
| 10 | 72 | | Caleb Walker | 31 | 7 | 15 | 12 |
| | | | | | | | |
| --- | --- | --- | --- | --- | --- | --- | --- |
| Pos | # | | Competitor | Total Points | R1 | R2 | R3 |
| 1 | 5 | | Amy Bartsch | 75 | 25 | 25 | 25 |
| 2 | 129 | | Emma Haylock | 64 | 20 | 22 | 22 |
| 3 | 42 | | Stephanie Cutler | 62 | 22 | 20 | 20 |
| 4 | 14 | | Jessica Bennett | 51 | 18 | 15 | 18 |
| 5 | 755 | | Tarja Morris | 50 | 16 | 18 | 16 |
| 6 | 28 | | Chloe Barton | 46 | 15 | 16 | 15 |
| 7 | 369 | | Stefanie Teixeira | 42 | 14 | 14 | 14 |
| 8 | 97 | | Tayla Bates | 38 | 13 | 12 | 13 |
| 9 | 225 | | Leticia Foster | 35 | 12 | 13 | 10 |
| 10 | 758 | | | 33 | 11 | 11 | 11 |
| | | | | | | | |
| --- | --- | --- | --- | --- | --- | --- | --- |
| Pos |  # | | Competitor | Total Points | R1 | R2 | R3 |
| 1 | 343 | | Liam Dinnage | 64 | 14 | 25 | 25 |
| 2 | 75 | | Aaron Dent | 62 | 25 | 15 | 22 |
| 3 | 37 | | Oliver Pitchford | 56 | 18 | 18 | 20 |
| 4 | 51 | | Denzel Woulfe | 48 | 20 | 20 | 8 |
| 5 | 160 | | Jake Henderson | 43 | 13 | 16 | 14 |
| 6 | 481 | | Jack Maher | 38 | 11 | 9 | 18 |
| 7 | 205 | | Cody Loffler | 38 | 12 | 10 | 16 |
| 8 | 216 | | Jack Colbert | 38 | 16 | 22 | – |
| 9 | 122 | | Chad Sparrow | 36 | 22 | 14 | – |
| 10 | 147 | | Liam Buckley | 31 | 9 | 7 | 15 |
100-150cc 2 str / 200-250cc 4str 13-U16 YEARS
| | | | | | | | |
| --- | --- | --- | --- | --- | --- | --- | --- |
| Pos | # | | Competitor | Total Points | R1 | R2 | R3 |
| 1 | 87 | | Wil Carpenter | 75 | 25 | 25 | 25 |
| 2 | 159 | | Tomi Doble | 64 | 22 | 22 | 20 |
| 3 | 174 | | Clayton Bogucki | 62 | 20 | 20 | 22 |
| 4 | 117 | | Jackson Rossi | 47 | 15 | 16 | 16 |
| 5 | 119 | | Logan Scott | 47 | 14 | 18 | 15 |
| 6 | 416 | | Jayke Hansen | 41 | 18 | 5 | 18 |
| 7 | 535 | | Noah Rochow | 39 | 10 | 15 | 14 |
| 8 | V94 | | Reagan Mayes | 38 | 16 | 13 | 9 |
| 9 | 199 | | Ian Ellis | 33 | 9 | 12 | 12 |
| 10 | 51 | | Noah James | 32 | 12 | 9 | 11 |
Clubman All-Powers
| | | | | | | | |
| --- | --- | --- | --- | --- | --- | --- | --- |
| Pos | # | | Competitor | Total Points | R1 | R2 | R3 |
| 1 | 33 | | Jordan Simpson | 72 | 25 | 22 | 25 |
| 2 | 314 | | Rod Mackenzie | 67 | 20 | 25 | 22 |
| 3 | 666 | | Mitchell Simpson | 62 | 22 | 20 | 20 |
| 4 | 323 | | Brodie Knott | 50 | 18 | 18 | 14 |
| 5 | 435 | | Blake Noll | 49 | 16 | 15 | 18 |
| 6 | 848 | | Troy Hutchinson | 44 | 12 | 16 | 16 |
| 7 | 442 | | Jordan Gabbitas | 38 | 10 | 13 | 15 |
| 8 | 331 | | Aaron Hutchinson | 34 | 8 | 14 | 12 |
| 9 | 969 | | Cooper Harding | 34 | 14 | 12 | 8 |
| 10 | 401 | | Kent Shillitoe | 32 | 11 | 10 | 11 |
Clubman All-Powers B
| | | | | | | | |
| --- | --- | --- | --- | --- | --- | --- | --- |
| Pos | # | | Competitor | Total Points | R1 | R2 | R3 |
| 1 | 178 | | Quinn Calliss | 25 | 25 | – | – |
| 2 | 383 | | Cooper Cranage | 22 | 22 | – | – |
| 3 | 88 | | Jason Hill |  20 | 20 | | – |
|  4 | 427 | | Naomi Findlay |  18 |  18 | – | – |
| 5 | 871 | | | – | – | – | – |
| 6 | 758 | | Charlotte Berrill | – | – | – | – |
Veterans 35 – 44 Years
| | | | | | | | |
| --- | --- | --- | --- | --- | --- | --- | --- |
| Pos | # | | Competitor | Total Points | R1 | R2 | R3 |
| 1 | 14 | | Bradleigh Thompson | 25 | 25 | – | – |
| 2 | 2 | | Charlie Hollis | 22 | 22 | – | – |
| 3 | 143 | | Wade Byles | 20 | 20 | – | – |
| 4 | 241 | | Matthew Franczuk | 18 | 18 | – | – |
| 5 | 879 | | Peter Rossi | 16 | 16 | – | – |
| 6 | 118 | | Nicky Carter | 15 | 15 | – | – |
| 7 | 832 | | Craig Hepburn | 14 | 14 | – | – |
| 8 | 472 | | Nic Gwiazda | 13 | 13 | – | – |
| 9 | 84 | | Travis Zerk | 12 | 12 | – | – |
Veterans 45+ Years 
| | | | | | | | |
| --- | --- | --- | --- | --- | --- | --- | --- |
| Pos | # | | Competitor | Total Points | R1 | R2 | R3 |
| 1 | 25 | | Darren Averay | 25 | 25 | – | – |
| 2 | 26 | | Paul McLean | 22 | 22 | – | – |
| 3 | 42 | | Heath Boundy | 20 | 20 | – | – |
| 4 | 265 | | Anthony Slade | 18 | 18 | – | – |
| 5 | 811 | | Brett Schiller | 16 | 16 | – | – |
| 6 | 52 | | Matthew Powell | 15 | 15 | – | – |
| 7 | 78 | | Steve Carter | 14 | 14 | – | – |
| 8 | 89 | | Dale Mosey | 13 | 13 | – | – |
| 9 | 115 | | Michael Wilson | 12 | 12 | – | – |
| 10 | 66 | | Andrew Wythe | 11 | 11 | – | – |
Saturday 20 May 2023 :
100-125cc 2 STROKE 13-UNDER 16 YEARS
| | | | | | | | |
| --- | --- | --- | --- | --- | --- | --- | --- |
| Pos | # | | Competitor | Total Points | R1 | R2 | R3 |
| 1 | 87 | | Wil Carpenter | 75 | 25 | 25 | 25 |
| 2 | 159 | | Tomi Doble | 66 | 22 | 22 | 22 |
| 3 | 918 | | Joshua Whitehorn | 56 | 20 | 18 | 18 |
| 4 | 174 | | Clayton Bogucki | 50 | 18 | 16 | 16 |
| 5 | 416 | | Jayke Hansen | 47 | 7 | 20 | 20 |
| 6 | 234 | | Archer Colwill | 46 | 16 | 15 | 15 |
| 7 | 117 | | Jackson Rossi | 42 | 14 | 14 | 14 |
| 8 | V94 | | Reagan Mayes | 36 | 15 | 8 | 13 |
| 9 | 442 | | Harry Guy | 33 | 11 | 13 | 9 |
| 10 | 164 | | Cambell Cadd | 33 | 13 | 12 | 8 |
GREAT SOUTHERN SECURITY
100-150cc 2str / 200-250cc 4str 13-UNDER 16 YEARS GIRLS         
| | | | | | | | |
| --- | --- | --- | --- | --- | --- | --- | --- |
| Pos | # | | Competitor | Total Points | R1 | R2 | R3 |
| 1 | 992 | | Hayley Pudney | 72 | 25 | 25 | 22 |
| 2 | 115 | | Charlize Waldhuter | 64 | 22 | 22 | 20 |
| 3 | 836 | | Lexy Hayes | 58 | 20 | 20 | 18 |
| 4 | 107 | | Amelia Gwiazda | 56 | 18 | 13 | 25 |
| 5 | 91 | | Tiahni Little | 48 | 16 | 16 | 16 |
| 6 | 528 | | Danielle Churchett | 47 | 15 | 18 | 14 |
| 7 | 506 | | Ava Sparrow | 44 | 14 | 15 | 15 |
| 8 | 15 | | Madison Bahnisch | 40 | 13 | 14 | 13 |
85cc 2str/150cc 4str STD & BIG WHEEL 12-UNDER 16 YEARS
| | | | | | | | |
| --- | --- | --- | --- | --- | --- | --- | --- |
| Pos | # | | Competitor | Total Points | R1 | R2 | R3 |
| 1 | 159 | | Tomi Doble | 75 | 25 | 25 | 25 |
| 2 | 51V | | Kye Little | 62 | 22 | 20 | 20 |
| 3 | 51 | | Noah James | 53 | 20 | 18 | 15 |
| 4 | 66 | | Dylan Gromball | 50 | 16 | 16 | 18 |
| 5 | 130V | | Max Hudson | 49 | 18 | 15 | 16 |
| 6 | 50 | | Ryder Woodrow | 44 | – | 22 | 22 |
| 7 | 95 | | Liam Egan | 38 | 14 | 13 | 11 |
| 8 | 130 | | Caleb Churchett | 35 | 13 | 10 | 12 |
| 9 | 46 | | Jamie Averay | 32 | 12 | 7 | 13 |
| 10 | 498 | | Christian Disciscio | 31 | 10 | 11 | 10 |
85cc 2str/150cc 4str STD WHEEL 9-UNDER 12 YEARS
| | | | | | | | |
| --- | --- | --- | --- | --- | --- | --- | --- |
| Pos | # | | Competitor | Total Points | R1 | R2 | R3 |
| 1 | 211 | | Declan Smart | 75 | 25 | 25 | 25 |
| 2 | 138 | | Levi Rossi | 64 | 20 | 22 | 22 |
| 3 | 118 | | Riley Mullen | 62 | 22 | 20 | 20 |
| 4 | 54 | | Jayden Minerds | 54 | 18 | 18 | 18 |
| 5 | 209 | | Brock Smart | 48 | 16 | 16 | 16 |
| 6 | 361 | | Joshua Disciscio | 45 | 15 | 15 | 15 |
| 7 | 60 | | Hudson Wilson | 36 | 9 | 13 | 14 |
| 8 | 185 | | Charlie Rayson | 35 | 13 | 12 | 10 |
| 9 | 666 | | Jaeden Sargeant | 33 | 11 | 10 | 12 |
| 10 | 22 | | Marcus Couch | 32 | 8 | 11 | 13 |
GREAT SOUTHERN SECURITY
85cc 2str / 150cc 4str 11-UNDER 16 YEARS, GIRLS
| | | | | | | | |
| --- | --- | --- | --- | --- | --- | --- | --- |
| Pos | # | | Competitor | Total Points | R1 | R2 | R3 |
| 1 | 115 | | Charlize Waldhuter | 75 | 25 | 25 | 25 |
| 2 | 506 | | Ava Sparrow | 62 | 22 | 18 | 22 |
| 3 | 198 | | April Chapman | 58 | 18 | 20 | 20 |
| 4 | 66 | | Madison Bahnisch | 54 | 14 | 22 | 18 |
| 5 | 540 | | Matilda Ryan | 47 | 15 | 16 | 16 |
| 6 | 67 | | Paige Kitchen | 46 | 16 | 15 | 15 |
| 7 | 555 | | Breeannah Morcom | 34 | 20 | – | 14 |
65CC 10 – UNDER 12 YEARS
| | | | | | | | |
| --- | --- | --- | --- | --- | --- | --- | --- |
| Pos | # | | Competitor | Total Points | R1 | R2 | R3 |
| 1 | 118 | | Riley Mullen | 75 | 25 | 25 | 25 |
| 2 | 124 | | Ollie Paech | 64 | 20 | 22 | 22 |
| 3 | 224 | | Nash Metcalfe | 62 | 22 | 20 | 20 |
| 4 | 326 | | Zac Mayes | 51 | 18 | 15 | 18 |
| 5 | 60 | | Hudson Wilson | 50 | 16 | 18 | 16 |
| 6 | 20 | | Blake Bahnisch | 46 | 15 | 16 | 15 |
| 7 | 157 | | Reid Haydon | 42 | 14 | 14 | 14 |
| 8 | 666 | | Jaeden Sargeant | 37 | 11 | 13 | 13 |
| 9 | 28 | | Max Donald | 33 | 9 | 12 | 12 |
| 10 | 202 | | Hamish Finch | 32 | 12 | 11 | 9 |
65cc 7-9 YEARS
| | | | | | | | |
| --- | --- | --- | --- | --- | --- | --- | --- |
| Pos | # | | Competitor | Total Points | R1 | R2 | R3 |
| 1 | 62 | | Bodhi Austin | 75 | 25 | 25 | 25 |
| 2 | 583 | | Nate Bowman | 66 | 22 | 22 | 22 |
| 3 | 227 | | Brax Chittleborough | 60 | 20 | 20 | 20 |
| 4 | 235 | | Levi Davies | 48 | 14 | 16 | 18 |
| 5 | 311 | | Kobe Smart | 47 | 16 | 15 | 16 |
| 6 | 619 | | Ollie Brombal | 45 | 13 | 18 | 14 |
| 7 | 25 | | Bailey Thompson | 44 | 15 | 14 | 15 |
| 8 | 669 | | Seth Clark | 44 | 18 | 13 | 13 |
| 9 | 818 | | Koben Corbell | 34 | 11 | 12 | 11 |
| 10 | 822 | | Huxson Carroll | 33 | 10 | 11 | 12 |
50cc DEMO 4 – UNDER 9 YEARS 
| | | | | | | | |
| --- | --- | --- | --- | --- | --- | --- | --- |
| Pos | # | | Competitor | Total Points | R1 | R2 | R3 |
| 1 | 311 | | Kobe Smart | 75 | 25 | 25 | 25 |
| 2 | 619 | | Ollie Brombal | 66 | 22 | 22 | 22 |
| 3 | 818 | | Koben Corbell | 60 | 20 | 20 | 20 |
| 4 | 231 | | Carter Williamson | 47 | 13 | 16 | 18 |
| 5 | 988 | | Rory Walter | 43 | 18 | 15 | 10 |
| 6 | 717 | | David Bamford | 42 | 15 | 13 | 14 |
| 7 | 14 | | Jaxon Sims | 42 | 16 | 14 | 12 |
| 8 | 519 | | Tate Jackway | 38 | 14 | 11 | 13 |
| 9 | 822 | | Huxson Carroll | 34 | – | 18 | 16 |
| 10 | 35 | | Jobe Howard | 27 | – | 12 | 15 |