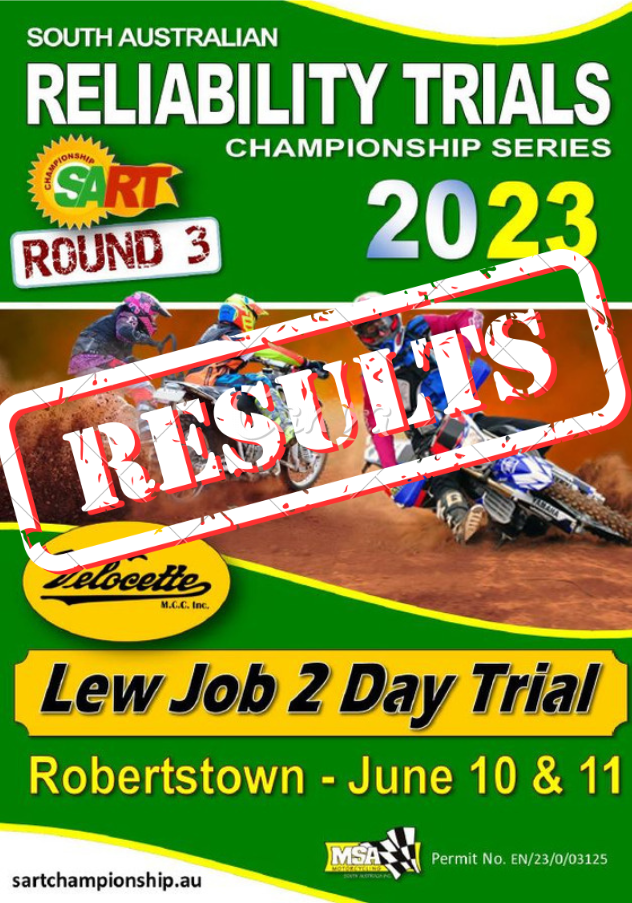 Robertstown was a buzz over the 10th and 11th of June with Velocette MCC presenting round 3 of the 2023 SART Championships, the Lew Job 2-Day Reliability Trial. Continuing the June long weekend tradition, "Robbie" warmly welcomed riders, families and friends from all over SA, for a weekend of special memories, great food and of course Reliability Trial riding.  
Spectators braving the chilly conditions were well taken well care of, with the Southern Saints football and social club providing hot egg and bacon rolls, coffee and of course, who could forget, plenty of Mutton & gravy rolls. There wasn't a single person left wanting by the end of the weekend.
A course of approximately 85km in length kept riders on their toes and tested their endurance with varying conditions ranging from mud, right through to loamy dust for the 2-day Reliability Trial challenge. Saturday greeted riders with a 2-lap day/night format and Sunday brought them over the line with 2 laps throughout the daytime.
Fresh off his 2023 Australian Off-Road Champions and the Australian 4 Day Enduro campaigns, Cooper Sheidow showed why the young gun is one of South Australia's off-road racings leading talents. Riding extremely consistent and fast he took out P1 overall with a sizeable 7 minute and 41 second gap. Zack Tremaine managed to hold off a flying Rowan Pumpa and charged home for P2, with only a 1 minute 18 second gap between them.
(Above) – Cooper Sheidow looking fast as ever.                                                         (Above) – Zack Tremaine keeping it pinned for a weekend P2. 
Open sidecar racing was certainly not without upsets. Dynamic duo Shaun Blenkiron and Nathan Saegenschnitter had their sights set on claiming P1 for the round after leading lap 1 and a second off fastest for lap 2. However it wasn't meant to be when a broken chain during lap 3 set them back and even with a fastest finish time on lap 4 saw them finish the weekend in 5th place overall. 
Taking the opportunity and riding exceptionally consistent, Daniel Plowman and Bradley Brook took P1 by a mere 30-second lead ahead of Bradley Manuel and Ashley Ball. Rounding out the top 3, Shane Beckmann /Adam Brook finished 4 minutes and 15 seconds off P2.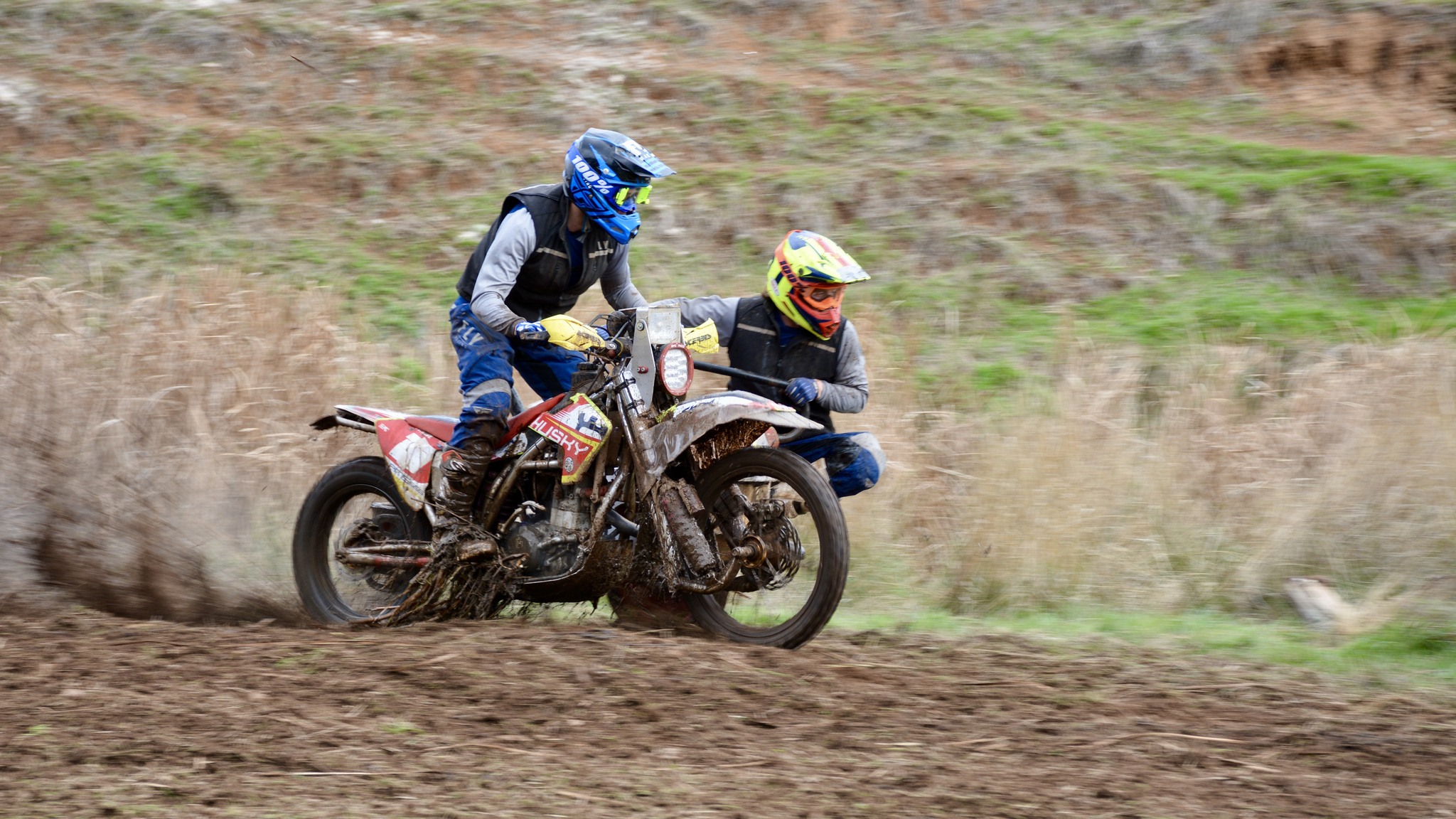 (Above) – Bradley Manuel and Ashley Ball kicking up the mud.
The SART 2023 Championship continues August 12, with the 'Gil Harris' Trial (formerly the 'Theo Nixon' Trial) hosted by Levis Club in the Mallala region. Stay tuned to the MSA website and socials for more information as this next event approaches.
Provisional open solo and sidecar results are below, with details and results by class available on the SART website HERE. (Note these results are provisional for 7 days for competitors to review, the results will be published as final on the Round Results page from Midnight Saturday June 17th 2023).
Photos courtesy of SandPlow Photography. See the full albums – HERE.
Open Solo:
Pos
No
Name
Class
Day 1

Lap 1

Day 1

Lap 2

Day 2

Lap 3

Day 2

Lap 4

Stages
Total
Gap
1
86
Cooper Sheidow
A
2180
2302
2074
2086
24
8642
+0
 2
83
Zack Tremaine
A
2289
2402
2202
2210
24
9103
+461
 3
79
Rowan Pumpa
A
2333
2414
2216
2218
24
9181
+539
 4
82
Clinton Voigt
A
2356
2439
2246
2249
24
9290
+648
 5
84
Damien Jenke
A
2374
2473
2294
2303
24
9444
+802
 6
88
Daniel Prior
A
2419
2582
2271
2260
24
9532
+890
 7
80
Todd Muster
A
2413
2519
2305
2348
24
9585
+943
 8
85
Adam Wright
A
2363
2558
2313
2378
24
9612
+970
 9
87
Ryley Mullan
A
2422
2581
2326
2315
24
9644
+1002
 10
56
Rhys Jenke
F
2440
2587
2330
2361
24
9718
+1076
 11
92
Christ Shields
A
2497
2575
2348
2319
24
9739
+1097
 12
89
Ben Mayne
A
2420
2543
2373
2406
24
9742
+1100
 13
90
Benjamin Prior
A
2481
2650
2304
2355
24
9790
+1148
 14
40
Samuel Nenasheff
G
2447
2580
2386
2384
24
9797
+1155
 15
62
Kurtis Riebke
F
2458
2621
2396
2434
24
9909
+1267
 16
58
Stuart Roydhouse
F
2496
2653
2416
2444
24
10009
+1367
 17
81
Nathan Noble
A
2507
2719
2383
2410
24
10019
+1377
 18
37
Daniel Fraser
G
2493
2698
2436
2446
24
10073
+1431
 19
46
Nathan Freeman
G
2482
2657
2497
2445
24
10081
+1439
 20
59
Connor Buckby
F
2520
2578
2440
2566
24
10104
+1462
 21
50
Jackson Friebel
G
2542
2705
2451
2418
24
10116
+1474
 22
61
Clayton Fechner
F
2588
2681
2466
2472
24
10207
+1565
 23
12
Todd Knight
D
2628
2676
2449
2465
24
10218
+1576
 24
13
Dwayne Rumsey
D
2559
2713
2480
2469
24
10221
+1579
 25
39
Louis Kerin
G
2555
2687
2487
2496
24
10225
+1583
 26
35
Matthew Aimann
G
2643
2658
2561
2422
24
10284
+1642
 27
57
Charley Kerin
F
2638
2746
2460
2475
24
10319
+1677
 28
93
Patrick Neal
A
2599
2697
2494
2530
24
10320
+1678
29
53
Henry Obrien
F
2568
2692
2526
2546
24
10332
+1690
30
28
Daniel Riebke
V
2608
2656
2551
2525
24
10340
+1698
31
78
Anthony Diener
A
2574
2890
2438
2448
24
10350
+1708
32
30
Matthew Lawrence
G
2570
2752
2520
2516
24
10358
+1716
33
63
Noah Riebke
F
2594
2717
2538
2525
24
10374
+1732
34
19
Tom Couzner
D
2655
2776
2505
2478
24
10414
+1772
35
25
Paul Grosser
V
2630
2722
2573
2549
24
10474
+1832
36
65
Zane Gerlach
F
2591
2749
2552
2604
24
10496
+1854
37
14
Matthew Taylor
D
2645
2728
2573
2599
24
10545
+1903
38
72
Angus Schild
F
2676
2836
2559
2526
24
10597
+1955
39
31
Jared Plush
G
2643
2738
2570
2651
24
10602
+1960
40
42
Jonathan Zussino
G
2619
2854
2546
2597
24
10616
+1974
41
6
Greg Slattery
M
2760
2724
2572
2565
24
10621
+1979
42
29
Shane Schutz
V
2668
2859
2598
2532
24
10657
+2015
43
43
Tyson Clarke
G
2767
2757
2606
2544
24
10674
+2032
44
11
Simon Haydon
D
2753
2838
2560
2545
24
10696
+2054
45
60
Jack Wormald
F
2694
2899
2554
2585
24
10732
+2090
46
48
John (Jack) Mosey
G
2645
2791
2611
2688
24
10735
+2093
47
23
Dominic Burman
V
2740
2824
2575
2598
24
10737
+2095
48
10
Grant Stephen
D
2690
2795
2665
2670
24
10820
+2178
49
18
Jarrad Holmes
D
2696
2806
2717
2612
24
10831
+2189
50
41
Aiden Thompson
G
2781
2806
2614
2651
24
10852
+2210
51
8
Brett Hall
M
2702
2899
2659
2656
24
10916
+2274
52
70
Giles ODriscoll
F
2687
2947
2643
2644
24
10921
+2279
53
21
Benjamin Schutz
D
2733
2911
2665
2677
24
10986
+2344
54
64
Max Cowham
F
2744
2939
2649
2658
24
10990
+2348
55
55
Daniel Kotz
F
2695
2929
2708
2683
24
11015
+2373
56
15
William Moore
D
2737
2859
2581
2843
24
11020
+2378
57
1
Ian Kakoschke
P1
2756
2946
2778
2664
24
11144
+2502
58
32
Russell Bailey G
G
2772
3062
2656
2686
24
11176
+2534
59
20
Robert Brumfield
D
2820
3014
2732
2724
24
11290
+2648
60
22
Simon Evitts
V
2892
3027
2740
2817
24
11476
+2834
61
33
Todd Jones
G
2909
3007
2701
2972
24
11589
+2947
62
47
Dylan Stacey
G
2865
3056
2715
2739
24
11647
+3005
63
4
Stephen Tomlinson
M
2936
3014
2814
2912
24
11714
+3072
64
67
Marcus Coppen
F
2940
3199
2862
2902
24
11791
+3149
65
71
Byron Hoffmann
F
3270
2890
2785
2867
24
11953
+3311
66
68
Deklan Coppen
F
2943
3188
2911
2967
24
12009
+3367
67
34
Ethan Pickstock
G
2908
2961
2897
3307
24
12073
+3431
68
44
Matthew Curtis
G
2542
2708
2512
4457
24
12219
+3577
69
26
Adam Toolan
V
3128
3336
2914
2917
24
12295
+3653
70
36
Jamie Starick
G
2651
2743
4235
2669
24
12298
+3656
71
9
Jonathan Moore
M
3147
3355
3016
2940
24
12458
+3816
72
54
Jake Schmidt
F
3068
3323
3177
3240
24
12808
+4166
73
5
Paul Rumsey
M
3266
3453
3109
3089
24
12917
+4275
74
2
Kevin Steinert
P1
3377
3667
3240
3233
24
13517
+4875
75
16
Damon Kiely
D
3251
3893
3353
3389
24
13886
+5244
76
3
James Zussino
P1
5713
3277
3060
3439
24
15489
+6847
77
7
Colin Jenke
M
4127
4449
3814
3722
24
16112
+7470
DNF
91
Coan Linke
A
2354
2454
2372
1447
22
8627
DNF
45
Josh Moyle
G
3239
3116
2283
0
17
8638
DNF
52
Ryan Heidenreich
F
2567
2692
1755
0
16
7014
DNF
69
Saxon Kearns
F
2952
3222
2465
0
16
8639
DNF
38
Luke Timmins
G
2658
2868
1012
0
14
6538
DNF
24
Shayne Bain
V
2626
2883
0
0
12
5509
DNF
27
Darren Preece
V
3228
3579
0
0
12
6807
DNF
73
Will Falkenberg
F
2642
1947
0
0
10
4589
DNF
66
Daniel Garbett
F
2693
508
0
0
7
3201
DNF
51
Matthew Garbett
G
2453
0
0
0
5
2453
DNF
17
Christopher Causer
D
440
0
0
0
1
440
DNS
49
Liam Sander
G
0
0
0
0
0
0
Open Sidecar:
Pos
No
Name
Class
Day 1

Lap 1

Day 1

Lap 2

Day 2

Lap 3

Day 2

Lap 4

Stages
Total
Gap
1
97
Daniel Plowman / Bradley Brook
C
2746
2791
2661
2686
24
10884
+0
 2
96
Bradley Manuel / Ashley Ball
C
2675
2813
2798
2628
24
10914
+30
 3
95
Shane Beckmann / Adam Brook
C
2813
3033
2665
2658
24
11169
+285
 4
100
Shaun Buckley / Brett Harding
K
2811
2900
2729
2740
24
11180
+296
 5
99
Shaun Blenkiron / Nathan Saegenschnitter
C
2723
2792
3405
2670
24
11590
+706
 6
104
Michael Kerin / Josh Schutz
K
2944
3015
2845
2832
24
11636
+752
 7
101
Zak Smith / Brendon Noble
K
2910
3066
2851
2890
24
11717
+833
 8
102
Neil White / Jason Edson
J
3035
3118
2909
2982
24
12044
+1160
 9
103
Kristy Schultz / Stuart Gerhardy
L2
3017
3193
2929
2971
24
12110
+1226
 10
105
Gary Waldhuter / James Waldhuter
J
2999
3169
3021
2921
24
12110
+1226
 11
106
Colin Simpson / Clint Grabham
J
3291
3319
3045
3595
24
13250
+2366
 12
108
John Davies / Kym Menadue
J
3167
3837
3096
3187
24
13287
+2403
 13
110
Adam Buckley / Kym Schunke
K
3653
3350
3052
3399
24
13454
+2570
 14
109
Shane Noble / Alison Fuller
J
3784
3497
3226
3312
24
13819
+2935
 15
113
Elouise Dohse / Tianna Dohse
L2
3928
4501
3634
3831
24
15894
+5010
 16
112
Caroline Wilksch / Natasha Sky
L2
4059
4138
3939
3929
24
16065
+5181
 17
111
Jason Whitfield / Jamie O'Brien
P2
4532
4602
4699
3973
24
17806
+6922
DNF
107
Jamie Giles / Cooper Giles
K
4311
0
0
0
6
4311
DNF
94
Ross Watson / Cooper Winter
C
1034
1560
0
0
3
2594
DNF
114
Bruce Health / Bruce Health
K
2708
0
0
0
3
2708
DNS
98
Matthew Neldner / Aiden Wilksch
C
0
0
0
0
0
0