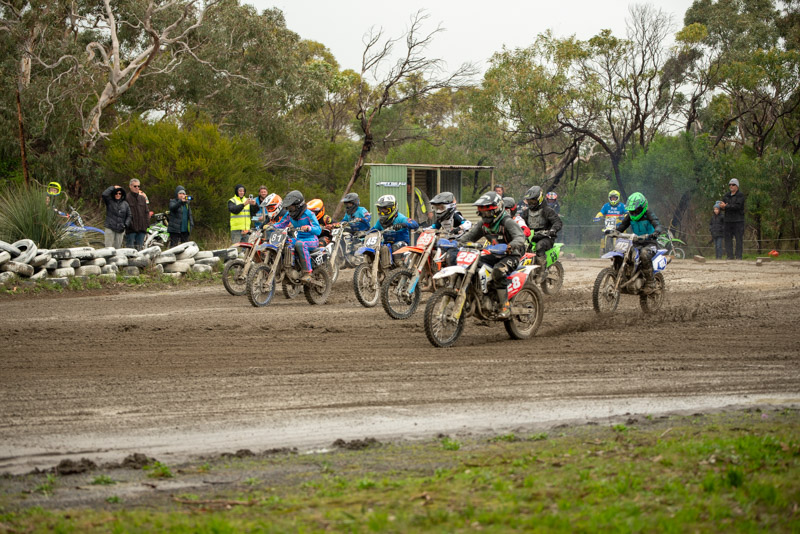 After a hiatus since 2019, the SA Dirt Track Championships made a long-awaited, welcomed return last Sunday 25 June to Mud N Tars MCC. Despite the day being plagued with challenging weather conditions, competitors, volunteers and Officials fought through to put on a fantastic 2023 SA Dirt Track Championships. Spectators braving the weather were treated to exceptional racing all day and kept well taken care of by the fantastic club volunteers in the canteen and bar. 
Over 6o riders from countless different disciplines, made the trip to Victor Harbor, all ready to put it on the line for the SA Championship glory and have their name alongside previous Champions on the coveted trophy. 
Braving the elements throughout the day, Sally Porter from "Porter Photography" and Eric McConnochie caught all the action with just some of the shots below and plenty more to purchase on their websites. 
It was great to see previous multi-National Dirt Track Champion and ASBK racer, Ty Lynch return to the club and track where he started his career all those years ago. Proving he could still throw it around on the dirt, his consistent smooth racing brought him home in the top spot for 2023 in the Pro 450cc class – Fantastic job!!
Congratulations to all the competitors for a great day of racing and well done to all that added their names to history as champions for 2023.
Full results breakdown of the day below:
Seniors 
Pro 450 – (250cc 2 Stroke & 450cc 4 Stroke)
| | | | | | | |
| --- | --- | --- | --- | --- | --- | --- |
| | R1 | R2 | R3 | R4 | Total | Placing |
| Ty Lynch | 25 | 25 | 25 | 25 | 100 | 1st |
| Kyle Machin | 22 | 22 | 22 | 22 | 88 | 2nd |
| Daniel Low | 18 | 18 | 16 | 15 | 67 | 3rd |
| Jackson Milner | 20 | DNF | 20 | 20 | 60 | 4th |
| Tayla Street | DNF | 20 | 16 | 16 | 52 | 5th |
| Troy Knights | 14 | 16 | 18 | DNF | 48 | 6th |
| Clinton Caston | 16 | 15 | 15 | DNS | 46 | 7th |
| Ty Darkin | 15 | DNF | DNS | 18 | 33 | 8th |
| Sean Curtis | DNS | DNF | DNS | DNS |  – | |
Pro 250 – (100-150cc 2 Stroke & 200-250cc 4 Stroke)
| | | | | | | |
| --- | --- | --- | --- | --- | --- | --- |
| | R1 | R2 | R3 | R4 | Total | Placing |
| Casey Clarke | 25 | 25 | 25 | 25 | 100 | 1st |
| Clinton Caston | 22 | DNS | DNS | DNS | 22 | |
| Kyle Machin | DNS | DNS | DNS | DNS | | |
Pro Open Women
| | | | | | | |
| --- | --- | --- | --- | --- | --- | --- |
| | R1 | R2 | R3 | R4 | Total | Placing |
| Tayla Street | 25 | 25 | 25 | 25 | 100 | 1st |
| Tammy Maul-Dunn | 22 | 22 | 22 | 22 | 88 | 2nd |
| Shakira Nash | 20 | 20 | 20 | 20 | 80 | 3rd |
MX Open
| | | | | | | |
| --- | --- | --- | --- | --- | --- | --- |
| | R1 | R2 | R3 | R4 | Total | Placing |
| Kyle Machin | 25 | 22 | 25 | 25 | 97 | 1st |
| Ty Lynch | 22 | 25 | 22 | 20 | 89 | 2nd |
| Tayla Street | 20 | 20 | 20 | 22 | 82 | 3rd |
| Casey Clarke | 16 | 18 | 15 | 18 | 67 |  4th |
| Daniel Low | 18 | 16 | 16 | 15 | 65 |  5th |
| Troy Knights | 14 | 14 | 14 | DNS | 42 | 6th |
| Ty Darkin | DNF | DNF | 18 | 16 | 34 | 7th |
| Clinton Caston | 15 | 15 | DNF | DNS | 30 | 8th |
Veterans 40+
| | | | | | | |
| --- | --- | --- | --- | --- | --- | --- |
| | R1 | R2 | R3 | R4 | Total | Placing |
| Sean Curtis | 16 | 25 | 25 | 25 | 91 | 1st |
| Robert Stout | 20 | 20 | 20 | 22 | 82 | 2nd |
| Julian Timmis | 22 | 18 | 22 | 20 | 82 | 3rd |
| Dean Maul-Dunn | 25 | 22 | 13 | 18 | 78 | 4th |
| Greg Laanekorb | 13 | 12 | 15 | 16 | 56 | 5th |
| Troy Knights | 15 | 14 | 16 | DNS | 45 | 6th |
| Clinton Caston | 15 | 14 | 16 | DNS | 45 | 7th |
|  Cornelius Twist | 14 | 15 | DNS | 15 | 44 |  8th |
| Shane Church | DNF | 16 | 18 | DNS | 34 | 9th |
| Dale Milner | DNF | DNS | DNS | DNS | | |
Pre 1985 All-Powers
| | | | | | | |
| --- | --- | --- | --- | --- | --- | --- |
| | R1 | R2 | R3 | R4 | Total | Placing |
| Robert Hayden | 22 | 22 | 25 | 25 | 94 | 1st |
| Dean Maul-Dunn | 20 | 20 | 22 | 22 | 84 | 2nd |
| Shane Church | 25 | 25 | DNS | DNS | 50 | 3rd |
Pre 1975 126cc & above
| | | | | | | |
| --- | --- | --- | --- | --- | --- | --- |
| | R1 | R2 | R3 | R4 | Total | Placing |
| Robert Hayden | 25 | 22 | 25 | 25 | 97 | 1st |
| Dean Maul-Dunn | 22 | 25 | 22 | 22 | 91 | 2nd |
Juniors
100cc to 150cc 2-stroke & 200cc to 250cc 4-stroke 13-U16 Years
| | | | | | | |
| --- | --- | --- | --- | --- | --- | --- |
| | R1 | R2 | R3 | R4 | Total | Placing |
| Harry Sadler | 22 | 22 | 25 | 25 | 94 | 1st |
| Zach Martin | 20 | 20 | 22 | 22 | 84 | 2nd |
| Ryder Sweet | 18 | 16 | 20 | 20 | 74 | 3rd |
| Hayden Clarke | 16 | 18 | 18 | 18 | 70 |  4th |
| Tommy Wright | 25 | 25 | DNF | DNS | 50 |  5th |
Air-Cooled Junior All-Powers (11-U16 Years)
| | | | | | | |
| --- | --- | --- | --- | --- | --- | --- |
| | R1 | R2 | R3 | R4 | Total | Placing |
| Darcey Timmis | 25 | 25 | 25 | 25 | 100 | 1st |
| Cody Maul-Dunn | 22 | 22 | 22 | 22 | 88 | 2nd |
85cc 2-stroke & 150cc 4-stroke 12-U16
| | | | | | | |
| --- | --- | --- | --- | --- | --- | --- |
| | R1 | R2 | R3 | R4 | Total | Placing |
| Archie Schmidt | 22 | 22 | 25 | 25 | 94 | 1st |
| Connor Machin | 20 | 20 | 22 | 22 | 84 | 2nd |
| Tayne Lines | 18 | 18 | 20 | 18 | 74 | 3rd |
| Tyler Rasmussen | 16 | 16 | 18 | 20 | 70 | 4th |
| Tommy Wright | 25 | 25 | 15 | DNS | 65 | 5th |
| Lukas Hill | 15 | 14 | 16 | 15 | 60 | 6th |
| Jack Clyde | 14 | 15 | 14 | 16 | 59 |  7th |
85cc 2-stroke & 150cc 4-stroke – Girls 11-U16
| | | | | | | |
| --- | --- | --- | --- | --- | --- | --- |
| | R1 | R2 | R3 | R4 | Total | Placing |
| Darcey Timmis | 25 | 25 | 25 | 25 | 100 | 1st |
| Aela Lines | 22 | 22 | 22 | 22 | 88 | 2nd |
|  Cody Maul-Dunn | 20 | 20 | 20 | 20 | 80 | 3rd |
85cc 2-stroke & 150cc 4-stroke – 11-U16
| | | | | | | |
| --- | --- | --- | --- | --- | --- | --- |
| | R1 | R2 | R3 | R4 | Total | Placing |
| Judd Plaisted | 25 | 25 | 18 | 25 | 93 | 1st |
| Jaikob Wright | 18 | 20 | 22 | 20 | 80 | 2nd |
| Jordin Wright | 16 | 16 | 20 | 18 | 70 | 3rd |
| Jai Strugnell | 20 | 22 | 25 | DNF | 67 |  4th |
| Casey Swinton | 22 | 18 | DNF | 22 | 62 |  5th |
| Bentley Baltussen | 15 | 15 | DNS | 16 | 46 |  6th |
Air-Cooled 80cc 2 str/110cc 4 str (7-U11 Years)
| | | | | | | |
| --- | --- | --- | --- | --- | --- | --- |
| | R1 | R2 | R3 | R4 | Total | Placing |
| Chase Maul-Dunn | 25 | 25 | 22 | 25 | 97 | 1st |
| Blake Schlein | 22 | 22 | 25 | 22 | 91 | 2nd |
| Cameron Parker | 18 | 20 | 18 | 20 | 76 | 3rd |
| Tahli Sweet | 20 | 18 | 20 | 18 | 76 |  4th |
65cc 2-stroke 9-U13
| | | | | | | |
| --- | --- | --- | --- | --- | --- | --- |
| | R1 | R2 | R3 | R4 | Total | Placing |
| Bodhi Austin | 25 | 25 | 25 | 25 | 100 | 1st |
| Blake Schlein | 22 | 22 | 22 | 22 | 88 | 2nd |
| Judd Plaisted | 20 | 20 | 20 | DNF | 60 | 3rd |
65cc 2-stroke 7-U9
| | | | | | | |
| --- | --- | --- | --- | --- | --- | --- |
| | R1 | R2 | R3 | R4 | Total | Placing |
| Chase Maul-Dunn | 25 | 25 | 25 | 25 | 100 | 1st |
50cc Auto 7-U9
| | | | | | | |
| --- | --- | --- | --- | --- | --- | --- |
| | R1 | R2 | R3 | R4 | Total | Placing |
| Chase Maul-Dunn | 25 | 25 | 25 | 25 | 100 | 1st |
| Kai Austin | 22 | 22 | 22 | 22 | 88 | 2nd |
| Angus Nankivell | 20 | 20 | 20 | 18 | 78 | 3rd |
| Jett Plaisted | 18 | 18 | 16 | 20 | 72 | 4th |
|  Nate Sadler | 18 | 16 | 18 | 16 | 68 | 5th |
50cc Demo (Non-Competitive) 4-U9
Chase Maul-Dunn
Fin Evans
Finnley Glynn
Angus Nankivell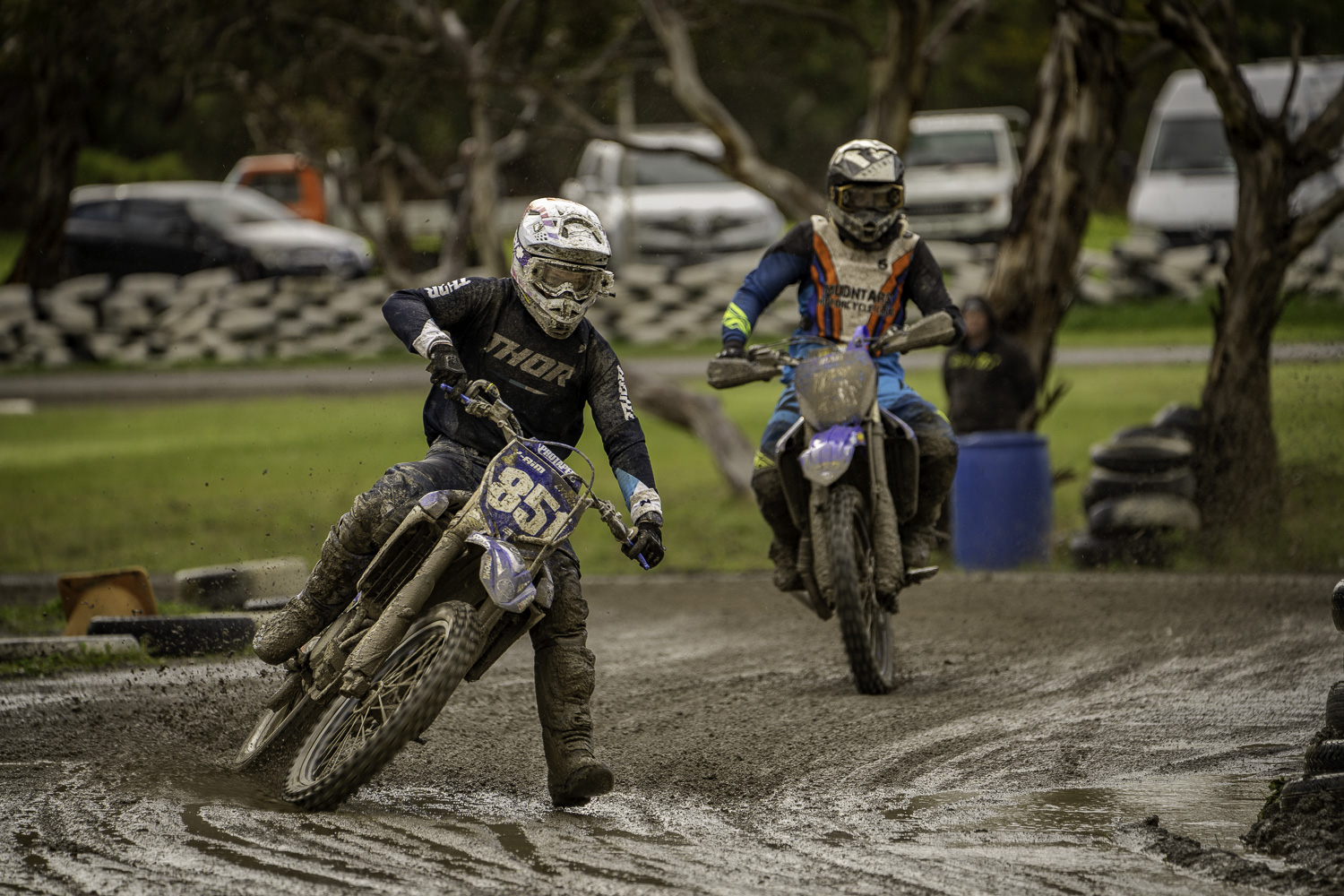 (Above): Ty Lynch Sliding into P1 as the 450cc 2023 SA Dirt Track Championship 📸 Porter Photography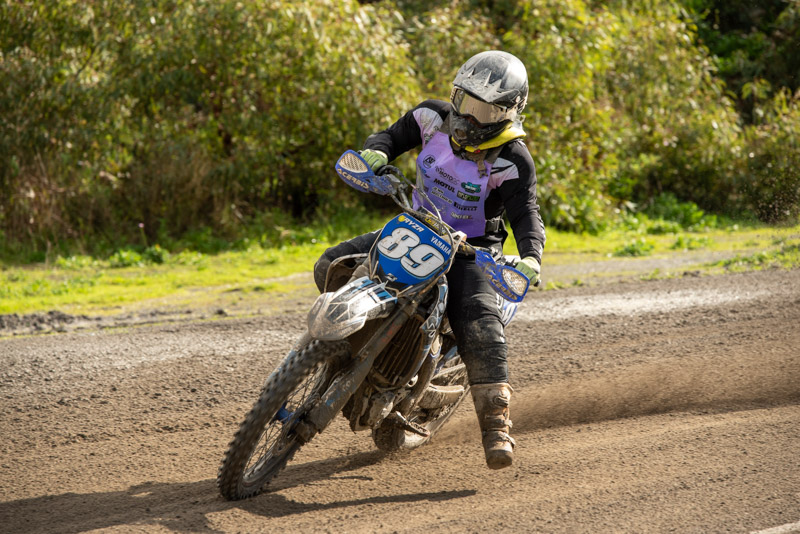 Tayla Street #89 riding fast as ever 📸 Eric McConnochie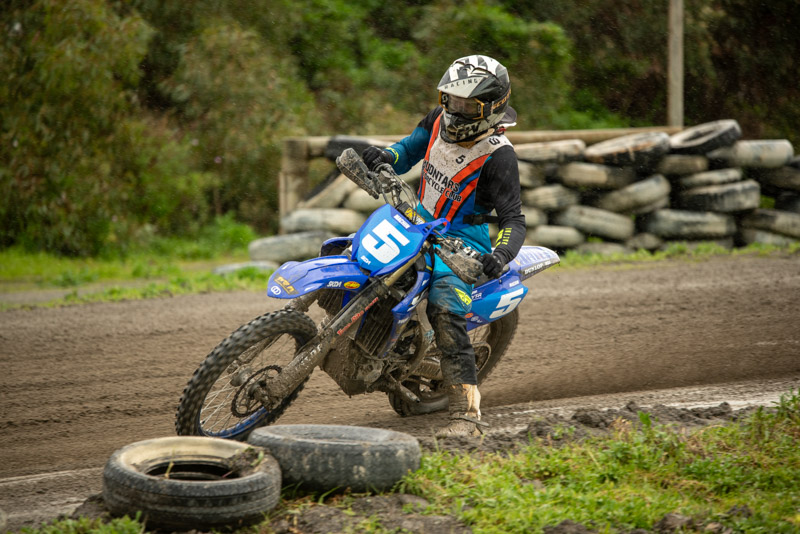 Kyle Machin #5 MX Open 2023 SA Dirt Track Championship 📸Eric McConnochie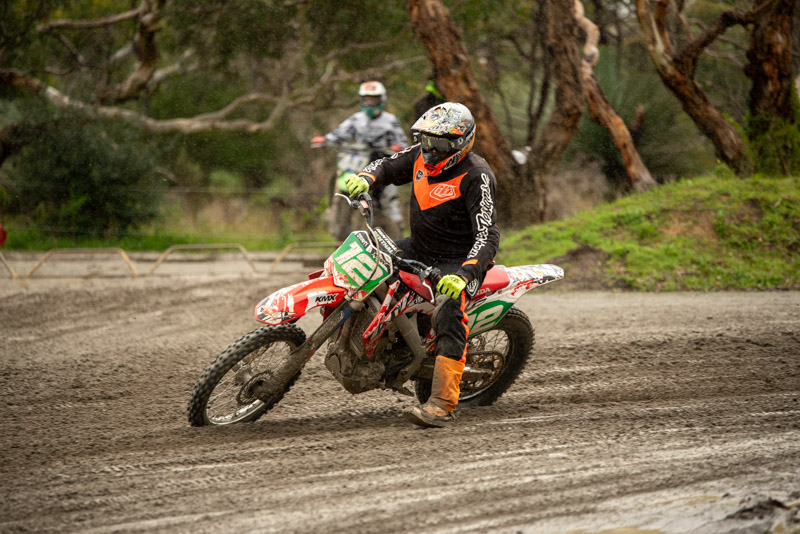 Robert Stout #12 pushing hard in Veterans 40+ 📸Eric McConnochie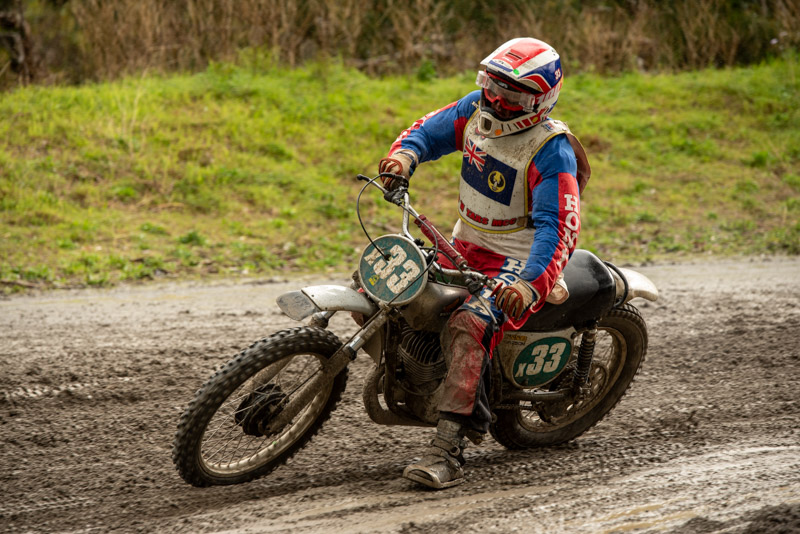 Robert Hayden #33 bringing history to life 📸Eric McConnochie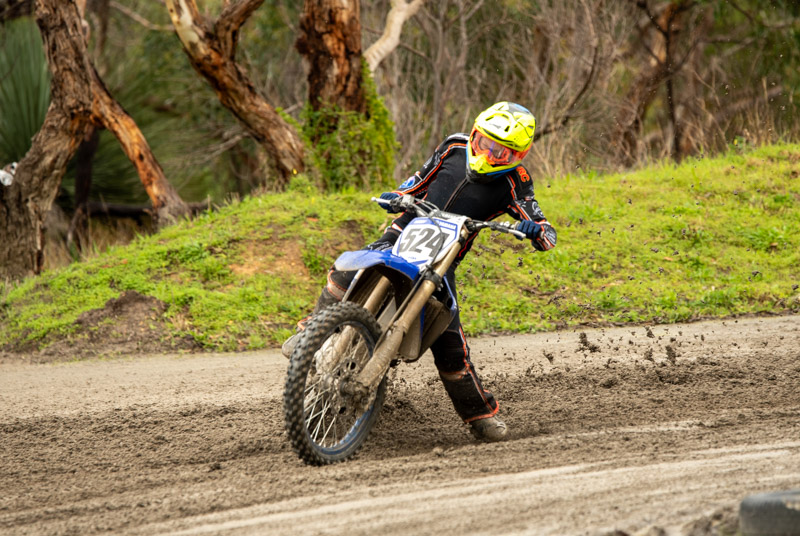 Harry Sadler #524 kicking it hard into the corner 📸Eric McConnochie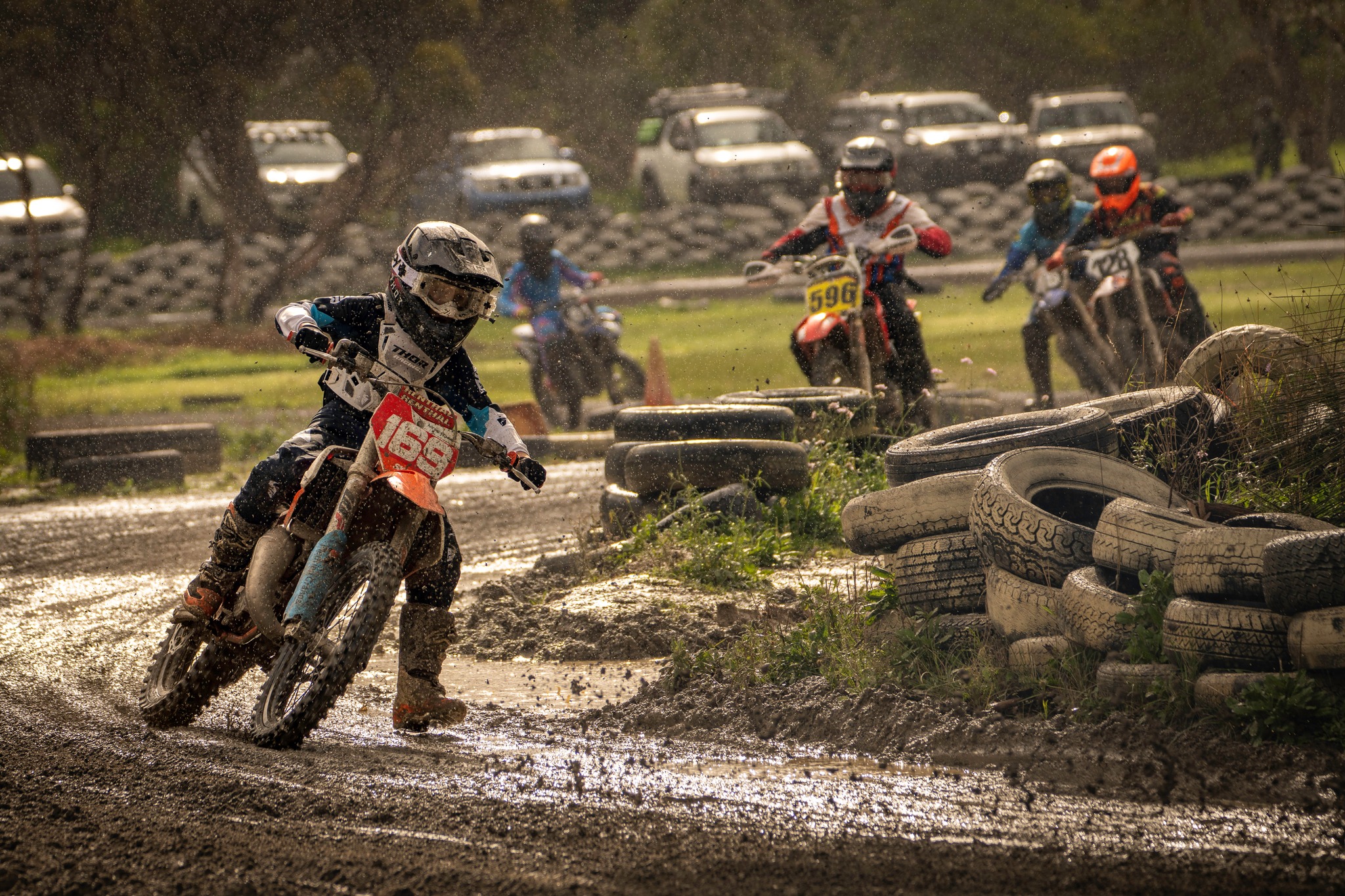 (Above): Archie Schmidt #169 on his way to taking out the 85cc 2-stroke & 150cc 4-stroke class.  📸 Porter Photography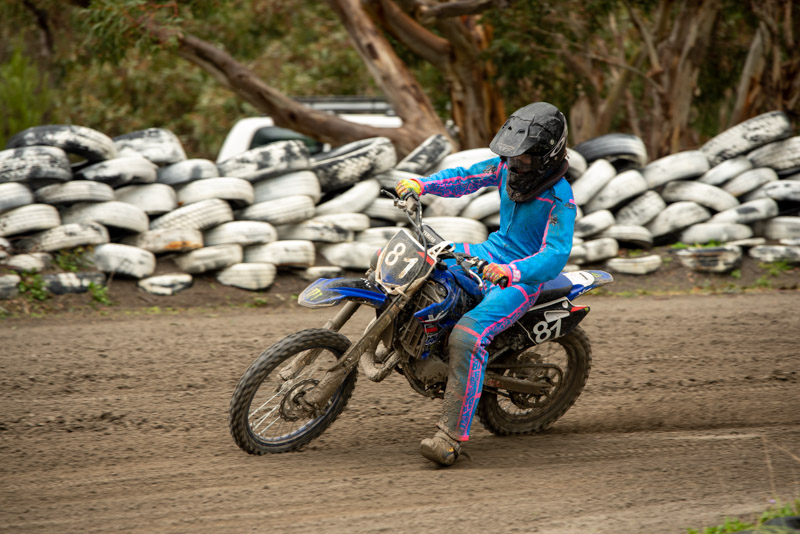 Darcey Timmis #81 looking smooth in all her races 📸Eric McConnochie
Bodhi Austin #62 staring down the barrel of his competition 📸Eric McConnochie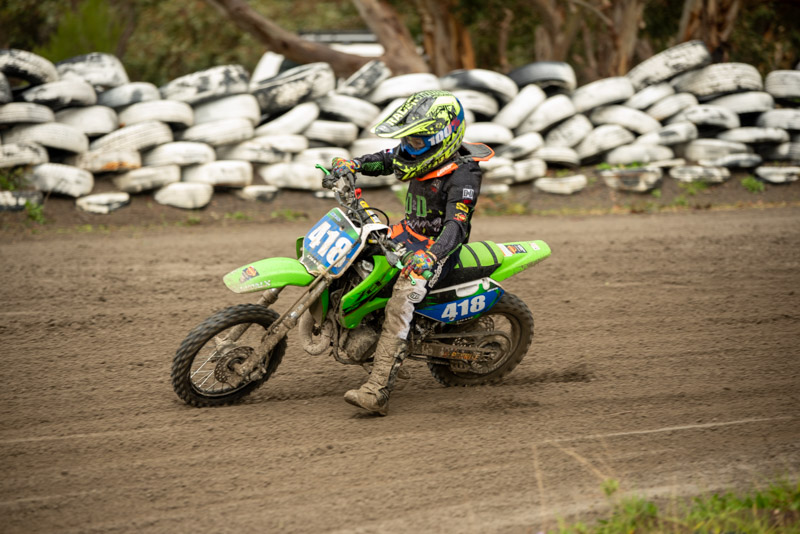 One of of our talented future Dirt Track athletes, Chase Maul-Dunn #418 📸Eric McConnochie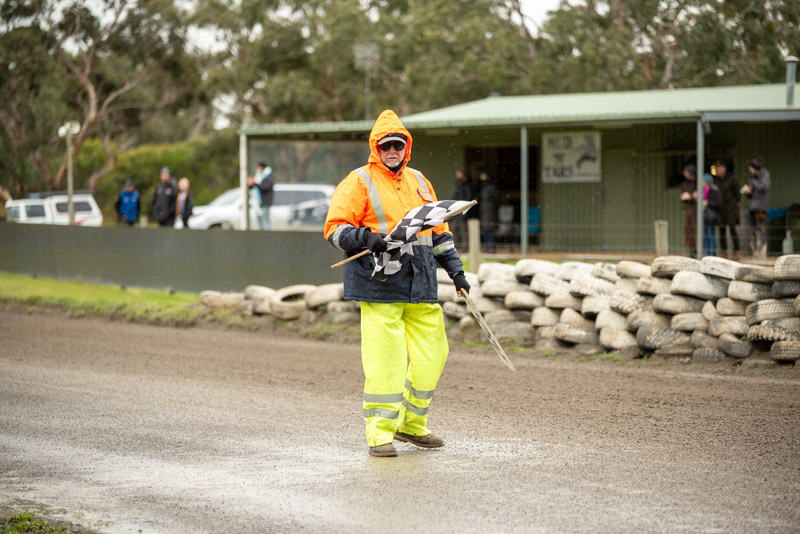 Just one of the many champions that made the day a success 📸Eric McConnochie