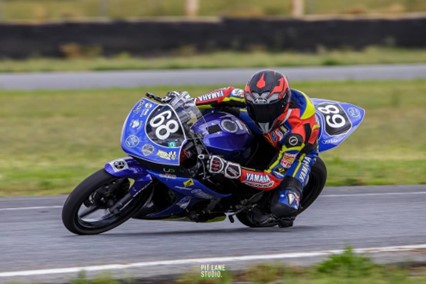 With such an amazing year of Road Racing coming to an end we have seen fairy tale endings and heart breaks. Our 2022 bLU cRU Team athletes have taken everything this year could throw at them in their stride, from fast paced racing to wild unpredictable weather. We caught up with #68 young Lucas Warren to  see how his year went overall…
This was my first ever Road Racing Season and I was very lucky to be involved in the bLU cRU SA Junior Cup. I came into the team without having any previous riding or racing experience, I just knew I wanted to do it after watching my Grandad for years racing in the SA Historic Championships. It was always such an incredible experience being in the pits with him and many others, I loved hearing their stories and how excited they were when they came off track. I knew I wanted that feeling too.
In December 2021 I was lucky to have the opportunity to ride a couple of 150's at the  Nuriootpa Go Kart Track run by Levis Day's Rider Training. A massive thank you to Will Strugnell for his amazing help and support. This prepared me massively for  the January 2022 bLU cRU training camp, which was such an awesome experience. I learnt so much, from how to move my body on the bike to the best way to fuel my body ready for race days. I knew I had so much to learn so worked and trained exceptionally hard to try and keep up with the team.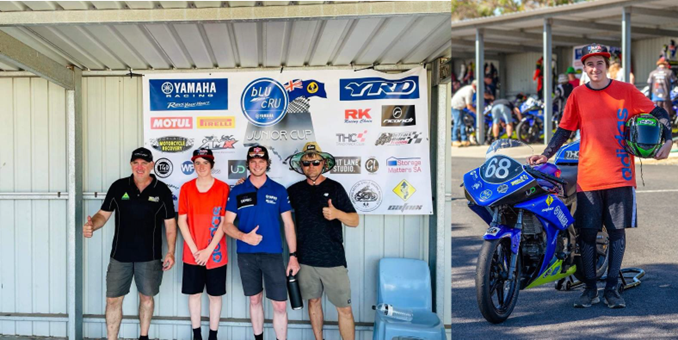 Round 1 – Mt Gambier Motorcycle Club 
This was my first ever race and I was definitely very nervous. Not having any race experience I wasn't sure how I would go but was very keen to see.
First all the juniors needed to be weighed so the team could make it as fair as possible. I weighed in at 68kg sited up which was I thought was great as this was my race number but unfortunately found wasn't as great being the heaviest compared to some of my team mates that only weighed 36kg, where no amount of fuel could help with that challenge. Hahaha I even got the nickname "porky" which I had fun with all season.
We had mixed weather conditions all weekend so certainly got a taste of both dry and wet weather riding. I found I improved all weekend with my best qualifying time being 1:36.1. Throughout the course of the weekend I finished 8th, 10th and 8th in my races bringing my lap time down to 135.04.
Round 2 – The Bend East Circuit
Going into the Bend I wasn't feeling too confident as I had crashed a few days earlier whilst getting some practice in prior to the weekend. I struggled to find pace in the first qualifying session with my best time being 2:29 but received some awesome advice and encouragement from some of the senior riders in bLU cRU which really helped. In the second qualifying session my best time was 2:19 but by the end of the weekend I was feeling comfortable and going really well. I finished the round in 8th position but got my time down to 2:12.
Round 3 – Go Kart Club Monarto, South Australia 
This was certainly a different round being our first weekend on a go kart track. with it being a smaller track, it was so technical and challenging with lots of sharp corners. On top of that it was a very wet weekend which made for very trying conditions. I really felt all the practice at Nuriootpa and Bolivar go kart tracks really helped and I was feeling confident.
Round 4 – Mallala Motorsport Park
Wow what an end to the season – qualifying and race 1 saw us have the background of thunder and lightning in very wet conditions. Races 2,3 and 4 were dry and incredibly exciting. I rode in the middle of the pack all weekend trying hard to overtake the front runners but their pace was spectacular.
Looking back over my first ever road racing season with the bLU cRU I finished the junior cup season in 4th place. Unfortunately I didn't have the opportunity to stand on the podium for the bLU cRU this year but was very consistent in my racing and am exceptionally happy to report I never crashed my bike during the season, giving the team a bit of a break from more mechanical work.
This was such an amazing experience, the amount of support and guidance from so many different people was amazing. The On Track Rider training really set me up to have an amazing year on the bike. It was so great I have already registered for January 2023 to get further training and couching to continue developing my riding. To have this opportunity available for so many juniors here in SA, really is creating a positive future for SA Road Racing and I would love to do it all again.
From the bottom of my heart I want to thank all the amazing sponsors that have made this possible. Without you I would never have had such an amazing introduction into what the road racing family is all about. I really can't thank you all enough!!
Bring on next year 2023!
2022 bLU cRU Junior Cup Results: