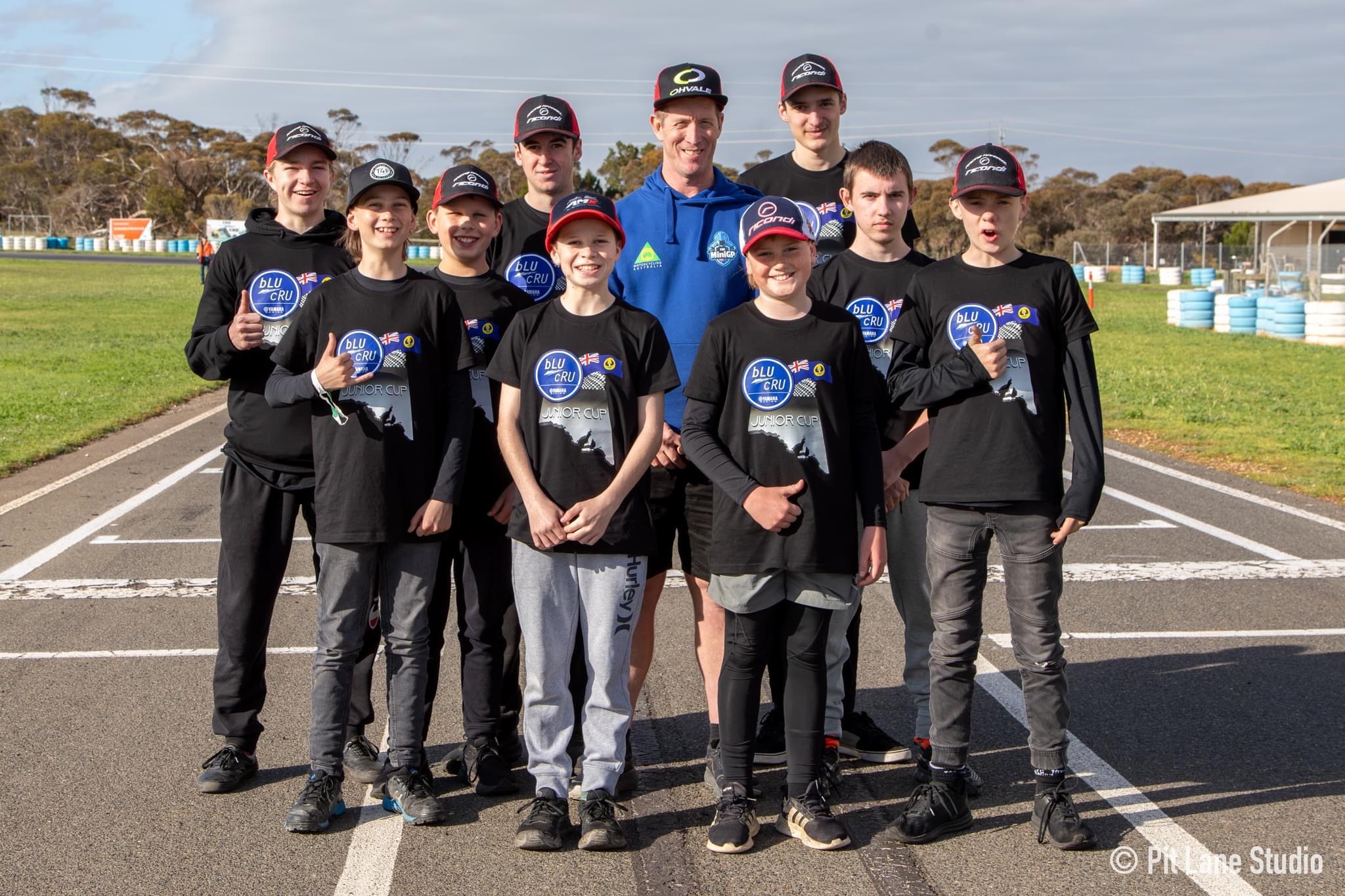 Over the 27th and 28th of August, our own future road racing stars returned to the Monarto Go Kart track for round 4 of the 2023 bLU cRU SA Junior Cup as a support class to the talent of the FIM MiniGP Australia Series. After a full weekend of on-track battles and series points challengers, we caught up with young #68 Lucas Warren to see how his weekend turned out…
Wow, what a weekend full of mixed feelings. I was really looking forward to returning to the Go Kart Club of SA at Monarto for another round of racing. When we were last here back in June 2023 for Round 2, I had my career-best result. I felt there was a bit of pressure to see if I could do it again or not and I did which was awesome!!
Racing on this track is brilliant as this track is not all about straight line speed and slipstreaming, which I find tough on the bigger tracks, this track is truly about your race craft, about how late you can brake, carry speed into the corners and then your exit speed.
Qualifying Saturday morning we had some interesting weather conditions with a very overcast and misty rain drizzling in at times, so during warmups, I went out on wet tyres due to the cold, slippery and greasy conditions.
Come to the first qualifying session most of the other riders had changed to the slick tyres, however, I decided to stick with the wet tyre, along with one other rider, to try and put down a strong time to start off with. I managed to set the second fastest time of the session on the very last lap behind Archie Schmidt. 
Second qualifying I went out on the slick tyre as the track had started to grip up and was a little warmer and dry. I managed to improve my lap time and continued to hold second in qualifying which meant I would be starting in a great position for each race of the weekend.    
In the first race, my nerves were high, and I was focused on getting a good start as this has been something I have been working on. I got a fantastic start and was second behind #69 Archie Schmidt into the first corner. Archie was so quick and was gone in no time, and I held the second position comfortably for the race.  
Race two was similar, but not as good of a start and I was close behind #7 Xayvion Amoy and #27 Cooper Pitt as the race went on. I was closing quickly on Xayvion and Cooper and was able to make a tight pass in turn 5, to finish the race in the second position again. 
Image: 1st Archie Schmidt, 2nd Lucas Warren and 3rd Cooper Pitt                                                                                                           Image: Pit Lane Studio                                     
The third race was the exact same start, and I was behind Xayvion and Cooper, I was able to get around Cooper and started to close the gap to Xayvion. Whilst coming up again to the fastest part of the track for myself, turn 5, unfortunately, I had a mechanical failure and when I went to brake, my front brakes were just not there. This had to be the scariest moment for me, whilst pumping my brakes and stomping on my back brake to try and pull up so I didn't hit Xayvion in front.
Unfortunately, I just couldn't slow down enough, and my front wheel hit Xayvion taking us both down which I feel terrible about as you never want to have mechanical issues and impact others racing. I rushed quickly to get my bike so I could continue the race, finishing this race in position five.  
The bLU cRU SA Junior Cup  team looked at my bike straight away and found the master cylinder needed replacing and my brakes needed more fluid, which was fixed in time for the final race of the weekend.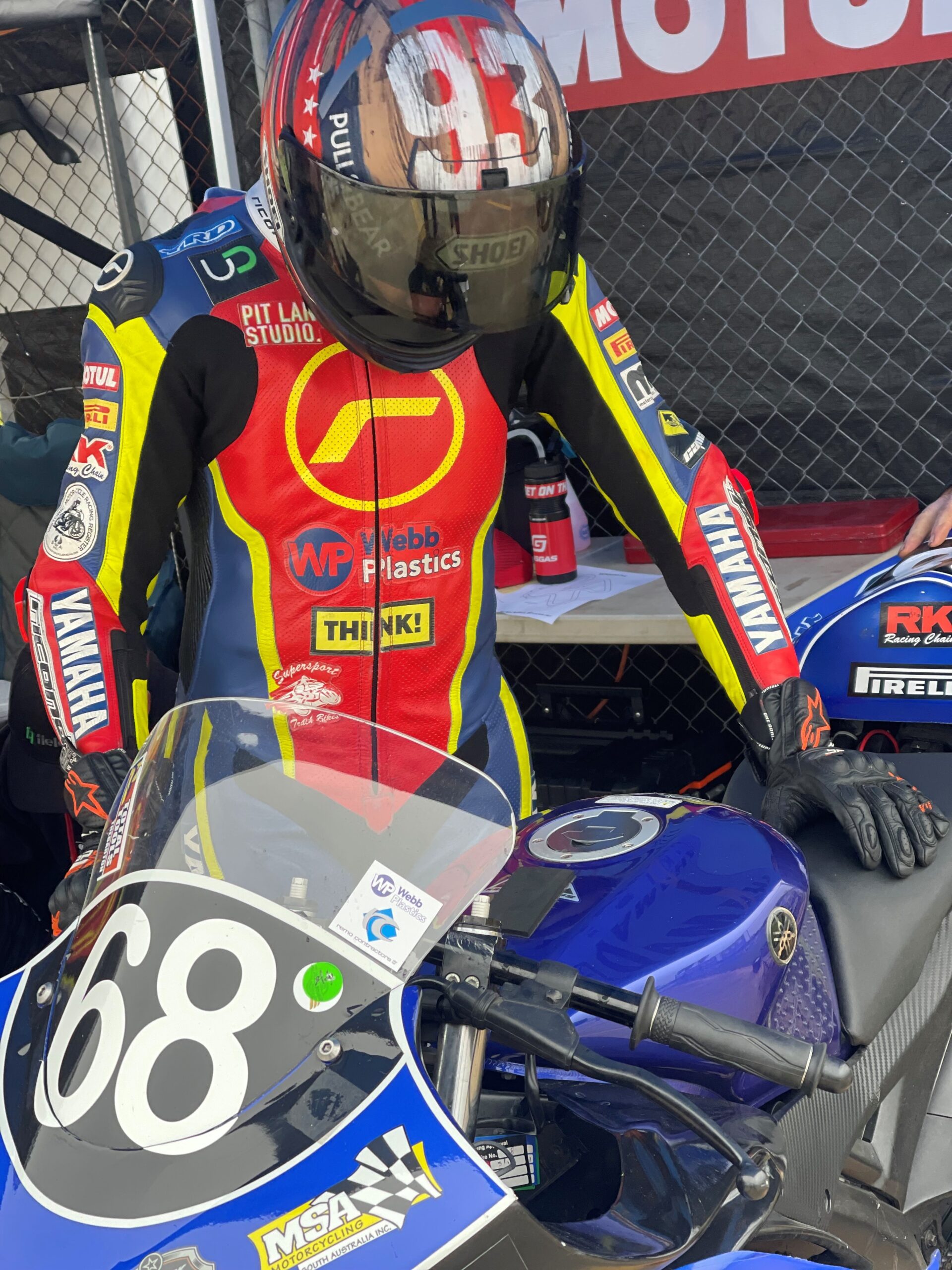 Here we go, the final race of the day – I took a deep breath as I knew I could do this. I got a good start, third into the first corner and that's where I stayed for the entire race.
I finished the weekend in the second position which is the exact same position as in June 2023, but this time I was able to obtain a new PB of 54.1 seconds. Overall, I was not the only one to get new PB's this weekend, with many of us improving on our lap times from the last time we were here.  
I was in the pit next to one of the newer members of bLU cRU SA Junior Cup this year, #42 Josh Schiller. He started the weekend doing lap times over 1 minute, but by the end of the weekend, he absolutely smashed that time by doing 57.5 seconds – how amazing is that!  
Thank you to all of the bLU cRU SA Junior Cup sponsors as without you we couldn't do this sport that we love so much with such ease. Also to the entire bLU cRU SA Junior Cup Team and all the riders and families that are involved in bLU cLU SA Junior Cup, there is just so much support amongst all of us.
With only two rounds to go – I now set my sights to Round 5 at Mac Park, Mt Gambier starting September 29th 2023.
Final outcomes for the weekend were :
Archie Schmidt
Lucas Warren
Cooper Pitt
Read up on the Pit Lane Studio round recap – HERE.
Full results from the weekend – HERE.
2023 bLU cRU SA Junior Cup Points Table:
A huge thank you again to all of our most generous sponsors, without your amazing support this Junior Cup would not be possible.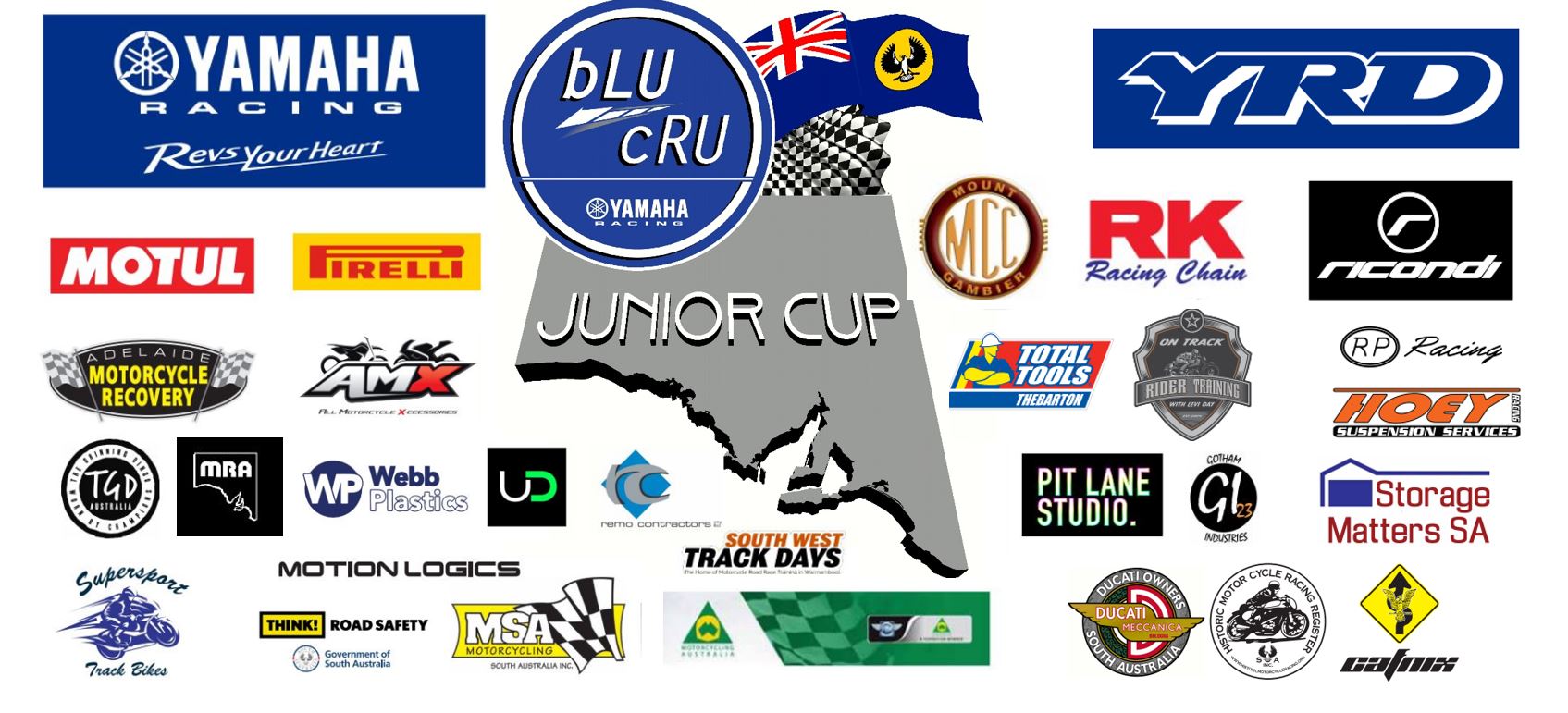 Image: Pit Lane Studio                                                                                      #7 Xayvion Amoy, Image: Pit Lane Studio                                      Image: Pit Lane Studio