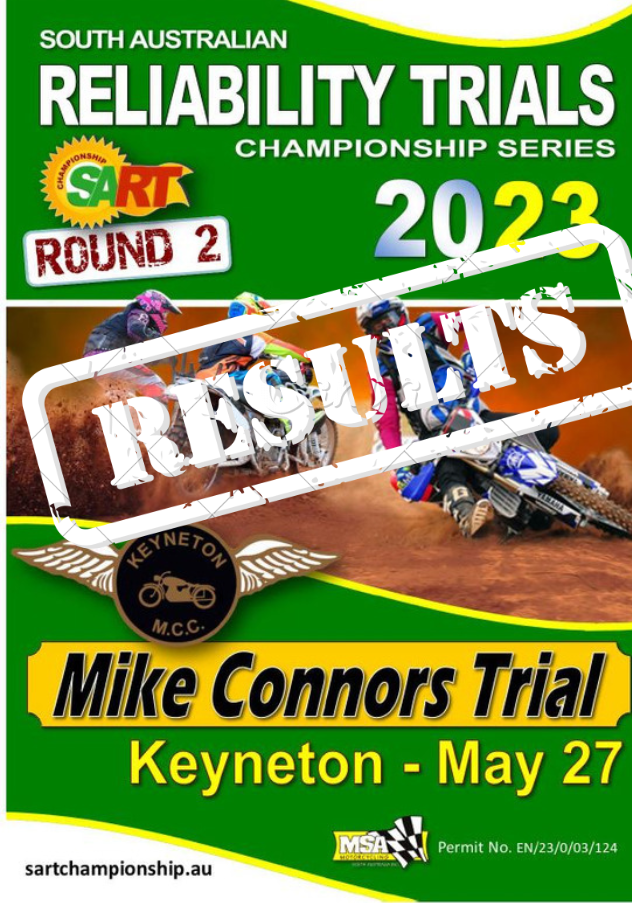 Round 2 of the 2023 SA Reliability Trials Championships – Mike Connors Trial came to  Keyneton last Saturday 27th May, presented by the Keyneton MCC to continue this year's Championship story. With 160 riders taking on a course of 2 laps, with around  6-8 hours of riding time, there was no shortage of excitement felt in control as riders set off for the long day ahead of them in some pretty drizzly conditions. 
Keyneton Progress Association kept spectators, riders and teammates all well-fed from the get-go, right through to the finish and the Keyneton MCC made sure thirsts were quenched and rain wouldn't stop the festivities, with their bar running throughout the afternoon. The course had a bit of everything, including a fair bit of deep bull dust, that even the annoying rain couldn't keep down.
Max Price has a great day in the saddle for Open Solo, finishing up in the top spot with Rowan Pumpa chasing hard to reel him in. Unfortunately, he wasn't able to catch up, settling for second with just 23 seconds behind Max. Adam West rounded out the Open Solo top 3 with a consistent ride, sitting 152 seconds off first place.
Open Sidecar was taken out by Shane Schiller / Brian Anthony, after a cracking day of riding and locking in a time that would put them 30th outright for this round. Even with that time, Max Hutchesson / Sam Hutchesson kept Schiller and Anthony under pressure, finishing just 11 seconds back in second place with Bradley Manuel / Ashley Ball finishing another 11 seconds back in third.
Round 3 of the 2023 SART Championship heads off to Robertstown on June 10th and 11th for the Lew Job 2-Day Trial. This massive weekend is certainly one not to be missed with riders facing all the challenges over a 6 hr day/night format on Saturday and 6 hr daylight trial on Sunday.
Provisional open solo and sidecar results are below, with details and results by class available on the SART website here. (Note these results are provisional for 7 days for competitors to review, the results will be published as final on the Round Results page from Midnight Saturday June 3rd 2023).
Open Solo
| | | | | | | | | |
| --- | --- | --- | --- | --- | --- | --- | --- | --- |
| Pos | No | Name | Class | Lap 1 | Lap 2 | Stages | Total | Gap |
| 1 | 164 | Max Price | A | 2181 | 2206 | 16 | 4387 | +0 |
|  2 | 4 | Rowan Pumpa | A | 2271 | 2139 | 16 | 4410 | +23 |
|  3 |  6 | Adam Wright | A | 2339 | 2199 | 16 | 4539 | +152 |
|  4 |  3 | Clinton Voigt | A | 2356 | 2240 | 16 | 4596 | +209 |
|  5 |  8 | Daniel Prior |  A | 2382 | 2235 | 16 | 4618 | +231 |
|  6 |  9 | Ben Mayne |  A | 2350 | 2271 | 16 | 4622 | +235 |
|  7 |  12 | Alistair Baker |  A | 2304 | 2319 | 16 | 4623 | +236 |
|  8 |  10 | Coan Linke |  A | 2387 | 2249 | 16 | 4636 | +249 |
|  9 |  114 | Samuel Nenasheff |  G | 2325 | 2327 | 16 | 4653 | +266 |
|  10 |  146 | Kurtis Riebke |  F | 2327 | 2337 | 16 | 4664 | +277 |
|  11 |  111 | Jackson Friebel |  G | 2331 | 2339 | 16 | 4670 | +283 |
|  12 |  5 | Damien Jenke |  A | 2417 | 2261 | 16 | 4679 | +292 |
|  13 |  7 | Ryley Mullan |  A | 2392 | 2308 | 16 | 4701 | +314 |
|  14 |  162 | Ryan Heidenreich |  F | 2368 | 2361 | 16 | 4730 | +343 |
|  15 |  2 | Todd Muster |  A | 2477 | 2255 | 16 | 4732 | +345 |
|  16 | 119 | Daniel Fraser |  G | 2377 | 2359 | 16 | 4737 | +350 |
|  17 |  11 | Christopher Shields |  A | 2460 | 2290 | 16 | 4750 | +363 |
|  18 |  96 | Jesse Roesler |  D | 2408 | 2362 | 16 | 4771 | +384 |
|  19 | 140 | Stuart Roydhouse |  F | 2375 | 2403 | 16 | 4778 | +391 |
|  20 |  100 | Tom Couzner |  D | 2419 | 2424 | 16 | 4844 | +457 |
|  21 |  145 | Clayton Fechner |  F | 2409 | 2447 | 16 |  4857 | +470 |
|  22 |  147 | Noah Riebke |  F | 2428 | 2430 | 16 | 4858 | +471 |
|  23 |  106 | Todd Knight |  D | 2463 | 2417 | 16 | 4880 | +493 |
|  24 |  108 | Dwayne Rumsey |  D | 2462 | 2436 | 16 | 4899 | +512 |
|  25 |  135 | Nicholas Schulz |  F | 2465 | 2462 | 16 | 4927 | +540 |
|  26 |  109 | Sam Walter |  D | 2474 | 2461 | 16 | 4935 | +548 |
|  27 |  87 | Shane Church |  V | 2464 | 2474 | 16 | 4939 | +552 |
|  28 |  107 | Liam Jenkins |  D | 2517 | 2428 | 16 | 4945 | +558 |
| 29 | 99 | Jarrad Holmes | D | 2491 | 2457 | 16 | 4948 | +561 |
| 30 | 93 | Matthew Taylor | D | 2466 | 2469 | 16 | 4955 | +568 |
| 31 | 144 | Tyler Read | F | 2479 | 2480 | 16 | 4959 | +572 |
| 32 | 73 | Andrew Dillon | V | 2478 | 2491 | 16 | 4969 | +582 |
| 33 | 155 | Matt Harkness | F | 2452 | 2529 | 16 | 4982 | +595 |
| 34 | 122 | Matthew Lawrence | G | 2525 | 2464 | 16 | 4989 | +602 |
| 35 | 131 | Zane Gerlach | F | 2464 | 2531 | 16 | 4995 | +608 |
| 36 | 105 | Grant Stephen | D | 2500 | 2501 | 16 | 5001 | +614 |
| 37 | 121 | Louis Kerin | G | 2492 | 2510 | 16 | 5002 | +615 |
| 38 | 153 | Jack Wormald | F | 2441 | 2560 | 16 | 5002 | +615 |
| 39 | 94 | William Moore | D | 2504 | 2505 | 16 | 5010 | +623 |
| 40 | 150 | Charley Kerin | F | 2536 | 2477 | 16 | 5013 | +626 |
| 41 | 124 | Jared Plush | G | 2473 | 2545 | 16 | 5019 | +632 |
| 42 | 143 | Lachlan Ratsch | F | 2520 | 2527 | 16 | 5048 | +661 |
| 43 | 129 | Jonathan Zussino | G | 2447 | 2611 | 16 | 5058 | +671 |
| 44 | 86 | Paul Grosser | V | 2553 | 2506 | 16 | 5060 | +673 |
| 45 | 75 | Shayne Bain | V | 2531 | 2528 | 16 | 5060 | +673 |
| 47 | 85 | Duane Woolford | V | 2542 | 2535 | 16 | 5077 | +690 |
| 48 | 84 | Dominic Burman | V | 2561 | 2528 | 16 | 5089 | +702 |
| 49 | 137 | Will Falkenberg | F | 2566 | 2547 | 16 | 5114 | +727 |
| 50 | 120 | Luke Timmins | G | 2456 | 2672 | 16 | 5128 | +741 |
| 51 | 112 | Tyson Clarke | G | 2566 | 2576 | 16 | 5143 | +756 |
| 52 | 154 | Aaron Fetherstonhaugh | F | 2546 | 2601 | 16 | 5148 | +761 |
| 53 | 139 | Corey Redden | F | 2544 | 2604 | 16 | 5148 | +761 |
| 54 | 57 | Greg Slattery | M | 2564 | 2597 | 16 | 5162 | +775 |
| 55 | 161 | Rhys Jenke | F | 2773 | 2393 | 16 | 5166 | +779 |
| 56 | 128 | Chris Thomas | G | 2641 | 2535 | 16 | 5177 | +790 |
| 57 | 156 | Angus Schild | F | 2618 | 2575 | 16 | 5193 | +806 |
| 58 | 81 | Stephen Russack | V | 2614 | 2584 | 16 | 5198 | +811 |
| 59 | 126 | Curtis Russack | G | 2596 | 2615 | 16 | 5212 | +825 |
| 60 | 60 | Brett Hall | M | 2597 | 2618 | 16 | 5216 | +829 |
| 61 | 83 | Simon Evitts | V | 2609 | 2608 | 16 | 5217 | +830 |
| 62 | 159 | Mak Gerlach | F | 2600 | 2636 | 16 | 5236 | +849 |
| 63 | 104 | Anthony Read | D | 2630 | 2635 | 16 | 5265 | +878 |
| 64 | 165 | Mark Harrold | M | 2592 | 2682 | 16 | 5274 | +887 |
| 65 | 113 | Zach Sims | G | 2620 | 2687 | 16 | 5308 | +921 |
| 66 | 80 | Brian Gallasch | V | 2699 | 2629 | 16 | 5328 | +941 |
| 67 | 138 | Keegan May | F | 2610 | 2720 | 16 | 5331 | +944 |
| 68 | 110 | Alex Mcgorman | G | 2624 | 2710 | 16 | 5335 | +948 |
| 69 | 149 | Daniel Kotz | F | 2640 | 2714 | 16 | 5354 | +967 |
| 70 | 127 | Cameron Caruso | G | 2595 | 2766 | 16 | 5361 | +974 |
| 71 | 103 | Sam Sharp | D | 2560 | 2808 | 16 | 5369 | +982 |
| 72 | 115 | Matthew Garbett | G | 2686 | 2684 | 16 | 5370 | +983 |
| 73 | 79 | Brett Farr | V | 2714 | 2662 | 16 | 5377 | +990 |
| 74 | 82 | Gavin Russack | V | 2730 | 2730 | 16 | 5461 | +1074 |
| 75 | 117 | Ethan Pickstock | G | 2693 | 2816 | 16 | 5509 | +1122 |
| 76 | 125 | Dylan Stacey | G | 2745 | 2779 | 16 | 5524 | +1137 |
| 77 | 55 | Steve Sparkes | M | 2730 | 2823 | 16 | 5554 | +1167 |
| 78 | 136 | Flynn Mcgorman | F | 2721 | 2867 | 16 | 5588 | +1201 |
| 79 | 91 | Craig Broome | V | 2793 | 2808 | 16 | 5602 | +1215 |
| 80 | 54 | Stephen Tomlinson | M | 2713 | 2891 | 16 | 5605 | +1218 |
| 81 | 90 | David Gallasch | V | 2804 | 2820 | 16 | 5625 | +1238 |
| 82 | 67 | Paul Collins | P1 | 2838 | 2806 | 16 | 5645 | +1258 |
| 83 | 102 | Daniel Garbett | D | 2462 | 3190 | 16 | 5653 | +1266 |
| 84 | 92 | Mark Zussino | V | 2812 | 2846 | 16 | 5659 | +1272 |
| 85 | 70 | Ian Kakoschke | P1 | 2744 | 2969 | 16 | 5714 | +1327 |
| 86 | 157 | Wade Braun | F | 2782 | 2971 | 16 | 5754 | +1367 |
| 87 | 152 | Robert Parvin | F | 2821 | 3007 | 16 | 5828 | +1441 |
| 88 | 88 | Adam Toolan | V | 2950 | 2893 | 16 | 5843 | +1456 |
| 89 | 130 | Sani Pfeiffer | F | 2838 | 3006 | 16 | 5844 | +1457 |
| 90 | 158 | Jaimee Heidenreich | F | 2880 | 2967 | 16 | 5848 | +1461 |
| 91 | 63 | Jonathan Moore | M | 2873 | 3058 | 16 | 5931 | +1544 |
| 92 | 64 | Mike Wormald | M | 2942 | 3003 | 16 | 5945 | +1558 |
| 93 | 51 | Chloe Barton | L1 | 2974 | 2994 | 16 | 5968 | +1581 |
| 94 | 74 | David Johnson | V | 2972 | 3032 | 16 | 6005 | +1618 |
| 95 | 134 | Michael Johnson | F | 3029 | 3092 | 16 | 6122 | +1735 |
| 96 | 98 | Damon Kiely | D | 3043 | 3084 | 16 | 6127 | +1740 |
| 97 | 68 | James Zussino | P1 | 3037 | 3140 | 16 | 6177 | +1790 |
| 98 | 62 | Mark Taylor | M | 3040 | 3139 | 16 | 6179 | +1792 |
| 99 | 71 | Richard Prusa | V | 3082 | 3097 | 16 | 6180 | +1793 |
| 100 | 61 | Allan Briscoe | M | 3183 | 3067 | 16 | 6259 | +1872 |
| 101 | 89 | Paul Schupelius | V | 3152 | 3109 | 16 | 6261 | +1874 |
| 102 | 95 | Dean Abdilla | D | 3116 | 3212 | 16 | 6328 | +1941 |
| 103 | 56 | Paul Rumsey | M | 3138 | 3229 | 16 | 6368 | +1981 |
| 104 | 69 | Kevin Steinert | P1 | 3167 | 3208 | 16 | 6376 | +1989 |
| 105 | 76 | Rod Gorton | V | 3194 | 3187 | 16 | 6381 | +1994 |
| 106 | 151 | Scott Rowe | F | 3160 | 3302 | 16 | 6462 | +2075 |
| 107 | 141 | Paul Van Der Heiden | F | 3181 | 3467 | 16 | 6648 | +2261 |
| 108 | 50 | Leticia Foster | L1 | 3662 | 3749 | 16 | 7411 | +3024 |
| 109 | 58 | Colin Jenke | M | 3707 | 3825 | 16 | 7532 | +3145 |
| 110 | 59 | Phillip Altschwager | M | 3721 | 3907 | 16 | 7629 | +3242 |
| 111 | 65 | Cornelius Twist | M | 3971 | 3986 | 16 | 7957 | +3570 |
| 112 | 53 | Anita Boston | L1 | 3989 | 4188 | 16 | 8177 | +3790 |
| 113 | 52 | Lauren Freeman | L1 | 4208 | 4491 | 16 | 8700 | +4313 |
| DNF | 97 | Josh Feltus | D | 3014 | 3057 | 14 | 6072 | |
| DNF | 163 | Jayden Rudd | A | 2250 | 1367 | 13 | 3617 | |
| DNF | 160 | Henry Obrien | F | 2521 | 1978 | 11 | 4499 | |
| DNF | 123 | Joshua Kleemann | G | 2513 | 0 | 8 | 2513 | |
| DNF | 78 | Stephen Needham | V | 2619 | 0 | 8 | 2619 | |
| DNF | 66 | Dale Hanlon | M | 4053 | 0 | 8 | 4053 | |
| DNF | 101 | Mingyu Zhao | D | 4619 | 0 | 8 | 4619 | |
| DNF | 133 | Deklan Coppen | F | 3775 | 0 | 7 | 3775 | |
| DNF | 132 | Marcus Coppen | F | 1800 | 0 | 5 | 1800 | |
| DNF | 116 | Stuart Reimann | G | 1900 | 0 | 5 | 1900 | |
| DNF | 1 | Zack Tremaine | A | 1339 | 0 | 4 | 1339 | |
| DNF | 148 | Kipp Elsworthy | F | 858 | 0 | 3 | 858 | |
| DNS | 72 | Darren Stewart | V | 0 | 0 | 0 | 0 | |
| DNS | 77 | Kevin Lonsdale | V | 0 | 0 | 0 | 0 | |
| DNS | 142 | Richard Hutt | F | 0 | 0 | 0 | 0 | |
Open Sidecar:
| | | | | | | | | |
| --- | --- | --- | --- | --- | --- | --- | --- | --- |
| Pos | No | Name | Class | Lap 1 | Lap 2 | Stages | Total | Gap |
| 1 | 13 | Shane Schiller / Brian Anthony | C | 2466 | 2487 | 16 | 4953 | +0 |
|  2 | 18 | Max Hutchesson / Sam Hutchesson | C | 2494 | 2469 | 16 | 4964 | +11 |
|  3 | 21 | Bradley Manuel / Ashley Ball | C | 2514 | 2460 | 16 | 4974 | +21 |
|  4 | 14 | Ross Watson / Cooper Winter | C | 2575 | 2505 | 16 | 5081 | +128 |
|  5 | 19 | Shane Beckmann / Adam Brook | C | 2543 | 2538 | 16 | 5082 | +129 |
|  6 | 17 | Daniel Plowman / Bradley Brook | C | 2562 | 2523 | 16 | 5085 | +132 |
|  7 | 20 | Jarred Beckmann / Sean Schrapel | C | 2618 | 2563 | 16 | 5181 | +228 |
|  8 | 15 | Mark Launer / Tyson Rohrlach | C | 2601 | 2597 | 16 | 5198 | +245 |
|  9 | 24 | Shaun Buckley / Brett Harding | K | 2623 | 2588 | 16 | 5211 | +258 |
|  10 | 16 | Matthew Neldner / Aiden Wilksch | C | 2587 | 2638 | 16 | 5226 | +273 |
|  11 | 25 | Neil White / Jason Edson | J | 2677 | 2714 | 16 | 5391 | +438 |
|  12 | 32 | Gary Waldhuter / James Waldhuter | J | 2708 | 2690 | 16 | 5398 | +445 |
|  13 | 22 | Zak Smith / Brendon Noble | K | 2669 | 2732 |  16 | 5401 | +448 |
|  14 | 28 | David Pratt / Adrian Rohrlach | J | 2751 | 2672 |  16 | 5424 | +471 |
|  15 | 27 | Kristy Schultz / Ayla Plowman | L2 | 2757 | 2689 |  16 | 5447 | +494 |
|  16 | 31 | James Rowe / Michael Schiller | K | 2748 | 2756 |  16 | 5504 | +551 |
|  17 | 33 | Paul Russack / Joe Noble | K | 2822 | 2781 |  16 | 5603 | +650 |
|  18 | 29 | Christopher Paunola / Alex Turner | K | 2884 | 2820 |  16 | 5705 | +752 |
|  19 | 35 | John Davies / Kym Menadue | J | 2873 | 2883 |  16 | 5756 | +803 |
|  20 | 34 | Jamie Giles / Cooper Giles | K | 2871 | 2890 |  16 | 5761 | +808 |
|  21 | 39 | Adam Buckley / Kym Schunke | K | 2919 | 2903 |  16 | 5823 | +870 |
|  22 | 36 | Barry Buckley / Todd Blackwell | J | 2943 | 2901 |  16 | 5844 | +891 |
|  23 | 38 | Colin Simpson / Matt Schutz | J | 2943 | 2959 |  16 | 5902 | +949 |
|  24 | 40 | Shane Noble / Alison Fuller | J | 2971 | 3079 |  16 | 6051 | +1098 |
|  25 | 23 | Aaron Saegenschnitter / Ryan Pritchard | K | 3329 | 2757 |  16 | 6086 | +1133 |
|  26 | 42 | Roger Greenhalgh / Barbara Greenhalgh | J | 3001 | 3089 |  16 | 6091 | +1138 |
|  27 | 37 | Anthony Weckert / Damien Nash | J | 3176 | 3312 |  16 | 6488 | +1535 |
|  28 | 41 | Caroline Wilksch / Melissa Paunola | L2 | 3312 | 3264 |  16 | 6576 | +1623 |
| 29 | 45 | Antony Shanks / Duncan Greenhalgh | J | 3320 | 3361 |  16 | 6681 | +1728 |
| 30 | 43 | Elouise Dohse / Tianna Dohse | L2 | 3464 | 3295 |  16 | 6759 | +1806 |
| 31 | 46 | Tony Codrington / Adam Lange | P2 | 3473 | 3388 |  16 | 6862 | +1909 |
| 32 | 47 | Jason Whitfield / Jamie O'Brien | P2 | 3614 | 3549 |  16 | 7164 | +2211 |
| DNF | 26 | Michael Kerin / Josh Schutz | K | 2709 | 1336 | 12 | 4045 | |
| DNF | 44 | Aaron Silvy / Jaron Silvy | K | 2606 | 0 | 6 | 2606 | |
| DNS | 30 | Shane Diener / Nathan Saegenschnitter | K | 0 | 0 | 0 | 0 | |