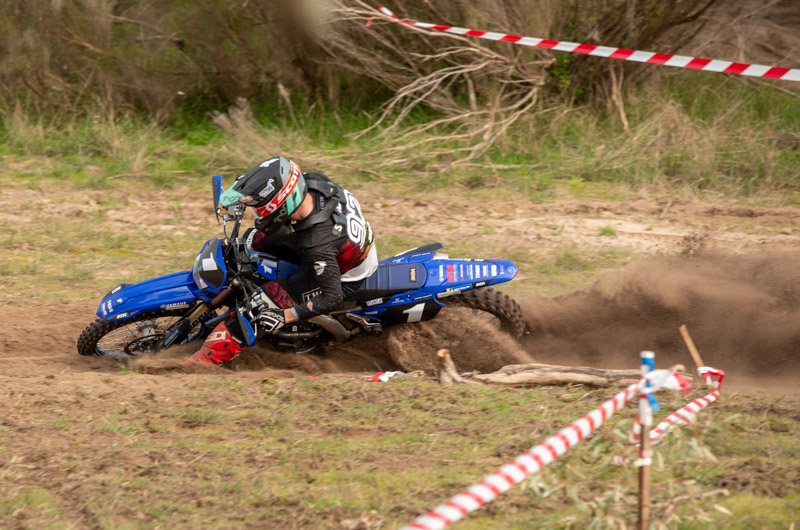 Over the weekend of the 15th and 16th of July, the SA Off Road Championships made a long-awaited return for a new 2023 Championship season. A treat for riders and spectators the Keith and District Motorcycle Club put in exceptional behind-the-scenes work to bring a brand new course and venue in Culburra for Rounds 1 and 2. With the new additions, there are still iconic fan favourites making the return for 2023, we are very fortunate to have both WSB Distributors and Painttech continue their support of the SA Off Road Championships.
With the weather finally changing from the wet muddy conditions and turning it on for the weekend, over 170 riders converged to the course ready for everything that was going to be thrown at them over the 2 days.
A Saturday cross-country format course met riders eager to get those early Championship points. Most riders and their support crew opted to camp at the track the Saturday night whilst many surrounding towns generously rolled out the welcome mat to scores of Off-Road racing spectators, looking for a full weekend getaway experience. Rounding out the weekend with a well earned challenge, a fast-paced sprint format race greeted riders and spectators on Sunday with juniors powering through a 5km course and seniors tested on an 8km course. Of course, in between races, there were plenty of rider catch-ups and course chats throughout the pits.
Appreciation shout-outs must go to the Johnson Family of Tintinara who have been extremely supportive, giving up land to host an inaugural venue for this year's round 1 & 2 events. Their allowance for the Keith and District MCC and volunteers to enter and carryout anything required to building a new track is much appreciated. A big thank you to, Andrew and Sally, Eddie & Will.
We want to send a special thank you to the Frank Fatchen Cartage, Contract & Earthmoving! Leigh, Lisa and their kids have put in countless hours to make the 2023 SAORC rounds 1 & 2 such a success through the donation of machinery, fuel and time.
The 2023 SA Off road Championships continue onto Keyneton over the 26th and 27th of August for rounds 3 and 4 with riders already gearing up for some pretty tight down to the line racing.
2023 SAORC Round 1 Cross Country Full Results – HERE.
2023 SAORC Round 1 Cross Country Full Results – HERE.
Thanks to Eric McConnochie for the pictures of all the action throughout the weekend.