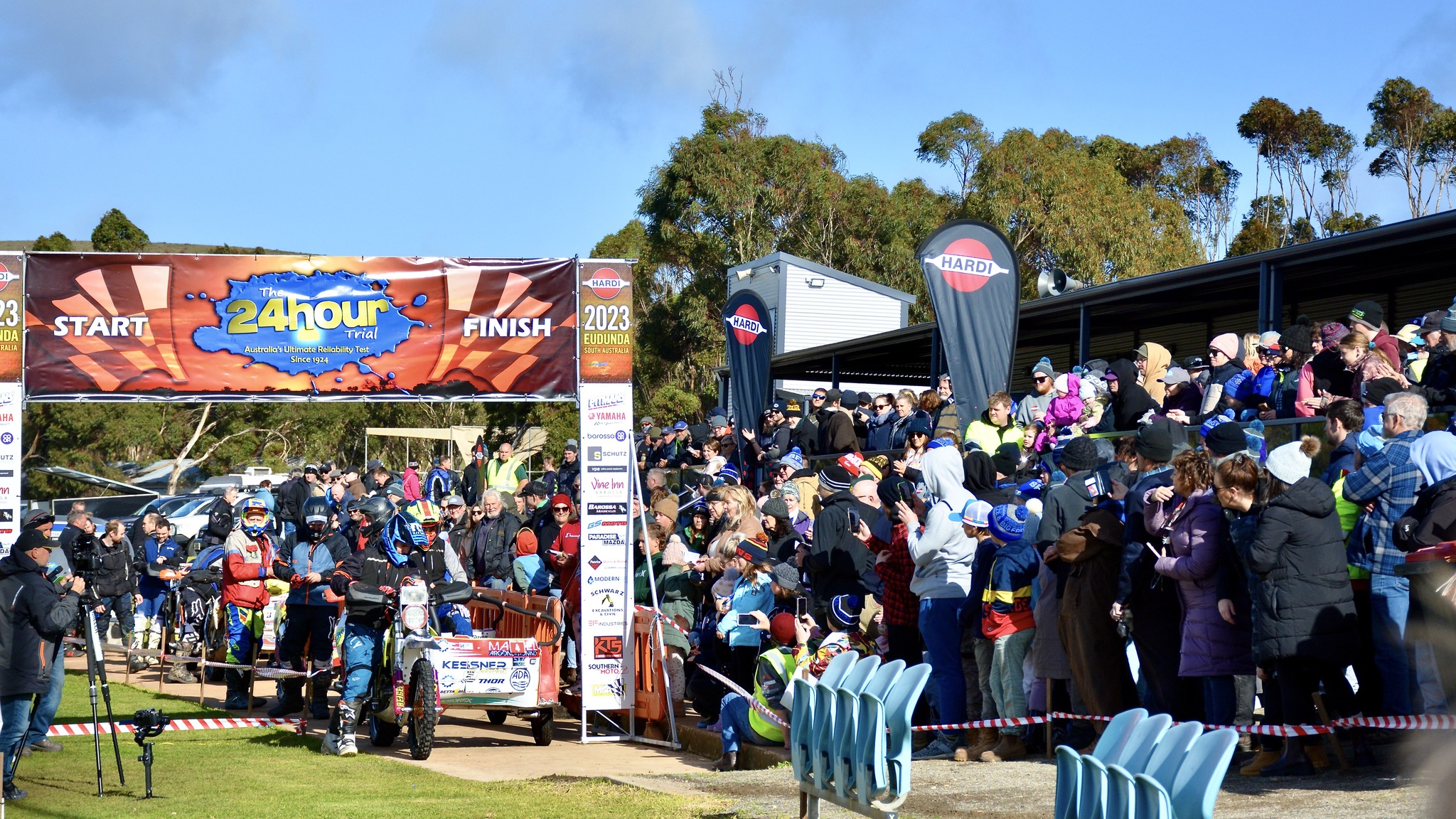 The weather was wild with high winds and rain showers, which is usually a good excuse to stay indoors for the weekend. However, this did not stop hundreds of spectators converging at the Eudunda Oval for the start of the 2023 HARDI 24 Hour Trial. Beginning at 11:01am Saturday, minute-by-minute, 164 competitors started on 133 machines, which includes 31 sidecars and 102 solos. Some described The course as 'brutal' due to dry conditions in some areas exposing rocks and winds causing havoc with course marking.
The Did-Not-Finish list totalled 53 machines by the finish on Sunday afternoon, with 80 completing the full event. Many Sidecars that did finish limped home with mechanical issues. Provisional results show that in Open Solos, #83 Cooper Sheidow, who always looked in command, pulled off a convincing provisional win with 22095 points, ahead of 2nd place #79 Sean Throup with 23284 and 3rd #90 Jamie Banks – 23363 points. In Open Sidecars, #6 Shane 'Crash' Schiller and Steven 'Stiff' Doecke, while sitting in second place for most of the trial, put in a blistering 4th lap to take the provisional win in the final section by 11 seconds with a total of 26094 points. #8 Max Hutchesson and Sam Hutchesson took second place with 26105 points after battling with Crash and Stiff all night. 3rd place was claimed by #4 Bradley Manuel and Ash Ball with 26990 points.
Full provisional results are available at www.24hrtrial.com The organising committee would like to thank the hundreds of people involved in ensuring a successful event including volunteers, officials, control keepers, caterers, medical staff, fuel suppliers, landowners, Eudunda Sporting club, the Regional Council of Goyder and all others. The 2023 HARDI 24 Hour Trial Presentation Night was at 7:30pm Saturday July 15th 2023 at the Vine Inn Barossa, Nuriootpa. Preparations are continuing for the 24 Hour Trial Centenary in 2024, celebrating the oldest motorcycling event in Australia.
Thanks go out to SandPlow Photography for the photos of all the weekend action and congratulations to all the 24 Trial Committee for another fantastic year.
#6 Shane 'Crash' Schiller/ Steven 'Stiff' Doecke leaving control                  #17 Kristy Schultz and Ayla Plowman doing it for the ladies.
on their way for their 2023  journey.
Final Outright Results for the 99th Anniversary Hardi 24 Hour:
Open Sidecar
| | | | | | | | | | | |
| --- | --- | --- | --- | --- | --- | --- | --- | --- | --- | --- |
| Place | Number | Name | | Lap 1 | Lap 2 | Lap 3 | Lap 4 | Stages | Total | Gap |
| 1. | 6 | Shane Schiller / Steven Doecke | C | 6261 | 6496 | 6782 | 6555 | 48 | 26094 | +0 |
| 2. | 8 | Max Hutchesson / Sam Hutchesson | C | 6122 | 6503 | 6771 | 6709 | 48 | 26105 | +11 |
| 3. | 4 | Bradley Manuel / Ashley Ball | C | 6433 | 6605 | 6863 | 7089 | 48 | 26990 | +896 |
| 4. | 1 | Shane Beckmann / Adam Brook | C | 6649 | 6698 | 7010 | 7121 | 48 | 27478 | +1384 |
| 5. | 3 | Daniel Plowman / Bradley Brook | C | 6470 | 6689 | 7763 | 6921 | 48 | 27843 | +1749 |
| 6. | 7 | Matthew Neldner / Aiden Wilksch | C | 6714 | 6992 | 7384 | 7303 | 48 | 28393 | +2299 |
| 7. | 17 | Kristy Schultz / Ayla Plowman | K | 7065 | 7564 | 7881 | 7419 | 48 | 29929 |  +3835 |
| 8. | 19 | Zak Smith / Brendan Noble | K | 6771 | 7564 | 8071 | 7743 | 48 | 30149 | +4055 |
| 9. | 29 | Cameron Donald / Clint Grabham | J | 7639 | 8037 | 8384 | 8600 | 48 | 32660 | +6566 |
| 10. | 5 | Shaun Blenkiron / Nathan Saegenschnitter | c | 7786 | 9296 | 8341 | 7684 | 48 | 33107 | +7013 |
| 11. | 21 | Aaron Silvy / Jaron Silvy | K | 9563 | 10923 | 10922 | 11885 | 48 | 43293 | +17199 |
| DNF | 24 | Anthony Weckert / Damien Nash | J | 8594 | 10375 | 12093 | 16122 | 48 | 47184 | – |
| DNF | 11 | Russell Bailey / Marc Oxley | K | 6981 | 7347 | 8049 | 5068 | 44 | 27445 | – |
| DNF | 30 | David Pratt / Adrian Rohrlach | J | 7101 | 7641 | 8168 | 4635 | 41 | 27545 | – |
| DNF | 28 | Shane Noble / Alison Fuller | J | 7859 | 8832 | 8792 | 0 | 34 | 25483 | – |
| DNF | 12 | Aaron Saegenschnitter / Ryan Pritchard | K | 6854 | 7496 | 3918 | 0 | 30 | 18268 | – |
| DNF | 23 | Gary Waldhuter / James Waldhuter | J | 8329 | 7599 | 1968 | 0 | 28 | 17896 | – |
| DNF | 30 | Shaun Buckley / Brett Harding | K | 6696 | 7375 | 0 |  0 | 24 | 14071 | – |
| DNF | 10 | Darren Winter / Cooper Winter | C | 8699 | 10526 | 0 |  0 | 24 | 19225 | – |
| DNF | 16 | Jamie Giles / Joe Noble | K | 7548 | 10769 |  0 |  0 | 22 | 18317 | – |
| DNF | 14 | Christopher Paunola / Alex Turner | K | 7197 | 5174 |  0 |  0 | 20 | 12371 | – |
| DNF | 15 | James Rowe / Michael Schiller | K | 7218 | 5252 |  0 |  0 | 20 | 12470 | – |
| DNF | 27 | Colin Simpson / Matthew Schutz | J | 7758 | 5467 |  0 |  0 | 20 | 13225 | – |
| DNF | 9 | Jarred Beckmann / Sean Schrapel | C | 8838 | 4692 |  0 |  0 | 18 | 13530 | – |
| DNF | 20 | Jason Whitfield / Jamie O'Brien | K | 10331 | 3079 |  0 |  0 | 16 | 13410 | – |
| DNF | 25 | Barry Buckley / Hector Evans | J | 7675 | 951 |  0 |  0 | 14 | 8626 | – |
| DNF | 18 | Michael Kerin / Josh Schutz | K | 6882 | 0 |  0 |  0 | 12 | 6882 | – |
| DNF | 26 | John Davies / Kym Menadue | J | 7624 | 0 |  0 |  0 | 12 | 7624 | – |
| DNF | 22 | Adam Buckley / Kym Schunke | K | 8696 | 0 |  0 |  0 | 12 | 8696 | – |
| DNF | 31 | Tony Codrington / Adam Lange | J | 5422 | 0 |  0 |  0 | 7 | 5422 | |
| DNF | 2 | Mark Launer / Tyson Rohrlach | C | 5588 |  0 |  0 |  0 | 6 | 5588 | |
Open Solo
| | | | | | | | | | | | |
| --- | --- | --- | --- | --- | --- | --- | --- | --- | --- | --- | --- |
| Place | Number | Name | | Lap 1 | Lap 2 | Lap 3 | Lap 4 | Stages | Total | Gap | |
| 1. | 83 | Cooper Sheidow | A | 5266 | 5641 | 5753 | 5435 | 48 | 22095 | +0 | |
| 2. | 79 | Sean Throup | A | 5505 | 6359 | 5933 | 5487 | 48 | 23284 | +1189 | |
| 3. | 90 | Jamie Banks | A | 5670 | 5933 | 6041 | 5719 | 48 | 23363 | +1268 | |
| 4. | 80 | Clinton Voigt | A | 5637 | 6000 | 6259 | 5830 | 48 | 23726 | +1631 | |
| 5. | 87 | Daniel Prior | A | 5715 | 6102 | 6192 | 5933 | 48 | 23942 | +1847 | |
| 6. | 95 | Jacob Smith | A | 5676 | 6110 | 6384 | 6028 | 48 | 24198 | +2103 | |
| 7. | 84 | Anthony Diener | A | 5731 | 6127 | 6407 | 5934 | 48 | 24199 | +2104 | |
| 8. | 82 | Adam Wright | A | 5795 | 6172 | 6316 | 5994 | 48 | 24277 | +2182 | |
| 9. | 81 | Todd Muster | A | 5795 | 6046 | 6325 | 6359 | 48 | 24525 | +2430 | |
| 10. | 86 | Jesse Lange | A | 5833 | 6286 | 6586 | 6429 | 48 | 25134 | +3039 | |
| 11. | 88 | Sam Wegener | A | 6016 | 6396 | 6563 | 6275 | 48 | 25250 | +3155 | |
| 12. | 124 | Rhys Jenke | CL | 6011 | 6562 | 6553 | 6287 | 48 | 25413 | +3318 | |
| 13. | 94 | Ben Mayne | A | 5819 | 6245 | 6741 | 6621 | 48 | 25426 | +3331 | |
| 14. | 109 | Charley Kerin | CO | 6279 | 6454 | 6536 | 6222 | 48 | 25491 | +3396 | |
| 15. | 92 | Ryley Mullan | A | 5988 | 6660 | 6631 | 6276 | 48 | 25555 | +3460 | |
| 16. | 113 | Samuel Nenasheff | CO | 6539 | 6476 | 6518 | 6122 | 48 | 25655 | +3560 | |
| 17. | 112 | Ryan Heidenreich | CO | 6411 | 6509 | 6756 | 6310 | 48 | 25986 | +3891 | |
| 18. | 115 | Dwayne Rumsey | CL | 6177 | 6616 | 6841 | 6463 | 48 | 26097 | +4002 | |
| 19. | 130 | Clayton Fechner | CL | 6415 | 6752 | 6981 | 6593 | 48 | 26741 | +4646 | |
| 20. | 93 | Sean Smith | A | 6133 | 6831 | 6968 | 6897 | 48 | 26829 | +4734 | |
| 21. | 117 | Noah Riebke | CL | 6377 | 6964 | 7179 | 6663 | 48 | 27183 | +5088 | |
| 22. | 54 | Warrick Doecke | CO | 6191 | 7014 | 7310 | 6950 | 48 | 27465 | +5370 | |
| 23. | 55 | Nathan Freeman | CO | 6232 | 7485 | 7173 | 6600 | 48 | 27490 | +5395 | |
| 24. | 104 | Simon Haydon | CL | 6542 | 6941 | 7305 | 6865 | 48 | 27653 |  +5558 | |
| 25. | 89 | Tysen Haley | A | 6297 | 7279 | 7401 | 6783 | 48 | 27760 | +5665 | |
| 26. | 102 | David Schwarz | V | 6553 | 7050 | 7291 | 6973 | 48 | 27867 | +5772 | |
| 27. | 107 | Jack Wormald | CO | 6393 | 7138 | 7494 | 6855 | 48 | 27880 | +5785 | |
| 28. | 127 | Angus Schild | CO | 6481 | 7154 | 7477 | 6813 | 48 | 27925 | +5830 | |
| 29. | 47 | William Moore | CO | 6544 | 7320 | 7256 | 6968 | 48 | 28088 |  +5993 | |
| 30. | 43 | Alex Doecke | CO | 6576 | 7038 | 7460 | 7156 | 48 | 28230 | +6135 | |
| 31. | 144 | Aiden Thompson | CO | 6560 | 7259 | 7496 | 6956 | 48 | 28271 |  +6176 | |
| 32. | 145 | Joshua Kleemann | CO | 6678 | 7238 | 7496 | 6864 | 48 | 28276 | +6181 | |
| 33. | 157 | Daniel Pizzey | CO | 6393 | 7404 | 7947 | 6690 | 48 | 28434 | +6339 | |
| 34. | 151 | Grant Stephen | CO | 6515 | 7316 | 7624 | 7162 | 48 | 28617 | +6522 | |
| 35. | 114 | Kurtis Riebke | CL | 6072 | 6585 | 9661 | 6416 | 48 | 28734 | +6639 | |
| 36. | 132 | Nicholas Schulz | CL | 6939 | 7227 | 7490 | 7356 | 48 | 29012 | +6917 | |
| 37. | 57 | Chris Thomas | CO | 6600 | 7660 | 7617 | 7351 | 48 | 29228 | +7133 | |
| 38. | 59 | Duane Woolford | V | 6420 | 7696 | 7821 | 7323 | 48 | 29260 | +7165 | |
| 39. | 108 | Brett Hall | M | 6482 | 7571 | 7864 | 7401 | 48 | 29318 | +7223 | |
| 40. | 45 | Greg slattery | M | 6821 | 7295 | 7644 | 7562 | 48 | 29322 | +7227 | |
| 41. | 53 | Jared Plush | CO | 6590 | 7400 | 7824 | 7518 | 48 | 29332 | +7237 | |
| 42. | 103 | Louis Kerin | CO | 7075 | 6908 | 7280 | 8221 | 48 | 29484 | +7389 | |
| 43. | 101 | Hayden Burgemeister | CO | 7093 | 7405 | 7542 | 7490 | 48 | 29530 | +7435 | |
| 44. | 154 | Shaun Harman | V | 6324 | 6876 | 9063 | 7392 | 48 | 29655 |  +7560 | |
| 45. | 123 | Byron Hoffmann | CO | 6808 | 7962 | 7275 | 7695 | 48 | 29740 | +7645 | |
| 46. | 134 | Simon Pilepich | CL | 7072 | 7667 | 7880 | 7159 | 48 | 29778 | +7683 | |
| 47. | 136 | Mark Harrold | M | 6971 | 7756 | 7886 | 7450 | 48 | 30063 | +7968 | |
| 48. | 149 | Joe Roberts | CO | 7165 | 8265 | 7647 | 7304 | 48 | 30381 | +8286 | |
| 49. | 72 | Todd Jones | CO | 7482 | 7469 | 8067 | 7470 | 48 | 30488 | +8393 | |
| 50. | 122 | Samuel Russack | CO | 7185 | 7997 | 8344 | 7719 | 48 | 31245 | +9150 | |
| 51. | 140 | Samuel Bykow | CO | 7139 | 7857 | 8273 | 8074 | 48 | 31343 | +9248 | |
| 52. | 50 | Daniel Kotz | CL | 6835 | 7865 | 8660 | 7998 | 48 | 31358 | +9263 | |
| 53. | 146 | Keegan May | CO | 7127 | 8163 | 8210 | 7923 | 48 | 31423 | +9328 | |
| 54. | 120 | Joel Schutz | CO | 6816 | 8307 | 8768 | 7584 | 48 | 31475 | +9380 | |
| 55. | 137 | Simon Evitts | V | 7738 | 8330 | 8568 | 7680 | 48 | 32316 | +10221 | |
| 56. | 61 | Brodie Allsopp | CO | 7044 | 8135 | 8327 | 9266 | 48 | 32772 | +10677 | |
| 57. | 133 | Deklan Coppen | CO | 7471 | 8421 | 8836 | 8170 | 48 | 32898 | +10803 | |
| 58. | 66 | Sani Pfeiffer | CO | 7414 | 8405 | 8974 | 8415 | 48 | 33208 | +11113 | |
| 59. | 71 | Heidi Giersch | L | 7663 | 8262 | 8988 | 8377 | 48 | 33290 |  +11125 | |
| 60. | 128 | Marcus Coppen | CO | 7167 | 9236 | 9094 | 7852 | 48 | 33349 | +11254 | |
| 61. | 153 | Saxon Kearns | CO | 7759 | 9549 | 8797 | 7487 | 48 | 33592 |  +11497 | |
| 62. | 70 | Jason Poznic | V | 7571 | 8406 | 8761 | 8953 | 48 | 33691 | +11596 | |
| 63. | 129 | Ethan Pickstock | CO | 7460 | 8656 | 8910 | 8943 | 48 | 33969 | +11847 | |
| 64. | 143 | Adam Toolan | V | 7731 | 9213 | 9121 | 8379 | 48 | 34444 | +12349 | |
| 65. | 135 | James Crosbie | CO | 8202 | 8905 | 9190 | 8683 | 48 | 34980 |  +12885 | |
| 66. | 48 | Stephen Tomlinson | M | 7452 | 8603 | 9778 | 9159 | 48 | 34992 | +12897 | |
| 67. | 147 | Allan Briscoe | M | 8203 | 9054 | 9761 | 9393 | 48 | 36411 | +14316 | |
| 68. | 67 | Phil Hodgens | V | 8282 | 9695 | 10241 | 8986 | 48 | 37204 |  +15109 | |
| 69. | 138 | Jack Hogan | CL | 9245 | 9777 | 9972 | 9614 | 48 | 38608 | +16513 | |
| DNF | 121 | Jesse Roesler | CL | 6030 | 7407 | 7074 | 4215 | 44 | 24726 | – | |
| DNF | 150 | Dean Abdilla | CO | 7024 | 7752 | 8630 | 5243 | 44 | 28649 | – | |
| DNF | 105 | Mitchell Sims | CO | 7061 | 7774 | 7873 | 2678 | 40 | 25386 |  – | |
| DNF | 141 | Bradley Tom | V | 7267 | 7876 | 8456 |  0 | 36 | 23599 | – | |
| DNF | 46 | Ian Kakoschke | V | 6520 | 7289 | 3814 |  0 | 30 | 17623 | – | |
| DNF | 110 | Liam Jenkins | CO | 6616 | 7554 | 3534 |  0 | 30 | 17704 | – | |
| DNF | 85 | Damien Jenke | A | 5678 | 6338 |  0 |  0 | 24 | 12016 |  – | |
| DNF | 96 | Scott Irrgang | A | 6254 | 6724 |  0 |  0 | 24 | 12978 | – | |
| DNF | 158 | Tyson Clarke | CO | 6664 | 7593 |  0 |  0 | 24 | 14257 | – | |
| DNF | 64 | Jason Mitchell | CO | 6640 | 7838 |  0 |  0 | 24 | 14478 | – | |
| DNF | 60 | Steve Sparkes | M | 7134 | 8474 |  0 |  0 | 24 | 15608 |  – | |
| DNF | 125 | Nicholas Schutz | CO | 7448 | 9868 |  0 |  0 | 24 | 17316 | – | |
| DNF | 156 | Richard Prusa | V | 8495 | 9053 |  0 |  0 | 22 | 17548 | – | |
| DNF | 65 | Liam Sander | CO | 6087 | 6193 |  0 |  0 | 21 | 12280 | – | |
| DNF | 142 | Dominic Burman | V | 6970 | 7078 |  0 |  0 | 21 | 14048 | – | |
| DNF | 52 | Todd Knight | CO | 6178 | 4355 |  0 |  0 | 20 | 10533 |  – | |
| DNF | 155 | James Zussino | CO | 8470 | 6181 |  0 |  0 | 20 | 14651 | – | |
| DNF | 58 | Kevin Steinert | M | 8427 | 8813 |  0 |  0 | 20 | 17240 | – | |
| DNF | 49 | Stuart Roydhouse | CL | 6048 | 2828 |  0 |  0 | 17 | 8876 | – | |
| DNF | 91 | Zack Tremaine | A | 5671 | 0 |  0 |  0 | 12 | 5671 | – | |
| DNF | 152 | Donald Owen | CO | 6634 | 0 |  0 |  0 | 12 | 6634 | – | |
| DNF | 63 | Anthony Read | CL | 6890 | 0 |  0 |  0 | 12 | 6890 | – | |
| DNF | 139 | Paul Collins | M | 7995 | 0 |  0 |  0 | 12 | 7995 | – | |
| DNF | 119 | Paul Rumsey | M | 8873 | 0 |  0 |  0 | 12 | 8873 | – | |
| DNF | 126 | Colin Jenke | M | 11097 | 0 |  0 |  0 | 12 | 11097 | – | |
| DNF | 44 | Matthew Davies | CO | 4830 | 0 |  0 |  0 | 8 | 4830 | – | |
| DNF | 51 | Christopher Causer | CL | 4567 | 0 |  0 |  0 | 7 | 4567 | – | |
| DNF | 106 | Leticia Foster | L | 3824 | 0 |  0 |  0 | 5 | 3824 | – | |
| DNF | 111 | Daniel Riebke | V | 1560 | 0 |  0 |  0 | 4 | 1560 | – | |
| DNF | 118 | Curtis Russack | CO | 2319 | 0 |  0 |  0 | 4 | 2259 | – | |
| DNF | 78 | Riley Graham | A | 3160 | 0 |  0 |  0 | 4 | 3160 | – | |
| DNF | 62 | Tyler Read | CL | 1190 | 0 |  0 |  0 | 3 | 1190 | – | |
| DNF | 42 | Hayden Nissen-Cockshutt | CO | 1492 | 0 |  0 |  0 | 2 | 1492 | – | |
| DNS | 56 | Matthew Aimann | CO | 0 | 0 |  0 |  0 | 0 | 0 | – | |
| DNS | 69 | Kevin Lonsdale | V | 0 | 0 |  0 |  0 | 0 | 0 | – | |
| DNS | 116 | Shane Bentley | CO | 0 | 0 |  0 |  0 | 0 | 0 | – | |
| DNS | 131 | Zane Gerlach | CL | 0 | 0 |  0 |  0 | 0 | 0 | – | |