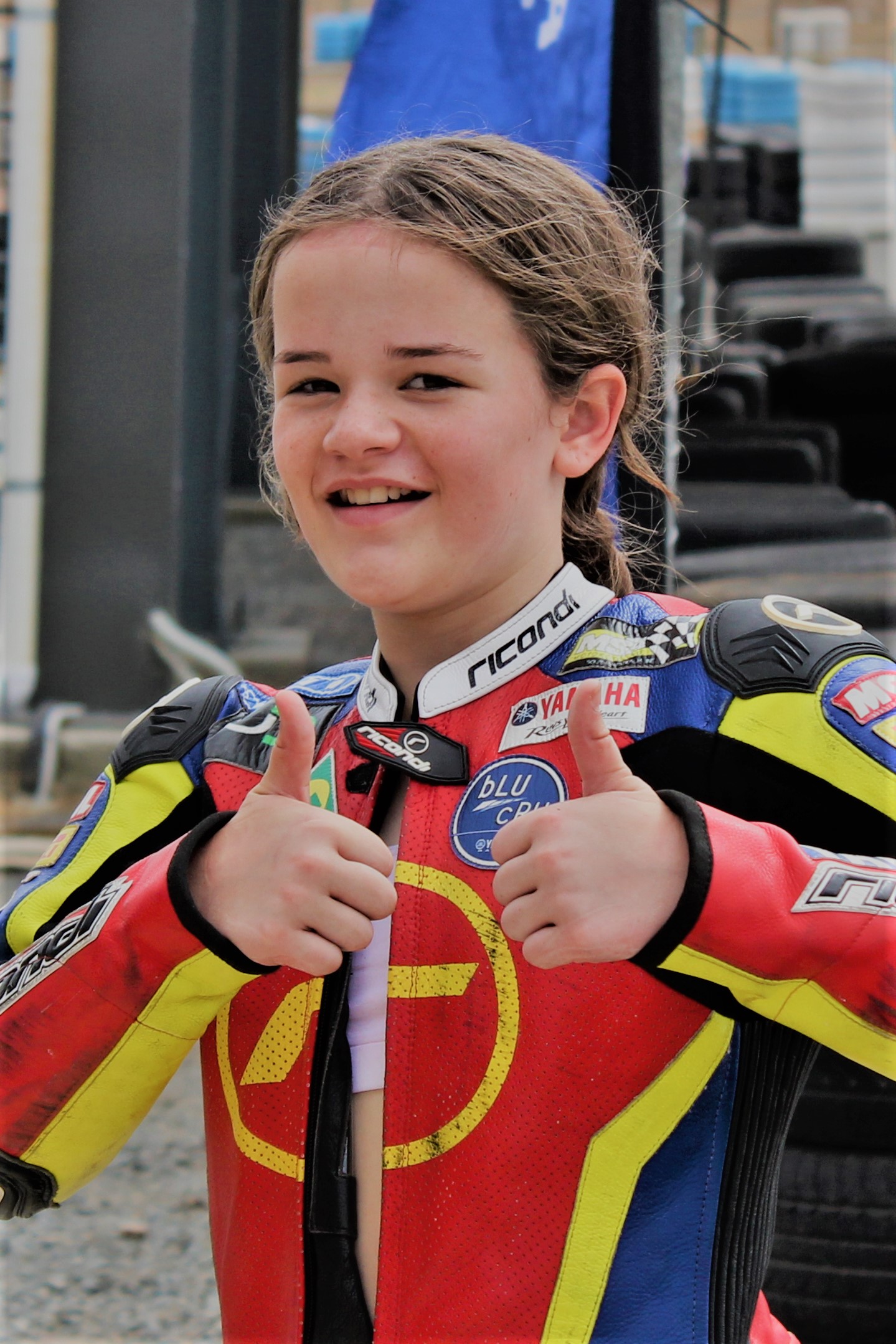 Road Race SA, led by the Sports Manager, Kym Bolto, along with his trusty bLU cRU SA Junior Cup crew, including Andy Hiscox, Allan Bolto, Shaun Bancroft, Mick Fisher and Chris White, as well as coaches, Will Strugnell, Kylie & Chris Collins, Cooper Rowntree (assisting), the parents of the SA Junior Cup riders, and the riders themselves, all pitched in to make the weekend at the Monarto Go-Kart circuit one to remember!
Need to also give a huge shout out to a couple of the SA Junior Cup riders, Lucas Warren and Cooper Pitt, who, whilst concentrating on what they needed to do to get ready for their season, were always willing to give the Come N Try riders a hand, offer advice, and generally help out, without being asked. So good to see, and well done lads!
Also a huge thanks to one of the SA Junior Cup dads, Daniel Amoy, for helping with the paperwork, as well as jumping in to assist with coaching duties, not only did the weekend maybe un-earth some future champions, it also unearthed a cracking coach in the making for riders at grass roots level – huge well done Daniel.
Combined with the training and coaching weekend for the 'Class of 2023' for the SA bLU cRU SA Junior Cup, a total of 8 riders who had never road raced before, took to the track over the 2 days, and all came of the track with huge smiles on their faces.
3 of the riders had never ridden any form of motorcycle sport before, so were brand new, while the other 5 came over from other disciplines of the sport to see what riding on bitumen was all about!
Huge shout out also to Izaak Warren, who was the unofficial time keeper and flag marshal all weekend, keeping all on track well informed about how long they had to go on track – cheers Izaak!
SATURDAY saw Jax Henry, younger sibling of Rikki Henry (current Oceania Junior Cup rider) and Jackson Turner take to the track during the morning, with both consistently getting smoother and smoother as the day went on and learning to use all of the track and how to get in and out of the corners, with the coaching crew on hand keeping a close on these potential future champions!
                                     Jax Henry (above), getting gloved by his dad, before hitting the track.
Saturday was on the warm side, as Jackson Turner found out being all decked out in leathers and helmet!
Joshua Griffin was the 3rd Come N Try rider on Saturday, and he had never ridden a bike with a clutch before, having only ridden a Pee Wee previously. But, after a couple hours in the form up area getting used to the bike and how to use the clutch, Josh took to the track later in the afternoon, and the smile on his face at the end of his first laps – well, you could see it through his helmet!
Joshua Griffin took some time to get used to the clutch, but the smile at the end said it was all worth it.
SUNDAY was 'girls' day', with Ashley Barwick and Alisha Harry crossing over from Trial for the day, as well as another younger sibling, Georgia Stephen's sister, Charli, being in the same position as Joshua the day before – coming from a PeeWee.
So, like Joshua, Charli also spent a couple of hours in the form up area learning all things clutch and brake from coaches like Allan and Daniel she was then ready to take to the track proper – and with a push from dad she was away – and didn't look back – ending the day with the biggest smile on her face!
With Ashley & Alisha both having a Trial background, riding the bikes for them was no problem, although sitting down was new, as was tucking in and leaning into corners, but both girls adapted during their sessions and the increase in confidence and technique also showed a marked increase in speed and decrease in lap times during the day.
The girls were also joined by Alisha's brother, Ashton, and also motocross lad, Seth Ryles, to make it 5 riders on the Sunday, with lots of boot and helmet swapping going on during the day so all could get plenty of time on the track, and like the riders with other discipline experience, Ashton and Seth adapted to the differences of road race quite quickly, although Seth needed a few tips on cornering at first, as motocross is a lot different.
By 4.00pm Sunday arvo, the weekend was done, with Kym stating, "it was a huge weekend and to see the interest from the riders who came out to come and try road race for the first time was sensational. Also, for them to watch our bLU cRU SA Junior Cup riders show their skills on track really added to the dynamics of the weekend. Thank you to all who assisted and to MSA for organising this great event and we aim to make it even bigger and better in 2024."
The girls, (l-r) Ashley, Alisha & Charli (left) and joined by Charli's sister, current road racer, Georgia (right)
Charli at the start of her day getting some coaching, and then a push from dad as she hits the track!
The Harry siblings, Alisha (left) and Ashton getting used to sitting on a bike after coming from a Trial background.
Seth Ryles, after his first session, and showing good form after coming from a motocross background.
ROAD RACE SA'S 'COME N TRY DAY' WEEKEND – IT WAS HEAPS GOOD!
(LEFT TO RIGHT) Alisha gets some tips from Ashley, Kym explaining it all to Team Harry, and thumbs up from Charli!
(LEFT TO RIGHT) Kym leads Ashley around the hot line, and gets the thumbs up from her, while Joshua hits the track with a smile!
(LEFT TO RIGHT) Cooper shows Joshua where everything is (2 pics), while Jackson tells dad "It was hot out there!"
THE MSA Come N Try bikes got a good work out, Team Harry about to hit the track and Charli cutting laps!
STAY TUNED – STILL TO COME!
bLU cRU SA JUNIOR CUP COACHING WEEKEND – IT WAS ALSO HEAPS GOOD!