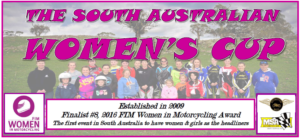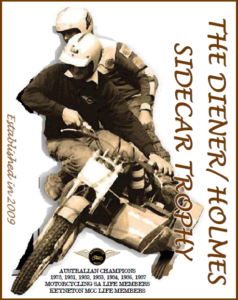 'ROCKHOPPING SA' 2019 S.A. WOMEN'S CUP & DIENER / HOLMES SIDECAR TROPHY ENTRIES TO OPEN IN THE FIRST WEEK OF MAY!
Entries for the 2019 South Australian Women's Cup and the Diener/Holmes Sidecar Trophy, to be run on June 30th, will open in the first week of May, and will contain all of the details relating to this great event run by the Keyneton MCC.
Look for all the need to know relating to;
VENUE (likely to be Eden Valley)
CAMPING
CATERING
RIDE TIMES
SATURDAY COACHING / PRACTISE DAY
This will be the 11th running of the first event in SA to have the girls & women as the headliners, an event that also celebrates the careers of the Keyneton MCC's great Champions in Trevor Diener & Philip Holmes and has twice been nominated for the FIM Women in Motorcycling Award (2016 & 2018)
Classes will be as per previous Women's Cups and continues to follow the Australian Women's Cup as instigated by Bev Anderson in the ACT, with the classes as follows;
PRO (red line), EXPERT (yellow), SPORT & MASTERS (blue), NOVICE (white), JUNIOR A (white), JUNIOR B (black) & MINI TRIAL (orange name plate w/- run of section)
There will also be a 'Non-Comp' class, where riders can have a ride on a recreational licence and try trials without the pressure of competition.
All the details will be in the supplementary regulations that will be released when entries open.
Being held on the final weekend of June for the first time means that it is also being run on the first weekend of the eastern states school holidays, so it's an ideal time for a trip to the Barossa & Eden Valleys, a great trial venue for the kids (and parents), and great food & wines to try for the parents!
This will also be the last event that Lillie Yiatrou will ride on home soil before heading overseas to debut in the Women's Trial2 World Cup, with her first round being in Portugal, so what better way to wish her the best than to come and have a ride alongside of her!
The Keyneton MCC is also excited to welcome back as naming rights partner, long time event partner, Greg Knight and his business, Rockhopping SA, with support from The Hell Team and Oset Bikes Downunder – great support for a great event.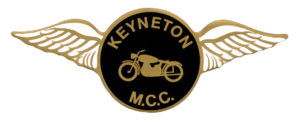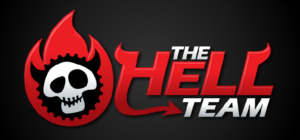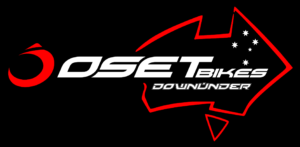 The Keyneton MCC's 2 Australian representatives will likely both be in action at the 2019 SA Women's Cup – 2018 Champion Lillie Yiatrou and 2012 & 2016 Champion, Sofie Kraft, who is returning after time off working overseas.