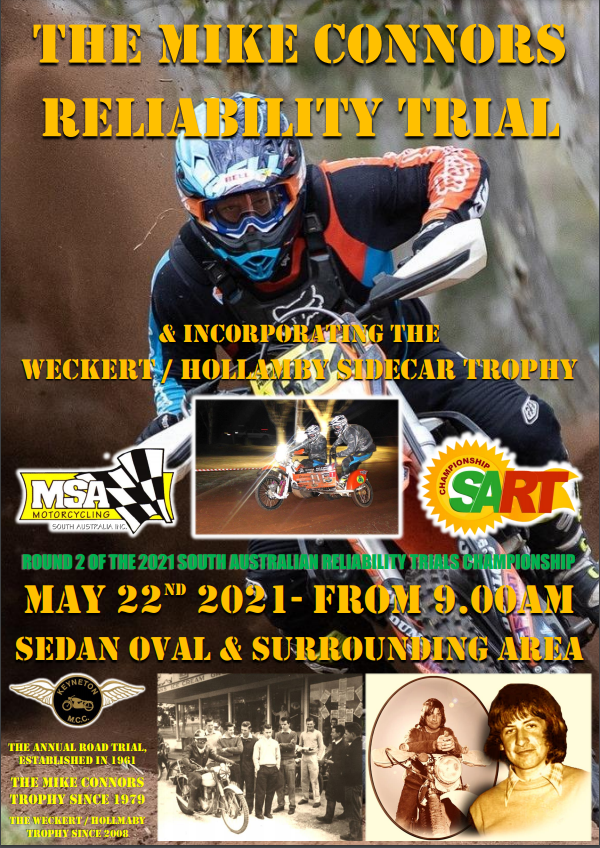 ROUND 2 – 2021 SART CHAMPIONSHIP & SA MOTOCROSS CHAMPIONSHIP HEADLINE A HUGE WEEKEND!
Saturday – Sedan – The Mike Connors Reliability Trial – the 61st running of the Keyneton MCC's longest running annual event heads to Sedan this Saturday for round 2 of the South Australian Reliability Trials Championships, with the first bike due to head out on a 6 hour journey at 9.01am.
What will, at this stage, be a dry journey for the 130+ starters, sees a 2 lap journey of 3 hours each, with the first section, just around the corner from Main Control, being an awesome spectator area, at a local's personal motocross track. So, come to Main Control in the morning, grab breakfast from the local community catering crew, then a program and directions to the spectator area and head out to watch some awesome action!
20+ sidecars will lead the field the away, followed by the Expert solos, old bikes, ladies and then the Clubman and aged classes – with lap 2 staring at 12.01pm for a 3.00pm finish for bike 1.
As mentioned above, the local Sedan Community Group will be catering the event all day, so please get around them and support their efforts, and especially as some are also our fabulous land owners, without whom those events couldn't run!
The Keyneton MCC would like to thank all who are making this event happen – especially all of the control keepers who will be sitting out in the dust – and a big shout out to BAROSSA MOTORCYCLES in Nuriootpa for their continued support of the Club.
The SART Committee would like to thank MOBILITY SA, CBS BINS, ECO WASTE SOLUTIONS, BAROSSA 4X4 & OUTDOORS and PETER HENNEKAM'S SKETCHOGRAF for their great support of this SA Championship Series.
Action from the Sedan MX track from 2 years ago – and the winners of the 60th Keyneton MCC 'Annual Road Trial' from 2020 – Rowan Pumpa (outright & Mike Connors Trophy) and Max & Sam Hutchesson (sidecar & Weckert/Hollamby Trophy)
2021 EAGLE TRAILERS, CAMPERS & CARAVANS SOUTH AUSTRALIAN MOTOCROSS CHAMPIONSIPS, presented by AMX SUPERSTORE – ROUND 2 THIS WEEKEND IN THE RIVERLAND
Saturday & Sunday – Renmark – SA Motocross Championships round 2 – the 2nd round of the 2021 South Australian Motocross Championships will kick off early tomorrow morning at Renmark, as the action hots up across all classes of the Championship, led by SA's amazing future Champions with the junior Classes heading day 1!
Entry for spectators this weekend is a gold coin donation – with all proceeds going to charity – and there will be hot and cold catering all weekend at the Riverland JMC Canteen, with plenty of prime viewing areas at the venue as well.
Camping at the track is also welcome, so head to Sedan, watch the SART action until early arvo, then head to Renmark, catch the last of the junior races,  have a feed, roll out the swag, and then wake to some awesome action on Sunday morning, after an egg & bacon sanga of course! 
With the juniors heading day 1 – with kids aged from 4 to 16, boys and girls, in action – day 2 will headline the senior competitions, again make and female riders, as well as the oldest juniors (15+) in the Junior Lites class – so both days will feature awesome racing and something for everyone to watch!
All this action from round 1 at Gillman – will be on show this weekend at Renmark as riders start to put their Championship run together, with a huge thanks to fullnoise.com.au for the brilliant pics!
EAGLE TRAILERS, CAMPERS & CARAVANS showed their ongoing commitment to the series, securing the Series Naming Rights sponsorship in a lucrative 2 year deal with AMX SUPERSTORE signing on for the 2021 and 2022 seasons as well. AMX STORE support is totalling $14K including round by round helmet and tyre giveaways, participation prizes, track side sales and much more.
BUTLERS MECHANICAL SERVICES continue to raise the bar and their increased pledge into the series in 2021 secured the Naming rights for the Woman's Class with TITANIUM SECURITY AUSTRALIA supporting the Junior Girls Classes.
GBF CLOTHING, BANKS RACE DEVELOPMENT, KESSNERS MOTORCYCLES and COAST POWERSPORTS are the other fantastic Championship partners for 2021.