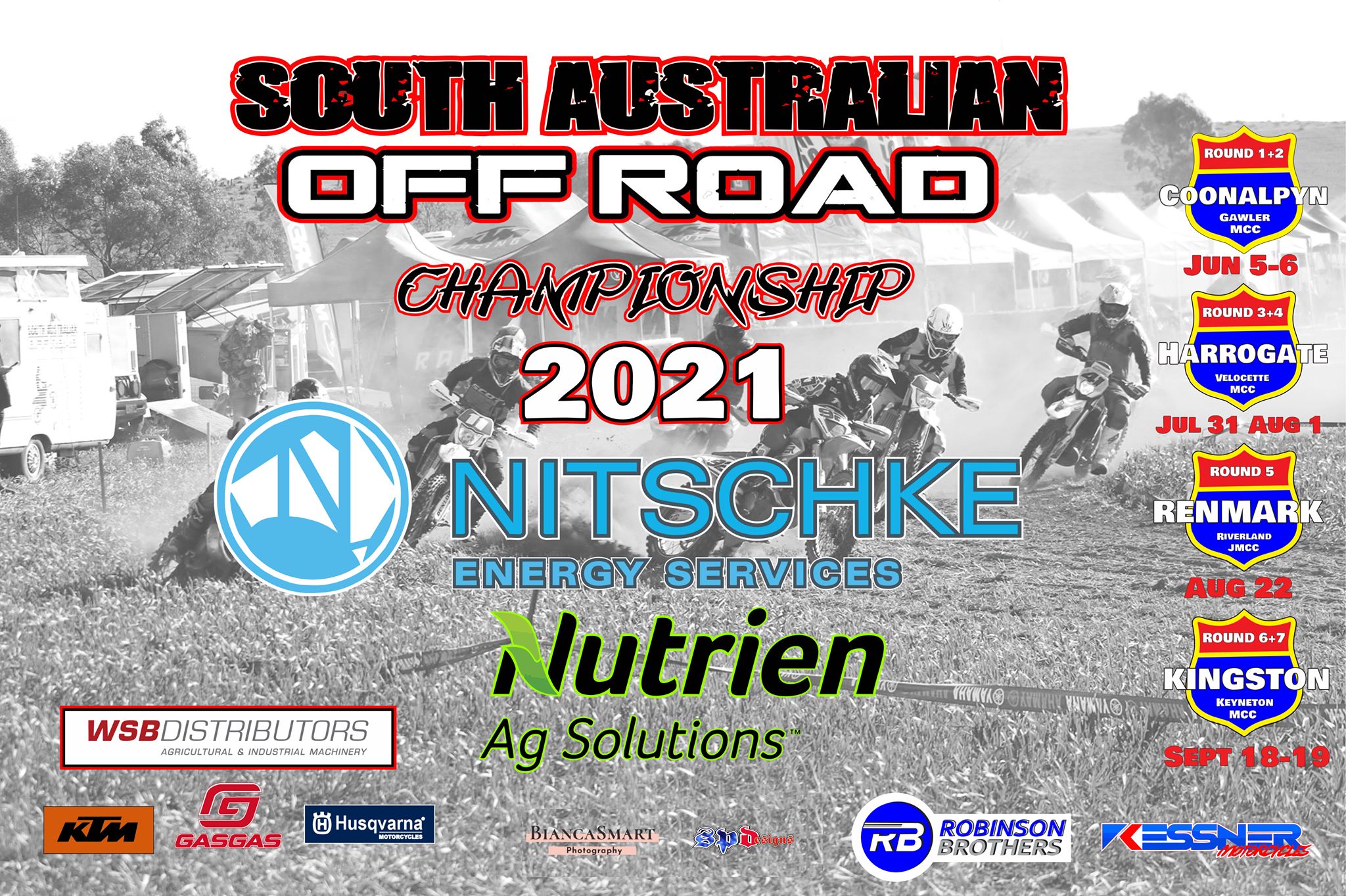 ROUNDS 1 & 2 OF THE SOUTH AUSTRALIAN OFF ROAD CHAMPIONSHIP KICKS OFF THIS WEEKEND; A BUSY ONE WITH 9 EVENTS ON THE GO!
This weekend sees the final SA Championship Series for 2021, with the 2021 SAROC kicking off in the sands of Coonalpyn, and joining Road Race, Reliability & Motocross in the search for SA's best of 2021.
Also on this weekend is a ''Special Event' in Trial, the 46th Peter Sparkes Trophy, as well as 2 Club Championship rounds at South Coast and Whyalla, plus a heap of Ride Days & RPA Days – read on for the lowdown and get those bikes out of the shed!
SAORC ROUNDS 1 & 2
Location:  5746 Dukes Hwy, Coonalpyn
Hosting Club: Gawler MCC
Acknowledgement:  We would sincerely like to thank the support and hospitality of our landowners David and Karen Heinrich and family. We are very privileged to have access to a property like this and ask everyone to please treat it with respect
Cross-Country Format; Cross Country events will be conducted on a 15-30 minute marked course where competitors are required to race continuously for a minimum of 3 hours for seniors and 2 hours for juniors. Riders start as a class, each class separated by 1 minute intervals. A designated refueling area is available and all refueling and mechanical work is carried out in this area. The first lap is an escorted sighting lap of the course prior to commencement of the race. Juniors compete at different times to the above classes and the length of their competition will also vary. The race will finish at 3 hours (based on the last class to start finishing time) unless otherwise directed by the Clerk of Course. To be a finisher a competitor must have completed at least 75 percent of the laps of the winning rider in their class. The cross country format rewards riders with consistency and endurance.
The course consists of open flowing tracks with soft sandy loam, scrubby mallee with sand. All competitors are to follow the marked course which is identified by arrows and bunting. The length of each lap is approximately: JJ & J1 – 6.1Km J2-J4 & Senior – 20.6Km
Entry for spectators is free – but please QR Code and take in all relevant COVID-19 restrictions.
SATURDAY TIMETABLE: Cross Country Format
07:45 am         JJ & J1 Race (including Sight Lap) 1.5hr*
09.45 am         J2 – J4 Race (including Sight Lap) 2hr*
12:00 pm         Senior Race (including Sight Lap) 3hr*
*all times are approximate and may be varied by the COC. It is expected that racing will conclude at approximately 3:30pm
SUNDAY TIMETABLE: Cross Country Format
08:00 am JJ & J1 Race 1hr*
09:30 am J2 – J4 Race 1.5hr*
11:30 am Senior Race 2.5hr*
*all times are approximate and may be varied by the COC It is expected that racing will conclude at approximately 2:30pm
TIMING / SCORING
Due to COVID-19 restrictions the screens on the timing caravan will not be available at this round. Times can be viewed from your phone throughout some of the venue by following the following steps.
1) Connect to the "SAORC_Results" wifi network
2) Go to https://results.saoffroadchampionships.com/
3) Browse results
 WELCOME:
On behalf of the Gawler Motorcycle Club, I would like to welcome everyone to the first two rounds of the 2021 Nitschke Energy SA Off Road Championships.
We are now living in a new normal so please log into our QR code, follow COVID-19 safe where possible and follow our spectator guidelines.
The Gawler MCC was formed in 1925 to cater for early 24 Hour Trial events. We are a proud club with a decorated history of producing elite riders in all disciplines of motorcycle racing. The club has hosted many SAORC rounds in the past with several of them being voted best rounds of the series, we are planning not to disappoint with our return to the Coonalpyn district.
SAORC would not be possible without the generous landowners who allow us to use their properties to enjoy our sport. None more the Heinrich family. David and Karen have welcomed us back bigger and better. There assistance in preparation and hosting club members whist setting up the event is much appreciated by all of us. We need to think our land owners and leave only footprints and ruts and not our rubbish when we leave.
We are returning to the runway paddock from 2014 with many new tracks linking old tracks to create a 21km cross country loop. Jordan and Todd Heinrich have put in a huge effort to create this awesome loop, so we must all thank them when we bump into them throughout the weekend. If you see a plane flying round, there's a good chance one of them is taking a lucky punter for a joy flight. Gawler MCC thanks the Heinrichs for their continued support.
Many local businesses are needed to make the weekend as comfortable as possible for us all, so I would like to thank:
Nicks Gourmet Kitchen for catering
         Mrs Sippy for the coffee truck
         JB Hire for the toilets
         Jason Rumpling for shower hire
Gawler MCC have jumped in at the 11th hr to host rounds 1/2 of the SAORC. With a little over 6 weeks preparation for this event we must thank Andrew Krieg and Peter Stevens for their drive and enthusiasm in helping to keep the series alive. We could not host these rounds without the army of volunteers from our great club. Many people help throughout the event, sometimes too many to thank personally. From the track markers to the event pack up crews and all in between we thank you very much for a great event.
Hope all riders a safe and enjoyable ride over the weekend
Cheers
Anton Seifert
Club President
THE PETER SPARKES TROPHY TRIAL
This weekend also sees the AJS MTC running one of their premier events, the 46th Peter Sparkes Trophy Trial, named after their Life Member, and Motorcycling SA's Life Member, Peter Sparkes, and through the years has been won by some amazing sidecar trials teams.
To be held on a new 'playground' at Tungkillo on Sunday, and starting at 9.00am, for those who would like a lazy walk around the rocks to watch some of SA's, and Australia's, finest exponents of Trial, this will be the day for you. Bring a picnic lunch and sit under one of the majestic gum trees and watch the action from up close!
Like the SAORC, entry is free to spectators, but please QR Code and take in all relevant COVID-19 restrictions.
CLUB EVENTS:
South Coast MXC Club Rounds, round 2
Whyalla MCC Club Round
Free entry and full canteen facilities.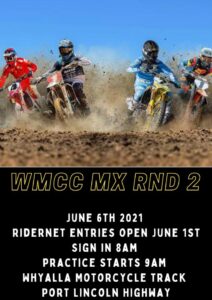 RIDE DAYS:
SATURDAY:    
Tea Tree Gully
9.00am-3.00pm
$30.00 for all our members, $40 for non-members, $40.00 one day license available
Want to become a member?? Go to Ridernet and follow the links!
$120.00 for a family of 4 (x2 over 18 + children under 18); or $80.00 for a single membership!
SUNDAY:        
Port Augusta
Please note; If you can please bring cash. We are getting an EFTPOS machine but unlikely it will be here before the 6th but we'll have for the next ride day.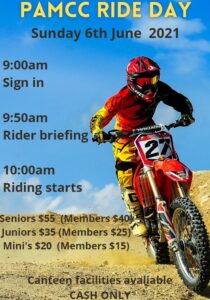 SRA – Gillman
Gillman Speedway Winter Practices Starts this Sunday June 6th, Gates Open 8.00am Entry $10.00, Practice from 10.00am
Rider Fee: Member $30.00 Non Member $40.00 Pee Wee $20.00
Canteen and Bar Open. One Day Licences Available
ALL Classes WELCOME: Senior & Junior solo/sidecar, Classic's, Pee Wee & 50's, ALL Flat Track Classes and TQs
EVERYBODY ENTERING THE VENUE IS REQUIRED TO SCAN OR SIGN COVID CONTACT TRACING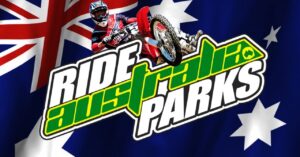 RIDE PARKS AUSTRALIA RIDE DAYS:
Adelaide Hills – Hartley Ride Day
Contact Ben Brereton, 0433 012 312, for any and all details about this event.
Keith & Districts MCC
KDMCC RPA day
Sunday 6th June @ Andy Caldecott Park
Sign In: 8.00am, we are going old school for this one & sign in will be on the day, PLEASE BRING correct money & a pen
Riding: 9.00am
Entry cost – Member Junior $20.00 Senior $25.00
Non-Members Junior $35.00 Senior $40.00
**You are NOT required to hold an annual licence nor purchase a one event licence for Ride Park Australia events, for further information please visit https://www.motorcyclingsa.org.au/rpa
All riders will be in groups according to ability not age. As a family orientated club, we will make sure (no matter what experience you have) everyone has the chance to enjoy our awesome track here at Andy Caldecott Park!
BBQ facilities available, BYO meat/food and utensils and social distance while using.
There will be a WORKING BEE @ 9am on Saturday 5th June prior to RPA Day, general tidy up & rock pick.
If you require any further information, please call Buff on 0419 845 941