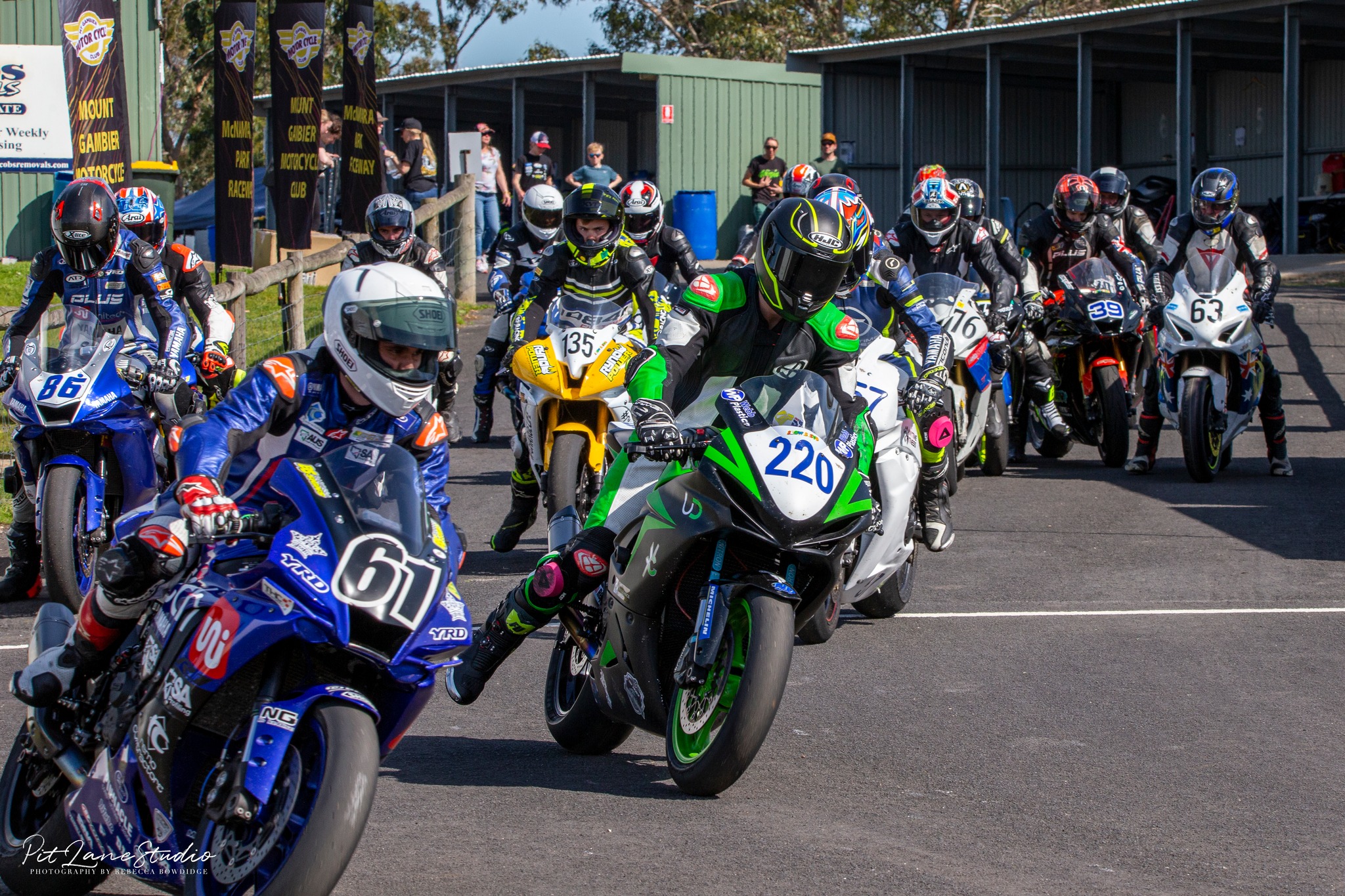 With the 4th and final round of the 2022 South Australian Road Race Championships only 1 month away – on November 12 & 13 at the iconic SA circuit, Mallala Motorsport Park, it's time to have a look at the points as they stand after 3 rounds of the 2022 Championships! 
Most Classes look sorted, with the leader having what could be called a 'comfortable' lead, but with (possibly) at least 75 points up for grabs at Mallala, all classes are still well and truly ALIVE!
For those wanting a great weekend's entertainment – entry for spectators at Mallala will be FREE, and the Mallala catering team will be going all out over the 2 days to keep everyone fed – so head up and see the 2022 SA Champions crowned!!
For those looking to scrape a knee or 2 – entries are being planned to open on Monday, October 10th – NEXT MONDAY – so stay tuned for the announcement!
Photo credit; Pit Lane Studios 
POINTS AFTER ROUND 3;
| | | | | | | | | |
| --- | --- | --- | --- | --- | --- | --- | --- | --- |
| | | | R  1 | R 2 | R 3 | R 4 | | |
| Pos | Name | Machine | Mac | Bend | Mac P | Mallala | | Total |
| | SUPERBIKE | | | | | | | |
| 1 | Ted COLLINS | Yamaha | 67 | 50 | 80 | | | 197 |
| 2 | Ben LIEBIG | Yamaha | 49 | 34 | 72 | | | 155 |
| 3 | Michael KEMP | Yamaha | 48 | 36 | 58 | | | 142 |
| 4 | Brad RAETHEL | Yamaha | 37 | 40 | 44 | | | 121 |
| 5 | Raymond ROSS | Yamaha | 42 | | 66 | | | 108 |
| 6 | Arthur SISSIS | Yamaha | | | 100 | | | 100 |
| 7 | Brad MILLER | Suzuki | 40 | 31 | | | | 71 |
| 8 | Jamie BANKS | Yamaha | 63 | | | | | 63 |
| 9 | Andrew TENISON-WOODS | Kawasaki | 45 | 16 | | | | 61 |
| 10 | William STRUGNELL | Suzuki | 57 | | | | | 57 |
| 11 | Ashley ROE | Yamaha | | | 56 | | | 56 |
| 12 | Rusty CRANE | Suzuki | | | 50 | | | 50 |
| 13 | Paul VAN DER HEIDEN | BMW | | | 47 | | | 47 |
| 14 | Ron CRANE | Yamaha | 19 | | 27 | | | 46 |
| 15 | Brett SIMMONDS | Honda | | | 40 | | | 40 |
| 16 | Nathan McKENZIE | Suzuki | 34 | | | | | 34 |
| 17 | Christopher GREENE | Yamaha | | 29 | | | | 29 |
| 18 | Russell CRANE | Suzuki | | 27 | | | | 27 |
| 19 | David TROTTER | Suzuki | | | 25 | | | 25 |
| 20 | Daniel MARSH | Suzuki | | 25 | | | | 25 |
| 21 | Paul VALOUDIS | Suzuki | 24 | | | | | 24 |
| 22 | John CHIODI | Suzuki | | 23 | | | | 23 |
| 23 | Tony ROSS | Honda | 20 | | | | | 20 |
| 24 | Mitchell RADFORD | Suzuki | 16 | | | | | 16 |
| 25 | Charles HOLDING | Yamaha | | | 13 | | | 13 |
| 26 | Troy CRADDOCK | Ducati | 11 | | | | | 11 |
| 27 | Adrian PIERPOINT | Aprilia | 10 | | | | | 10 |
| 28 | John PRICE | BMW | 9 | | | | | 9 |
| | | | | | | | | |
| | SUPERSPORT 600 | | | | | | | |
| 1 | Declan CARBERRY | Suzuki | 58 | 40 | 80 | | | 178 |
| 2 | Dallas SKEER | Yamaha | 56 | | 100 | | | 156 |
| 3 | Jayden PLOWMAN | Yamaha | 48 | 34 | 68 | | | 150 |
| 4 | Dwayne TOSEN | Yamaha | 43 | 36 | 68 | | | 147 |
| 5 | Ty LYNCH | Yamaha | 75 | 50 | | | | 125 |
| 6 | Libero BELLETTI | Yamaha | 32 | 30 | 56 | | | 118 |
| 7 | Aaron RIGBY | Suzuki | 31 | | 60 | | | 91 |
| 8 | Charles HOLDING | Yamaha | 51 | 32 | | | | 83 |
| 9 | Paul VAN DER HEIDEN | Suzuki | | | 68 | | | 68 |
| 10 | Connor THOMSON | Suzuki | 26 | 28 | | | | 54 |
| 11 | Mitchell RADFORD | Suzuki | | | 51 | | | 51 |
| 12 | Cooper ROWNTREE | Honda | | | 49 | | | 49 |
| 13 | Gareth DEACON | Triumph | 38 | | 11 | | | 49 |
| 14 | Graeme KOSCHMANN | Suzuki | 41 | | | | | 41 |
| 15 | Brett HARRIS | Honda | 35 | | | | | 35 |
| 16 | Alessandro MALATESTA | Suzuki | | 26 | | | | 26 |
| 17 | Jiabin ZXHANG | Honda | | 23 | | | | 23 |
| 18 | Tom AMES | Yamaha | | 23 | | | | 23 |
| 19 | Kevin HOOD | Kawasaki | | 20 | | | | 20 |
| 20 | Chris TYLER | Suzuki | 20 | | | | | 20 |
| 21 | Timothy HUNT | Triumph | 18 | | | | | 18 |
| 22 | Josh HARRIS | Yamaha | 16 | | | | | 16 |
| 23 | Kruiz JENKINS | Kawasaki | 14 | | | | | 14 |
| 24 | Luke PATTESON | Honda | 4 | | | | | 4 |
| | | | | | | | | |
| | PRODUCTION 300 | | | | | | | |
| 1 | Samuel PEZZETTA | Yamaha | 75 | 36 | 100 | | | 211 |
| 2 | Tayla RELPH | Yamaha | 55 | 32 | 72 | | | 159 |
| 3 | Nicholas YFANTIDIS | Yamaha | 56 | 26 | 66 | | | 148 |
| 4 | Ryder GILBERT | Yamaha | 40 | 18 | 65 | | | 123 |
| 5 | Cooper ROWNTREE | Yamaha | | 40 | 80 | | | 120 |
| 6 | Tara MORRISON | Kawasaki | 35 | 27 | 58 | | | 120 |
| 7 | Jack CONNELLY | Kawasaki | 45 | 25 | 46 | | | 116 |
| 8 | Gordon HENSLEY | Kawasaki | 49 | | 56 | | | 105 |
| 9 | Phoenix AGAR | Yamaha | 31 | 22 | 40 | | | 93 |
| 10 | Sean COTTERILL | Kawasaki | 25 | | 48 | | | 73 |
| 11 | Brock QUINLAN | Yamaha | 45 | 19 | | | | 64 |
| 12 | Alex MUSOLINO | Kawasaki | 44 | 14 | | | | 58 |
| 13 | Nigel AGAR | Yamaha | 13 | 13 | 30 | | | 56 |
| 14 | Mitchell SIMPSON | Yamaha | | 50 | | | | 50 |
| 15 | Remo RENDE | Yamaha | 24 | 15 | | | | 39 |
| 16 | Sandro MALATESTA | Kawasaki | | | 38 | | | 38 |
| 17 | Brad MILLER | Kawasaki | 38 | | | | | 38 |
| 18 | Oliver HENSLEY | Yamaha | | | 37 | | | 37 |
| 19 | Jordan SIMPSON | Yamaha | | 34 | | | | 34 |
| 20 | Lucas WARREN | Kawasaki | | 6 | 26 | | | 32 |
| 21 | Alice POHLMANN | Kawasaki | | | 31 | | | 31 |
| 22 | Cameron RENDE | Yamaha | | 30 | | | | 30 |
| 23 | Georgia STEPHENS | Kawasaki | 12 | | 16 | | | 28 |
| 24 | Julia GRAZIER | Kawasaki | 22 | 4 | | | | 26 |
| 25 | Daniel AMOY | Kawasaki | | | 25 | | | 25 |
| 26 | Yiana VALOUDIS | Yamaha | 10 | 11 | | | | 21 |
| 27 | Tom AMES | Yamaha | | 8 | | | | 8 |
| 28 | Natajshia RIMINGTON | Kawasaki | 8 | | | | | 8 |
| 29 | Andrew BANNERMAN | Kawasaki | | 2 | 5 | | | 7 |
| 30 | Kate SHARP | Kawasaki | 4 | | | | | 4 |
| | | | | | | | | |
| | JUNIORS | | | | | | | |
| 1 | Rikki HENRY | Yamaha | 70 | 75 | 83 | | | 228 |
| 2 | Ryder GILBERT | Honda | 54 | 60 | 63 | | | 177 |
| 3 | Ryder SWEET | Yamaha | 47 | 49 | 61 | | | 157 |
| 4 | Archie SCHMIDT | Yamaha | 48 | 41 | 67 | | | 156 |
| 5 | Seth DELLOW | Yamaha | 26 | 53 | 72 | | | 151 |
| 6 | Cameron RENDE | Yamaha | 65 | 35 | 25 | | | 150 |
| 7 | Lucas WARREN | Yamaha | 39 | 38 | 58 | | | 135 |
| 8 | Xayvion AMOY | Yamaha | 40 | 37 | 43 | | | 120 |
| 9 | Ethan DELLOW | Honda | 22 | 39 | 52 | | | 113 |
| 10 | Cooper PITT | Yamaha | | 45 | 56 | | | 101 |
| 11 | Tomi DOBLE | Yamaha | 49 | | | | | 49 |
| 12 | Ghage PLOWMAN | Yamaha | | | 48 | | | 48 |
| | | | | | | | | |
| | bLU cRU SA JUNIOR CUP | | Mac P | Bend | Monarto | Mallala | | |
| 1 | Rikki HENRY | Yamaha | 75 | 68 | 100 | | | 243 |
| 2 | Cooper PITT | Yamaha | 33 | 44 | 99 | | | 176 |
| 3 | Seth DELLOW | Yamaha | 31 | 44 | 94 | | | 169 |
| 4 | Xayvion AMOY | Yamaha | 38 | 49 | 76 | | | 163 |
| 5 | Lucas WARREN | Yamaha | 37 | 40 | 78 | | | 155 |
| 6 | Fred BARRY | Yamaha | 29 | 38 | 79 | | | 146 |
| 7 | Ethan DELLOW | Yamaha | 19 | 33 | 85 | | | 137 |
| 8 | Cameron RENDE | Yamaha | 60 | 60 | | | | 120 |
| 9 | Ryder GILBERT | Yamaha | 50 | 61 | | | | 111 |
| 10 | Archie SCHMIDT | Yamaha | 32 | 46 | | | | 78 |
| 11 | Ella McCAUSLAND (wildcard) | Yamaha | 54 | | | | | 54 |
| 12 | Ryder SWEET | Yamaha | 46 | | | | | 46 |
| 13 | Tomi DOBLE | Yamaha | 44 | | | | | 44 |
| | | | | | | | | |
| | LIMITED | | | | | | | |
| 1 | Anthony STEPHENS | Husqvarna | 75 | 33 | 100 | | | 208 |
| 2 | Daniel SPENDLOVE | Yamaha | 57 | 26 | 68 | | | 151 |
| 3 | Jack CONNELLY | Kawasaki | 47 | 30 | 54 | | | 131 |
| 4 | Sandro MALATESTA | Ducati | | 33 | 69 | | | 102 |
| 5 | Gordon HENSLEY | Kawasaki | 36 | | 62 | | | 98 |
| 6 | Phoenix AGAR | Yamaha | 25 | 28 | 29 | | | 82 |
| 7 | Samuel PEZZETTA | Yamaha | | | 80 | | | 80 |
| 8 | Sean COTTERILL | Kawasaki | 22 | | 49 | | | 71 |
| 9 | Tim LEIGHTON | Suzuki | | | 65 | | | 65 |
| 10 | Nigel AGAR | Yamaha | 9 | 21 | 35 | | | 65 |
| 11 | Alex MUSOLINO | Kawasaki | 31 | 24 | | | | 55 |
| 12 | David TROTTER | Honda | 52 | | | | | 52 |
| 13 | Mitchell SIMPSON | Yamaha | | 50 | | | | 50 |
| 14 | Nichollas YFANTIDIS | Yamaha | 49 | | | | | 49 |
| 15 | David ELLIS | Suzuki | | | 43 | | | 43 |
| 16 | Daniel PARKER | Kawasaki | 41 | | | | | 41 |
| 17 | Tara MORRISON | Kawasaki | | | 40 | | | 40 |
| 18 | Cooper ROWNTREE | Yamaha | | 40 | | | | 40 |
| 19 | John SNOAD | KTM | 40 | | | | | 40 |
| 20 | Jordan SIMPSON | Yamaha | | 36 | | | | 36 |
| 21 | Brook QUINLAN | Yamaha | 36 | | | | | 36 |
| 22 | Richard DRAPER | Ducati | 36 | | | | | 36 |
| 23 | Oliver HENSLEY | Yamaha | | | 33 | | | 33 |
| 24 | Julia GRAZIER | Kawasaki | 19 | 14 | | | | 33 |
| 25 | Yiana VALOUDIS | Yamaha | 6 | 18 | | | | 24 |
| 26 | Remo RENDE | Yamaha | 20 | | | | | 20 |
| 27 | Tom AMES | Yamaha | | 19 | | | | 19 |
| 28 | Stuart MATHESON | Honda | | 18 | | | | 18 |
| 29 | Andrew BANNERMAN | Kawasaki | | | 15 | | | 15 |
| 30 | Sean OESER | Ducati | 14 | | | | | 14 |
| 31 | Lucius PAYNE | Kawasaki | 11 | | | | | 11 |
| 32 | Michael FISHER | Yamaha | | | 6 | | | 6 |
| 33 | Georgia STEPHENS | Yamaha | | | 5 | | | 5 |
| 34 | Rob O'BRIEN | Kawasaki | | | 4 | | | 4 |
| 35 | Kate SHARP | Kawasaki | 1 | | | | | 1 |
| | | | | | | | | |
| | NAKED BIKE | | | | | | | |
| 1 | Daniel SPENDLOVE | Yamaha | 40 | 40 | 85 | | | 165 |
| 2 | Stephen MILLAR | KTM | | | 75 | | | 75 |
| 3 | Phil ALLEN | Ducati | 70 | | | | | 70 |
| 4 | John SNOAD | KTM | 61 | | | | | 61 |
| 5 | Anthony STEPHENS | Huskvana | | 50 | | | | 50 |
| 6 | David ELLIS | Suzuki | | | 18 | | | 18 |
| | | | | | | | | |
| | PRE-MODERN 00 | | | | | | | |
| 1 | Sandro MALATESTA | Ducati | | 50 | 95 | | | 145 |
| 2 | Mark BOAG | Moto | 40 | | 85 | | | 125 |
| 3 | Luke PATTESON | Honda | 75 | | | | | 75 |
| 4 | Peter McDONOUGH | Kawasaki | | | 72 | | | 72 |
| 5 | John CHIODI | Suzuki | | 40 | | | | 40 |
| 6 | Karlis GUGIS | Kawasaki | 36 | | | | | 36 |
| | | | | | | | | |
| | PRE-MODERN 07 | | | | | | | |
| 1 | Dwayne TOSEN | Suzuki | 45 | 50 | 100 | | | 195 |
| 2 | Ron CRANE | Yamaha | 50 | 35 | 74 | | | 159 |
| 3 | Jayden PLOWMAN | Yamaha | | 40 | 78 | | | 118 |
| 4 | Brad MILLER | Suzuki | 62 | 18 | | | | 80 |
| 5 | Brett HARRIS | Honda | 54 | | | | | 54 |
| 6 | Glen MARCHIORI | Honda | 51 | | | | | 51 |
| 7 | Tony ROSS | Suzuki | 43 | | | | | 43 |
| 8 | Graeme KOSCHMANN | Triumph | 40 | | | | | 40 |
| 9 | Kevin HOOD | Kawasaki | | 33 | | | | 33 |
| 10 | Stuart MATHESON | Honda | | 31 | | | | 31 |
| 11 | Kruiz JENKINS | Kawasaki | 29 | | | | | 29 |
| 12 | Daniel MARSH | Suzuki | | 14 | | | | 14 |
| | | | | | | | | |
| | SIDECAR | | | | | | | |
| 1 | G HOWARTH / S DESLANDES | Shellbourne | | | 93 | | | 93 |
| 2 | A SMITH / R D'ANIELLO | Suzuki | | | 72 | | | 72 |
| 3 | T SHANKS / R BOGGIANO | DMR | | | 69 | | | 69 |
| 4 | A VAN UITERT / D AMOY | Suzuki | | | 64 | | | 64 |
| 5 | D JONES / T LEIGHTON | Suzuki | | | 60 | | | 60 |
| 6 | S JONES / T HARRIS | Suzuki | | | 25 | | | 25 |
| | | | | | | | | |
| | FEARLESS (SUPPORT CLASS) | | | | | | | |
| 1 | Sandro MALATESTA | Harley | | 42 | 85 | | | 117 |
| 2 | Peter COSTELLO | Harley | | 38 | 76 | | | 114 |
| 3 | Sam BENNETT | Harley | | | 100 | | | 100 |
| 4 | Jesse QUINN | Harley | | 18 | 69 | | | 87 |
| 5 | Peter STACY | Harley | | 16 | 47 | | | 63 |
| 6 | Aaron DRAPER | Harley | | | 62 | | | 62 |
| 7 | Garry WOODING | Harley | | 45 | | | | 45 |
| 8 | Stephen CASH | Harley | | 33 | | | | 33 |