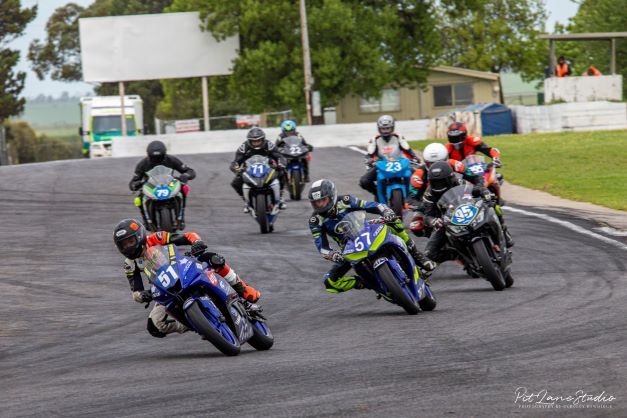 12th and 13th November 2022 is set to be a enormous weekend at SA's iconic Mallala Motorsport Park for both final round of the 2022 South Australian Road Bike Championships and concluding Round 4 of the bLU cRU South Australian Junior Cup.  
With all riders vying for final championship points, its set to bring fast paced, edge of your set, nail biting action from start to finish. Spectators will have centre stage seats to some of SA's greatest Road Racing and the best part is…. entry is ABSOLUTELY FREE.  
From Round 3 points below and possibly at least 75 points up for grabs, the overall crown is still open to be taken so make sure you don't miss out!!
Photo credit; Pit Lane Studios 
SEASON POINTS AFTER ROUND 3:                                                       
| | | | | | | | | |
| --- | --- | --- | --- | --- | --- | --- | --- | --- |
| | | | R  1 | R 2 | R 3 | R 4 | | |
| Pos | Name | Machine | Mac | Bend | Mac P | Mallala | | Total |
| | SUPERBIKE | | | | | | | |
| 1 | Ted COLLINS | Yamaha | 67 | 50 | 80 | | | 197 |
| 2 | Ben LIEBIG | Yamaha | 49 | 34 | 72 | | | 155 |
| 3 | Michael KEMP | Yamaha | 48 | 36 | 58 | | | 142 |
| 4 | Brad RAETHEL | Yamaha | 37 | 40 | 44 | | | 121 |
| 5 | Raymond ROSS | Yamaha | 42 | | 66 | | | 108 |
| 6 | Arthur SISSIS | Yamaha | | | 100 | | | 100 |
| 7 | Brad MILLER | Suzuki | 40 | 31 | | | | 71 |
| 8 | Jamie BANKS | Yamaha | 63 | | | | | 63 |
| 9 | Andrew TENISON-WOODS | Kawasaki | 45 | 16 | | | | 61 |
| 10 | William STRUGNELL | Suzuki | 57 | | | | | 57 |
| 11 | Ashley ROE | Yamaha | | | 56 | | | 56 |
| 12 | Rusty CRANE | Suzuki | | | 50 | | | 50 |
| 13 | Paul VAN DER HEIDEN | BMW | | | 47 | | | 47 |
| 14 | Ron CRANE | Yamaha | 19 | | 27 | | | 46 |
| 15 | Brett SIMMONDS | Honda | | | 40 | | | 40 |
| 16 | Nathan McKENZIE | Suzuki | 34 | | | | | 34 |
| 17 | Christopher GREENE | Yamaha | | 29 | | | | 29 |
| 18 | Russell CRANE | Suzuki | | 27 | | | | 27 |
| 19 | David TROTTER | Suzuki | | | 25 | | | 25 |
| 20 | Daniel MARSH | Suzuki | | 25 | | | | 25 |
| 21 | Paul VALOUDIS | Suzuki | 24 | | | | | 24 |
| 22 | John CHIODI | Suzuki | | 23 | | | | 23 |
| 23 | Tony ROSS | Honda | 20 | | | | | 20 |
| 24 | Mitchell RADFORD | Suzuki | 16 | | | | | 16 |
| 25 | Charles HOLDING | Yamaha | | | 13 | | | 13 |
| 26 | Troy CRADDOCK | Ducati | 11 | | | | | 11 |
| 27 | Adrian PIERPOINT | Aprilia | 10 | | | | | 10 |
| 28 | John PRICE | BMW | 9 | | | | | 9 |
| | | | | | | | | |
| | SUPERSPORT 600 | | | | | | | |
| 1 | Declan CARBERRY | Suzuki | 58 | 40 | 80 | | | 178 |
| 2 | Dallas SKEER | Yamaha | 56 | | 100 | | | 156 |
| 3 | Jayden PLOWMAN | Yamaha | 48 | 34 | 68 | | | 150 |
| 4 | Dwayne TOSEN | Yamaha | 43 | 36 | 68 | | | 147 |
| 5 | Ty LYNCH | Yamaha | 75 | 50 | | | | 125 |
| 6 | Libero BELLETTI | Yamaha | 32 | 30 | 56 | | | 118 |
| 7 | Aaron RIGBY | Suzuki | 31 | | 60 | | | 91 |
| 8 | Charles HOLDING | Yamaha | 51 | 32 | | | | 83 |
| 9 | Paul VAN DER HEIDEN | Suzuki | | | 68 | | | 68 |
| 10 | Connor THOMSON | Suzuki | 26 | 28 | | | | 54 |
| 11 | Mitchell RADFORD | Suzuki | | | 51 | | | 51 |
| 12 | Cooper ROWNTREE | Honda | | | 49 | | | 49 |
| 13 | Gareth DEACON | Triumph | 38 | | 11 | | | 49 |
| 14 | Graeme KOSCHMANN | Suzuki | 41 | | | | | 41 |
| 15 | Brett HARRIS | Honda | 35 | | | | | 35 |
| 16 | Alessandro MALATESTA | Suzuki | | 26 | | | | 26 |
| 17 | Jiabin ZXHANG | Honda | | 23 | | | | 23 |
| 18 | Tom AMES | Yamaha | | 23 | | | | 23 |
| 19 | Kevin HOOD | Kawasaki | | 20 | | | | 20 |
| 20 | Chris TYLER | Suzuki | 20 | | | | | 20 |
| 21 | Timothy HUNT | Triumph | 18 | | | | | 18 |
| 22 | Josh HARRIS | Yamaha | 16 | | | | | 16 |
| 23 | Kruiz JENKINS | Kawasaki | 14 | | | | | 14 |
| 24 | Luke PATTESON | Honda | 4 | | | | | 4 |
| | | | | | | | | |
| | PRODUCTION 300 | | | | | | | |
| 1 | Samuel PEZZETTA | Yamaha | 75 | 36 | 100 | | | 211 |
| 2 | Tayla RELPH | Yamaha | 55 | 32 | 72 | | | 159 |
| 3 | Nicholas YFANTIDIS | Yamaha | 56 | 26 | 66 | | | 148 |
| 4 | Ryder GILBERT | Yamaha | 40 | 18 | 65 | | | 123 |
| 5 | Cooper ROWNTREE | Yamaha | | 40 | 80 | | | 120 |
| 6 | Tara MORRISON | Kawasaki | 35 | 27 | 58 | | | 120 |
| 7 | Jack CONNELLY | Kawasaki | 45 | 25 | 46 | | | 116 |
| 8 | Gordon HENSLEY | Kawasaki | 49 | | 56 | | | 105 |
| 9 | Phoenix AGAR | Yamaha | 31 | 22 | 40 | | | 93 |
| 10 | Sean COTTERILL | Kawasaki | 25 | | 48 | | | 73 |
| 11 | Brock QUINLAN | Yamaha | 45 | 19 | | | | 64 |
| 12 | Alex MUSOLINO | Kawasaki | 44 | 14 | | | | 58 |
| 13 | Nigel AGAR | Yamaha | 13 | 13 | 30 | | | 56 |
| 14 | Mitchell SIMPSON | Yamaha | | 50 | | | | 50 |
| 15 | Remo RENDE | Yamaha | 24 | 15 | | | | 39 |
| 16 | Sandro MALATESTA | Kawasaki | | | 38 | | | 38 |
| 17 | Brad MILLER | Kawasaki | 38 | | | | | 38 |
| 18 | Oliver HENSLEY | Yamaha | | | 37 | | | 37 |
| 19 | Jordan SIMPSON | Yamaha | | 34 | | | | 34 |
| 20 | Lucas WARREN | Kawasaki | | 6 | 26 | | | 32 |
| 21 | Alice POHLMANN | Kawasaki | | | 31 | | | 31 |
| 22 | Cameron RENDE | Yamaha | | 30 | | | | 30 |
| 23 | Georgia STEPHENS | Kawasaki | 12 | | 16 | | | 28 |
| 24 | Julia GRAZIER | Kawasaki | 22 | 4 | | | | 26 |
| 25 | Daniel AMOY | Kawasaki | | | 25 | | | 25 |
| 26 | Yiana VALOUDIS | Yamaha | 10 | 11 | | | | 21 |
| 27 | Tom AMES | Yamaha | | 8 | | | | 8 |
| 28 | Natajshia RIMINGTON | Kawasaki | 8 | | | | | 8 |
| 29 | Andrew BANNERMAN | Kawasaki | | 2 | 5 | | | 7 |
| 30 | Kate SHARP | Kawasaki | 4 | | | | | 4 |
| | | | | | | | | |
| | JUNIORS | | | | | | | |
| 1 | Rikki HENRY | Yamaha | 70 | 75 | 83 | | | 228 |
| 2 | Ryder GILBERT | Honda | 54 | 60 | 63 | | | 177 |
| 3 | Ryder SWEET | Yamaha | 47 | 49 | 61 | | | 157 |
| 4 | Archie SCHMIDT | Yamaha | 48 | 41 | 67 | | | 156 |
| 5 | Seth DELLOW | Yamaha | 26 | 53 | 72 | | | 151 |
| 6 | Cameron RENDE | Yamaha | 65 | 35 | 25 | | | 150 |
| 7 | Lucas WARREN | Yamaha | 39 | 38 | 58 | | | 135 |
| 8 | Xayvion AMOY | Yamaha | 40 | 37 | 43 | | | 120 |
| 9 | Ethan DELLOW | Honda | 22 | 39 | 52 | | | 113 |
| 10 | Cooper PITT | Yamaha | | 45 | 56 | | | 101 |
| 11 | Tomi DOBLE | Yamaha | 49 | | | | | 49 |
| 12 | Ghage PLOWMAN | Yamaha | | | 48 | | | 48 |
| | | | | | | | | |
| | bLU cRU SA JUNIOR CUP | | Mac P | Bend | Monarto | Mallala | | |
| 1 | Rikki HENRY | Yamaha | 75 | 68 | 100 | | | 243 |
| 2 | Cooper PITT | Yamaha | 33 | 44 | 99 | | | 176 |
| 3 | Seth DELLOW | Yamaha | 31 | 44 | 94 | | | 169 |
| 4 | Xayvion AMOY | Yamaha | 38 | 49 | 76 | | | 163 |
| 5 | Lucas WARREN | Yamaha | 37 | 40 | 78 | | | 155 |
| 6 | Fred BARRY | Yamaha | 29 | 38 | 79 | | | 146 |
| 7 | Ethan DELLOW | Yamaha | 19 | 33 | 85 | | | 137 |
| 8 | Cameron RENDE | Yamaha | 60 | 60 | | | | 120 |
| 9 | Ryder GILBERT | Yamaha | 50 | 61 | | | | 111 |
| 10 | Archie SCHMIDT | Yamaha | 32 | 46 | | | | 78 |
| 11 | Ella McCAUSLAND (wildcard) | Yamaha | 54 | | | | | 54 |
| 12 | Ryder SWEET | Yamaha | 46 | | | | | 46 |
| 13 | Tomi DOBLE | Yamaha | 44 | | | | | 44 |
| | | | | | | | | |
| | LIMITED | | | | | | | |
| 1 | Anthony STEPHENS | Husqvarna | 75 | 33 | 100 | | | 208 |
| 2 | Daniel SPENDLOVE | Yamaha | 57 | 26 | 68 | | | 151 |
| 3 | Jack CONNELLY | Kawasaki | 47 | 30 | 54 | | | 131 |
| 4 | Sandro MALATESTA | Ducati | | 33 | 69 | | | 102 |
| 5 | Gordon HENSLEY | Kawasaki | 36 | | 62 | | | 98 |
| 6 | Phoenix AGAR | Yamaha | 25 | 28 | 29 | | | 82 |
| 7 | Samuel PEZZETTA | Yamaha | | | 80 | | | 80 |
| 8 | Sean COTTERILL | Kawasaki | 22 | | 49 | | | 71 |
| 9 | Tim LEIGHTON | Suzuki | | | 65 | | | 65 |
| 10 | Nigel AGAR | Yamaha | 9 | 21 | 35 | | | 65 |
| 11 | Alex MUSOLINO | Kawasaki | 31 | 24 | | | | 55 |
| 12 | David TROTTER | Honda | 52 | | | | | 52 |
| 13 | Mitchell SIMPSON | Yamaha | | 50 | | | | 50 |
| 14 | Nichollas YFANTIDIS | Yamaha | 49 | | | | | 49 |
| 15 | David ELLIS | Suzuki | | | 43 | | | 43 |
| 16 | Daniel PARKER | Kawasaki | 41 | | | | | 41 |
| 17 | Tara MORRISON | Kawasaki | | | 40 | | | 40 |
| 18 | Cooper ROWNTREE | Yamaha | | 40 | | | | 40 |
| 19 | John SNOAD | KTM | 40 | | | | | 40 |
| 20 | Jordan SIMPSON | Yamaha | | 36 | | | | 36 |
| 21 | Brook QUINLAN | Yamaha | 36 | | | | | 36 |
| 22 | Richard DRAPER | Ducati | 36 | | | | | 36 |
| 23 | Oliver HENSLEY | Yamaha | | | 33 | | | 33 |
| 24 | Julia GRAZIER | Kawasaki | 19 | 14 | | | | 33 |
| 25 | Yiana VALOUDIS | Yamaha | 6 | 18 | | | | 24 |
| 26 | Remo RENDE | Yamaha | 20 | | | | | 20 |
| 27 | Tom AMES | Yamaha | | 19 | | | | 19 |
| 28 | Stuart MATHESON | Honda | | 18 | | | | 18 |
| 29 | Andrew BANNERMAN | Kawasaki | | | 15 | | | 15 |
| 30 | Sean OESER | Ducati | 14 | | | | | 14 |
| 31 | Lucius PAYNE | Kawasaki | 11 | | | | | 11 |
| 32 | Michael FISHER | Yamaha | | | 6 | | | 6 |
| 33 | Georgia STEPHENS | Yamaha | | | 5 | | | 5 |
| 34 | Rob O'BRIEN | Kawasaki | | | 4 | | | 4 |
| 35 | Kate SHARP | Kawasaki | 1 | | | | | 1 |
| | | | | | | | | |
| | NAKED BIKE | | | | | | | |
| 1 | Daniel SPENDLOVE | Yamaha | 40 | 40 | 85 | | | 165 |
| 2 | Stephen MILLAR | KTM | | | 75 | | | 75 |
| 3 | Phil ALLEN | Ducati | 70 | | | | | 70 |
| 4 | John SNOAD | KTM | 61 | | | | | 61 |
| 5 | Anthony STEPHENS | Huskvana | | 50 | | | | 50 |
| 6 | David ELLIS | Suzuki | | | 18 | | | 18 |
| | | | | | | | | |
| | PRE-MODERN 00 | | | | | | | |
| 1 | Sandro MALATESTA | Ducati | | 50 | 95 | | | 145 |
| 2 | Mark BOAG | Moto | 40 | | 85 | | | 125 |
| 3 | Luke PATTESON | Honda | 75 | | | | | 75 |
| 4 | Peter McDONOUGH | Kawasaki | | | 72 | | | 72 |
| 5 | John CHIODI | Suzuki | | 40 | | | | 40 |
| 6 | Karlis GUGIS | Kawasaki | 36 | | | | | 36 |
| | | | | | | | | |
| | PRE-MODERN 07 | | | | | | | |
| 1 | Dwayne TOSEN | Suzuki | 45 | 50 | 100 | | | 195 |
| 2 | Ron CRANE | Yamaha | 50 | 35 | 74 | | | 159 |
| 3 | Jayden PLOWMAN | Yamaha | | 40 | 78 | | | 118 |
| 4 | Brad MILLER | Suzuki | 62 | 18 | | | | 80 |
| 5 | Brett HARRIS | Honda | 54 | | | | | 54 |
| 6 | Glen MARCHIORI | Honda | 51 | | | | | 51 |
| 7 | Tony ROSS | Suzuki | 43 | | | | | 43 |
| 8 | Graeme KOSCHMANN | Triumph | 40 | | | | | 40 |
| 9 | Kevin HOOD | Kawasaki | | 33 | | | | 33 |
| 10 | Stuart MATHESON | Honda | | 31 | | | | 31 |
| 11 | Kruiz JENKINS | Kawasaki | 29 | | | | | 29 |
| 12 | Daniel MARSH | Suzuki | | 14 | | | | 14 |
| | | | | | | | | |
| | SIDECAR | | | | | | | |
| 1 | G HOWARTH / S DESLANDES | Shellbourne | | | 93 | | | 93 |
| 2 | A SMITH / R D'ANIELLO | Suzuki | | | 72 | | | 72 |
| 3 | T SHANKS / R BOGGIANO | DMR | | | 69 | | | 69 |
| 4 | A VAN UITERT / D AMOY | Suzuki | | | 64 | | | 64 |
| 5 | D JONES / T LEIGHTON | Suzuki | | | 60 | | | 60 |
| 6 | S JONES / T HARRIS | Suzuki | | | 25 | | | 25 |
| | | | | | | | | |
| | FEARLESS (SUPPORT CLASS) | | | | | | | |
| 1 | Sandro MALATESTA | Harley | | 42 | 85 | | | 117 |
| 2 | Peter COSTELLO | Harley | | 38 | 76 | | | 114 |
| 3 | Sam BENNETT | Harley | | | 100 | | | 100 |
| 4 | Jesse QUINN | Harley | | 18 | 69 | | | 87 |
| 5 | Peter STACY | Harley | | 16 | 47 | | | 63 |
| 6 | Aaron DRAPER | Harley | | | 62 | | | 62 |
| 7 | Garry WOODING | Harley | | 45 | | | | 45 |
| 8 | Stephen CASH | Harley | | 33 | | | | 33 |
​