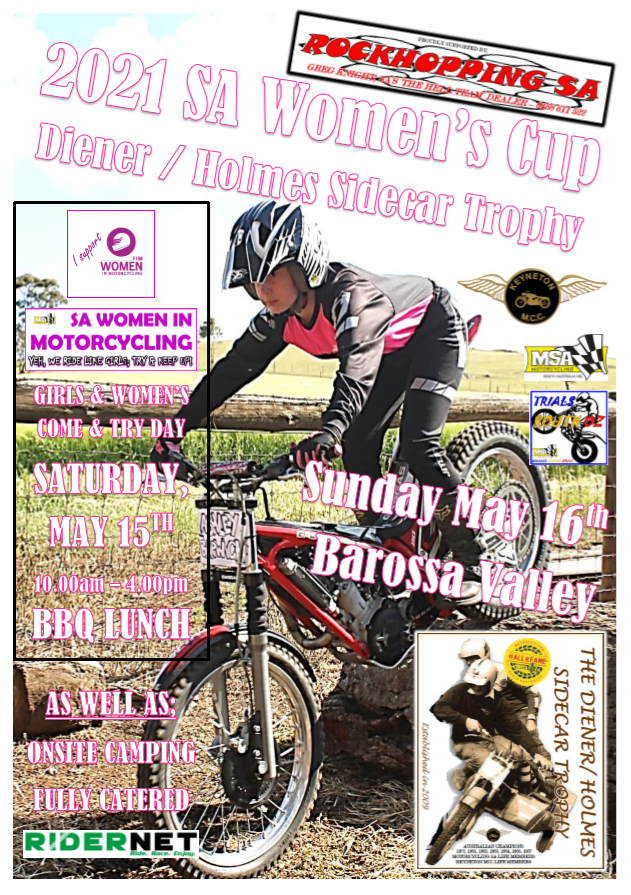 SA WOMEN'S CUP & DIENER/HOLMES SIDECAR TROPHY HEAD UP A HUGE WEEKEND!
The first event in SA motorcycling history to have the girls and women headline the event, the Rockhopping SA 2021 SA Women's Cup & Diener/Holmes Sidecar Trophy for Trial, hosted by the Keyneton MCC headline a huge weekend of action, across many disciplines of the sport.
Being run on Long Gully Road at Angaston from 9.00am Sunday, this event also features free entry for spectators, who will be able to wander around between the sections and watch some of SA's awesome trials talent.
Leading the way is current Australia #2 (2019) in Open Women and Junior Women U13, Lillie Yiatrou and Charlotte Cowan, with Lillie also a 2 time Australian representative, and the reigning MSA Rising Star. Also in the field is 2018 Australian U13 Champion, Alisha Harry and Under 11 #1 from 2019, Ashley Barwick, again showing how much SA leads the country in Junior Women.
And due to the nature of Trial, and only 1 bike on the course (section) at one time, juniors can compete in senior classes in direct competition, with the Sport Women (formally C Grade) Class being made up of all junior riders, Charlotte, Alisha and Hayley Stephen.
At the other end of the field, look for the Long sisters, Chelsea & Cadance, both riding in Junior B Girls in their first SA Women's Cup in 2021, and with dad, Aaron, and grandfather, David, also in the field, it shows that Trial is very much a family affair!
The Diener/Holmes Sidecar Trophy will also feature a number of female passengers, led by 2016 Australian Champion, Melissa Rogers, onboard with Steve Rees, the very team that won the Australian Championship in 2016. Look out also for the husband & wife team of Adrian & Tanya Harry, and the father & daughter team of Greg & Anna Rogers (who are having their first ride together).
There will also be a full field of support classes in action, led by Trial 1 riders, and Australian Champions, Connor Hogan (and Trial2 World Championship competitor & multi time Australian representative) and Haydon Barwick, along with juniors Hayden Eardley (2018 U13 Australian Champion) and Carl Henschke taking it on in the senior classes, and a heap of junior riders in action as well – there will be something for everyone to watch!
Although there is free entry for spectators, there is no catering for this event, so bring a picnic lunch and sit under one of the many gum trees to watch the action.
The event will also be preceded by a Come & Try Day on the Saturday – at the same venue – from 10.00am to 4.00pm, mainly for the girls and women, but open to all.
ALSO ON – MOTOCROSS, SIDECAR-CROSS, ENDURO, ROAD RACE, ACUSA PARK, RIDE PARKS – IT'S ALL HAPPENING
Also on this weekend there are a number of Clubs around the state that have gates open – check out the list below, but a couple of highlights are;
The opening round of the ASA Sidecar-cross & Quads Series at Murray Bridge, and,
The opening round of Mud N Tars Club Series, which also features the Slur feature race, a 30 minute moto – with the Parawa Track looking awesome for this weekend's event.
Entries for both of these events, and many others, are still open, so get around it and get out and support the clubs doing the hard yards preparing their venues – see the pics below of the awesome track prep at Parawa!!
For those who like sliding their knees around corners – head out to Mallala this Sunday for another great Ride Day – and you never know, you may like it so much, that a competition license becomes you and you get racing!
Here is the full list for the weekend!
CLUB EVENTS
SUNDAY, 16TH MAY
MUD N TARS      ROUND 1             PARAWA
Don't forget to get your entries in for Parawa round 1 this Sunday (16-05-21) Online entries close Friday PM, and they still need more entries for the event to be awesome!! Weather is looking unreal which should make for perfect conditions on a fully prepped track. Hope to see you all there. Enter at Ridernet or via www.mudntars.com
ASA                        ROUND 1             MURRAY BRIDGE
The 2021 Sidecar & Quad Series – Round 1 is on this Sunday at Murray Bridge!
If you haven't done so, get your entries in now https://bit.ly/3ba4UWr
We'd also love to see more juniors out and about on the track! They are the future of the sport we all know and love and some solo classes have also been added for the event.
MORGAN            ROUND 3             MORGAN
Round 3 of the Morgan Club Championship have entries open and will once again cater to the young and old, with all the usual – enter through your Ridernet profile and head to the Morgan for another great day of racing!
WHYALLA – ENDURANCE             WHYALLA
Come on out for a ride on a marked out enduro track and camp the night, entries available on the day, check out the Whyalla socials for all the details and who to contact.
RIDE DAYS
SATURDAY 15TH MAY
TEA TREE GULLY                               TEA TREE GULLY
The TTG MCC are running a Ride Day on Saturday, at the Tea Tree Gully MX Track – Para Valley Drive, Tea Tree Gully, so contact the club for all the details – and get out and have a low key non-competitive ride – and the whole family as well
SUNDAY 16TH MAY
CAFNIX                                                 MALLALA
Hey knee scrapers ……. head out to Mallala Sunday for another awesome day of wearing the knee scrapers out! Cafnix have done their bit and begged got more track time for all, so if you're keen Pre Book, your fee is refundable or transferable if you don't ride. Follow the link to book; https://mallala.rezdy.com/…/mallala-motorsport-park…
PORT LINCOLN                                  PORT LINCOLN
10:00 am – 3:00 pm *** PLEASE NOTE *** TRACK WILL NOT BE PREPPED *** EFTPOS AVAILABLE FOR SIGN INS
CANTEEN AVAILABLE (Hot dogs, snags, drinks, lollies) CASH ONLY PLEASE
RIDE PARKS AUSTRALIA
SUNDAY 16TH MAY
CLARE MCC                         George Wade Ride Park – Bennys Hill Road, Clare              contact, John Barry 0418 802 890
ADELAIDE HILLS                Barthwicks Property – Tungkillo, Tungkillo                             contact; Ben Brereton 0433 012 312
AND OF COURSE – ACUSA PARK IS ALSO OPEN FOR A RIDE DAY FOR THE FIRST TIME IN 2021!
Ride day this Sunday – 10.00am to 3.00pm, sign on from 9.00am!
With this lovely rain over the past day or so, we can now safely say that this Sunday's Ride Day will be going ahead!
Looking forward to seeing a full house this Sunday!