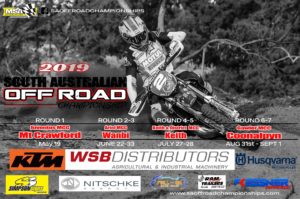 SAORC TO HIT THE FOREST THIS WEEKEND FOR ROUND 1!
Event Date: 19th May 2019
Format: Sprint (all classes, racing all day on 2 tracks)
Start Times: Approximately 9.00am (straight after the rider's site lap)
FULL EVENT PROGRAMME;
SATURDAY
12.00pm – 5.00pm; Tracks open for course walking
3.00pm – 5.00pm; Machine Examination & Rider Sign
SUNDAY
7.00am – 8.00am; Machine Examination & Rider Sign on.
8.15am; Compulsory Riders Briefing
8.45am; Sight lap, Racing commences immediately following sight lap.



THE COURSE:
Two courses have been marked for the opening round of the 2019 SAORC, and they consist of a course that weaves its way through trees and up and over small hills and logs of all sizes, all inside of a pine forest.
Both tests are a mixture of open flowing and tight sections, which will make for great viewing for spectators. Riders will follow the marked course which is identified by arrows and bunting.
The length of the tests are approximately 5.0 and 7.0 kilometres in length. It is anticipated that there will be 10 second intervals between riders, and with 200+ entries the action will be furious and non-stop from the first rider onwards.
Compulsory Riders Briefing: All riders will be required to sign to say they have attended rider briefing and or random numbers will be called to ascertain riders are present.
DIRECTIONS TO THE VENUE;
The directions Coming from Forreston is to turn left onto Rocky Creek Road.
Coming from Williamstown travel along B34 Warren Road and turn right into Forreston Road, then right into Rocky Creek Road.
The event start will sign posted from the gate on Rocky Creek Road.
GPS -34.757537, 138.949477
GENERAL INFORMATION:
ENTRY & CATERING
The event will be free entry to all spectators and will also be catered, with a catering and a coffee van on the go from 8.00am and throughout the day Sunday only.

WHAT YOU'RE WATCHING!
This weekend will see well over 200 riders take up the challenge of the SAORC for 2019, with the riders entered in a number of classes, which cater for all levels of riders, and are;
SENIOR;
PRO; the best of the best who will fight for the SA#1 plate
EXPERT EO; CLUBMAN C1, CLUBMAN C2, CLUBMAN C3
VETERANS 35-44 YEARS; MASTERS 45+ YEARS; OPEN WOMEN
JUNIOR;
JJ; 8-11 YEARS (65cc 2 stroke)
J1; 9-11 YEARS (85cc 2 stroke & up to 150cc 4 stroke, standard small wheels only)
J2; 12-15 YEARS (85cc 2 stroke & up to 150cc 4 stroke)
J3; 13-14 YEARS (125-200cc 2 stroke & 200-250cc 4 stroke)
J4; 15 YEARS (125-200cc 2 stroke & 200-250cc 4 stroke)
SO, WHO TO WATCH OUT FOR;
Reigning SA#1 and 2018 SAORC Outright Champion, Andy Wilksch (above), will have his work cut out to keep the title this year, especially with challenges like Will Price & Cooper Sheidow (below) looking to move up the leader board in 2019!
SENIORS
In the senior classes there should be a great battle for the outright, and the PRO Class between the current SA#1, Victorian Andy Wilksch, keen to keep his hard earned #1 plate for a 2nd year, and Riley Graham, who started the 2019 SAMX Championships last weekend well, and also capped 2018 with a maiden win in the famous 24 Hour Trial – but – look out for a couple of young upstarts to spoil their party!
Newly promoted to Pro Class, Will Price & Cooper Sheidow will be out to prove that last year's top 5 outright placings as first year senior riders was no flash in the pan, and both have started the AORC (Australian Championship) in good form!
And with riders seeded by their first heat times, from heat 2 onwards these 4 riders could well be covered by 30 seconds, or less, on the track – will be some awesome viewing!
Possibly not far behind will be a couple of former juniors stepping up into the senior classes for the first time, 2018 MSA Rising Star nominee & SA#1 junior in 2018, Rory Hill, and former Australian Junior Champion (AORC) and MSA Rising Star winner, Jayden Rudd, who missed most of his final junior year last year with injury!
Look for these two outstanding talents to do what Will & Cooper did last year and upset all the established riders in the battle for top 10 outright honours!
The Clubman Classes have been well supported this year and make up a bulk of the field, with almost 80 entries received across the 3 classes, and there is so much talent in these classes, picking possible podiums before round 1 has proven almost impossible!
However, there will also be action aplenty, with MSA Rising Star nominees from 2018, Max Price & Jared Watson debuting in C2 & C3 Classes, plus they will also see the return of former Off Road guns, and current road race guns, the Simpson brothers, with Olly & Jordy in C1 and Mitch in C2.
(From left) New to seniors, Jared Watson & Rory Hill will be looking to upset the established seniors, while Charlie Milton will be looking for the SA#1 junior plate in 2019!
JUNIORS
An outstanding total entry of 90+ juniors have entered for this weekend's opening round, spread across the 5 classes, and like the seniors, it is virtually impossible to pick possible podiums with no form to go by, such is the quality of the entries (in the J2 – J4 classes at least, as most are returning riders, with JJ & J1 made up of a lot of newbies to the Championship)
Some names to watch out for though are;
In J4, Charlie Milton, 3rd in the AORC in 2018, this MSA Rising Star nominee from 2018 will possibly start favourite to lift the SA#1 Junior plate this year, and had a solid start to his AORC campaign last month. Look for Charlie to lead the way.
In J3, AORC regular, Max Leibeknecht, will be at the pointy end of the class, as will a famous name in Haydon, with Kyan being the 2nd generation of his family to take up the SAORC challenge, with the multi discipline (enduro, speedway, motocross & trial) talented Clay Burnett one to watch as well!
In J2 keep an eye out for Emma Haylock, who has started her motocross year with some outstanding form and results, and could well be the dark horse in this class in 2019!
(From left) Emma Haylock, Kyan Haydon & Max Leibeknecht will be ripping up the junior classes this weekend!
FREE ENTRY FOR SPECTATORS, HOT & COLD FOOD & DRINKS, 200 RIDERS WITH SOME OUTSTANDING SOUTH AUSTRALIAN TALENT – MOUNT CRAWFORD FOREST IS THE PLACE TO BE THIS SUNDAY!
Pics courtesy of Thomas Ware photography – with thanks!