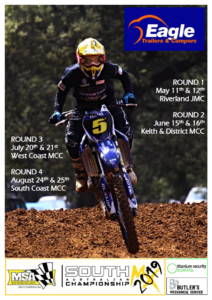 SA'S MOTOCROSS WOMEN ROCK ROUND 1 IN THE RIVERLAND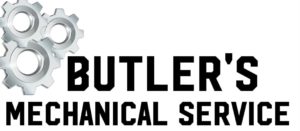 South Australia's motocross girls & women put on a great show at round 1 of the Eagle Trailers & Campers 2019 SA Motocross Championships, held at the Renmark track, which was well prepared by the hard working members of the Riverland JMC.
15 girls & women competed at round 1, with the 2018 Women's Champion, Amy Bartsch, taking up where she left off from last year by blitzing all 3 heats to lead home first year senior, Chloe Barton, with Teagan Hartwig winning the battle for the final spot on the podium from Tarja Morris.
In the juniors Emma Haylock rocketed out of the gates to lead the field away, but a crash in heat 1 left her behind the pack for the rest of the day, and even though she won heats 2 & 3, she has some work to do to catch Championship leader, Dakota Collins, who holds a 7 point lead over Ava Faulkhead, with Janis Richter holing 3rd after round 1.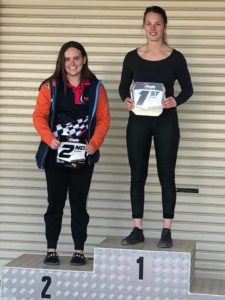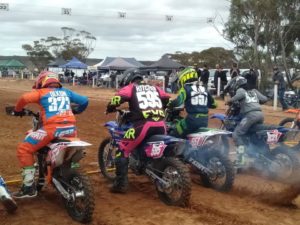 1st & 2nd in Open Women after round 1, Amy Bartsch & Chloe Barton (above left), while Koby Kitchen (595) holeshots in one of her heats.
Here's the women & girls results from the weekend – with the full results here; https://speedhive.mylaps.com/Events/1656563
SENIOR;      WOMEN'S ALL POWERS
1        AMY BARTSCH                105
2        CHLOE BARTON              96
3        TEAGAN HARTWIG          88
4        TARJA MORRIS               82
5        JASMINE McPHERSON    76
6        LETITIA MATTERS           73
7        TAYLA BATES                  56
JUNIOR;      85CC 2/ 150CC 4/ STD & BW 11-UNDER 16 YRS
1        DAKOTA COLLINS           99
2        AVA FAULKHEAD            92
3        JANIS RICHTER              86
4        VAINE GREY                            80
5        MAISIE HAYES                76
6        EMMA HAYLOCK             70
SENIOR;      MX 2 INTERMEDIATE
13TH   AMY BARTSCH                38
SENIOR;      MX 2 CLUBMEN
8TH     CHLOE BARTON              69
JUNIOR;      100-125CC 2 STROKE 13-UNDER 16 YEARS
14TH   AIMEE BULTER               49
JUNIOR;      128-150CC 2 STROKE/200-250CC 4 STROKE 13 – UNDER 16 
13TH   KOBY KITCHEN               56
JUNIOR;      85CC 2/ 150CC 4/ STD & BW 12-UNDER 16 YRS
20TH   KOBY KITCHEN               36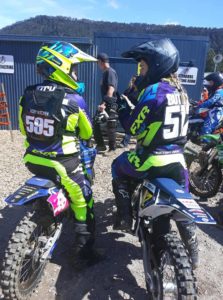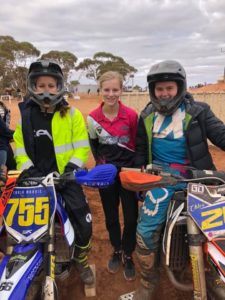 Koby Kitchen & Aimee Butler compare notes (above left) between heats, and at right, Tarja Morris (755) and Chloe Barton (Right) welcome Emma Haylock to the BMS Racing Team
With a huge thanks to Butler's Mechanical Services and Titanium Security Australia for partnering the Open Women & Junior Girls classes, here's what a few of the girls thought after round 1, with round 2 to be held at Andy Caldecott Park at Keith on June 15 & 16!
AMY BARTSCH
Good say racing the SA state titles at Renmark. Couldn't have gotten a better result in the women's class going 1-1-1.
Thanks to everyone for the help and support.
Stratco, SK Designs Australia, Hoey Racing, NOW Construction & Property Maintenance
EMMA HAYLOCK
Had an okay day at Renmark today. Managed to get the hole shot in all three Moto's which helped me a lot.
Race 1:
Had a good start but unfortunately I tucked the front in the first lap and came down hard and was unable to finish the race. End up with DNF
Race 2:
Had a great race battling with Dakota for most of the race. Both of us made some silly mistakes but was nice to get my first win.
Race 3:
Managed to get another good start and rode my own race. Had one moment a couple of corners from the finish line with a big tank slap but I was very lucky to save it. Came away with my second win for the day.
Due to my DNF in race one I finished off the day at the back points wise but enjoyed finishing the day off on a high.
A massive thank you to Ian and Tracy Butler for getting behind me this season and allowing me to join the BMS Racing team. I am over the moon and I will try my hardest to get good results for you guys.
BMS Racing, Moto Adelaide, Titanium Security Australia Pty Ltd, GAS Imports Pty Ltd
AIMEE BUTLER
Round 1 of the SA titles done! Didn't ride as well as I know I should've, unfortunately making too many mistakes and horrible starts.
Massive thanks to Tracy & Ian Butler, Rylee Berry, Chloe Barton, Dale Barton & Jaxon Raynor, and to all my sponsors;
BMS Racing, Butlers Mechanical Service, Moto Adelaide, D&G Tyres
Wakefield Trucks, Ride Tribe, Castrol, Shock Treatment, Pirie Signs & Design, Go Girl Racing Australia, Mayhem Fitness
CHLOE BARTON
A very mixed day at Renmark for RND1 of the state titles.
Raced both woman's and MX2 clubman
In the clubman (which was only for track time) I got 5,5,17, in race 2 I was leading with a 10-15 sec lead when I made a stupid mistake and tucked the front end then picked it up and couldn't touch the ground so dropped it again, managed to hold onto 5th in that race, in the final MX2 another bad start worked my way back into 4th and was making a pass for 3rd when I high sided the bike in a fast section hitting the ground hard and winding myself, managed to get back up and finish the race.
Happy to be coming away in 8th position overall in MX2.
In the woman's class I went 2, 2, 2 for 2nd overall, in the final woman's race I literally just done what I had to do to hold onto 2nd place.
Have to say a massive thank you to everyone who came and checked up on me and made sure I was ok.
Big thanks to my sponsors;
BMS Racing, Butlers Mechanical Service, Castrol, Titanium Security Australia Pty Ltd, Painttech, Performance Moto, Get Displays, Emar Seats, Utilities Construction and a big thanks to Moto Adelaide for helping me out getting a new tyre fitted ready for the race.
KOBY KITCHEN
Day 1 of SA State Titles at Riverland Junior Motorcycle Club (RJMC) rode the 85cc class – had a few issues to work through, happy to finish the day with 20th overall.
Looking forward to tomorrow riding the Junior 250cc class.
Day 2 of SA State Titles at Riverland Junior Motorcycle Club (RJMC)
Today was always going to be hard a day, first time competing at states on the 250cc riding against best in the SA.
Track was rough & gnarly, due to having the seniors tear up the track, but glad to get through the day in one piece.
Thanks to my family, friends and sponsors for all their support;
Motorcyclists First Aid, Bridgeland Motorcycles, Brisk, Ride Tribe, FXR, Flow Vision Company, Emar seats, Hittin' the Street, Hold It On Designs, PlusPrinting
Thanks to the riders for their pics – and watch out Thursday for a run down on how the guys went at round 1!