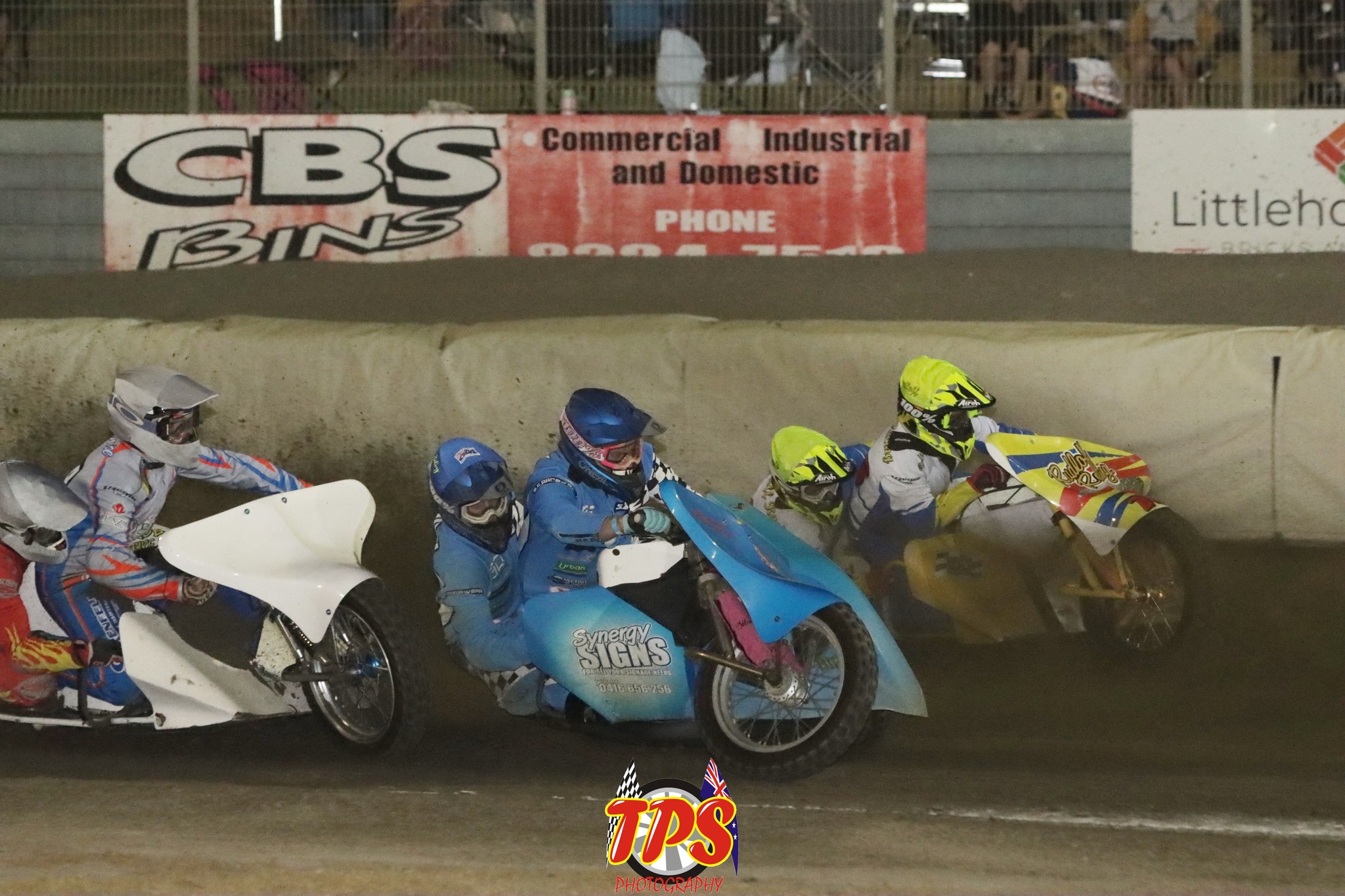 Sidecar racing has made New Years return to Gillman Saturday 14th January 2023 with a night full of 3 wheel action and spills for the 2023 Bowes Family Sidecar Cup. 
Mick Headland / Brenton Kerr took home the trophy with 14 Points after a near flawless night and leading from start to finish in the finals. Headland and Kerr stood triumphant in the end after holding off strong competition from Queensland Champions Tyler Moon and Adam Lovell.
Moon/Lovell took every opportunity to make an inside pass on Headland/Kerr, even coming close and drawing level. However were unable make it stick and get the bike ahead. Max Howse/Adam Commons (NSW) waited for their moment, pushed their way under Moon/Lovell on the last lap to take second place. Moon/Lovell settled for third in front of Byren Gates/Michael O'Loughlin (Vic) in fourth place.
Not all riders had a clean night with 2 lengthy delays following incidents in the fist of the Sidecar support races. John Atherton and Greg Black were the first to go down, hitting the fence on the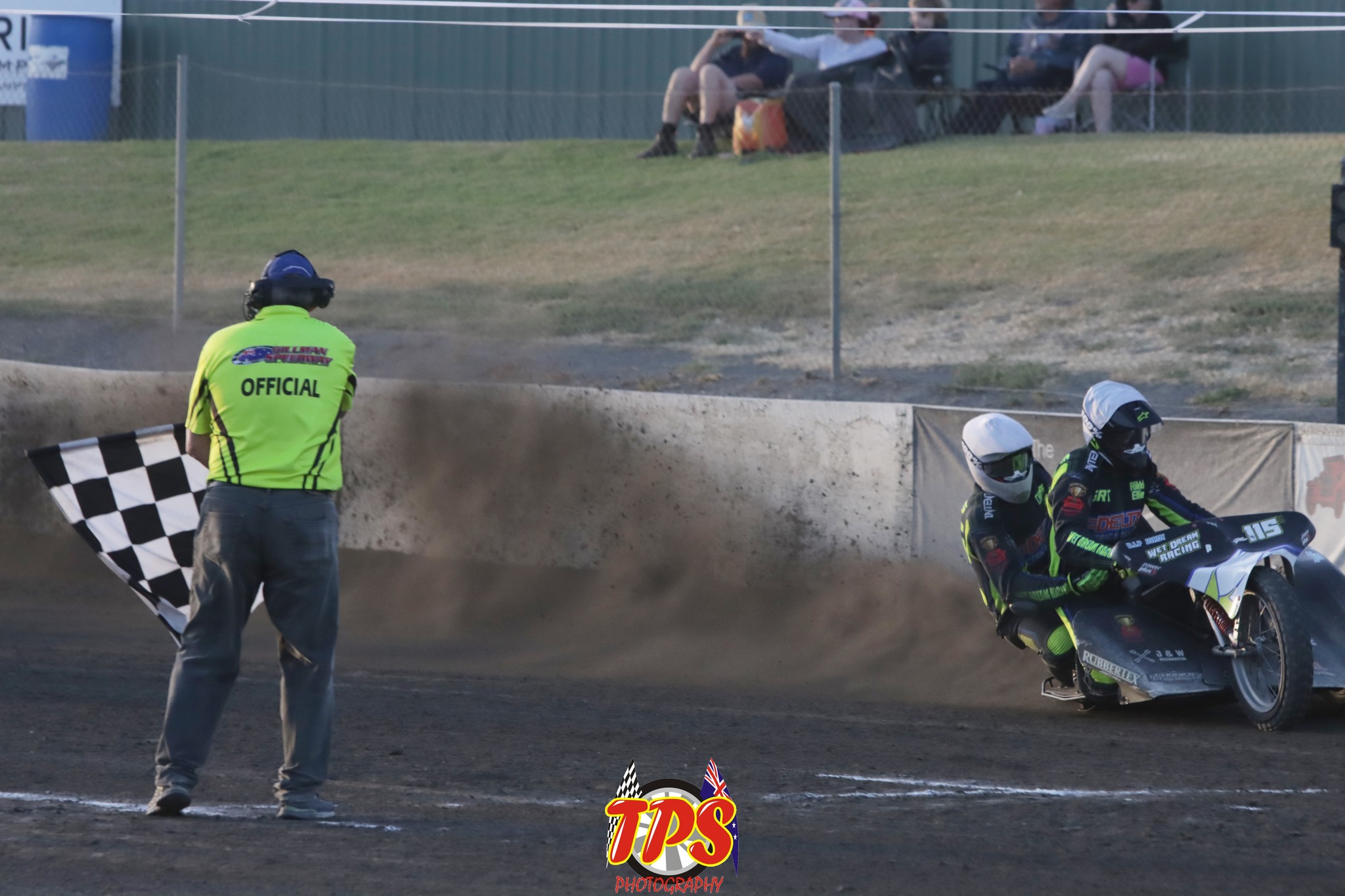 back straight of the opening lap. The bike twisted the bike towards the fence, throwing both riders hard onto the deck. Black was able to get back up quite quickly, however there was a delay with Atherton being attended to and eventually being taken away in the ambulance. We can report that John spent a couple of days in hospital for observation, however thankfully there are no reported breaks and he is in good spirits.
In the rerun Willy Walker/Jarrad Nash sitting in second place, spun around between turns three and four on lap two, putting their bike backwards into the path of Corey Palmer/Matt Barkla.  With no where to go this sent all 4 riders down onto the track with another lengthy delay as Barkla was treated and the race then abandoned.
See a full race recap from Gillman Media HERE.
Terry Scriven (Terrysproshots Photography) caught all the action. See the full album HERE.
All the results of the night:
1st Mick Headland / Brenton Kerr                                                    14 Points.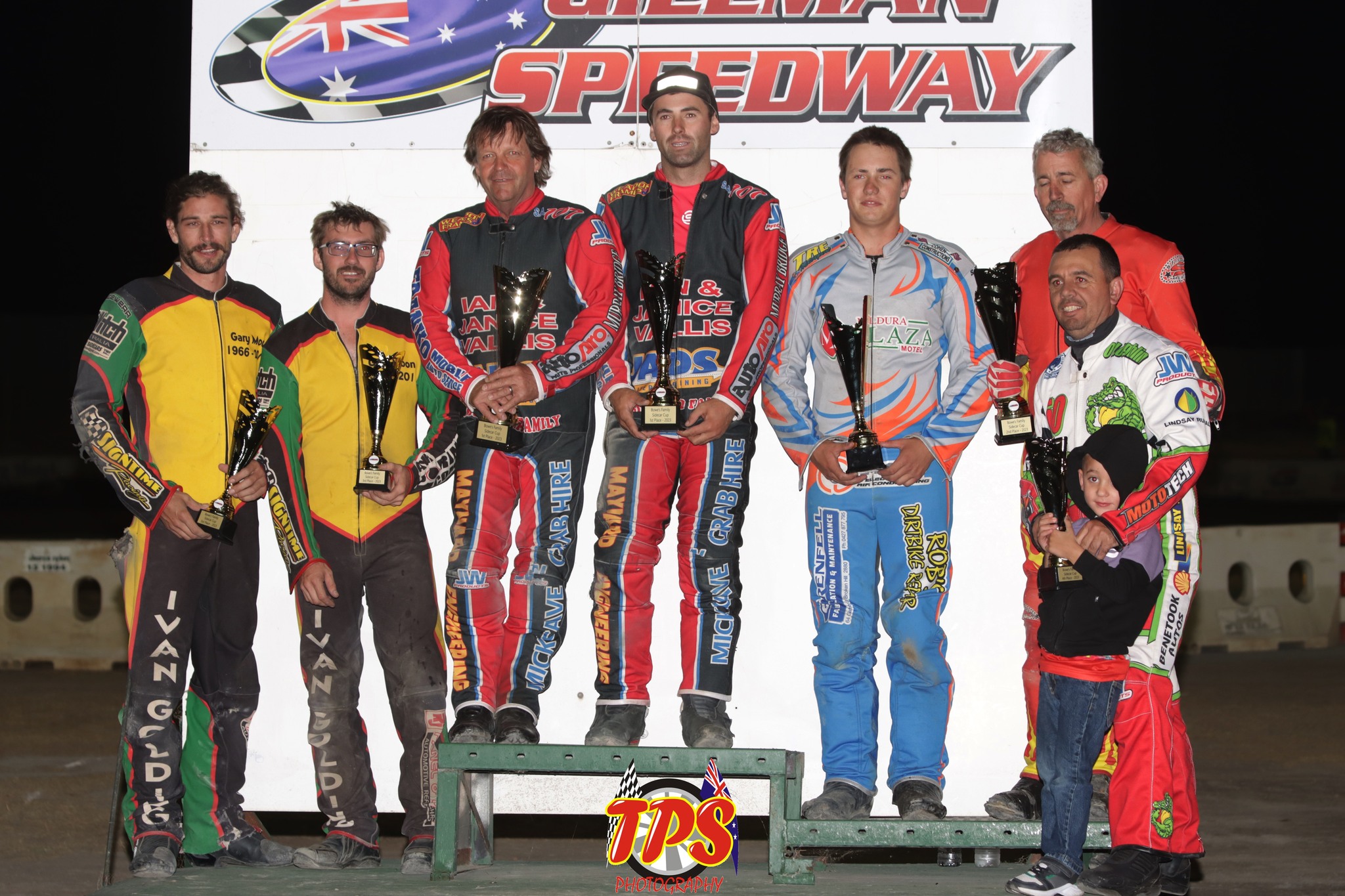 2nd Max House / Mr Adam Commons                                            12 Points
3rd Tyler Moon / Adam Lovell                                                            11 Poinjts
4th Byren Gates / Michael O'Loughlin                                              11 Points
5th Rick Stephens / Nick O'Brien                                                      10 Points
6th Aaron Silvy / Jaron Silvy                                                               8 Points
7th Dean Hobbs / Daniel Low                                                            7 Points
8th Nate Headland / Chloe Ackerley                                                7 Points
9th Shane Rudloff / Scott Morris                                                      7 Points
10th Stephen Fowler / Ben Goodridge                                             7 Points
11th Kane Golding / Isaac Amos                                                      6 Points
12th Brian Silvy / Dean Cottrell                                                         5 Points
13th Nathan Fleet / Cameron Diwell                                                4 Points
14th Damion Niesche / Mirtchell Spear                                          3 Points
15th Kym Menadue / Shane Dolan                                                  2 Points
16th Tim Bichard / Seth Pascoe                                                        2 Points
17th Josh Pascoe / Matt Crawford                                                   2 Points
18th Willy Walker / Jarrad Nash                                                        1 Point
Brayden McGuinness                                                                          12 Points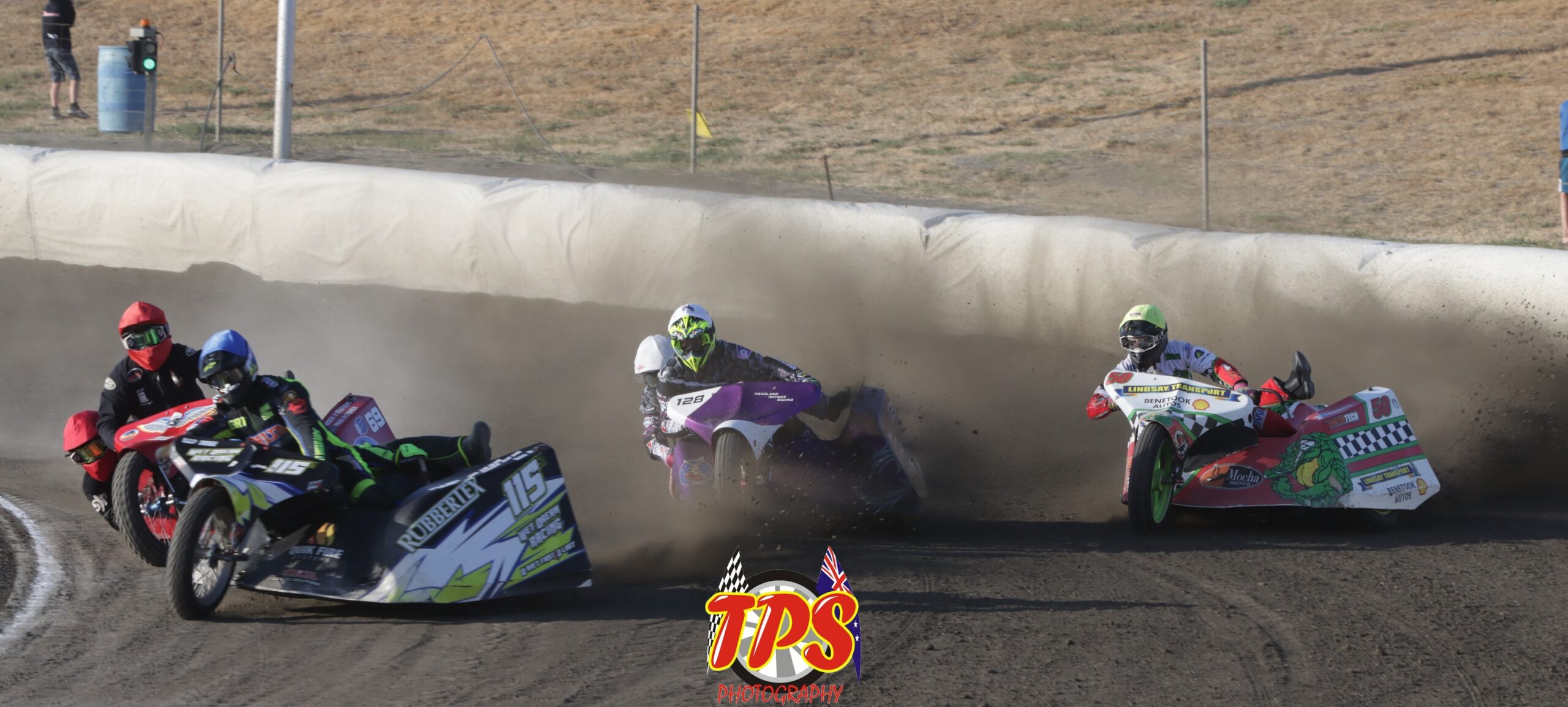 Steven Graetz                                                                                        8 Points
Teagan Pedler                                                                                       4 Points.
1st Roy Stout.
2nd Seane Chapman.
3rd Dale Nights
4th Brent Webley.
Ryleigh Mc Gregor                                                                              11 Points
Ambrose Fraser                                                                                   9 Points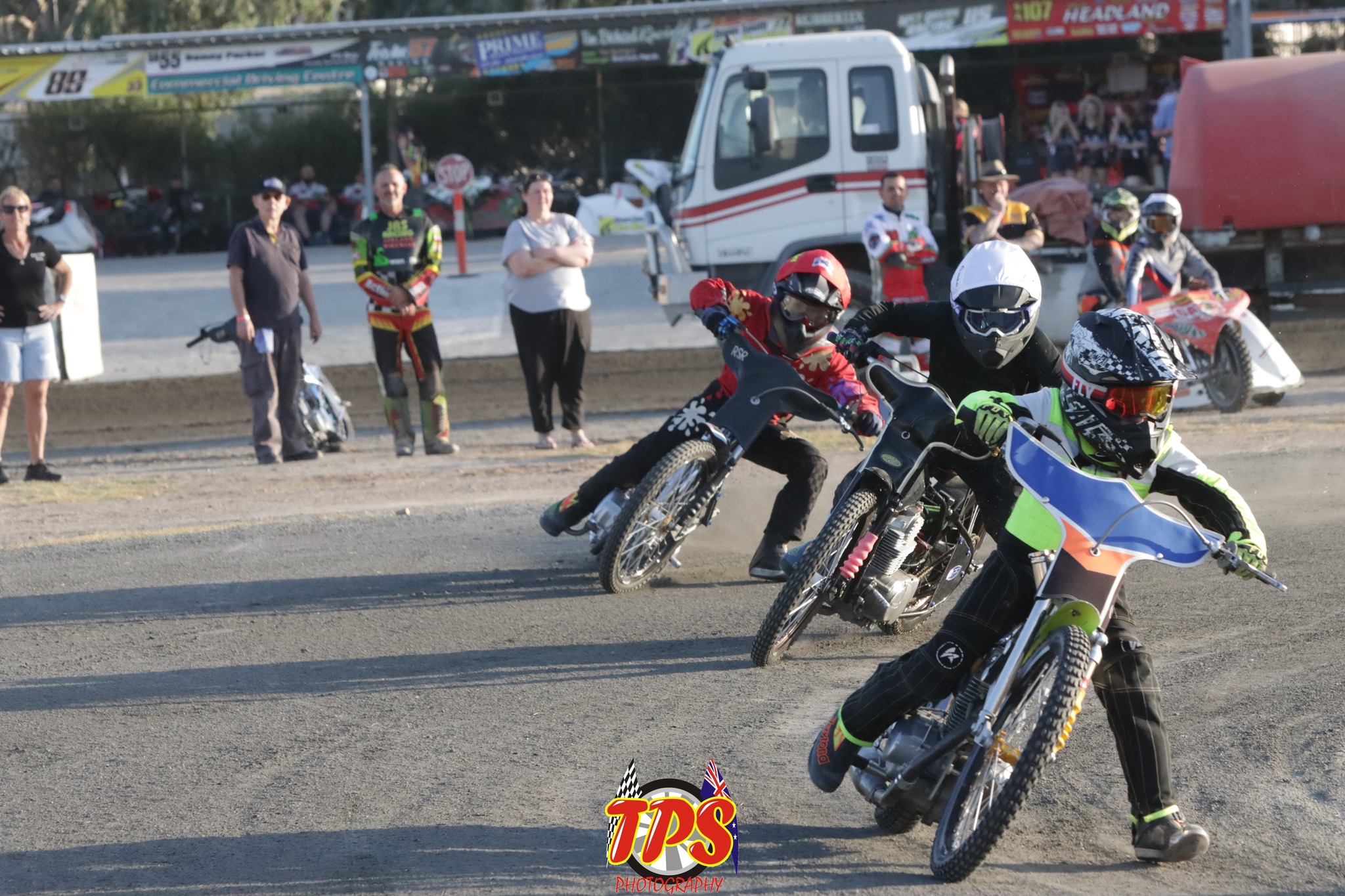 Ruby Chapman                                                                                    3 Points
Jackson McPherson                                                                           1 Point
Lachlan Coppin / Hayden Kuchel                                                   11 Points
Kayden Gates / Hartley Ackerley                                                    7 Points