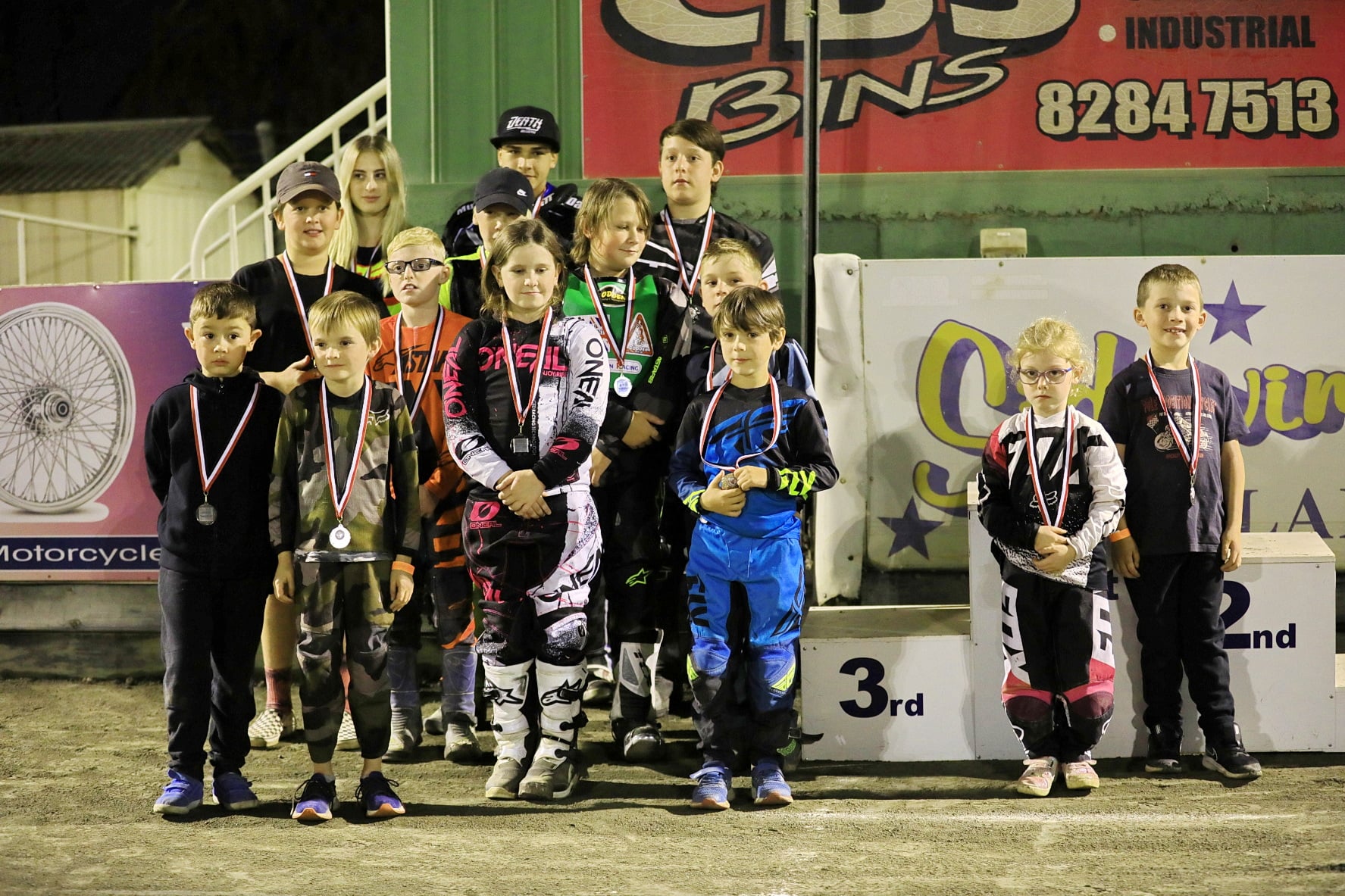 SIDEWINDERS FINISH SEASON 2020/21 WITH ANOTHER GREAT MEETING – AND THEIR AWARDS PRESENTATIONS!
Last Friday night, the 16th of April, the sun set on season 2020/21 for the Sidewinders season of skids! After the racing had finished the Club had their yearly presentations – and here is the rundown!
Apologies for no photo (as yet) of the very deserving Life Membership bestowed on Meredith Sterry for her many years of tireless work – a huge congratulations from Motorcycling SA to Meredith!
What a great night's racing to finish off our season last night. A full house of competitors and spectators made for an awesome night, with the best racing you'll see from all classes.
Congratulations to Ashley Jansen-Batchelor on winning the event, Harry Sadler 2nd, Victoria's Riley Plum 3rd and from NSW, Oli Bergic in 4th place.
A big thanks to Merv Edwards for Sponsoring the night under the banner of Speak'n of Spokes.
The Presentation for Season 2020/21 was held after the event and we congratulate all winners and competitors for the season.
The 2020/21 Award recipients are;
Sidewinders Life Membership; Meredith Sterry
Club Person of the Year award; Brian Tickle
Highest Average; Ashley Jansen-Batchelor
Best & Fairest; Ashley Jansen-Batchelor
Highest A Grade Points Scorer; Ashley Jansen-Batchelor
Fastest Solo; Ashley Jansen-Batchelor
Highest First Year Rider Point Score; Allegra Laanekorb
Most Improved Rider Award; Allegra Laanekorb
Highest B Grade Point Score; Travis Clarke
Best Presented Award; Kobi Canning
Novice Solo Encouragement Award; Darcey Timmis
50cc Rider of the Year; Darcy Bennett.
Peewee Rider of the Year; Riley Stout
Sponsored by the Silvy Family and awarded to the peewee rider who has competed at the most meetings throughout the season.
We would like to thank all who have supported our Club this season in any way, our Volunteers, Officials, St John for always being on hand should they be required, and of course, our great spectators.
Special thanks last night to the Bergic family who assisted in setting up for the meeting, Julian Timmis & Anthea Fisher who spent the night on the infield doing our Flag Marshalling. Anthea has flagged for every meeting this season and we cannot thank her enough.
Biggest thanks to Vicki, Carol, Brian & Rick for their legendary work in the Canteen each meeting, they are amazing.
Many thanks go to all those from Port Adelaide Camera Club who come down to the track to capture the action. You are all wonderful! And especially Joylene Lee-archer for the great photos included here!
Now it's time to have a bit of a break until the season resumes. The race dates for 2021/2022 will be posted on our Facebook page in the next week or so.